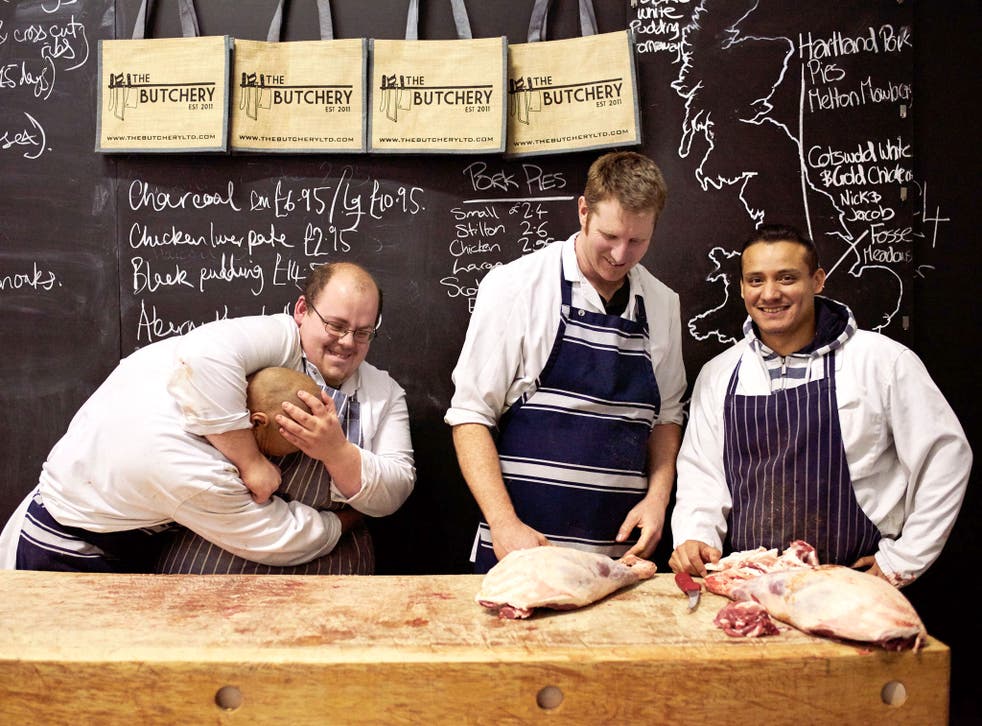 Ed Smith recipes: Cheaper cuts of meat needn't mean scrimping on flavour
It's difficult to avoid sounding like a broken record when suggesting that we should all eat less meat and reserve our pennies for the best we can afford. But it's true. High welfare, sustainably farmed heritage breeds are best for reasons of ethics and, more selfishly, taste.
The message that we should find a quality local butcher is just as well-rehearsed and equally valid. Look, if you can, for a butcher who buys direct from farms and, ideally, ages their meat in house.One of my favourite butchers, Nathan Mills of south London's The Butchery, practises whole-carcass butchery. His fridges look and smell incredible and the meat is extraordinary. The Welsh-breed pork at another place near me, Turner & George, is among the best I've eaten.
Though prime cuts are necessarily occasional treats, there are bargains to be had in the braising and less fashionable sections. Consider lamb breast and chicken livers, for example. The recipes here are a good starting point for both of these, while dessert balances things somewhat by being light, simple, sweet and not at all meaty.
Ed Smith is the author of the food journal RocketandSquash.com. He was shortlisted as Best Cookery Writer and winner of Best Online Restaurant Writer at the 2015 Fortnum & Mason Food and Drink awards
Ed Smith cooks with cheaper cuts of meat

Show all 9
Chicken liver 'PX' pâté
Chicken livers are the kind of thing you can pick up at a butcher for just a few pounds. You get so much flavour for your cash. Spread this pâté on thinly sliced, well-browned but cool toast, perhaps partnered by a chutney, currant jelly or maybe some poached quince.
Preparation: 10 mins
Cooking: 10 mins
Chilling: 3 hours
Serves 10, plus enough for a few lunch sandwiches/midnight feasts
130g salted butter, diced
1 shallot, finely diced
400g chicken livers, trimmed of sinew and cut into 4cm to 5cm pieces
4 sprigs of thyme, leaves only
100ml Pedro Ximénez sherry
100g double cream
Sea salt
White pepper
Put 30g of butter into a thick-bottomed frying pan on a high heat. Add the shallot and a pinch of salt as the butter melts. When the pan is really hot and the butter frothing, add the livers and thyme and fry for 4 minutes, occasionally pushing the livers around to ensure even browning.
Empty the contents of the pan into a blender. If sliced, the livers will still be pink. Fear not – the residual heat continues to cook them.
Put the pan back on the high heat and pour in the sherry. The liquid should boil immediately. Remove the pan from the heat and, once the bubbling stops, pour and scrape the reduced sherry into the blender. Add the remaining butter and the cream, then blitz for 3 to 4 minutes until really smooth. Taste and season with salt and a pinch of white pepper.
Pour into a container (Tupperware is fine) and chill in a fridge for 3 hours or more. This will keep for a few days; it will also freeze.
Sticky lamb ribs and green sauce
Like chicken livers, lamb breast is inexpensive but flavourful. The two stages of cooking here ensure a crisp, sticky, caramelised exterior, yet soft, yielding meat within. You'll find the meat to be (deliciously) fatty, so an acidic herby sauce is required to cut through the richness. A crisp salad on the side is good too.
Preparation: 15 mins
Cooking: 2½ hours
Chilling: overnight
Serves 4 as a main, 6-8 as a starter or snack
2 lamb breasts, ribs attached
2 onions, peeled, halved, each half quartered
2 sticks celery, cut into 5cm-length pieces
5 cloves garlic, skin on, cut in half
Peeled zest ½ lemon
2 star anise
3 sprigs rosemary
Salt and pepper
4 tbsp honey
For the green sauce
60g fresh mint leaves
30g parsley leaves
1 tsp Dijon mustard
15g capers
90g olive oil
15g sherry vinegar
30g lemon juice
Pinch salt and pepper
Preheat your oven to 140C.
Trim the lamb breasts to fit your roasting tray by dividing each breast into two broadly rectangular pieces. It should make sense to make a cut just after the last rib bone.
Put the onion, celery, garlic, lemon zest, anise and rosemary in a roasting tray. Rub a good grind of salt and pepper into the breast meat. Place on top of the base vegetables, skin- and fat-side up. Fill the tray with cold water to two-thirds up the sides. Wet and crumple a piece of greaseproof paper just bigger than the tray, then lay that over the lamb, tucking the edges in. Then cover the tray and its contents tightly with foil. Bring the water to the boil on a hob, then place in the middle of the oven and braise for 2 hours. Swap the breast pieces around after an hour (if they don't fit in one layer).
After 2 hours, leave to cool with the foil still on for 2 to 3 hours more. Remove the lamb ribs from the liquid (and fat). Cling-wrap and chill in the fridge for 4 hours or overnight.
Slice the chilled breast between each rib section. You may need to cut through cartilage; use a heavy knife and be confident. Where there is no bone, cut to 3cm- to 4cm-wide strips.
When ready to eat, heat the oven to 210C.
Make the sauce by blitzing all the ingredients in a food processor or blender for 2 to 3 minutes, so it is fairly smooth.
Brush warmed honey over each rib and cook in a shallow tray at the top of the oven for 20 minutes, until the juices and fats are dancing, and the ribs are brown and caramelised. Baste two or three times while cooking using any remaining honey and the juices rendering on the tray.
Quince and coconut
The transformation that occurs when quince is cooked is remarkable – from hard and yellow to soft, pink and perfumed. In some ways it mirrors how hard-working muscles break down and become unctuous over a long, slow cook.
Preparation: 10 mins
Cooking/cooling: 7 hours
Serves 6
800ml water
150g granulated sugar
Juice ½ lemon
2 large quinces (approx 800g)
300ml coconut yoghurt
30g dried coconut flakes
Put the water and sugar in a small pan and bring to the boil, stirring so that the sugar dissolves.
Heat the oven to 120C.
Squeeze the lemon juice into a mixing bowl. Peel, quarter and core the quinces and drop the quarters into the lemon to prevent browning.
Put the peel and cores into the base of a heavy, non-reactive dish (Pyrex or ceramic). Cover with a sheet of greaseproof paper then place the quince quarters on top, ideally so they fit snugly in one layer. Pour in the hot sugar syrup. Tuck the quince under another sheet of greaseproof. Then either put a lid on (if there is one), or cover tightly with foil.
Place in the oven for 3½ hours, gently turning the quince and disturbing the peel once or twice over that time to help draw out the rose-pink colour.
Leave to cool for a few more hours, again occasionally turning the fruit and disturbing the peel. The fruit will firm as it cools and your house will smell amazing.
Keep the quince quarters in the fridge, submerged in their poaching liquor. Serve with a good dollop of coconut yoghurt and a scattering of coconut flakes. Use the syrup in gin cocktails.
Register for free to continue reading
Registration is a free and easy way to support our truly independent journalism
By registering, you will also enjoy limited access to Premium articles, exclusive newsletters, commenting, and virtual events with our leading journalists
Already have an account? sign in
Register for free to continue reading
Registration is a free and easy way to support our truly independent journalism
By registering, you will also enjoy limited access to Premium articles, exclusive newsletters, commenting, and virtual events with our leading journalists
Already have an account? sign in
Join our new commenting forum
Join thought-provoking conversations, follow other Independent readers and see their replies