Wines of the week: Eight reds for late autumn
Bridging the gap between mid-November and the looing C word, Terry Kirby selects good value reds from around the world to keep us going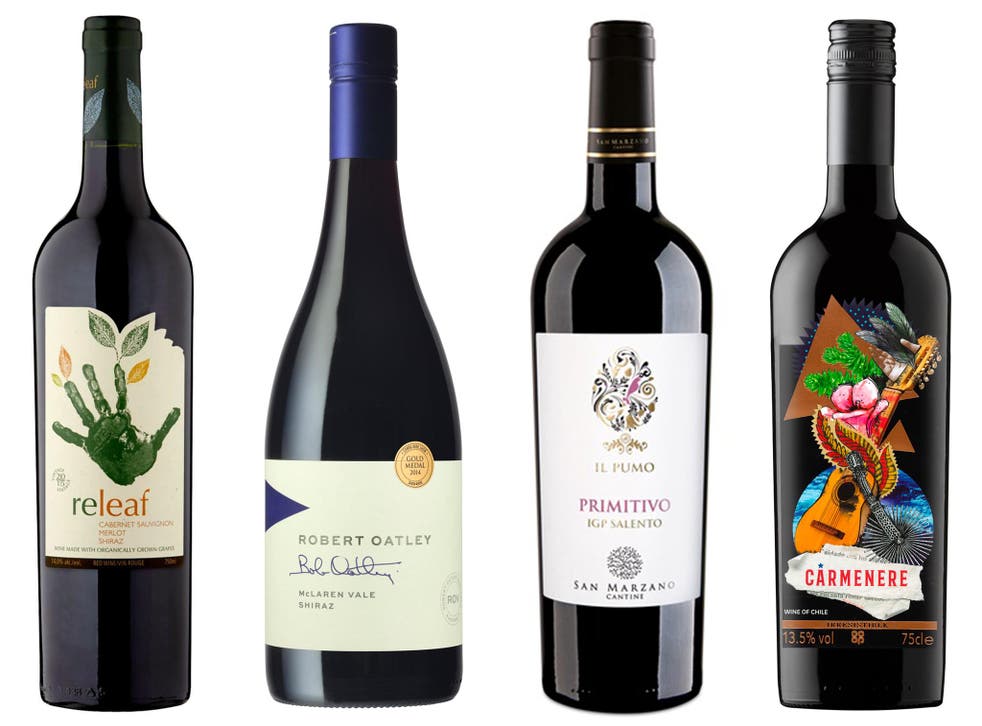 Having recommended some Tempranillo reds last week, today we move off around Europe and the rest of the world in search of reds for late autumn drinking, for that time when the leaves are multi-coloured, the mornings are misty, there is a nip in the air of an evening to whet our appetites and there is a growing sense of festive anticipation in the high street...
But wait, we are not quite ready for that just yet, it's too soon you cry... so, these are wines to bridge the gap before we get to the blockbuster and perhaps more expensive reds for the big festive season, these are decent value, accessible wines to warm the soul and accompany good food and a nice fire in the hearth.
Think chewy, coffee and chocolate flavours, with jammy, gently spiced, autumnal fruits and a distinctly mellow quality, reminiscent of those misty mornings.
Firstly, to the Western Cape area of South Africa for the simply lovely Releaf Cabernet Sauvignon Merlot Shiraz (£11.50 ocado.com) made from organically grown grapes in the Wellington area and tasting more like a southern French blend – say from somewhere in the Languedoc – rather than a big and bold New World red; there is a touch of spice to add to the tobacco and cassis flavours; it is harmonious and attractive.
Over in South Australia, the excellent, European influenced winemaker Larry Cherubino has worked his magic on a wine from one of the big names of Aussie wine, the Robert Oatley McLaren Vale Signature Shiraz 2015 (£12.95 winedirect.co.uk) which again demonstrates a more subtle approach to a grape often emblematic of big Antipodean reds; this is rich, but not overly in-your-face and the flavours of dark fruits and mocha are balanced and gentle with a long finish. Both wines are ideal with almost any Mediterranean style foods
The carmenere grape for my money epitomises the kind of wine we are looking for here: subtle, velvety, flavours of chocolate, coffee, blackberries and plums and reaches its zenith Chile, so here are two fine examples: from the Valle de Maipo, the stylish label on the Irresistable Carmenere 2017 (£7.00 Co-op stores, available from November 22) belies its bargain price but it also represents stupendous value for money as a great quality, midweek easy drinking wine for that bowl of pasta or a pizza. At double the price, the Seleccion Privado Zapallares Gran Reserva, 2016. (£14.95 davy's.com) is a step-up in quality, with some oak ageing and richer, spicy notes and more dinner table than fireside, but you could buy one of each and invite your friends to guess the difference... it might be an interesting result.
The 12 wines of Christmas

Show all 12
Back in Europe and to Apulia in southern Italy, where the local primitivo grape also embodies that approachable quality I'm looking for: the Il Pumo Primitivo Salento San Marzano 2017 (£8.55 allaboutwine.co.uk; £8.65 strictlywine.co.uk) is another delightful 'pasta'n'pizza' wine that soothes after a long day, but won't break the bank: soft, baked fruits, some pepper, well balanced and delightfully moreish.
In France, the south and south west are great sources of well-priced wines that do not flatter to deceive and deliver good value for money. The organic Domaine de Serame Merlot Pays D'Oc 2016 (£9.49 ocado.com) from Landiras in the Languedoc is supple, juicy, with some red fruits and a nice chewy undertow. And in the south west, the Plaimont Co-operative in the Gers region is simply a fantastic producer of great little wines, such as the Chemin des Pelerins Saint Mont 2012 (£7.49 adnams.co.uk; £8.75 gustowines.co.uk) a blend of the local grapes tannat and the rare pinec, which, together with some cabernet sauvignon delivers a powerful mix of rich black fruits, leavened by some silky tannins.
Finally, to Bordeaux, where they know a thing or two about blending grapes to get the desired effect and a great wine for roast meats, autumnal dinner parties or just a special meal for two: the 50/50 cabernet sauvignon/merlot Chateau La Tour Cordouay Medoc 2012 (£17.95 jeroboams.co.uk; £18.50 privatecellar.co.uk) is a mellow, supple, medium bodied and elegant claret, giving far better value for money than more lustrous names in the region. And, if you really want to get ahead of the game, this is one to get in stock now for those festive celebrations round the corner…
Join our new commenting forum
Join thought-provoking conversations, follow other Independent readers and see their replies