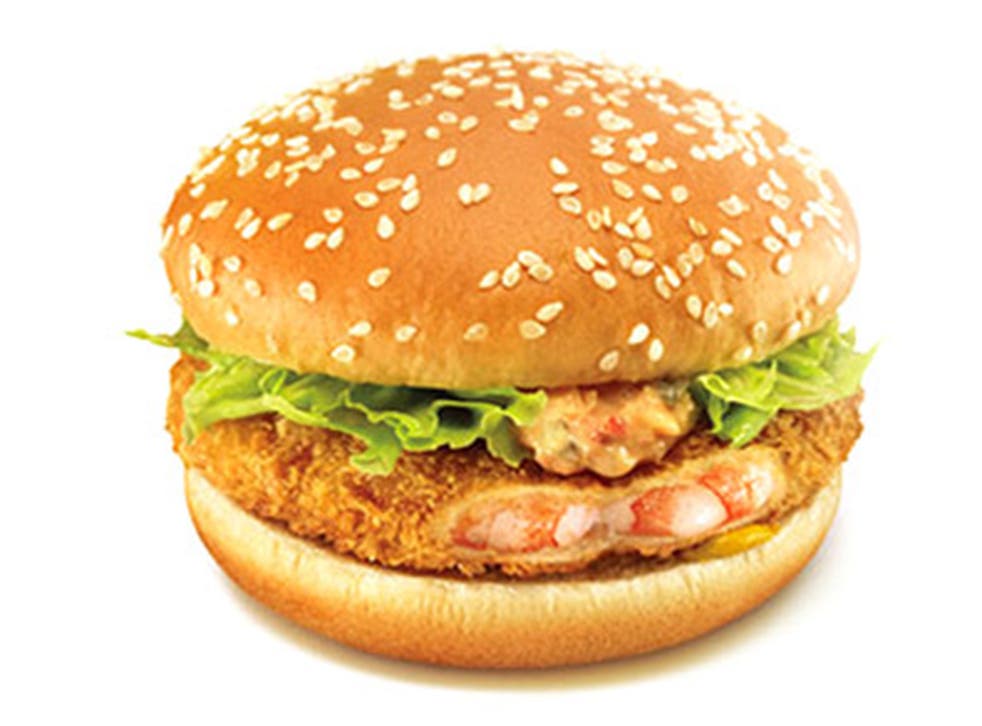 Fancy a McLobster, McCurry or McBeer? McDonald's meals around the world are more exciting than a Big Mac
McDonald's is often considered a safe-bet when travelling. It's the biggest fast food chain in the world, so you can always be sure you'll find one close by.
Normally, you always know what you're going to get as soon as you see those familiar golden arches. But what if you entered McDonald's to find they were serving burgers with black buns? Or a curry served in an edible bread bowl?
Fans of Pulp Fiction will be glad to know that not only are McDonald's meals given different names in different countries, but they also have different menus featuring Ronald's take on the local cuisine.
In China, Hong Kong and Taiwan, customers are given the choice of having their burger served in a black or white bun, presumably to play on the concept of yin and yang. The black burger contains beef and onion topped with black pepper sauce, while the white burger contains chicken with lettuce and a spicy sauce.
McDonald's meals around the world

Show all 14
For curry aficionados, McDonald's in India serve the McCurry Pan, a bread bowl filled with chicken curry. In addition to this, they also serve the McAloo Tikki and the Chicken Maharaja.
For those seeking a more sophisticated meal, burgers in French McDonald's come in a stone-baked ciabatta roll and are topped with emmental cheese. They also do their own take on the classic Croque Monsieur with their CroqueMcDo.
For an even posher meal, Canada offer the McLobster, a lobster roll served only in summer. And keping with the sea food theme, Japan serves a prawn-filled burger topped with thousand island sauce.
Achieving an intriguing mix between a traditional burger and a fancy meal, Japan offers the Carbonara burger...which would make more sense if it was served in Italy. Even stranger, you can also get a Cheese Fondue Chicken Burger, again only in Japan.
If you're just looking for a meaty burger however, look no further than the Das Nürnburger, served in German McDonald's restaurants. With three Bratwurst sausages served with mustard inside a soft white bun, the Das Nürnburger is sure to go down well with those looking for a larger meal.
Keeping with the theme of larger meals, Australian McDonald's stuff their deluxe breakfast roll with bacon, hash brown an egg and spicy tomato. Australian and New Zealand McDonald's also serve their own take on the Happy Meal with their hilarious happy hippo Pasta Zoo.
Should all else fail, you can follow the trend of putting the word "Mc" in front of anything you order and get yourself a McBeer in European restaurants, or a McSpaghetti in the Phillipines.
If you're still not satisfied once you've tried all the meals McDonald's offers on your trips around the world, why not give your traditional dessert a miss and try a kiwi on a stick in Italy?
All pictures copyright McDonald's
Register for free to continue reading
Registration is a free and easy way to support our truly independent journalism
By registering, you will also enjoy limited access to Premium articles, exclusive newsletters, commenting, and virtual events with our leading journalists
Already have an account? sign in
Register for free to continue reading
Registration is a free and easy way to support our truly independent journalism
By registering, you will also enjoy limited access to Premium articles, exclusive newsletters, commenting, and virtual events with our leading journalists
Already have an account? sign in
Join our new commenting forum
Join thought-provoking conversations, follow other Independent readers and see their replies