Food trends in 2016: Be ready with your celeriac, parsnip desserts and tinned tapas
If you want to keep up with the food trends that are likely to flourish this year, don't worry about the reindeer heart stew, at least not yet. Sophie Morris sorts the buckwheat from the teff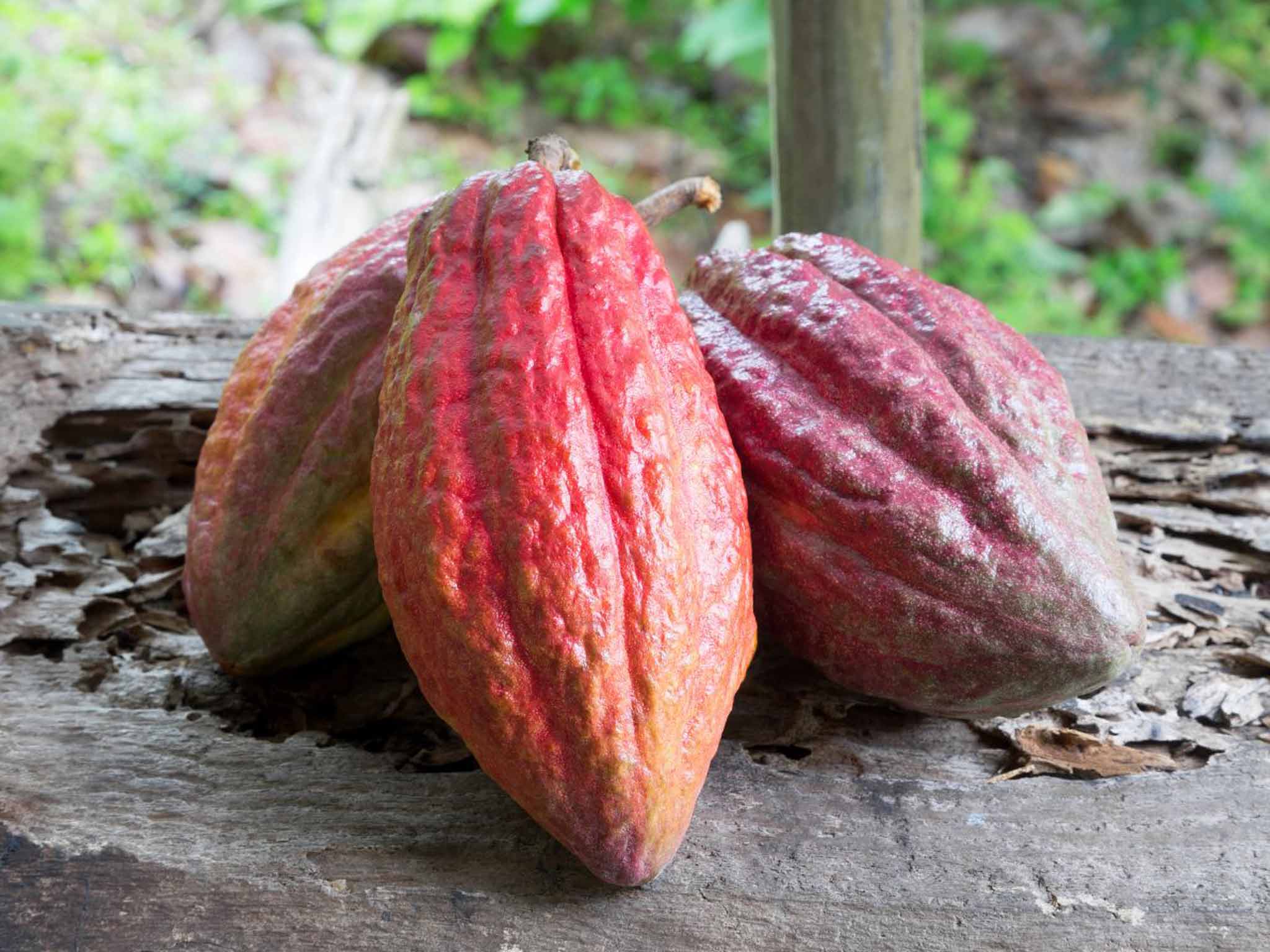 Cacao
Last year's obsession with so-called clean eating has spawned a taste for raw cacao – its dense and earthy bitterness being the next step for dark chocolate aficionados. Chocolate and cocoa powder come from cocoa or "cacao" beans, the oval pods that grow on trees in very hot places close to the equator, across Africa, Latin America and the Caribbean.
The cacao nibs and powder now available from supermarkets and health food shops are the bean – dried, powdered and packed – in the purest state we can buy it, free from all additives including sugar and cocoa butter.
Health food bloggers such as the Hemsley sisters, with their chocolate avocado mousse and Ella Henderson with her Deliciously Ella sweet-potato brownies, have sent the popularity of cacao through the roof – sales of bars alone are up 36 per cent at Waitrose.
Celeriac
This mysterious root vegetable isn't blessed with good looks, and is best known in the deliciously mustardy French dish, celeriac remoulade. Recently, it's been popping up on menus around London, suggesting that it's set to receive even more attention as 2016 rolls on. Peruvian restaurant Pachamama has celeriac cooked in Galician beef fat, the Grain Store is serving buttermilk and sage pot-roasted celeriac with cauliflower, Hackney's Poco cooks up mussels in celeriac milk, and the Rosewood Hotel's Mirror Room has fillet of venison with celeriac on the menu. Retailers are also reporting a surge: supermarket sales of the vegetable were up almost a third on the previous year.
Gourmet tinned foods
The days when tinned food meant baked beans or a can of skipjack tuna are over. We are rediscovering canned goods alongside the renaissance in preserving. Other countries across Europe, especially Spain, have long known that cans are perfect for keeping our most treasured foods in top condition. There, high-quality seafood – mussels, scallops and anchovies – is marinated in escabeche, an acidic sauce, and canned. Nancho Manzano, the Michelin-starred executive chef of Ibérica restaurants, expects gourmet tinned food to really come into its own this year, and says it's an easy way to make tasty tapas at home.
Look out for the Ortiz brand, which cans top quality tuna belly and anchovies, mackerel fillets and big anchovies from Nardin, and for Charles Basset tuna and the sustainable brands Fish 4 Ever and Fish Tales.
Korean cuisine
Kimchi, a staple of Korean food, has won plaudits for its stomach-settling and antibacterial qualities, but it's also served as an entry point to the national cuisine of Korea. Korean food has been slow to make an impact here, compared with Chinese, Thai and Vietnamese, but new restaurants, and increased availability of key ingredients, make it a cuisine to watch this year.
"It's the next Asian food to become mainstream," says Jamie Dobbin, head chef of One Canada Square restaurant and Bar in London. "It's less greasy than Chinese, less spicy than Thai and lighter than Indian."
Nicola Lando from souschef.co.uk has watched sales of DIY kimchi kits and gochujang (hot pepper paste) soar over the past year. "It won't be long until someone rolls out a chain of mainstream Korean BBQ restaurants in the UK, each table with its own in-built burner and chimney for customers to cook their own meat at the table, wrapping it in a parcel of lettuce, with rice and spicy condiments before eating," she says. "They push every consumer and restaurateur button: smoke, tableside theatre, spice, sharing dishes, healthy, short menus. In the meantime, Brits will continue to enjoy these fermented and sweet-spice-umami flavours at home."
If you can't wait, and live in London, seek out Korean street food vendors such as Kimchi Cult, Kimchinary and Busan BBQ. And if you're cooking at home, the recently published Our Korean Kitchen (Weidenfeld & Nicolson, £25) will teach you more about the cuisine.
Beyond wheat
Gluten-free foods are vital for coeliacs but are often dismissed as a fussy-eating fad. If you're curious, 2016 is the year that gluten-free will go mainstream, and we can all have a dabble.
"Gluten-free is a trend we've seen on the rise for a few years now, with no sign of abating," says M&S nutritionist Helen Seward. "We've grown our range considerably for coeliac customers and for those looking to cut down their gluten intake."
The retailer is also launching a range of "Made Without Wheat" ready meals (the first on the high street) and a new range of "Made Without" baking products and desserts.
Buckwheat (gluten-free, despite its name) got a boost last month after Nigella Lawson revealed her buckwheat cookie recipe – sales went up 116 per cent at Sainsbury's, which is planning a buckwheat pasta for 2016. The Ninth chef Jun Tanaka predicts that the popularity of soba noodles, made from buckwheat, will rise as we look for healthier ways to feed our ramen habits.
Souschef.co.uk says there is demand for other unusual flours, such as potato starch, tapioca flour and teff flour. "Increased awareness of food allergies and intolerances is a great thing for broadening our larders," says Nicola Lando. "And flours that have previously been in the back corners of Asian supermarkets are now in demand – even from cooks who have never thought about making a dish gluten-free. How to make the crispiest fried wings? Coat in potato starch. How to make sure onion bhajis stay crisp well after frying? Stir in a little tapioca flour. Want to add protein to homemade bread? Add a little Ethiopian teff flour."
Home smoking
Restaurants such as Smokehouse and Pitt Cue Co in London have popularised smoked foods, and now we can do it at home, too. Sales of home smoking kits and accessories are up, while experts recommend smoking yoghurt, cheese, and buying liquid smoke.
Smoking at home can be surprisingly simple. "It's going to be a huge feature of our menus in 2016," says Grant McPherson, head development chef at high-end caterer Rhubarb. "For home entertaining, this can be done quite easily. You will need a flat-based bowl, a colander and some smoking chips, which you can buy from any specialist food store. You can also use hay, which you can get from pet stores. Simply place your chips in the bowl, ignite, allow the smoke to calm a little and then place your colander on top with your chosen ingredient."
McPherson recommends smoking venison, sea trout and even chocolate.
Souschef sells home smokers as well as liquid smoke – made by condensing the gases of smouldering woods – in hickory, pecan and apple flavours, which bring an instant campfire taste to your food. Sales of its smoking products are up 300 per cent on last year.
Healthy street food
In recent years, "dirty" burger and burrito vans have turned us on to the potential of good quality and innovative street food. We haven't lost our taste for indulgent street-food treats, but growth brings diversity and this year looks set to build on a gathering force of healthy street-food vendors.
Finalists at the British Street Food Awards last month included Happy Maki, who make vegan sushi, while overall winner Seadog served up a herring laksa with rice noodles and seaweed.
"Street food is showing no signs of slowing down, although healthier options are likely to take over in 2016 with more vegetable-based dishes," says Saiphin Moore, the co-founder and head chef of Rosa's Thai Café, which started out as a stall in Brick Lane, east London. "East Asian cuisine from Thailand and Laos is perfect for this because it provides fuller-flavoured dishes that are fast, fresh and soulful with lots of vegetables and herbs."
Savoury desserts
Fancy a parsnip pud? Head over to the Grain Store in London's King's Cross, where chef Bruno Loubet has created a stunning parsnip and white chocolate cream dessert, paving the way for layfolk to start experimenting with more vegetable-based desserts at home. Rhubarb's Grant McPherson has been using peppers, fennel and chicory in his puddings, which include a chicory tiramisu.
We're already well acquainted with carrot cakes, but savoury pudding flavours are set to become more sophisticated. "I predict more savoury, herb-based desserts such as mango and white chocolate mousse with basil and an influx of coastal and woodland ingredients such as sea buckthorn, wild garlic, wood sorrel and sea beets," says Matt Hill, head chef at Down Hall hotel in Hertfordshire.
Nordic
We've long had a soft spot for Scandi sensations, and Nordic cuisine – from Denmark, Finland, Iceland, Sweden and Norway – will have its moment in 2016 and beyond, as we show our appreciation for the chefs and ingredients from the region.
Magnus Nilsson, whose restaurant Faviken is in hard-to-reach northern Sweden, published encyclopaedic The Nordic Cookbook in October (Phaidon, £29.95); already a hit with foodies, its popularity will grow throughout the year. Fire and Ice: Classic Nordic Cooking by Darra Goldstein (Ten Speed Press, £27.50) was published in the same month.
Nordic ingredients such as rye and smoked or pickled fish are becoming more readily available. Nilsson shares recipes for rye bread and a rye-flour porridge, and open rye-bread sandwiches are popular at London restaurants such as the Nordic Bakery and Snaps & Rye.
Nilsson's professed aim, however, is to take us beyond stereotypical Nordic ingredients. Anyone for blood pancakes with reindeer fat, boiled seal intestines served with blubber, or reindeer heart stew?
Join our commenting forum
Join thought-provoking conversations, follow other Independent readers and see their replies