From farm to fork: Meet the Cornish fishermen, vegetable-growers and butchers causing a stir in London's top restaurants
One man is bringing together Cornwall's most accomplished growers, fishermen and butchers with London's best chefs to put the finest, freshest produce on the plates of some of the country's best restaurants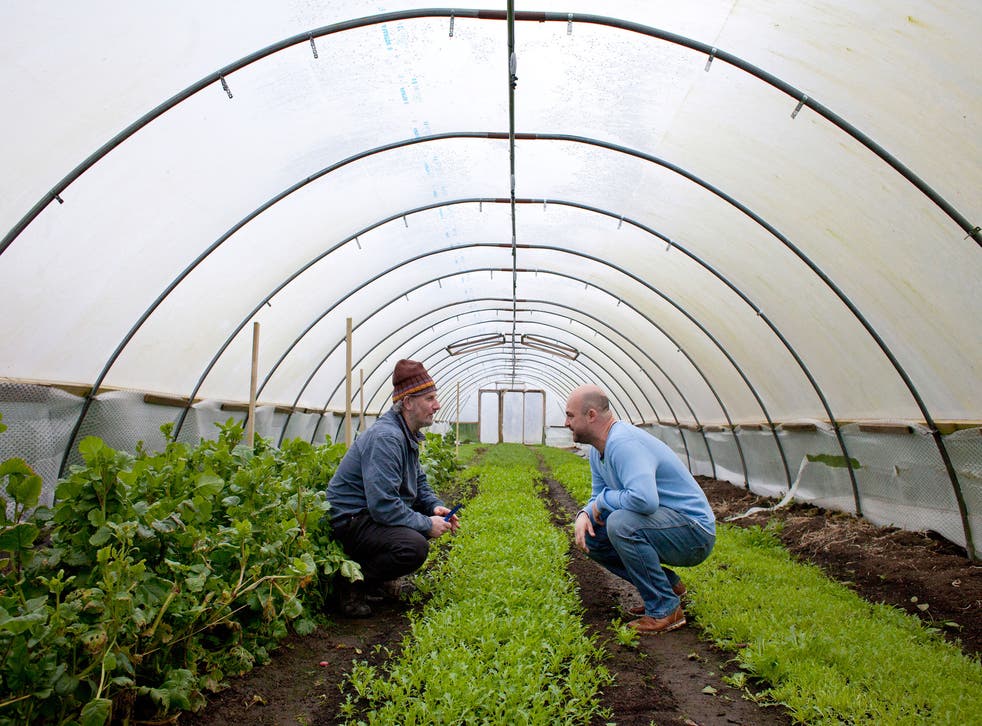 Have you ever wondered how chefs at top restaurants get hold of the produce that defines their menus? It is a question I've found myself asking while eating in London recently, particularly because some of the best things I've put in my mouth – be they nutty fried Mylor Shrimp at Kitty Fisher's or dry-aged steak at Verden – have all come from the same place: Cornwall.
This is no accident. In fact, much of the Cornish meat, fish and seafood cropping up on modish menus across London can be traced to one man: Matt Chatfield. For five years, this fiercely proud Cornishman from a long line of farmers has been working with fishermen, butchers and vegetable-growers in the county, selling their wares to some of the capital's best eateries, and introducing them to chefs.
He began as a van driver on a mission, running the ingredients to London himself, but his knack for making connections has seen him infiltrate the capital's food scene not just as a driver (he now outsources the delivery to a distribution partner), but also, now, as a publican and purveyor.
Last year, Chatfield began working with pub owner Michael Nicholas at two London venues – The Three Crowns in Stoke Newington and The Adam and Eve in Homerton, which now serve almost exclusively Cornish fare. With two more sites in the pipeline (including a Fitzrovia venue just confirmed), his quest to extend the reach of his home county is growing apace.
"When I started calling some of London's best restaurants and telling them I thought I had the best produce in the country, they thought I was an idiot," admits Chatfield, as he talks to me from the passenger seat of a six-seater Volvo.
Meet the Cornish fishermen, vegetable-growers and butchers

Show all 8
I've joined him as he takes some of the chefs he works with down to Cornwall to meet their suppliers. As we hurtle south, there's a tangible sense of excitement among the chefs, and also from Chatfield, whose accent grows discernibly more Cornish the closer we get to his home.
"The Cornwall Project is a London-Cornish collective," he explains. "It's aimed at driving Cornish produce, creating jobs in Cornwall – which is a huge area of unemployment – and enabling the producers to be better at what they do. As soon as the chefs meet the suppliers, they know they're perfectionists – and we're fussy about who we let in: we're working with only 25 chefs at the moment. They know that to get the best out of the supplier, they've got to understand one another. No one's tied to it – it's all based on trust and friendship."
Behind the wheel is Calum Franklin, head chef of Holborn Dining Room at the Rosewood hotel, who's been working with Chatfield for more than a year; in the back with me is Zijun Meng, a former chef at Chiltern Firehouse and Viajante, who's on the look-out for special ingredients for his forthcoming restaurant in Mayfair. We're also joined by Michael Harrison, head chef of the Adam and Eve and Three Crowns.
As Chatfield negotiates orders on his mobile phone, the chefs discuss the appeal of the project. "The fish I get from Matthew Stevens [a Padstow day-boat fish supplier] is unreal," says Franklin. "It's still in rigor [mortis] when we get it, and we have to wait for it to calm down before we prep it as it's still curving on the chopping board."
"People bandy 'farm-to-fork' around too much," adds Harrison, "but this is as close to that as you can get."
Our phones lose signal as we get to Chatfield's family's farmhouse in Launceston, and London feels a long way away as we share warm scones with jam and clotted cream. In the evening, we feast at Paul Ainsworth's Michelin-starred Number 6 Restaurant in Padstow, where local produce is transformed into thrillingly theatrical dishes, such as juicy monkfish with an Asian-spiced duck broth and "pick your own" salad.
The next day, we're up at dawn to brave torrential rain and meet Sean O'Neil, the lauded "Modern Salad Grower" of Keveral Farm, an organic-farming community in St Martin-by-Looe. As well as supplying salad and vegetables to Harrison at the pubs, O'Neil's explosively flavourful salad leaves, delicate edible flowers and beautiful artisan vegetables reach some of London's finest restaurants via specialist fruit-and-vegetable supplier Natoora.
O'Neil, whose bohemian style bears witness to his former life as the frontman of psychedelic band the Moonflowers, greets Chatfield and Harrison with a hug before we duck into the damp warmth of a polytunnel for cover. The chefs drift off amid undulating seas of peppery nasturtium to pick potent-tasting shoots of coriander or amaranth, as O'Neil tells me how he fell into growing: "I just started growing plants, herbs and vegetables at home for friends and family in Bristol, and it grew from there. I moved to Keveral, which has been operating as a growing community for decades, and started working with its local salad-box scheme. The chefs followed – I've been working with them for about 12 years."
More recently, tens of thousands of pounds of investment from Natoora as part of its Good Earth Growers project has allowed O'Neil to turn his talent into a flourishing business. "We've grown every year at 80 per cent; now we're employing more people than ever and growing across 35 acres in Cornwall. It started as a tiny operation and for a long time it wasn't really functioning as a business; we were playing with different ways of growing – in the dark, different shapes, adjusting the variables. It's amazing to work with chefs. We already do everything by hand, so it's really rewarding to work with the ideas they bring us to give them exactly what they want."
Zijun asks O'Neil about harvesting very young baby carrots for his new place. The two men are rapt in conversation, which results in Zijun declaring that he'd like to come down to the farm before his opening to spend a few days among the produce. "We've just met, but already we're getting ideas," says O'Neil. "This is what happens. People can't do this at the market."
At the Adam and Eve pub, which Chatfield calls "a centre for innovation" for the Cornwall Project, Harrison is working with O'Neil to design an edible garden that will feed his dishes with flowers, leaves and baby veg.
Just before we leave, O'Neil hands out a mixture of leaves, which he tells us to eat together. "They'll taste like oysters with salt and lemon," he says – and sure enough, the flavours imparted by the salt bush, red sorrel and oyster leaves is an inspired, intense burst of brine and citrus.
We head on to Padstow, meeting day-boat fisherman Johnny Murt in a pub on the quay, where his boat Homarus (Latin for lobster) bobs in the rain. Murt comes from a long line of fishermen, but spent 10 years in Massachusetts studying marine science, returning five years ago to apply his newfound knowledge. He describes how working with chefs drawn to Padstow's foodie cachet has changed the way he and some of his colleagues fish. "You can go for bulk, which is what the bigger boats do, but for the smaller operations it makes sense to target really good crab, spider crab and lobster," he says. "It was important for us and the chefs to realise that we could get fish into London that was caught the day before."
Cornwall's super-cold waters produce incredibly varied, high-quality fish and shellfish. Much of it is exported to Spain – but the slowing economy there is starting to result in a lower fee for the fishermen. Over pints of golden Cornish ale, Murt explains that the day-boat fishermen are pulling in a huge amount of spider crab – but while it is considered a delicacy in Spain, it's hardly eaten here. "We've been bringing in 10 kilos in a haul, but the frustrating thing is that it's hard to sell in the UK." "I'll take 10 kilos," pipes up Franklin, who wants to put the crabs on his menu as a speciality dish served steamed with brown-crab mayonnaise and toasts. "We've got the vans here to get them up to London, so let's do it," says Chatfield.
We soon head back to Launceston to the butcher of the moment, Philip Warren. A family-run operation, its methods for dry-aging meats to intensify their flavour and its work with indigenous breeds of animal have earnt it cult status among top London chefs such as James Lowe at Lyles and Brett Graham at the Ledbury.
Being a Launceston lad, Chatfield was keen to work with his local butcher when he started the Cornwall Project. "Warren's only used to supply a couple of Cornish pubs with its meat, but once people started hearing about it being used in restaurants in London, everyone wanted in. They're in a town of 3,000 and they have 7,000 customers. All the profit from working with London clients has been reinvested into facilities such as the meat-hanging room."
Harrison explains how he works with the butcher to enable it to expand. "It's all about carcass management. At the pubs we take what Warren's needs to shift. So if a high-end restaurant such as Fera buys the saddle of lamb, we'll buy the rest of the animal. It wouldn't work for them just to sell the high-profit cuts such as fillet and strip loins; to buy more fantastic animals, they have to shift everything – we'll take cuts such as the onglet and know that it's superb quality. It's an unusual supply model but it means that everyone is happy – and it helps the expansion of the butcher."
We're met at the door by Ian Warren (son of Philip) and as we wander around the rows of pork, mutton and beef, it's clear to see why this place has become an institution. As well as the dry-aging, it's the way the Warrens work with both farmers and chefs that sets them apart. They have an unusual level of involvement with the farms, personally selecting the cattle they'll take based on which of the native breeds are best at specific times of the year. "We're about natural growth and grass-feeding," explains Warren. "Good British beef will knock the socks off American for flavour. In the States they don't have the sort of pastures we have here, so they feed the cows on corn to fatten them, which is great for texture, but not flavour."
Franklin is excited to see the shelf of 45- to 50-day aged sirloin steak. "Beef becomes more tender, and the flavour is stronger when it's aged like this," he says. "I don't want to use Wagyu or Kobe – I think you can get a similar effect with dry-aging and I don't have to charge £100 for it.
"When we first started getting the aged sirloin from Warren's, we'd take it out of the butcher's paper and all the chefs in my kitchen would gather around to smell it – it made everyone's eyes sparkle. The benefit of coming here is that I can speak to the butcher and see what's realistic for them to achieve for us. I can see what impact me just taking the sirloin has on their business and I can think about how to use other cuts, while also learning about what else they have. They're going to cure some pork bellies for me to a spec and I'll put them on the breakfast menu."
For Chatfield, working with chefs who appreciate the quality of the produce is just a part of it – they also have to see the bigger picture, like Franklin with his pork bellies. "The main thing is creating lots of jobs," he says. "The chefs we work with get it – they want the suppliers to get better. We've taught them that they can't just have the supplier, they need to [help them] get bigger and better, but we're always going to grow in a way that's sustainable and guarantees the quality. We're doing a great service for London and, in turn, London's doing something for Cornwall. There's always something new and exciting on the go, and I don't think my job is done at all. I just keep thinking, what's next?"
Register for free to continue reading
Registration is a free and easy way to support our truly independent journalism
By registering, you will also enjoy limited access to Premium articles, exclusive newsletters, commenting, and virtual events with our leading journalists
Already have an account? sign in
Register for free to continue reading
Registration is a free and easy way to support our truly independent journalism
By registering, you will also enjoy limited access to Premium articles, exclusive newsletters, commenting, and virtual events with our leading journalists
Already have an account? sign in
Join our new commenting forum
Join thought-provoking conversations, follow other Independent readers and see their replies