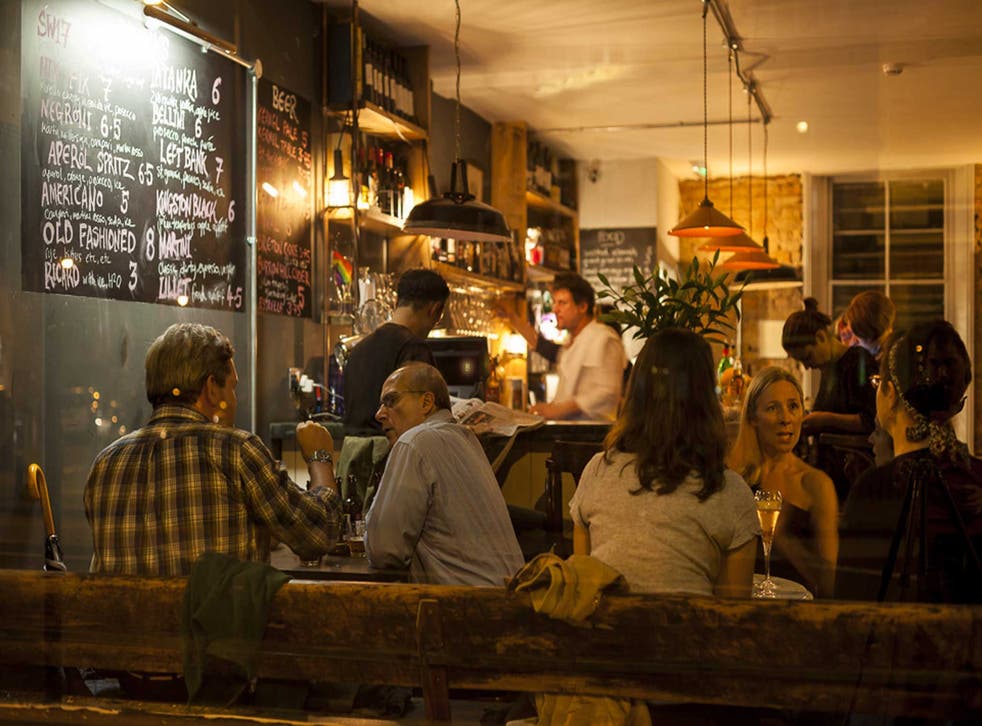 From journalist to bar owner: 'I gave up my job at The Independent to run my own business'
Madeleine Lim gave up her job as Food & Drink Editor on The Independent's magazine to start a tiny bar on a scruffy strip in Tooting, south London
For seven years, I was Food & Drink Editor on The Independent's magazine – and it was a job to die for. I tinkered with the luminous words of Tracey MacLeod, Mark Hix and John Walsh; my desk was piled high with delicious freebies; I dined at fancy restaurants and stayed at posh hotels. So why did I give it all up in order to start a tiny bar on a scruffy strip in Tooting, south London, near where I live?
There were reasons: the grim commute, the disheartening flicker of the computer screen, nagging worries about the future of print journalism. But mostly, it was just the increasing realisation that I had to get out there and do something for myself – life's too short to stay in the day job forever.
In February last year, I drove past an empty Victorian corner shop with a 'For Rent' sign in downtown SW17 (oh, all right then, Mitcham Road). It had been a Polish hairdresser called 'Immortal Hair' that sadly hadn't lived up to its name. I stopped the car and looked in. It looked forlorn, but I wondered... might there be a way to turn it into some sort of bar?
My friend and business sidekick, Martin Pannett, sketched out a rough plan of how it might look, and a few days later he came with me to meet the landlord at the shop. There were other interested parties, so we had to make an instant decision based on a gut feeling. The place was minute, but it had character: lovely windows, a cosy fireplace, original floorboards and a pretty garden. After a few minutes we handed over £4,000 deposit; cash, non-refundable. It felt horribly reckless, but we calculated the risks. Tooting was, to use the loathsome phrase, 'up-and-coming'; there was no other bar in the neighbourhood; the rent was fair and the mark-up on drink is good – it seemed like a perfect first project.
Others, however, thought we were deranged. One of us was a journalist, the other a musician, and our experience of running a bar amounted to, er, zero.
"You'll never make a bar work in that tiny space!"
"Do you really think Tooting is ready for this?"
"You two haven't a clue what you're doing!"
I left work at the end of March, and we had eight weeks to create a bar from scratch. First, the tedious bits: planning permission, premises licence, re-doing the plumbing and electrics. But after that came the fun part: re-styling it into a salon for cool drinking. It was liberating to have a blank canvas. No interior designers or bar consultants – we just imagined the sort of place we'd want to visit ourselves, and made it up as we went along.
The shop was only 22ft x 11ft, so we had to make clever use of the space. We decided on a zinc bar top, marble tables, bentwood bar chairs, 1930s French factory lights, posh dark-grey colours and some exposed brickwork – a bit of Soho glamour imported down the grisly Northern Line. The concept was simple: no trashy Eighties-style cocktails; instead, classic drinks such as martinis and negronis served in beautiful glasses, a small but decent wine list, local craft beers and Spanish-style cold bar snacks.
By early summer, we'd run out of money. So we ordered the bottles, stocked up the shelves and, completely unprepared, opened the doors. Fortunately, we were busy from day one, and have continued to be so. No marketing, no Facebook page, no website – but fantastic customers, great press reviews and more than 1,500 Twitter followers. Would we do it again? Wait and see.
The Little Bar, 145 Mitcham Road, London SW17; @LittleBarSW17
Register for free to continue reading
Registration is a free and easy way to support our truly independent journalism
By registering, you will also enjoy limited access to Premium articles, exclusive newsletters, commenting, and virtual events with our leading journalists
Already have an account? sign in
Register for free to continue reading
Registration is a free and easy way to support our truly independent journalism
By registering, you will also enjoy limited access to Premium articles, exclusive newsletters, commenting, and virtual events with our leading journalists
Already have an account? sign in
Join our new commenting forum
Join thought-provoking conversations, follow other Independent readers and see their replies