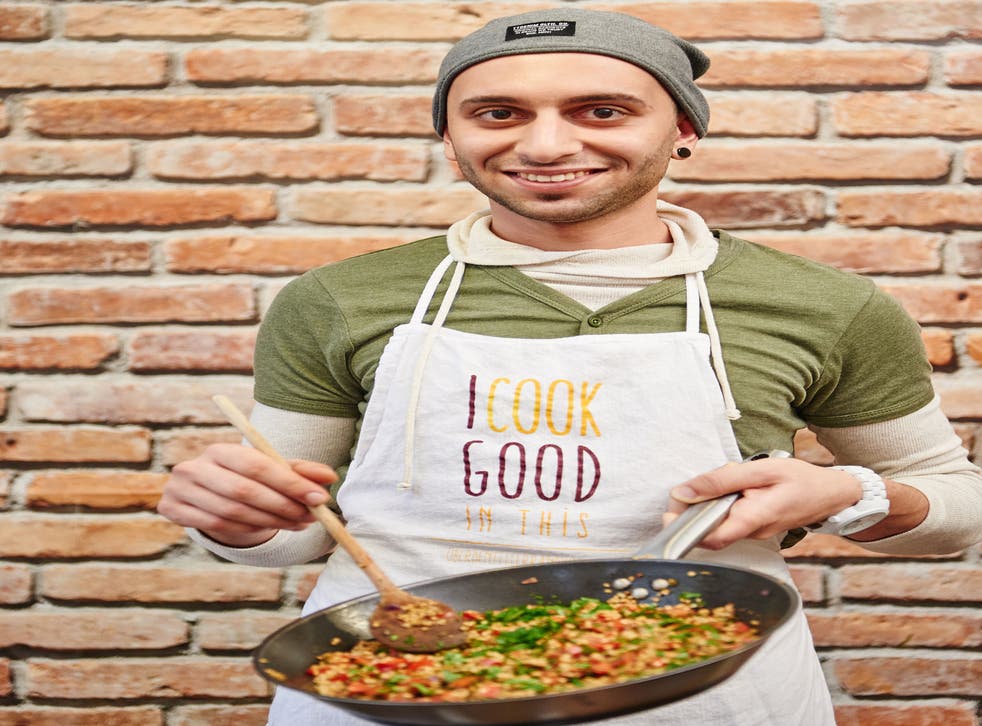 German charity Uber den Tellerrand asks refugee chefs to share recipes from their home countries
Rachael Pells gets a taste of their culinary memories
When Hadi Nsreeny arrived in Germany from Syria earlier this year, he was exhausted and alone. "When I first arrived, I didn't know anyone," he says. "It was so hard."
Originally a web developer, Nsreeny's life in Aleppo was very far removed from the one he lives now in Berlin. "I spent four years of my life sitting behind my Mac," he says. "Now I'm planning to become a professional chef."
As one of 1.5 million refugees expected to arrive in the city by the end of 2015, Nsreeny was approached on the street by the charity group Über den Tellerrand and invited along to a community cooking class. "The media coverage was all about the challenges and problems involved with migrants coming in," explains Lisa Thaens, the head of intercultural communications at the charity. "What if we could do something positive that helped change people's perceptions and do good for the people who were seeking refuge?"
Food and drink news

Show all 35
Two years on from its beginnings, Über den Tellerrand is now a 300-strong community which runs a host of projects across a number of German cities. From cooking classes to language exchanges, its aim is to help refugees to integrate and find purpose through new activities, while changing natives' perceptions of the refugee community.
And from 7 December until 11 January, British diners can get a taste of the results of the project. The recipe box delivery service Marley Spoon – which delivers recipes and their ingredients for customers to cook at home – will be partnering with the group and incorporating recipes from some of the Syrian, Afghan and African refugee chefs involved.
It's a chance for UK customers to make and try new delicacies such as Afghan carrot soup with red lentil, yoghurt and pitta bread, and Arabic sweet spiced chicken with raisin and almond rice. What's more, it's a chance to get to know the stories and memories from the cooks involved, with 100 per cent of the profits being donated straight back to the charity project.
"We wanted to show the migration from a positive angle," says Thaens, who works first hand with the refugees and local volunteers. "Our first idea was the cookbook. We collected recipes from people camping on the street and invited them to come along and try it. Our message was always that these are people with their own culture who we can learn something from."
The professional cooking classes take place every two weeks in the Über den Tellerrand hub, with a variety of community meetings taking place each week. Then there are "spin-off" groups taking place on the days in between, such as yoga, language exchanges, offering routine and building trust between those involved.
"I think it's important to make sure that not only are people's basic needs covered but we should go a step further to helping them integrate and help them to get their self-esteem back and do fun things."
Four months after participating in his first cookery class, Nsreeny is working with the Marley Spoon project first hand. "I do a bit of everything," he says, "from cooking for the project to creating new recipes and sharing traditional ones from my family. I just love it."
One of his favourite dishes is called mhshi. "It's a courgette dish stuffed with rice, meat, tomato and seasoning. The dish means a lot to me because we used to make it in summertime with friends," Nsreeny says.
"With Über den Tellerrand I found myself. It's no longer an experience; it's my life," he adds. "Through this initiative I've made amazing friends, have had some awesome times, and now have got an internship in a restaurant because of them. There's nothing worse than having nothing to do and no prospects when you move to a new country, but food is like a bridge – I can try your food and it brings us together. I love taking recipes that I've tried at home to recreate myself. Now I have stronger friendships here than I had back in Syria. It makes me feel at home."
Marley Spoon recipe boxes start from £4.35 per portion and can be delivered across the UK; marleyspoon.co.uk; ueberdentellerrand.org
Register for free to continue reading
Registration is a free and easy way to support our truly independent journalism
By registering, you will also enjoy limited access to Premium articles, exclusive newsletters, commenting, and virtual events with our leading journalists
Already have an account? sign in
Register for free to continue reading
Registration is a free and easy way to support our truly independent journalism
By registering, you will also enjoy limited access to Premium articles, exclusive newsletters, commenting, and virtual events with our leading journalists
Already have an account? sign in
Join our new commenting forum
Join thought-provoking conversations, follow other Independent readers and see their replies