Global Christmas 2013: What do people eat for Christmas dinner around the world?
From Ghanaian to Peruvian via Jamaica and New Zealand: We asked five chefs to cook us their favourite regional Yuletide plates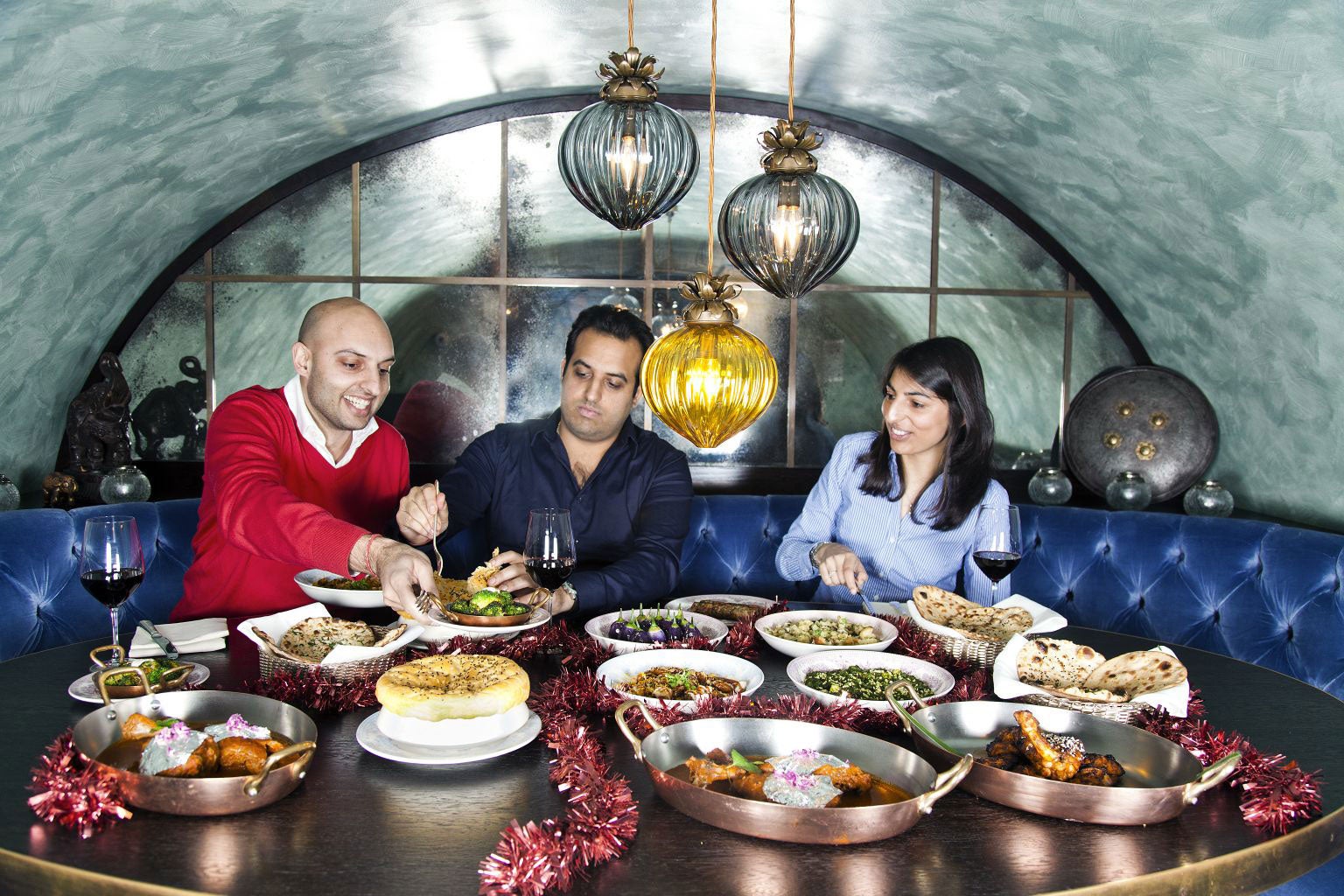 One of the greatest things about Britain is its multiculturalism, and how it has meant that modern British dining is made up of a variety of different cultures, cuisines and traditions.
I grew up in Kent, and my family is Irish-Italian. For as long as I can remember, my family have made anolini for the Christmas meal, a traditional Italian pasta dish of ravioli-like parcels stuffed with veal, in a meat broth. It's delicious and we still make it using my grandmother's anolini stamp. The stereotypical Italian emphasis on family, friends and food remains the essence of my Christmas, as it does for countless others worldwide. I love that whatever the formats, flavours and ingredients involved, Christmas dinner around the world is an opportunity to sit down at a table with the people who are most important to you.
Ghana, Zoe Adjonyoh
In Ghana, no single dish is associated with Christmas; rather the day is marked with an abundance of everyone's year-round favourites. "It's not like in the UK where people have a turkey and they might vary that to a goose," says Zoe Adjonyoh, founder and chef of the pop-up restaurant Zoe's Ghana Kitchen. "It's basically a lot of mixed meat and fish. But you just go to town at Christmas with lots of it."
As such, her dining-room table heaves under the weight of a plethora of stews, vegetable dishes and staple starchy sides. There's spinach and tilapia with a kpakpo shito (hot pepper) dressing; yam served as chips and mashed into balls with turmeric and spring onion and dipped in a Scotch bonnet salsa; a traditional light soup of chicken and vegetables in a broth with kenkey dumplings, jollof rice and a papaya and coconut crumble with lime-infused cream for dessert.
The Christmas dinners of Adjonyoh's childhood were cooked by her Irish mother, but would often feature nkatenkwan, a Ghanaian peanut-butter stew of chicken, crab, lamb, snails and anything else to hand. Her all-time favourite Christmas dish? "Eighties prawn cocktail for starter. You can't beat it."
By Oscar Quine
Mini Mashed Yam balls with a Golden Gari Crust
Serves 12, with 4-5 yam balls each
900g yam, peeled, in 1inch cubes
150g margarine/butter to mash
1tbsp turmeric
2 small cooking onions, finely chopped
6 spring onions, finely chopped
3 garlic cloves, minced
1tbsp fresh thyme Salt and pepper to season
8 free-range eggs whisked
100g plain flour, seasoned
100g gari to coat
Oil to fry
Rinse the yam to wash off the starch. Cook in a large pan of salted boiling water for 12-15 minutes, until fork-soft. Drain, rinse, and mash with margarine and turmeric; leave to cool. Tip into a large bowl and add the chopped onion, garlic, thyme, seasoning and half the whisked eggs. Add flour to get the right consistency. It should be a smooth mash.
Form the mixture into plum-size balls. Roll them in the flour, then in the remaining whisked eggs, followed by the gari (a flour made from cassava tubers). Chill for an hour to firm up. Heat a pan, then add the oil. Fry in batches until golden. Remove on to kitchen paper. Repeat with the rest. Serve with some shito and Scotch bonnet salsa or a salad.
Nkaakra (Light Soup)
Serves 8
2kg chicken thighs
2tsp salt to season
2cm fresh ginger, peeled and grated
1tsp extra-hot chilli powder
2 Scotch bonnets (de-seeded and diced)
1tbsp crushed grains of paradise
1tbsp chilli flakes
2 chicken stock cubes
A handful of fresh coriander and thyme
800g fresh tomatoes
3 garlic cloves, finely diced
2 cooking onions, finely diced
1.5 litres hot water
500g mixed vegetables
Heat 1tbsp oil in a large pan and fry the chicken skin-side down until it's crispy. Turn the chicken over and add one onion, salt, ginger, Scotch bonnet, grains of paradise, stock cubes, chilli powder, chilli flakes and fresh herbs to the pot and fry until the onions are translucent. Blend the tomatoes, garlic and other onion. Pour over the chicken, then cover and simmer for about 20 mins until the juices run clear. Add the hot water, bring to the boil and simmer until tender. Add the remaining vegetables and cook until tender. Garnish with a sprig of coriander.
Zoe is cooking a Ghanaian Christmas feast tonight at Palm2, London E5; zoesghanakitchen.co.uk
Miles Kirby, New Zealand
It may be five degrees outside, but Miles Kirby is standing in the garden of his east London house in only a T-shirt. One wonders if it's force of habit. For the head chef and co-owner of Caravan in London's King's Cross is cooking us a Christmas feast, and where he comes from that means beaches and barbecues, fresh fish and flip-flops.
"Growing up in New Zealand, the temperature never dropped much below 30 degrees on Christmas Day. So we do things a little differently there," says Kirby.
Each year his family head to their beach house, an hour north of Wellington on the Kapiti coast, for their Christmas lunch. They cook the food on a barbecue made with driftwood collected from the beach by the children.
"When I was very young, most New Zealanders used to have the traditional British Christmas dinner, but as I got older we started to move beyond that post-colonial way of doing things," he explains.
By the looks of today's feast (enough for a family of six), they moved quite some distance indeed. The first course is a dish of New Zealand whitebait, a Kirby favourite, followed by smoked fish, which his brother-in-law usually goes free-diving for on Christmas morning (today we are making do with trout). After that comes the lamb – "New Zealand's best export," jokes Rene, Kirby's partner – served with a zingy pea salsa and a sweet potato salad. On the side is a kumara (sweet potato) salad.
The pace of eating is much slower than in Britain and the emphasis, like that of his restaurant, is on fresh produce and light flavours.
Still, though, some things are unchanging. "In New Zealand we still fall asleep after lunch," he says, "but we do it on the beach."
By Samuel Muston
Kumara with chilli, basil and Greek yogurt
1kg kumara, cut into 3cm chunks and slow roasted in olive oil, salt and pepper
2 red chillies, sliced
1 cup basil leaves
1 cup Greek yogurt
Olive oil
Mix all the ingredients together in a bowl, season with salt and pepper. Drizzle with olive oil. Serve.
Hot-smoked trout, new potato, horseradish
6 trout fillets, pin-boned and scaled
50g soft brown sugar
50g sea salt
500g new potatoes, boiled
Parsley leaves
Dill
½ cup crème fraîche
Lemon juice
Salt and pepper
Mix the sugar and salt together in a bowl. Sprinkle the sugar and salt on the flesh side of the fish. Leave the fish to cure for half an hour. Wash the cure off the fish and place in a smoker and smoke for 6 minutes on a low heat. In NZ, I would use untreated manuka smoking chips but in the UK I use oak.
Remove the fish from the smoker. Remove the skin and flake. In a bowl, gently mix the fish with the potatoes, herbs and crème fraîche.
Grate horseradish over the top, drizzle with olive oil and serve.
BBQ lamb Leg, with pomegranate molasses and cumin
1 leg of lamb, boned and butterflied
½ cup pomegranate molasses
¼ cup olive oil
2tbsp toasted cumin seeds
10 garlic cloves, peeled and smashed
Salt and pepper
Marinate the lamb for 24 hours in the fridge. Barbecue over charcoal or driftwood as needed. Make sure the barbecue is not too hot or the fat in the lamb will burn. Long and slow is best and it should be pink all the way through.
Pea, mint salsa
400g peas, cooked, cooled and strained
4 spring onions, chopped
½ cup mint leaves
½ cup olive oil
Salt and pepper
White-wine vinegar
Place the peas, spring onion and mint in a food processor and pulse to a rough salsa. Add the oil and salt and pepper to taste and again pulse to combine. Remove from the food processor and set aside for later use. Just before serving, stir in some white-wine vinegar to taste. It should just give a nice acidity and not be overpowering. The reason you add it last-minute is that the vinegar will discolour the salsa and then it won't be a lovely bright green.
Karam Sethi, British Indian
The Sethi family, originally from the Punjab in India, embrace the festive 'spirit' so enthusiastically on Christmas Day that, last year, Harash, father of the three Sethi children, handed out miniature water pistols loaded with vodka. And it wasn't even the first drink of the day.
"We always start with dad's lethal Bloody Mary's," says sommelier Sunaina, aged 26, a third of the London-born sibling team that runs the new and ecstatically well-received Gymkhana restaurant in London's Mayfair, under head chef and middle brother, Karam.
A version of Harash's Bloody Mary appears on the restaurant's first winter menu. It includes green chilli, fresh mint and black pepper, a spicy adulteration familiar to the Sethis and their singular Christmas dinner, which Karam, aged 30, prepares for up to 20 family members and friends.
Before her son kicked her out of the kitchen, Meena Sethi, in whose upbringing Christmas did not feature, would serve an English roast with an Indian twist. "The carrots would have cumin," Karam explains, "the turkey might have a chilli pilau stuffing, potatoes could have coriander and the gravy would be spicy."
The chef, whose brother, Jyotin, aged 34, runs the business, refined that approach during his late teens and has allowed his experimentation to influence his restaurant cooking since. For the Magazine, he has laid on a festive if not obviously Christmassy feast: kid goat legs and tandoori guinea fowl alongside potatoes with chickpeas, tamarind and sweet yogurt, baby aubergines with sweet and sour masala, and steaming biryanis sealed with puff pastry lids. Mince 'pie' samosas are another speciality.
Travel and new families will leave the Sethis fragmented this Christmas, but Harash will continue his British-Indian traditions. "He always does the traditional Christmas pudding," Sunaina says, showing off a photo on her phone of her dad carrying last year's flaming dish. "You should see how much booze he puts in it."
By Simon Usborne
Potato Chat recipe
Serves two as a starter
120g boiled baby potatoes
50g boiled chickpeas
10g chopped ginger
¼ chopped green chilli
¼ chopped onion
Small handful of chopped coriander leaves
2tbsp tamarind chutney
2tbsp sweetened yogurt
1½tsp clarified butter
20g sev (small pieces of crunchy noodles made from chickpea flour paste, available in supermarkets)
½ tsp salt
1tsp chat
masala mix
Vegetable oil for frying
For the Chat Masala mix
2½tsp Chat Masala (available in supermarkets)
1½tsp Amchoor powder (available in supermarkets)
½tsp black salt
Pinch of dried fenugreek
Press the potatoes gently, then cut in half, and fry in the oil until golden brown. Remove the potatoes from the heat and transfer to a mixing bowl, along with the boiled chickpeas, onion, chilli, ginger and most of the coriander leaves. Stir to mix.
Mix the tamarind chutney and the teaspoon of the Chat Masala mix in a separate bowl, and then stir in the clarified butter. Arrange the potato mixture on a platter and drizzle with the sweetened yogurt and the tamarind chutney mixture. Sprinkle with the sev and the remaining coriander leaves.
Khatti Meethi Baingan
12 baby round aubergines
1tbsp vegetable oil
½tsp mustard seeds
½tsp nigella seeds
4 medium-sized onions, finely chopped
30g ginger, finely chopped
30g garlic, chopped
150g chopped plum tomatoes
Salt to taste
½tsp sugar
1tsp Kashmir chilli powder
½tsp turmeric
A pinch of cumin powder
50g tamarind
1tbsp thick yogurt
30g chopped coriander
Cut off the top half of the calyx of the aubergines, then slit from the bottom of the aubergine in a deep criss-cross into half of the length, but keeping the calyx intact.
Deep-fry or bake in a preheated oven at gas mark 6 for 12 minutes, until the aubergines are half cooked. Soak the tamarind in half a cup of boiling water for an hour. In a heavy-bottomed pan, heat oil and add in mustard and nigella seeds. Wait until they crackle, add the onions and fry until light golden brown; add the chopped ginger and garlic, fry for a few minutes. Now add the powdered spices and cook for a minute, sprinkling a few drops of water to prevent burning.
Add the chopped tomato to the sauce, reduce the heat, and simmer for 7-8 minutes, then add the pre-cooked aubergines and cook for 3 minutes. Add the soaked, strained tamarind and yogurt, cook for a minute, check the seasoning. Sprinkle over the coriander and serve.
Martin Morales, Peru
Walk into Ceviche in London's Soho and – once you've barged past the queues and the bustle of people at the bar drinking pisco sours – you're confronted with one of the liveliest dining rooms in the country.
So when I joined Ceviche and Andina founder Martin Morales for a morning of cooking a Peruvian, I didn't expect him to take me to Homebase. It wasn't because Morales had taken a last-minute decision to creosote his fence, but because the suckling pig he'd spent the last day slaving over was too big to fit on any of his serving dishes – even his local kitchen shop were stumped.
As we trot around the wide aisles, Morales, who spent Christmas in Peru until he moved to the UK in his teens, explains that for Peruvians "the 25th is actually our Boxing Day. The 24th is when all the action happens".
Most people in Lima and on the coast eat turkey with local trimmings, but in the mountain regions (Martin's second restaurant, Andina, focuses on Andean soul food), it's traditional to have lechon.
Lechon, as you may have guessed, is the roast suckling piglet we're trying to find a serving plank for. The dish is getting more popular each year as Peruvians connect with their Andean roots. At Christmas, it's prepped in the morning, before being served late at night on the 24th, perhaps along with some tamales.
By Will Dean
Lechon Andina, marinated suckling roast piglet with cassava, sweet potatoes, broad beans, and physalis pork gravy
Serves 12
The smallest piglet you can order. Use a trusted butcher, like Armstrong's of Richmond, one of the best in London
1 pint of dry cider
For the marinade
¼kg grated amarillo chilli or medium-strength red chilli
2 grated medium-sized onions
1 cup of soy sauce
4tbsp of oregano
½ cup red wine vinegar
4 crushed cloves of garlic
5tbsp of Dijon mustard
4tbsp ground cumin
The rind of 2 oranges
The juice of 2 oranges
Salt and pepper to taste
2kg spinach
For the rest
12 sweet potatoes
12 cassava
3kg peeled broad beans
½kg of grated physalis/cape gooseberry
1 litre of chicken stock
1tbsp cornflour to thicken gravy
Score the piglet all over, then marinate it in a bag, mixing all the ingredients in the marinade except the soy sauce. Marinate overnight, for 12 hours in the fridge. If necessary, cut it in half so it will fit in your oven or fridge. Once marinated, take the piglet out and drain. Pat down to dry.
Place in an oven dish and cook on a high temperature, around 180C, for 12 minutes, ensuring the piglet doesn't burn. Add salt and pepper all over. Turn the piglet over and repeat. Then slow cook in the oven for 3-4 hours, checking it frequently.
Boil the sweet potatoes for about 20 minutes, and the broad beans for about 10 minutes, until cooked. Boil the peeled cassava for 35 minutes, or until cooked. Then cut into chip-size pieces and deep-fry.
To make the gravy, use the piglet stock and mix with the grated cape gooseberry. Bring to the boil and melt the cape gooseberry. Add chicken stock and boil gently for 15 minutes, reducing it. Add salt and pepper to season.
Mix the cornflour with a little water until it is all dissolved. Add this mixture gently to the gravy, away from the heat. Mix thoroughly, ensuring there are no lumps, and gently bring to the boil. Should you wish, add a couple of tablespoons of the piglet marinade, but if you do, then bring to the boil gently for 5 minutes.
Serve the piglet on a bed of raw spinach, arranging cassava and sweet potatoes all around.
Tamal Andina
Serves 12
4oz dried corn husks
¼ cup butter
1 grated medium-sized onion
8 sprigs of coriander, finely chopped
2 cups quinoa
1 egg, lightly beaten
1tbsp sugar
1tsp salt
4 crushed garlic cloves
1tbsp of grated amarillo chilli or grated medium-strength red chilli
1 cup mozzarella or feta
¼cup grated Parmesan cheese (optional)
Soak 12 large or 24 small corn husks in warm water for at least 1 hour, or until softened and easy to fold. (A plate placed on top will help in keeping husks submerged.) Set aside the remaining dry husks; they will be used later.
Heat the butter in a pan over a medium heat. Add the onion, garlic and grated chilli and cook on a low heat, stirring occasionally, for 8 minutes. Then add the coriander and cook for a further 3 minutes. Cook the quinoa in boiling water for 12 minutes. Drain. Add the cream, cooked onion, raw egg, sugar, salt, pepper and chilli paste.
Place 1 large or 2 small overlapping soaked corn husks on a work surface. Spread a third of a cup of filling, using the back of a spoon, to form a square in the centre of the lower half of a husk. Fold the left edge over the filling. Fold the pointy end of the husk and tuck it in while folding over the right edge. Tie with a strip of corn husk or string. Repeat with remaining dry husks and filling.
Place a vegetable steamer in a large pot; add water to just below the steamer. Arrange the tamales upright in a steamer rack. Cover the top of the tamales with the remaining dry husks and a damp towel; cover with lid. Bring to a boil; reduce heat to low. Steam, adding water as needed, for about 30 to 45 minutes or until the filling pulls away from the husks. Serve warm with a cold salsa.
Josh de Lisser, Jamaica
Although Josh de Lisser's business is burgers (his Boom Burgers pop up all over London in temporary homes and boast "loud, Jamaican flavours"), he steps up his game for Christmas. Having moved from the UK to Jamaica when he was just three months old, he lived there full-time until he was nine. Now 24 years old, he has returned to Montego Bay almost every year since.
It was actually back in England that his love of Jamaican food developed. "I missed all of the cooking. It wasn't available here so I got more interested. Whenever I went back I would try to find out more and more," he recalls.
An increased presence of Jamaican cuisine in London now means that De Lisser can find almost all the ingredients to cook an authentic meal here. "Although the fresh fruit is never as good," he shrugs.
A traditional Jamaican Christmas lunch includes a pork pot roast, marinated overnight in spices and oil, accompanied with rice and peas, and fried plantain. Ackee and saltfish, practically Jamaica's national dish, is also served. Although not making one today, de Lisser points out that almost every household would put out a honey-glazed ham to pick on throughout the day, too.
Lunch is eaten outside on the veranda, usually accompanied with plenty of sorrel, a sweet ginger drink that you brew overnight and can be served virgin-style or as a base to add lashings of rum to. This year, De Lisser is actually heading to New Zealand for Christmas, to stay with his girlfriend's family. "I've never been before so I'm not sure what they eat on the day," he says [see page 16, Josh], taking a forkful of pork. "I'll miss all this though, that's for sure."
By Gillian Orr
Jamaican Christmas Dinner Pot Roast
1.5-2kg pork loin
6 spring onions
4 cloves of garlic
1 bunch of thyme
Olive oil
Soy sauce
Jerk seasoning (Walkerswood)
Puncture the pork all over, using your knife. Then roughly break 4 spring onions using your hands and rub into the pork.
For the paste: finely chop the garlic and then add to a bowl, with the used spring onions. Then add a heaped tablespoon of Walkerswood jerk seasoning and 1½ tablespoons of olive oil and soy sauce and then stir/grind into a rough paste and season... You don't want your paste to be too thick, add another tablespoon of oil to thin it if needed.
Note: Save some paste to add to your gravy.
Once you've made the paste, rub it into the pork, making sure to stuff the holes with the paste and some spring onions. Cover and place in the fridge for at least 4 hours, but preferably overnight.
Note: Make sure the pan that you use is large enough to fit the pork on all sides and a lid, as the pork needs to be covered while you cook.
Fill the bottom of the pot with oil (enough to bathe the underside of the pork) and heat on a high flame. Once the oil is boiling, place the pork in the pan and add the lid. Cook for 2 minutes on the high heat and then switch to a low heat.
The pork needs to be turned every 15 minutes and all sides need to have time in the oil. Slow cook for 2-3 hours depending on how big it is.
When the pork is ready, remove from the pan; what is left will act as your gravy. Strain off the fat and add any remaining paste and spring onions. Stir and add some olive oil and heat for a few minuets and then you're ready to go.
Ackee and Saltfish
540g tin of Jamaican ackee
300g pack of salted cod
1 Scotch bonnet
1 onion
2 cloves of garlic
2 spring onions
1 tomato
2 sprigs of thyme
Jerk seasoning (Walkerswood)
Place the salt fish in a saucepan and cover with water. Bring to the boil, simmer for 20 minutes and then strain. Taste the salt fish and if it's still too salty, repeat the process until you are satisfied. After this, run the salt fish under a cold tap and dry with some kitchen towel.
Once the salt fish is dry, break it down into whatever size of flakes that you like and set aside. I like to use a fork to do this, as it leaves larger flakes, but fingers are just as good.
Heat a pan with a good amount of olive oil and add the chopped garlic, onions and Scotch bonnet (seeds removed). Keep stirring and cook until the onion begins to soften and then add the spring onions and thyme. Cook for a further 2 minutes and then add the salt fish and cook for another 5 minutes. Stir and then add the tomato and heat for another 2 minutes, stirring well to make sure that all the flavours are combined.
Drain the ackee and rinse under a cold tap – you need to be careful as the ackee is very delicate and will break easily.
Once the ackee has been rinsed, you can add it to the pan, but again be very careful how you mix it, as it will turn into a yellow mush before you know it. I like to use two forks when I stir it in, as you can be more delicate... Stir for 2 minutes and then the ackee and salt fish will be ready to serve.
Join our commenting forum
Join thought-provoking conversations, follow other Independent readers and see their replies