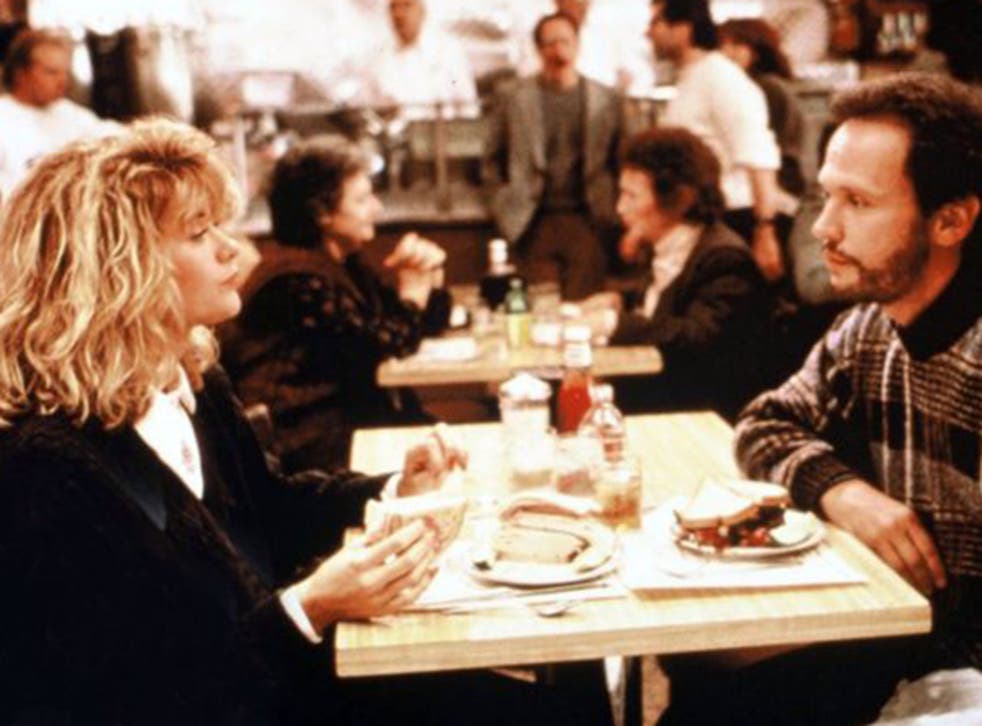 Going off-menu in a restaurant can cause problems for both kitchen and proprietor
Just like Sally in the movie, there will always be diners who want to play fast and loose with the lovingly created recipes on the menu. Should we let them, asks restaurateur Simonetta Wenkert – or does the chef always know best?
Halfway through their mains, the father on Table 9 calls me over.
"Could I get a little bowl of that sauce for my daughter's pasta," he says, pointing to the wild boar ragu covering his own gnocchi. "She's changed her mind," he adds, sheepishly.
Insouciantly, the little girl hands over the plate of plain tagliatelle she had been so very firm about ordering, and I take it into the kitchen so that the chef can dress it properly on the stove.
None of this is a problem. At eight years old, life is all about getting things wrong. How else are you supposed to work out what you do and don't,like? Besides, without a dedicated children's menu – a deliberate choice we made when we opened our restaurant, Ida in London – some of the dishes on our menu may look a little off-putting to a child's palate.
Next time she goes out to eat, that little girl will remember that tagliatelle with ragu is infinitely tastier than plain pasta, and that is good enough for us. But what I do have an issue with is being instructed to alter a dish according to an adult customer's whims. "Generally, I go to restaurants so that people who are more experienced than me and have better taste than me can, after much trial and error, offer me a set of dishes they know will work," says Jay Rayner.
"We exercise our will when we choose the restaurant. Surely after that the whole point is to select from what's available, not play fantasy menus?"
Ah, yes, fantasy menus. The ones where a customer walks into a restaurant, takes one look at the menu, and decides that it needs improving. We're not talking allergies or intolerances or religious dietary requirements here. No, my beef (excuse the pun) is with diners who treat menus like an exercise in virtual pick and mix. "Could you replace the goats' cheese with an avocado? Add chicken to the Arrabbiata? Please will you make me a fruit salad for dessert?"
Now, I'm no psychologist, so it's not for me to hazard a guess as to why people do this. (Though my hunch is that they are the same people who fire off emails to their hosts weeks before a dinner party as though an invitation were merely the opening salvo in a protracted series of negotiations.)
Felicity Cloake, a food critic and writer, thinks she knows the answer: "We delight in our self-imposed restrictions, substituting rice for potatoes, asking if the curry can be cooked without oil, requesting the anchovies be left off that salad. And why? To make ourselves feel that little bit more important."
People don't only go out to eat to enjoy great food. In a restaurant, customers want to be waited upon, and indulged, in a way that perhaps 100 years ago was the norm when middle and upper-class people had servants in the home, and nobody had to worry about doing the washing up. After all, it is not a coincidence that the term "hospitality" came to describe the industry that has grown around eating out.
Personally, I don't have a problem with making people feel special. The biggest compliment a customer can pay me is when they tell me they feel as though they are having supper in someone's house when they come to our restaurant. In fact, it's no coincidence that many of our dishes are faithful replicas of the food that my husband's Italian mother and aunts used to prepare for him when he was a little boy.
But because our restaurant is in west London, rather than rural Italy, we've had to accommodate the tastes of a huge number of 21st-century metropolitan diners. When we realised that many of our Jewish and Muslim customers were unable to enjoy Avi's mother's traditional Marchigiano ragu with beef, pork and gizzards, we decided to always offer a lamb or veal ragu as an alternative. Similarly, we always have a complement of vegan and vegetarian dishes, which are no way the poor relation of those containing meat. As far as we are concerned, we have tried to cover all bases without ever compromising the integrity of a dish, which is why we tend to look askance at substitutions.
I don't even have a problem if a customer asks for parmesan with Spaghetti alle Vongole. As far as we are concerned, the dish came out of the kitchen as Mamma (and the chef) intended – after that, it's up to the individual what they do with it. Plus, I'm the first to admit that Italian food can be a little formulaic and rigid. (God help you if in Italy you order a cappuccino after 12pm, or oranges in the evening – "too heavy on the digestion" – or butter with your bread, or anything but water or wine with your meal.) Though we draw the line at bulking up an exquisitely simple store cupboard classic like Spaghetti all'Arrabbiata with chicken – weirdly, it's always chicken – in an attempt to transform it into a full-blown meal.
Fatizah Shawal, the owner of Satay House, a Malaysian restaurant in west London, has an issue with customers trying to recreate something they might have tried during their travels. "They'll say to me: 'Surely it's no problem for the chef to rustle up a dish if the kitchen already has all the ingredients?' But we're in the business of training our chefs to make every dish exactly the same as the last, so I don't want to freak out the kitchen by letting guests create their own menus." And while she admits that "hawker food", ie stir-fries prepared on a wok, is designed to be modular, curries "have their own balance of flavours, which you shouldn't mess with".
Jesse Dunford Wood, owner of the Parlour restaurant in north-west London, is more sanguine about customers going off-piste. While he acknowledges that "this American style of eating is getting out of control, where anyone can have anything done in any style", he accepts that it is the reality of being a 21st-century restaurateur. "Chefs can be annoyed about substitutions; but having worked in the front of house in New York for a year, I can often see where customers are coming from."
And not being bound by the culinary constraints of one particular nationality's cuisine (often with rigid do's and don'ts going back several hundred years), he doesn't mind if a diner attempts a menu hack. "We have a big space at Parlour that we want people to use all day. Therefore, we have to be accommodating. I've always got to remind myself that we're in the business of hospitality. And hospitality is about looking after people. And that not everyone shares my philosophy about food. Unless you're cooking at the very highest level, you have to be prepared to compromise."
While some upscale restaurants, such as Michelin-starred Hibiscus in Mayfair, are prepared to discuss substitutions, at least at the booking stage, restaurant critic John Walsh has witnessed first-hand what happens when a customer asks the chef for a tweak too far.
"I watched one customer order a main course of lobster tagliatelle with a bisque sauce in the River Café, and then ask the owner if she could serve it without the lobster. She was very tactful and said 'no'. First because it would be pointless to have the dish without the main ingredient – like Hamlet without the prince – and second because she couldn't possibly justify charging £35 for basically pasta and sauce."
Whether we like it or not, restaurants don't exist in some rarefied parallel universe. We live in a society of instant gratification, where consumers know their rights, and Burger King's slogan "Have it Your Way" has become a creed. Though, interestingly, the USA, where this style of build-your-own menu originated, is now experiencing a restaurateurs' backlash. Fed up with customers reinventing the wheel, "Substitutions Politely Declined" is often to be found at the bottom of menus – almost as though there is a kind of inverse premium on being told "no". I've yet to see those words printed on a British menu – though, who knows, it may just be a matter of time
Until then, for most of us restaurateurs, it's simply a question of going with the flow. No two days are the same, no two customers are the same, no two services are the same. What could be done one day, might not be possible the next. Sometimes, the customer isn't king. Unless of course, they're eight years old.
Register for free to continue reading
Registration is a free and easy way to support our truly independent journalism
By registering, you will also enjoy limited access to Premium articles, exclusive newsletters, commenting, and virtual events with our leading journalists
Already have an account? sign in
Register for free to continue reading
Registration is a free and easy way to support our truly independent journalism
By registering, you will also enjoy limited access to Premium articles, exclusive newsletters, commenting, and virtual events with our leading journalists
Already have an account? sign in
Join our new commenting forum
Join thought-provoking conversations, follow other Independent readers and see their replies