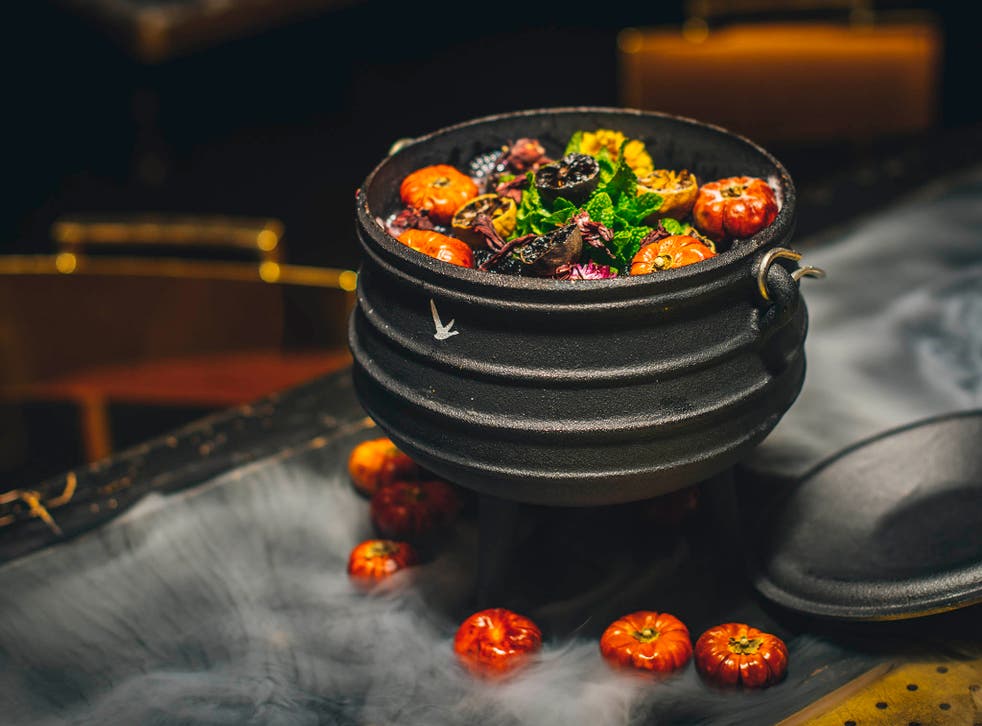 The 8 best Halloween cocktails
From extraterrestrial cocktails to Buffy the Vampire-inspired mixes with edible blood, we round-up the seven drinks you'd be dead silly to miss out on
Teaming up with Grey Goose, Oriole are hosting quite the party for Halloween this year. La Maison Gothique will see a dozen performers roam the floor, from seasoned showmen to cabaret stars and burlesque queens, and have created three sinful sips to keep you on your toes. Your night will start with a complimentary Pigalle Punch, which is a cauldron of Grey Goose, pomegranate molasses, mulled Turkish pear juice and lingonberry cider, but make sure you try the Le Martini Hantée and the Le Rituel before you call it a night.
Dirty Martini have decided to embrace the supernatural this Halloween with two limited edition cocktails. Their extraterrestrial concoctions will make your head spin: the Martian is made with Havana Club 3 Year Old Rum, Midori, green apple syrup, and a few other ingredients, before all is topped off with a splash of lemonade, while Stranger Things is devil red in colour, mixed with Absolut Vanilla, Campari, orange Curaçao, finished with a generous pour of pomegranate juice and a light dusting of icing sugar.
Essence of Jalisco might not have been made specifically for All Hallow's Eve, but it's got Halloween written all over it. This extravagantly presented cocktail is a complicated combination of Centenario Tequila Cherimoya Leaves, pineapple aloe, chamoy sauce, pomegranate liqueur, chocolate protein, fresh lime juice and magnolia agave. Well balanced and lip-smackingly good, this unique libation is decorated with puffs of baby pink candy floss and a sprinkle of buffalo worms.
Dirty Bones is king when it comes to NYC-inspired comfort food. Boasting a menu of mac 'n' cheese topped burgers and signature deep fried chicken, they've got a great cocktail menu too, but you need to try their Halloween special this October. Lil Pump(kin) is an interesting take on the Ramos Fizz, spiked with rum instead of gin, with a secret pumpkin-spiced twist.
Hoxton Square Bar and Kitchen are pleasing all Buffy the Vampire fans on Saturday 27 by transforming their space into The Broze (the popular Sunnydale nightclub from the cult classic). From sketching the characters to screening two famous episodes (Hush and Once More with Feeling), these guys sure do know how to raise the stakes. Drink wise, make sure you sink your fangs into the Slayer's Sour. It's a blend of Four Roses Bourbon, Solerno Blood Orange Liqueur, bitter lemon juice and egg white for a foamy finish.
Hosting a huge Frat Club house party on 31 October is Junkyard Golf, but before you join them on one of three wacky courses, make sure you swing by the bar to try their themed cocktails. The Death of Dr Pepper is a deadly mix of Disaronno, cherry lambrini, Jäger and Coca-Cola, garnished with a small mountain of moreish strawberry shoelaces.
If there's one day a year you can pretend you're not a muggle, it's Halloween. Embrace your inner witch or wizard this month and join The Social between 22-31 October for a cocktail masterclass that revolves around all things potions and poisons. Showing you how to make magical Bacardi-based drinks - like a potent black margarita or a dark magic mojito - this two-hour experience is worth more than the £25 price tag.
Resurrecting some seriously spooky sips for Halloween, is Bluebird White City. The Piano is inspired by the Charleston and is jet black in colour. Not one for the faint-hearted, it marries Olmeca Tequila, celery, balsamic vinegar, beetroot shrub, grapes and lemon juice. If you're not brave enough to drink a cocktail with balsamic vinegar in it, don't worry - you can always try the Widow Blood. Presented in a cobweb-wrapped lantern, it's a bitter blend of Monkey 47, homemade pomegranate reduction and touch of fernet branca.
For more info on Halloween ideas in London and across the UK, visit DesignMyNight and follow them on Instagram and Facebook; @DesignMyNight
Join our new commenting forum
Join thought-provoking conversations, follow other Independent readers and see their replies