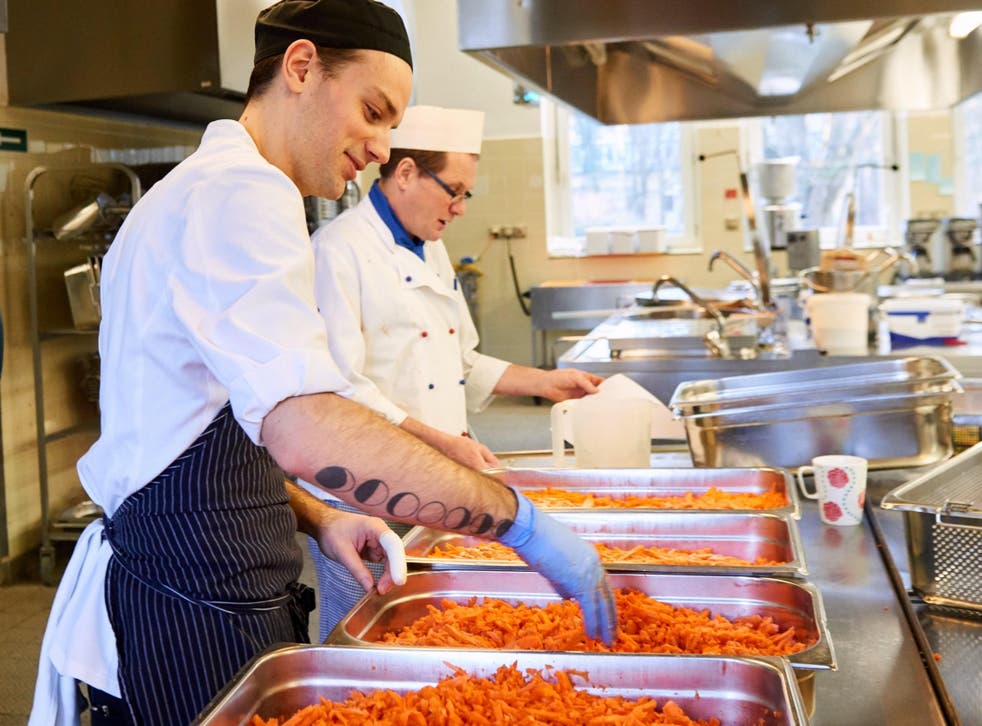 How a Michelin-calibre chef is reinventing hospital food
In a hospital kitchen in Berlin, chef Patrick Wodni has been overhauling its supply chain, from making his own cheese to sourcing great local producers, all with the goal of making nutritious food for patients
With the effortless skill of a chef of a Michelin-starred restaurant, Patrick Wodni quickly assembled the ingredients he would need for the day's lunch special, an onion tart. But this time, instead of putting them into his favourite stainless steel mixing bowl, he poured the sour cream, eggs, cumin, fenugreek, red pepper and turmeric into an industrial-size vat and mixed it with both hands.
"Usually, you would eat this with a nice glass of riesling," says the 29-year-old Wodni, as the sharp smell of the spices rose to join the mellower scent of sauteed onions wafting from the grill. "Sadly, you are in the hospital."
Even without the ideal wine pairing, most of the patients and staff at Havelhöhe hospital in Berlin agree that Wodni's cooking is a lot tastier than the typical German hospital fare. Part of an unusual experiment – one that Wodni left his job as a chef at one of Berlin's hottest restaurants to lead – the hospital has replaced its standard-issue schnitzels with locally grown organic vegetables, grass-fed beef and catfish raised at an environmentally conscious aquafarm.
Many hospitals and medical clinics simply reheat frozen meals brought in from outside, but Wodni, who combines a gentle demeanour with a penchant for cursing, has shown it is possible to improve the quality of hospital food while keeping costs low.
He is not stopping there. This project, he hopes, will be a first step in transforming the way institutions like schools and hospitals prepare and procure food. Ultimately, he says, he would like to see it affect agricultural practices, increasing demand for healthier soil and smaller-scale, regional, organic farming.
"When I started, I took the budget and said, 'what's doable with what we have?'" Wodni says in the large, ageing, but adequate hospital kitchen. Pausing to take a bite of a carrot grown on an organic community farm just down the road (the skin was sweet, so he told the white-jacketed kitchen apprentice that there was no need for peeling), Wodni explains that, in keeping with industry standards, Havelhöhe spends €4.74 (about £4.16) on food per person, per day.
That amount, he says, sounds more disqualifying than it is. "I couldn't eat well spending so little", he says. "But when you make 500 meals a day, you can scale."
Wodni's first move was to stop ordering from the company that had supplied most of the hospital's food. "You couldn't tell if it was minced meat or a sponge," he says, shaking his head.
Then, drawing on contacts he had made working in Berlin's haute cuisine scene, he contacted local organic farmers, bakers, butchers and sustainable freshwater fish farms. Within seven months, the hospital went from using three wholesalers to working with nine producers and six wholesalers.
"My main goal with this was to build a direct local trade relationship between farmers, gardeners, bakeries and fishermen with the hospital," says Wodni, who used to be a vegan but changed, he says, when he realised that his jealousy of other people's cheese sandwiches was making him unpleasant to be around.
Working directly with producers has an impact on more than just the bottom line. "Sourcing good ingredients is actually the most important part of my job," Wodni says, with a glance at the kitchen's colourful stacks of rainbow chard, celery root, long red radishes, green onions and irregularly shaped tomatoes.
If you have a bad carrot, "you can't do anything with it", he says, using an expletive in place of "bad". A delicious carrot, on the other hand, requires far less handling, he explains: "Why cook vegetables that are really good raw?"
Wodni then began milling spelt and rye grains and making his own cheese. "Everything we can do from scratch, we do from scratch," he says, taking out a bag of lemons and limes brined for three months with cloves and bay leaves that would be in the sauce for the day's fish. "It's a choice, to create change from within."
Australia's drought – the cancer eating away at farms

Show all 16
Effecting that kind of change was not something Wodni was always sure he would be able to do. Growing up in a small village just north of Frankfurt, Wodni says that his mother, a single parent, used to despair of him. "There was not much I was good at," he says. "I was a bad student. I wasn't interested in anything."
In his midteens, he started cooking to make sure there would be something on the table when his mother came home from work. She was delighted with the results, and at 17, he started work as an apprentice in a kitchen at a four-star hotel in Frankfurt.
He liked the work, he says, but he did not feel fulfilled. Then he began learning about biodynamic farming, and got a job catering organic meals for children. "For the first time in my life, I didn't have to ask myself, what the f*** am I doing?" he says, using another expletive. From there, Wodni moved to Berlin, where he worked for a fishmonger before he started cooking in the upper echelons of the city's gastronomical circles.
"They were doing amazing work, supporting producers and creating consciousness about what good food should be," he says of his former employer, the whimsically named Nobelhart & Schmutzig ("noble, hard and dirty"). But by the time Wodni spotted the hospital's job posting, he had grown weary of serving 10-course meals to Berlin's gourmands. In addition, his wife was expecting a baby, and he did not want to keep working late nights. In short, he says, "I wanted to be doing something useful."
Cooking healthy food for sick people fit the bill. Pointing to studies that showed the positive impact a healthy diet can have on diabetes and heart disease, Harald Matthes, a gastroenterologist and one of the hospital's directors, called Wodni "a jewel".
"He's so intelligent," Matthes says. "We talk about something, he goes home, reads up on it and develops a recipe."
"Usually, patients say to us, 'I know it's healthy, but I don't like it'. Now they are saying, 'I never thought oats could taste so good!' He's a star chef, so he can make things delicious," Matthes said.
Andre Nagy, whose partner, Kathleen Kuntzsch, was breast-feeding their newborn daughter in the hospital, agreed. He says the couple had chosen Havelhöhe in part because they had heard the food was so good. "Food is important, you're here to heal," says Nagy, who says his favourite dish was the sweet-potato casserole. "It's regional, it's organic; they probably cook better than I do."
Not everyone at the hospital is completely onboard. There has been some grumbling, for example, about Wodni's decision to drastically reduce the amount of meat served – it used to be twice a day, now it's three times a week, plus a Friday fish dish – in favour of things like chickpeas and couscous.
"In general, the food is good," says a heart patient, Waldemar Lichtneckert, in a recent television interview about the new menu. "But there could be some meat in there. And more sauce."
As Wodni began slicing fish into uniform servings, saving the scraps for a broth, he says that now that the Havelhöhe program was up and running, he was stepping out of day-to-day cooking and into a more supervisory role. This was in part because his wife, an art historian, had landed a teaching job a good distance away, in the Eifel region outside Cologne, where they live with several other families in a commune in an old castle.
But the change also fits with his ambition to enact reform beyond the hospital walls. Wodni is consulting with a number of other public institutions to improve the quality of their food, and he is serving as the "gastro-curator" of a Berlin food festival whose motto this year is "good food for all".
"I think I was always critical of society," Wodni reflected during a brief pause before calls from the kitchen staff for more rice for the lunchtime plating drew him back into the fray. "If you create demand for good products, I think there's a huge potential for change."
© New York Times
Join our new commenting forum
Join thought-provoking conversations, follow other Independent readers and see their replies