How fine dining got funky: Seven young chefs have transformed London's restaurant scene
They've swapping ornate dining rooms, Burgundy and silver service for exposed brick, craft beers and tattooed waiters, says Adam Coghlan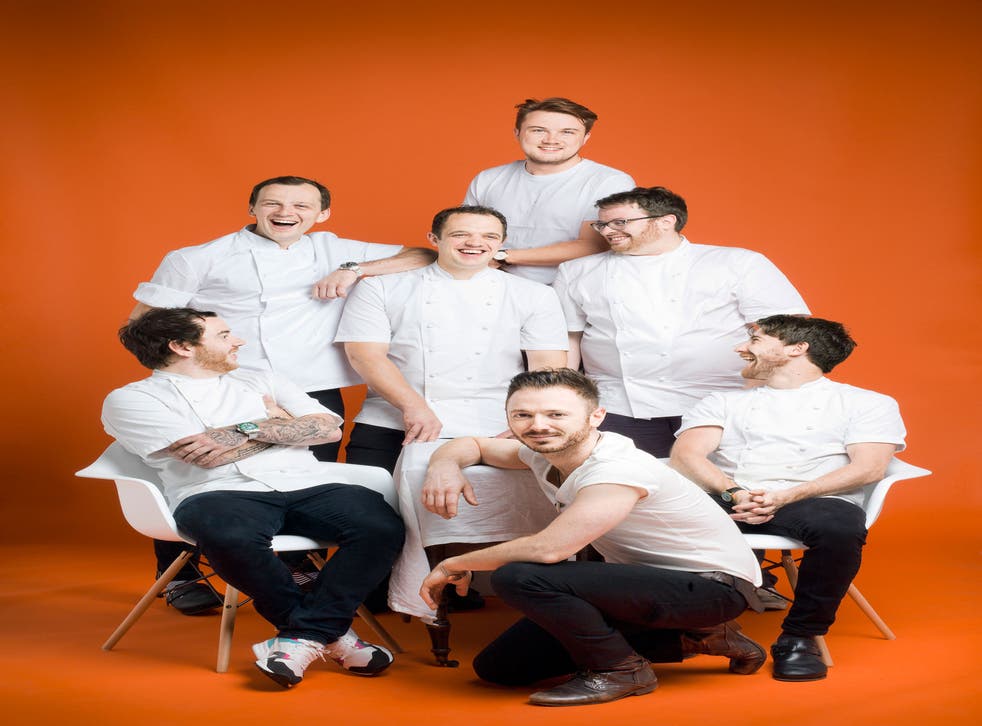 East London, 2015. I'm sitting alone, at lunchtime, looking at a wine list with options from Eastern Europe and the New World; the young waiter is affable, familiar and doesn't lecture. The room is in the minimalist style, all wooden surfaces, and the head chef is conducting his team in plain view of the diners.
This restaurant is internationally recognised and has earnt a Michelin star within a year of opening in spite, not because of, the above. What comes next, after home-baked sourdough and a series of intricate snacks, is a tasting menu of seven courses, including raw scallop with shaved truffle, and a slice of suckling pig with greens and gravy (pointedly not "jus"). It is brilliantly inventive, but in terms of how we understand "fine dining" – as ornate, aloof and pretentious – everything about this restaurant is incongruous.
Since 2012, London has witnessed the emergence of a culinary movement that marks a real departure from the conventional template of fine dining, which, throughout the 1970s, 1980s and 1990s, prospered in the classical French mould, with silver service and rich sauces.
A group of London chefs, all in their twenties and thirties, typified this movement: Ollie Dabbous, James Lowe, Isaac McHale, James Knappett, Tom Sellers, Lee Westcott and Tomos Parry. Each has an idiosyncratic style of cooking, but they are also united: by their comparative youth, their unconventional career trajectories, their adaptability in the face of a global recession – and by a particular set of values. Their restaurants have pulled off the trick of coupling the highest quality with considered informality and relative affordability. Against inward-looking, stale complacency, "There's now diversity in the British food scene," says Lowe. "British chefs have begun to do different things, because success is no longer decreed by, or based on the expectations of, the traditional elite."
As well as working in the best British restaurants, these chefs have travelled – and they take inspiration from the Americas, from northern Spain and from the wave of New Nordic chefs. The Clove Club's McHale gained experience in Sydney and Copenhagen and contrasts himself with "British chefs [who] didn't used to go abroad". All of these chefs' restaurants have opened within the past three-and-a-half years, and they've all worked, sometimes together, in the world's leading kitchens.
How fine dining got funky

Show all 7
Before opening Story, Sellers worked with Knappett at Per Se in New York and with Westcott at Noma in Copenhagen; McHale and Parry crossed paths at The Ledbury in London. Noma also appears on the CV of Dabbous and Lowe – and although they may have learnt to cook under more traditional chefs, what makes their style different is the keenness they have shown to supplement their training with experience at pioneering restaurants around the world. As chefs, they have been more outward-looking and, as a result, their appeal has been further-reaching.
The significance of what Dabbous, Knappett, McHale et al were doing was formally recognised when the capital's most-respected critic decided to nominate one of their number for greatness. In January 2012, Dabbous opened his eponymous restaurant in Fitzrovia. There were no tablecloths, the floors were industrial concrete, many of the staff wore trainers and a four-course lunch cost £24. It included a memorable dish of brined hispi cabbage, virgin sunflower oil and white miso, which was designed to be eaten with the hands – "deliberately and explicitly the antithesis of fine dining", according to the chef. Fay Maschler, restaurant critic for the London Evening Standard, awarded one of her rare five-star reviews. She later told me she felt the chef had a "paranormal ability with flavours that reminded [her] of Marco Pierre White at Harveys [in the late 1980s]".
Of the scene now, Maschler says: "In my review of Dabbous, I said, 'Five stars are reserved for when a place comes along that changes the game.' That game is now being skilfully played by quite a few others – certainly enough to say that the turf has been altered for good."
Almost every other newspaper was similarly effusive about Dabbous, resulting in a 12-month waiting list. Its success suggested a new willingness to eat differently and changed our understanding of a what a top restaurant could be.
The economic realities of post-recession London have also helped these clever new restaurants. The availability of more affordable sites gave younger chefs, restaurateurs and entrepreneurs the ability to open establishments – and try out ideas – with less risk.
And with less disposable income available, those who were eating out expected more for their money – and they didn't want to see it in the trappings; they expected to taste it in the food. This played into the hands of chefs who wanted foremost to cook; pared-back restaurant interiors were realised on a shoestring; service conventions were rethought; and deference gave way to a greater degree of familiarity. It was an environment in which chefs might deliver plates to tables, as auxiliary members of the wait staff – or, as Westcott calls it, "fine-dining food in a setting where you didn't feel ashamed. It's more than a trend; it's the way forward."
As revolutionary as these chefs are, they were preceded by change elsewhere in Europe. In 2003, the French critic Sébastien Demorand coined the phrase "bistronomie". It described a revolutionary marriage between the bistro setting and gastronomy then taking place in Paris. In an emphatic snub to the stuffy standards expected by Michelin's red guide, "high-end" food was being served in a relaxed environment, free of water waiters and cloches, often at lower prices. Suddenly, a broader swathe of diners found themselves willing and able to sit down to food cooked by the best and most highly trained. Food became trendy because the trendy were able to eat it.
Inaki Aizpitarte's Le Chateaubriand in the 11th arrondissement perfectly represented the backlash against Michelin. Towards the end of the Noughties, hirsute, irreverent waiters serving chilled red wine and rare pork were unconventional, to say the least. I recall dining there on my own, with broken French, thinking that they were toying with a precocious ros bif (I was 20 years old). Young though I was, I was struck not just by the clarity and vividness of the food, but by the manner in which everything was conducted – there was an exuberance and commitment to change that seemed authentically rooted in creativity and inclusiveness. Remembering his own trip to Paris in 2010, Lowe says, "I had a dim view of France, but in these 'neo-bistros', the staff, style, quality and feel – it all amazed me. It was all so casual; something that I didn't know existed."
Nearly a decade on, those hallmarks of bistronomie can be found in restaurants across London. Parry, who took on the head chef role at Kitty Fisher's in December 2014, points to the availability of better produce from suppliers such as the Cornwall Project and Natoora. "People want to strip away fuss and just eat great produce," he says. Restaurants are now more likely to bake their own sourdough bread, cure their own meat or churn their own butter.
The application of technique has changed, too: these chefs may be able to turn their hand to espumas or infusions, but as Dabbous says of himself and his peers, there is "less dependence on heavy preparations". The emphasis is more often on making ingredients taste precisely of what they are, rather than gussying them up for culinary theatre. It's the ingenuity, refinement and understanding of flavour that is striking and I have tasted it at Typing Room, in Westcott's dish of pear, celeriac, fermented mushroom and hazelnut; in Sellers' burnt onion with gin-infused apple consommé; and in McHale's wild duck and ginger broth with vintage Madeira.
Although Story and The Clove Club might carry the tag of "destination" restaurants, both Sellers and McHale allude to a lack of exclusivity about their establishments. "We do well because we remember, in a down-to-earth way, to give everybody what they want," McHale says. He opened in Shoreditch Town Hall with the charismatic front-of-house duo Daniel Willis and k Johnny Smith; the restaurant, which serves no-choice five- and nine-course menus in the main dining room, was recently named on Restaurant Magazine's World 50 Best list.
Joe Warwick, a founder of that list and editor of the international restaurant guide Where Chefs Eat, tells me, "Along with incredible progress in terms of quality and choice, the most exciting new restaurants in London are now fun and relatively affordable. The lines between casual and formal dining have blurred, so quality cooking and diverting wine lists no longer have to come with starched linen and supercilious service."
Knappett is typical of this innovation. He uses his chef's table at Kitchen Table to showcase a multi-course, daily-changing menu and regularly invites international collaborators. Knappett also piloted a novel concept: at Kitchen Table, annexed by his popular gourmet hot-dog restaurant Bubbledogs, you sit around a state-of-the-art stainless-steel kitchen at bar height and watch the intricate meal – usually 17 courses – assembled by his team of chefs.
These chefs' pursuit of novelty stops short of gimmickry, though, says Lowe, who has himself focused on creating a "nice restaurant, serving good food that's not too expensive, rather than trying to come up with a concept". After 18 months at Heston Blumenthal's Fat Duck and five years as head chef at St John Bread & Wine, Lowe's cooking at Lyle's has developed into a marriage of international subtleties and his British, ingredient-led heritage. A penchant for umami and Japanese cooking – his delicious eel broth springs to mind – is matched only by his fondness for seasonal English produce, particularly peas.
Their informality is not the only way these chefs differ from their forebears: they not only know each other, but generally like each other, too. Conversely, the generation of chefs led by Marco Pierre White in the 1990s and Noughties – from Gordon Ramsay to Tom Aikens, Marcus Wareing to Jason Atherton – was fiercely competitive and often openly hostile to one another. Ramsay famously said he sabotaged his mentor, White, by arranging the theft of the reservations book at Aubergine in 1998. The culture back then, says Maschler, was of "rival squaddies from hierarchical boot-camp kitchens".
When they can, the new generation likes to eat in each other's restaurants. Westcott tells me that his restaurant and others like it are designed to suit chefs whose precious little spare time would rather be spent having "a relaxed dinner in a nice environment with good tunes – where chefs would like to eat".
On a recent visit to Lyle's, Magnus Nilsson from Fäviken (named the 25th best restaurant in the world this year) was sitting at the table next to me; Danny Meyer (restaurant royalty in New York) has spoken publicly of his affection for The Clove Club; Kitty Fisher's is already the new Chiltern Firehouse; and Le Gavroche's Monica Galetti is a regular at Dabbous.
Which is to say, these are the restaurants that are exciting people today, these the chefs who are driving the agenda at the highest level in London – and the rest of the world is taking notice. It represents a departure from a clandestine restaurant culture based on formality, exclusivity and fear, and has heralded a more collaborative, progressive community of chefs – one which is already bringing on the next generation, the likes of Tim Spedding, Arran McCredie and Chris Leach.
British gastronomy, re-energised, then – and on its own terms. "Before, there was only one way, but now there are many ways for us to be a top restaurant," says Knappett. "We're trying to make the industry better – and we all now have the confidence to do what we want."
Fine dining: then and now
Then
Coiffured hair, starched white shirts, ties
Classical French service
Grand, ornate dining rooms with chandeliers
Bread baskets of Lilliputian baguettes
Influenced by French nouvelle cuisine
Lean, prime cuts of meat
Butter-rich sauces
Burgundy and Bordeaux
Sweet, sticky, cream-laden desserts
Now
Beards, piercings, tattoos, workwear aprons
Irreverent, familiar service
Exposed brick, minimalist, utilitarian 'spaces'
Own-baked sourdough
Influenced by Spanish, Indian, Chinese, Japanese cuisines, even American BBQ
The whole animal
Lighter, cleaner sauces, seasoned with vinegar and wild herbs
New World wines, natural wines, craft beers
'Savoury' desserts with malts, grains and oats
Register for free to continue reading
Registration is a free and easy way to support our truly independent journalism
By registering, you will also enjoy limited access to Premium articles, exclusive newsletters, commenting, and virtual events with our leading journalists
Already have an account? sign in
Register for free to continue reading
Registration is a free and easy way to support our truly independent journalism
By registering, you will also enjoy limited access to Premium articles, exclusive newsletters, commenting, and virtual events with our leading journalists
Already have an account? sign in
Join our new commenting forum
Join thought-provoking conversations, follow other Independent readers and see their replies