How the craft beer boom is inspiring a new generation of DIY brewers
The explosion of craft beer has newcomers thirsty for knowledge and homebrewers moving fledgling operations from sheds to industrial units. As part of The Independent's Hop Topics series, Jo Turner looks at the scene's offerings for aspiring beermakers
Friday 05 October 2018 18:11 Comments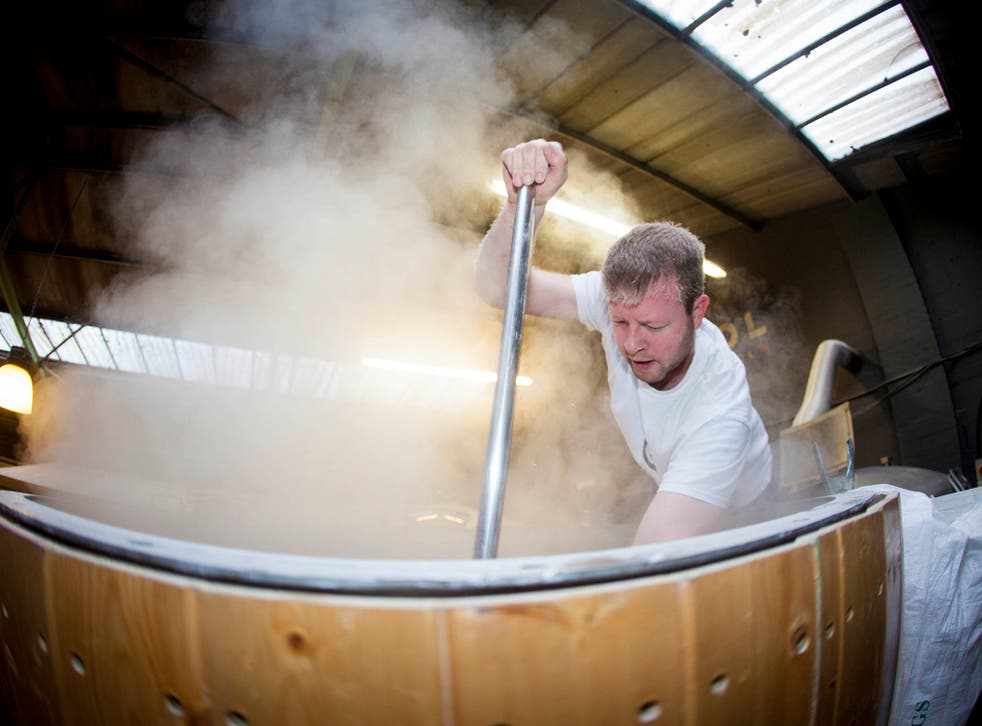 Standing atop a ladder, I gaze into simmering soup. Comforting, hot barley tickles my nose and, like only olfactory memories do, pulls me though space and time as I close my eyes and inhale:
It's the aroma that blankets Cardiff city centre a few times a week; that flies down Edinburgh's Princes Street on chilly winds from the west of town; that stung the unseasoned nostrils of my brother and I when we were kids taking turns to investigate the bitter liquid bubbling away in Dad's kitchen containers (what the hell did the grownups like about this?): beer on its way into this world.
In the present at New Bristol Brewery, home to Bristol Brewery School, the smell of sweet cereal (like warm Weetabix), with a slight undertone of dog biscuit (pleasing once you're used to it), rises from the mash tun (a huge, cylindrical, wood-jacketed pot) into which I'm staring, and where an hour ago, eager students emptied bag after bag of grain.
This 15-strong group and I are on the school's day-long Brewing Crash Course: an entry level class for aspiring professionals and homebrewers, and one of an extensive portfolio of brewing, tasting and business-focused programmes offered on campus.
The brainchild of New Bristol founder Noel James and his wife Maria Knowles, it's the UK's first "brewery school within a brewery" and takes the form of a charming ski chalet slap-bang in the middle of the premises. Conveniently, the tap room's there too: it's a one-stop shop where beer is taught, made and enjoyed.
Craft beer's explosion has been fed in no small part by homebrewers going professional. The trickle, then downpour, of progressive styles that have gained popularity over the past couple of decades has provided plenty of inspiration and attracted newcomers to the scene.
And with brewers looking to move their fledgling operations from sheds, cupboards and kitchens to industrial units, there's been an upshoot in the demand for knowledge.
"We constantly had people ringing up and asking if they could come and help us as they were desperate to learn from experienced brewers," says Knowles. Branching out into education was the obvious choice. "We've now had a number of students who have gone on to open their own microbreweries in the UK and we love hearing their success stories."
The rise of this business model is why the DIY scene has become increasingly accessible and attractive. This end of the brewing spectrum values micro over mega; provenance, storytelling and small-scale innovation; and generally giving each other a hand.
"Noel was really surprised and happy to learn how helpful and transparent the brewing industry is," Knowles says when I ask what it's like to be arming future competition. "We all work cohesively as a group movement."
Full disclosure: I'm not a complete beginner – I've had a few forays into the dumbed-down version of homebrewing, which basically involves tipping a gloopy can of "extract" into hot water and adding yeast. "All-grain" brewing is the next step up, so I've been geeking out in preparation and have high hopes to restart production at home.
Tutor Johnny Mills heads up the course, which cuts between the school and the brewery proper, observing James on a professional brew day. Mills is something of a brewing genius, with a catalogue of qualifications: a one-man beer and biochemistry encyclopaedia. I can see why the day is aimed at future commercial brewers as well as beginners.
Science and technical know-how is served up with an in-depth knowledge of the raw ingredients. We crunch our way though I-can't-count-how-many varieties of malted barley; crush the hops scattered on our desks, the wildly complex aromas flooding the classroom; and pop out periodically for key stages in the brewing process, perhaps providing a tokenistic stir of the mash or helping with bags of spent grain here and there. Bless us.
And though we can't taste the fruits of today's (James's) labours, fresh and tasty draughts are served with increasing frequency from lunchtime towards the end of the day to soften the blow. Thankfully, Mills's course notes come fully typed up and bound.
To say the day is a learning experience would be an understatement – I head off buzzing with excitement and brewing pipe dreams. Before I move back to the Highlands to persuade my dad back into the beer game though, I'll be making some brewing space in my London flat.
Craft brewing, at home and commercially, is linked to a set of values that are changing the way huge numbers of us consume – and that's a necessary shift. Sustainable, transparent, local, small-batch, farm-to-table, quality over quantity… "trendiness" aside, the quality of our food and drink experiences rests now on a greater connection to, and appreciation of, ingredients and process.
As a beer lover, you don't have to know how it works. A great cohort of regular drinkers can't name the four main ingredients, and that's fine. For me though, there's immense satisfaction in understanding the science and the ingredients, and using those in as basic a form as I can get; in escaping the desk, using all my senses and – cliched though it is – knowing I've worked for it.
Putting it to the test
I test out my new found skillset with an all-in-one brewing kit from Homebrewtique. The company's pioneering tiny-batch sets take the all-grain process and boil it down (brewing joke alert) into simple steps which, thanks to dinky equipment, are brilliantly suitable for city dwellers challenged for space.
Kits contain everything you need to begin from scratch (provided you have access to filtered water). Each batch yields 12 bottles or a mini-keg, and you can choose from a range of predetermined recipes or build your own, choosing from metrics such as style, ABV, hops and yeast type.
Co-founder Claire Russell and her business partner had a few bad experiences with questionable homebrew kits that prioritised yield and cost, and spotted a gap in the market for quality kits where one could customise flavour, experiment with pairings and brew with top quality ingredients.
The second source of motivation was their desire to kick beer's old masculine stereotype once and for all. "Now we have some fantastic ambassadors for women and beer and through them the message is starting to get out there," says Russell. "Women are starting to put their hands up and make some noise about inequalities in the beer industry." They've created #shedrinksbeer to help push their ethos yet further.
My India Black Ale kit really is a joy to use. With my new skills from Bristol, I barely have to read the instructions, but following them is perfectly straightforward, the laboured step of lautering (straining out) the grain eased hugely by Homebrewtique's special brewing bag.
Bottling in particular, which once left my entire Edinburgh flat looking like the beer-pocalypse had hit, was conducted with minimal mess and stress. Siphons out, brewing wand in. At the time of writing, my bottled beers are still conditioning – developing their final fizz.
Russell says the biggest challenge was getting away from homebrew's old rough'n'ready image. "Many people have experience of home brewing in some form and generally it's not positive. Today it's focused on quality and creativity: the end product is king."
Find out more about Bristol Brewery School's courses at bristolbreweryschool.co.uk
Register for free to continue reading
Registration is a free and easy way to support our truly independent journalism
By registering, you will also enjoy limited access to Premium articles, exclusive newsletters, commenting, and virtual events with our leading journalists
Already have an account? sign in
Join our new commenting forum
Join thought-provoking conversations, follow other Independent readers and see their replies