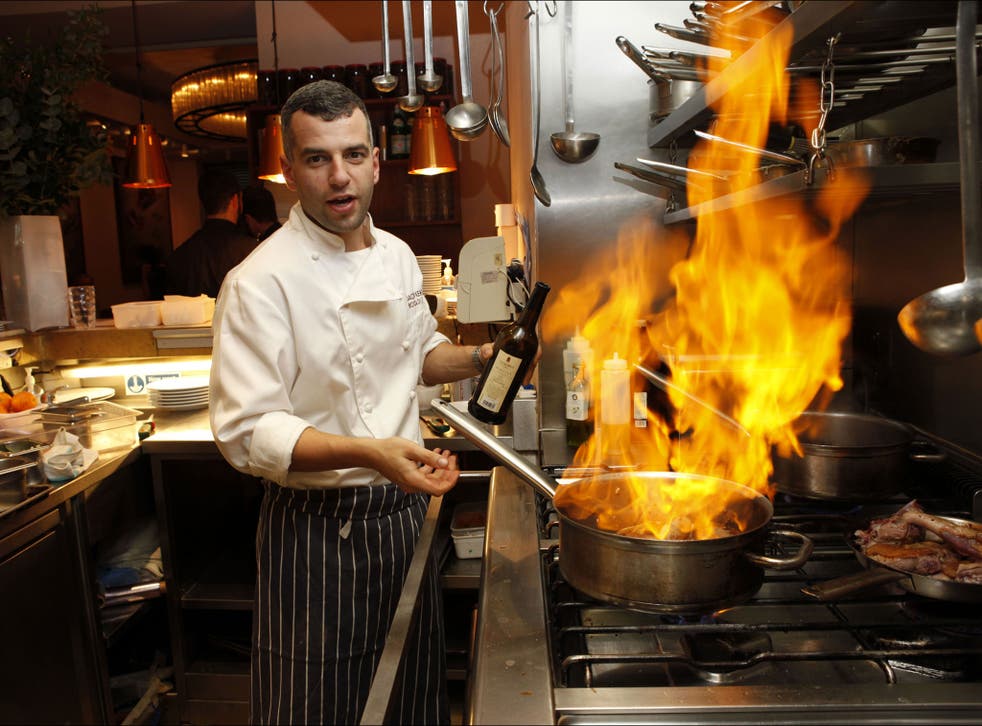 I should cocoa: Chefs are giving chocolate a starring role in savoury dishes
Dishes include white chocolate and asparagus cream, sweet black olive purée and goats' cheese ice cream
David Gerrie
Thursday 31 October 2013 21:30 Comments
White asparagus, white chocolate and asparagus cream, sweet black olive purée and goats' cheese ice cream. When I first saw the components of a dish Claude Bosi, of London's double Michelin starred Hibiscus, was about to serve me, to say my brain and palate executed a perfect disconnect would be an understatement of epic proportions.
Yet, as well as tangling the tastebuds, it was one of the most beautifully sensory flavour experiences I've ever enjoyed and most definitely not a cheffy gimmick. The salt and sweet, the silk and crunch was definite proof that the whole can be greater than the sum of its parts.
Most people's first experience of chocolate in a savoury dish is chilli-rich Mexican mole, traditionally served with turkey, and consisting of up to 30 ingredients. Thomasina Miers, co-founder of the 11-strong Wahaca chain, recalls the first she ever tasted as being "disgusting", but stresses that "a good mole is like nectar of the gods, with the chocolate balancing the heat of the chillies, the earthy notes of spices and sweetness of dried fruit". The problem is successfully executed savoury chocolate dishes, and poorly conceived ones are as different as choc and cheese. But plenty of chefs manage the former.
As of 14 November, the savoury chocolate floodgates will well and truly open when Hotel Chocolat's Rabot 1745, a "cocoa-centric" restaurant and bar in London's Borough Market, will let diners sample the cocoa cuisine of its sibling, the Boucan Restaurant. That was launched in 2011 in a 140-acre cocoa plantation in Saint Lucia, bought by company founders Angus Thirlwell and Peter Harris, and featuring on-site cocoa-bean roasting and small-batch chocolate making.
Sample dishes include fish tartare with cacao pulp and shaved horseradish on fennel, cucumber and nibs (roasted cacao beans); cacao-glazed pork belly; red mullet fillet with a chocolate and mustard condiment; scallops with white chocolate, horseradish dressing and curried nib oil; brill with cacao tortellini and a port and nib sauce; or breast of guinea fowl marinated in roasted cacao with nib-infused sheep's milk yoghurt.
"Because we're doing our own couverture [very high quality chocolate], we can offer a 'bean-to-plate' experience," says Harris. "We are offering a cocoa, rather than a chocolate, menu. Cocoa beans are very like grapes. Their flavour is influenced hugely by terroir and climate. But we are 200 years behind the wine business, and need to catch up by reconnecting cocoa agriculture with chocolate luxury.
"There is so much of the plant you can use, to make everything from cocktails and sorbets to an emulsion for fish tartare. Our nibs are freshly roasted for taste and aroma. Most people have only tried the commercially available type, which taste like the bottom of a hamster's cage."
"We don't waste anything," says Jon Bentham, Hotel Chocolat's executive chef. "We even smoke meat and fish over burning cocoa-bean shells, fry chips in cocoa butter and make cacao gin using botanicals from Saint Lucia, such as macadamias and coriander, as well as the traditional juniper berries."
Trevor Hambley, head chef at The Gallivant, in Camber, East Sussex, makes a goats' cheese and chocolate croquette. Martin Deadman, owner and chef of The Bull, in Wrotham, Kent, serves venison with blackcurrant and chocolate sauce: "We age our venison for three weeks, so the stronger flavour marries well with other strong flavours.
The sauce we use is a game jus flavoured with blackcurrants and 70 per cent dark chocolate." In his Adventures with Chocolate (Kyle Cathie), chocolatier Paul A. Young includes recipes for a honey-cured bacon, Stilton and chocolate sandwich, Jerusalem artichoke velouté with chocolate pecorino wafers, Marmite ganache, chocolate vinegar, a chocolate sauce for fish and a dark chocolate and chilli gnocchi with mascarpone and pecorino.
"Chocolate in savoury dishes has moved on from venison swimming in overly rich dark chocolate sauce," he says. "Confidence has risen, meaning new recipes and techniques are springing up. I love roasting belly pork over cocoa beans, so the pork fat confits the beans and they become as crunchy as the crackling. "I also use 100 per cent cocoa solids as a seasoning on everything."
Cherish Finden, executive chef of the Langham London, features a cauliflower and white chocolate mousse as part of her chocolate afternoon tea, while Eric Snaith, head chef at Titchwell Manor, in Kings Lynn, Norfolk, makes a white chocolate and cauliflower pannacotta.
Sophie Michell, executive chef of Pont St, in London's Belgraves hotel, is planning a foie gras, white chocolate and cognac terrine with fig chutney, and white chocolate and miso-glazed halibut with wild herb and radish salad for her 2014 Valentine's Day menu.
Daniel Galmiche, executive chef at The Vineyard, near Newbury, Berkshire, says: "I use it in savoury dishes in autumn and winter, such as venison with parsnip puree, salsify and a jus infused with clove and 70 per cent Venezuelan chocolate – very fresh, with an acidity bringing a lovely accent to the sauce."
"Chocolate can be a great ingredient in savoury food, in particular with dark red meat, hare and duck, but must be used with a balanced hand and sensitivity," says Jacob Kenedy, chef and co-owner of London's Bocca di Lupo and Gelupo, who serves duck in chocolate and marsala. "Together with acid flavours, such as vinegar or tomato, and/or hot or aromatic spices, it can be revelatory. Too many sweet notes and it's as if someone has melted a Mars bar over your main course."
To find a dissenting voice, we must turn to Rowley Leigh, chef/proprietor of London's Le Café Anglais, who says: "I wouldn't go so far as to say it's a revolting notion, but it is one I have little sympathy with. In the old hotel kitchens, when they made a demi-glace, a lot of the old boys had a secret of slipping a tiny bit of couverture into the pan. But you must use it sparingly.
"I once had a scallop, white truffle and white chocolate risotto, one of a rather famous chef's signature dishes, which was utterly disgusting. The problem with a lot of today's chefs is they think: 'Cauliflower is white, panna cotta is white so I can use white chocolate. I've got it! I've solved the secret of the culinary universe.' It shows nothing but a paucity of imagination."
But the fascination continues, with Claudio Cardoso, executive chef at SushiSamba, who serves salmon anticucho with orange and dark chocolate, affirming: "The dark chocolate complements the savoury flavours of the salmon and the natural sweetness of the orange, creating a new and memorable ingredient profile."
Echoing his enthusiasm is Larry Jayasekara, executive chef at The Manor at Weston-on-the-Green, Oxfordshire: "Game is a really strongly flavoured protein, which I mellow using bitter chocolate in the sauce, as in roast grouse with a bitter chocolate salt crust."
Barry Macmillan, head chef of London's New Street Grill, says: "I first used chocolate in chilli to take away some of its excessive heat. Now I use 55 per cent Valrhona instead of butter to enrich a sauce for venison."
Register for free to continue reading
Registration is a free and easy way to support our truly independent journalism
By registering, you will also enjoy limited access to Premium articles, exclusive newsletters, commenting, and virtual events with our leading journalists
Already have an account? sign in
Join our new commenting forum
Join thought-provoking conversations, follow other Independent readers and see their replies