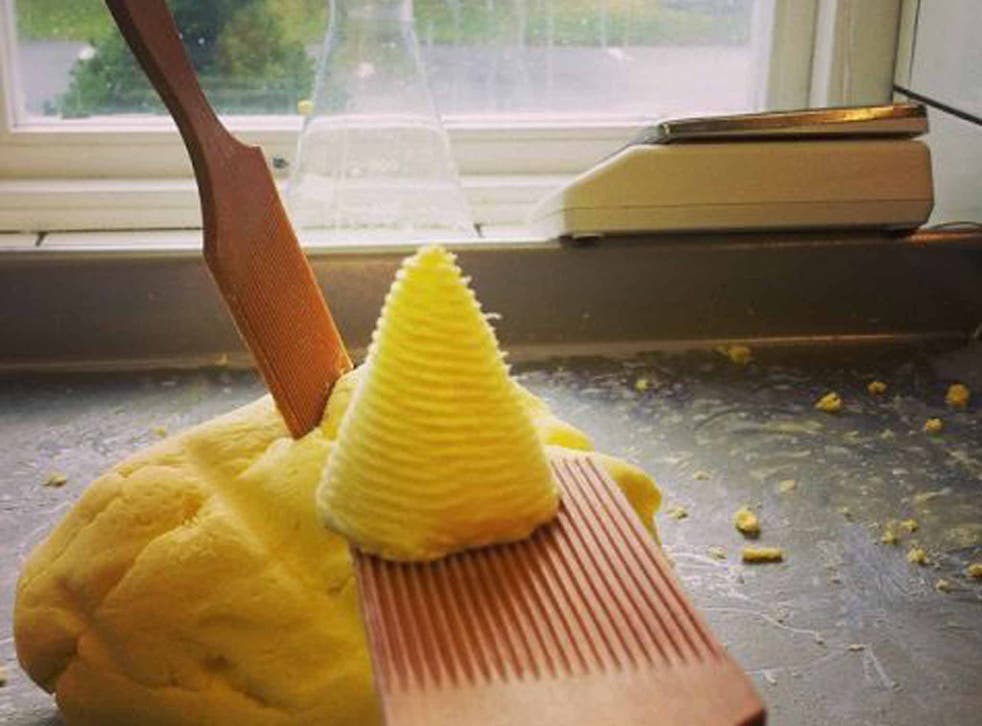 Invasion of the Butter Vikings: Crowdfunding cultured butter
Two Swedish dairy experts have landed on the Isle of Wight and are promising a churning revolution. Sophie Morris samples their spread and says, 'I can't believe it is butter!' 
"Tell a French chef," begins Patrik Johansson, "that the French didn't invent butter, and he won't be very happy. But they didn't! The Vikings showed them how to do it."
Johansson and his partner Maria Håkansson style themselves as the "Butter Vikings", a small and merry band of butter lovers and makers. Johansson has been churning butter in his native Sweden for eight years, and is known for selling his "virgin" butter to the famous Noma restaurant in Copenhagen. Now he's setting up a dairy on the Isle of Wight.
We are experiencing something of a butter revival in the UK, and sales have increased steadily over the past decade, but most of it is mass produced and homogeneous in flavour. In fact not very flavoursome at all. The Butter Vikings' butter tastes quite different to what we think of as butter, because the way it's produced brings more of a sour, fresh, live taste – something you'd expect to find in yoghurt or crème fraîche – over a sweet, creamy, butter. This is how butter used to taste, and now it's back in the UK.
"There are over 150 taste components in cultured butter," enthuses Johansson, "and most of them come from the buttermilk, or cultured cream, which we make ourselves. Thanks to the amount of cultured buttermilk in the butter we get the big pure buttery butter taste as well as a nice acidity. The butter taste is in the buttermilk."
Whether the French like it or not, Sweden does have an impressive butter legacy. It was the world's largest butter exporter until 1885, and as recently as 1960 there were around 6,000 small dairies around the country producing it the traditional way. Johansson's grandmother owned one of these dairies, and he's carrying one of her large silver pails when we meet on the Isle of Wight to discuss the Butter Vikings' new venture – a dairy here on this sheltered, fertile isle in the English Channel, where cows graze on the hills in view of the sea. Crucially, the many chefs working in the UK's booming restaurant trade are within easy reach.
"There are more people living in London than in the whole of Sweden," points out Johansson. "After people heard about René [Redzepi] using our butter at Noma, we had requests for samples from all over the world." They have found a spot in the island's Rew Valley, near their new home by the sea in Ventnor, and are raising money on Crowdfunder to kit it out and start getting their butter on to restaurant tables.
Once they tasted the local cream they knew this was the place for them. Theirs will come from a mixed herd, the welfare of the cows being more important to them than the breed, as the unique flavour is brought to the butter by the way the cream is cultured.
Virgin butter has a creamy and somewhat acidic taste with a slightly grainy texture, and the Vikings describe eating their super smooth angel butter as like "hovering over a field on the Isle of Wight on an early summer's morning".
Another popular product, pearl butter, is made by suspending many small drops of melted butter – the "pearls" – in a cloak of thick, salted cultured cream. This butter was made for the King of Sweden. He had warned them he wasn't a big fan of butter, but ended up going in for second, third, fourth and fifth helpings.
Chef Bruno Loubet of London's Grain Store loves Johansson's butter. "His knowledge and interest in butter is second to none," says the French chef. "I love how he cultures cream to make crème fraîche and then churns that into butter. It creates a wonderfully full-flavoured butter with many layers."
Butter is made by churning cream until the fat clumps together into butter and the remaining liquid, buttermilk, can be drained off. The Butter Vikings culture cream by adding lactic acid bacteria and leaving it for around three days before churning. Most butter makers churn cream at 12C, but Johansson won't divulge his temperature secrets, which vary with different recipes. This traditional method of fermenting milk has been used for 8,000 years and is thought to have come to Europe from Mongolia. As industrial food processing techniques developed in the post-war era, this practice was largely lost in developed countries.
Hand-churning, like most pre-industrial activities, was laborious. It was done with a paddle in a tall barrel until mechanised options became available – such as a barrel on its side supported by a stand, with a lever to turn the barrel. Johansson uses a similar piece of kit today, but large-scale butter production was made possible with the invention, in the first half of the 20th century, of the Willy Wonka-sounding continuous butter-making machine. These machines couldn't handle cultured cream because it is very thick, so thinner, sweet cream was churned (and sometimes artificial butter flavour was added). Most butters are still made that way.
Butter is quite unusual among dairy products in that it keeps for a long time and freezes and defrosts without losing its structure or all of its flavour. But this only applies to butter made with sweet cream, which lacks the sour notes provided by the lactic acid bacteria. Bacteria cannot thrive in fat, so Johansson's butter contains less fat than other butters – 40 per cent versus around 82 per cent – and more of the cultured buttermilk solids in which the complex flavours are preserved.
The Butter Vikings will only sell to top restaurants, but a few British dairies are bringing back another rare butter: whey cream or farmhouse butter. This is made from the whey produced during cheese-making and is said to have a slightly cheesy, nutty and acidic taste. Booths supermarket stocks a whey cream butter made by Dewlay Cheesemakers in Garstang, Lancashire, and Somerset and Devon are also known for making it. "It gives you a 'taste' of the cheese-making process," explains Alan Kirby, Booths' dairy buyer, "while at the same time being simply ideal for cooking with as it's slightly sweeter and typically not as hard as standard butter."
The Vikings may have shown the French how to make butter, but France has maintained its butter culture better than Sweden, where there are only around 100 small dairies left compared with 8,000 in France. Decades ago, the food conglomerate Arla began buying up the little dairies, often shutting them down. Arla is the largest dairy company in many countries, including the UK, and owns Lurpak, the best-selling brand here.
As a swell of scientists, doctors and consumers question the notion that fat is inherently bad for us, more of us are buying butter. As well as falling back in love with baking, thanks in part to The Great British Bake Off, butter is being promoted as a natural, and therefore healthier, alternative to margarine, which is made with processed vegetable oils and often contains lots of additives. According to a Kantar Worldpanel report from March 2015, margarine sales fell 7.5 per cent the previous year while butter sales were up by 8.2 per cent. Stork, a popular margarine brand for baking, launched Stork with Butter last year to tap into this market. A Credit Suisse Research Institute report from September 2015 found that our global demand for fat will increase by 43 per cent come 2030, when fat will account for 31 per cent of our calorie intake compared with 26 per cent today.
But we're so used to choosing other fats, often oils, in the kitchen. How should we use butter? Bruno Loubet recommends using good butter as you would a high-quality oil, to round off dishes – add it to a risotto after cooking to add shine and richness, use it to lend a sheen to sauces, or create a beurre noisette by heating it to a light brown colour to bring out its nutty flavour.
"I also enjoy putting thin slices of room temperature butter that isn't too soft on sourdough bread and treating it like a good cheese," he says. Now this is real Butter Vikings territory. They too treat their butter as you might a fine cheese, usually eating it on its own, in chunks, without even a slice of bread.
To help fund Butter Vikings, go to crowdfunder.co.uk/buttervikings
Register for free to continue reading
Registration is a free and easy way to support our truly independent journalism
By registering, you will also enjoy limited access to Premium articles, exclusive newsletters, commenting, and virtual events with our leading journalists
Already have an account? sign in
Register for free to continue reading
Registration is a free and easy way to support our truly independent journalism
By registering, you will also enjoy limited access to Premium articles, exclusive newsletters, commenting, and virtual events with our leading journalists
Already have an account? sign in
Join our new commenting forum
Join thought-provoking conversations, follow other Independent readers and see their replies