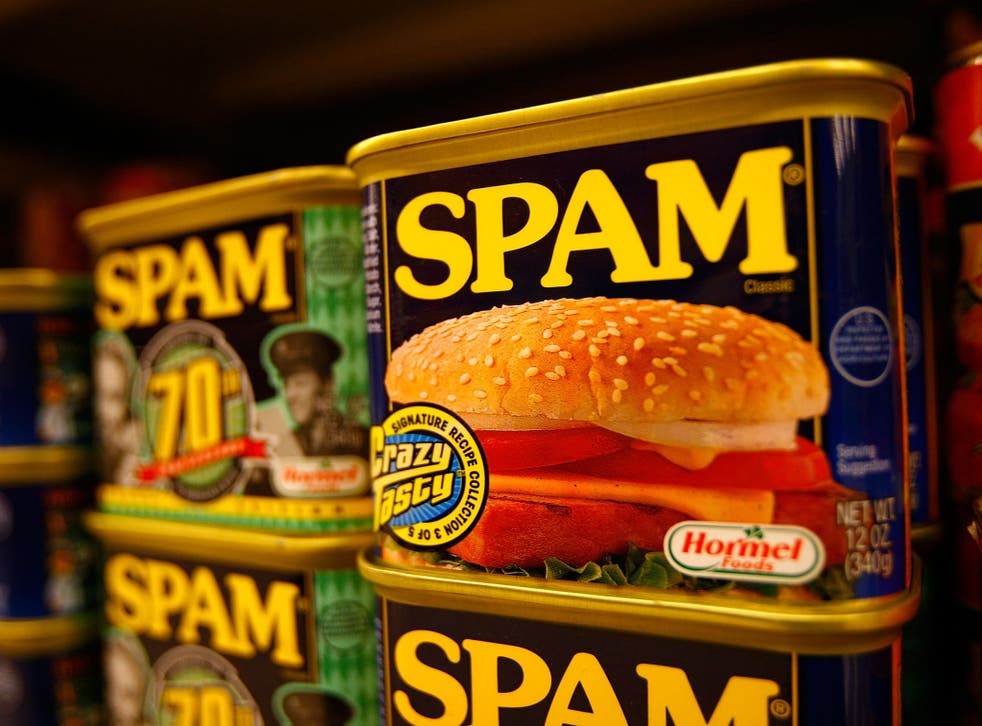 Is Spam about to have a fashion moment?
Spam producer Hormel has launched a SPAMERICAN! TOUR 2015 in a bid to make the mixture of pork, salt, water, sugar and starch cool
A food truck in San Francisco is about as rare a thing as a steep hill and views of that big, red bridge. But the van that rolled into the city yesterday is a tad unusual, mainly because the sign that would usually proclaim that it is selling pulled pork, fried chicken – or whatever else goes with mac 'n' cheese – has instead a single word written across it: Spam.
This is all part of the SPAMERICAN! TOUR 2015, which will see the truck visit 12 cities around the US, and in each one park up and partner up with a local chef who will create dishes that play to Spam's "history, versatility, and cultural impact". This seems to mean a dish called "Kimchi Spam Musubi Croissant" in LA, and something called a SPAMmy Tot in San Francisco.
The distillation of the frenzied marketing minds at Spam producer Hormel, the clear aim of this is to make the mixture of pork, salt, water, sugar and starch into a gourmet treat, in a bid to make it cool – or at least as cool as something can be that comes in a tin can with a key attached for opening.
The inspiration is presumably corned beef which, when I was younger, also only ever seemed to appear hermetically sealed in its brick of tin, and now sits proudly on restaurant menus all around Britain, though usually preceded with the words "home made", rather than "hand-opened". In the US, the leap is even greater – corned beef is not just a gourmet treat but also, when hashed, a gourmet breakfast treat.
Now, I wish Spam well and all those who choose to eat it, too. But I can't help thinking that it may have an uphill struggle on its hands. Corned beef is, after all, a means of treatment: you are merely curing lean-ish beef. The canning process is not integral to the food. It is easy to gourmandise.
On the other hand, some seven billion 340g containers of Spam are sold in 41 countries on six continents – and every single one of them is a can. And that will always contain meat that looks like a fleshy Lego brick. It is hard to make that into a highly covetable product.
There is a reason why Spam, created in 1937 by George Hormel, is seen as an economic indicator: when the economic winter sets in, especially in the US, sales tend to rocket. It has a long shelf-life, is easy to transport (being stackable – and thus bought in large quantities by the US army in the Second World War) and it is, most of all, cheap.
Plus, it is only ever made thus: raw pork shoulder, and meat from elsewhere on the pig, are mixed up by vast machines, which work in a vacuum and under refrigeration. The meat is then pumped into the oblong cans which are vacuum sealed and then sent to be cooked, sterilised and dried in vast machines. That is it. That is how it is made. There can be no artisan Spam made with pork fillet and by hand by a hirsute enthusiast in Dalston. Any other method and it is simply not Spam. Gourmandise it and you get, well, ham.
This, I can't help suspecting, is a food truck whose wheels may quickly come off.
Register for free to continue reading
Registration is a free and easy way to support our truly independent journalism
By registering, you will also enjoy limited access to Premium articles, exclusive newsletters, commenting, and virtual events with our leading journalists
Already have an account? sign in
Register for free to continue reading
Registration is a free and easy way to support our truly independent journalism
By registering, you will also enjoy limited access to Premium articles, exclusive newsletters, commenting, and virtual events with our leading journalists
Already have an account? sign in
Join our new commenting forum
Join thought-provoking conversations, follow other Independent readers and see their replies