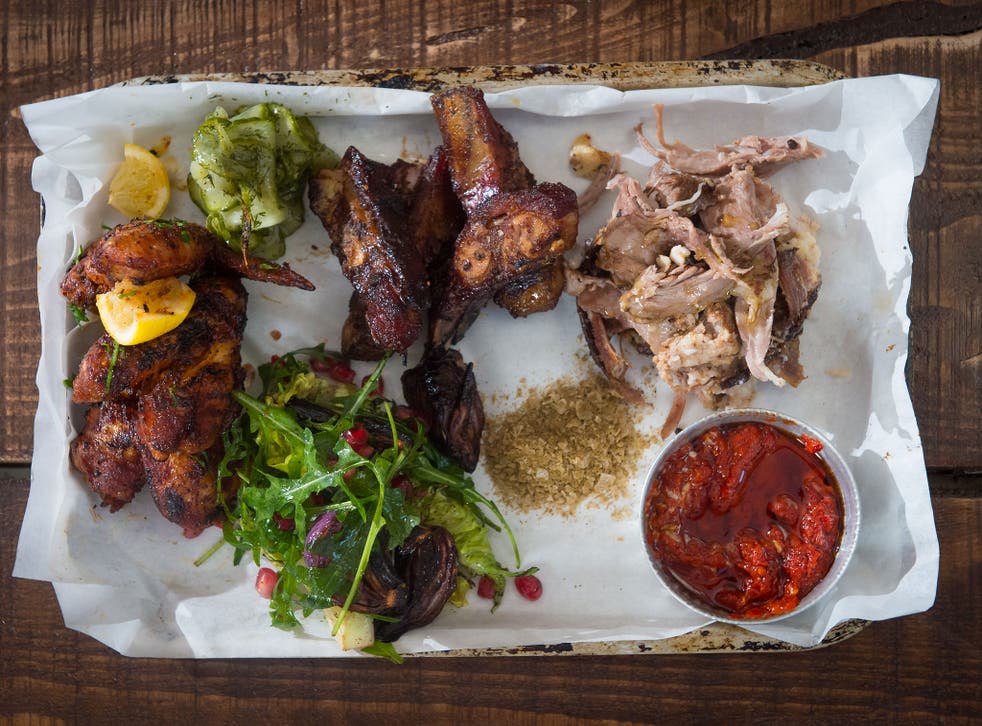 Japanese, Basque, North African and Thai recipes are giving barbecuing a new appeal
British barbecues are sizzling with fresh techniques and delicious spices from around the globe that put the usual charred sausages to shame. Sophie Morris gets all fired up
It's barbecue season, at least as much of one as we'll ever get. And despite the scarcity of open-air cooking weather on these shores, we're increasingly developing a taste for something more than the usual bangers and burgers. Techniques, ingredients and recipes from all corners of the world are emerging in the UK, spurred on by our fondness for US barbecue.
As well as a social activity, barbecue has become something of a spectator sport, with the Meatopia festival in London and Grillstock in Manchester, Bristol and London. "You can't beat the feeling of community among barbecue lovers," says Mississippi-born chef Brad McDonald, who is opening a new barbecue restaurant Shotgun in Soho this autumn, sharing the flavours from his Southern heritage. "There are so many styles. Fast or slow, you need a real wood-burning fire, no chips or gas. Find the one you love doing the most, and just get perfect at it."
"Barbecue is all about sitting by the coals with a few beers slowly cooking up succulent and delicious meat to share with your friends," says Grillstock co-founder Jon Finch. "The longer it takes to cook, the better; it's a legitimate excuse to sit in the garden drinking beer." The chefs doing barbecue here in the UK are taking inspiration from other cuisines and then making the food their own. We've looked at barbecue ideas from Japan, Thailand, the Middle East and the Basque Country.
10 best barbecue accessories

Show all 10
Japan
"Being Australian, I have that inherent love of barbecue," says Scott Hallsworth, an Aussie in London cooking Japanese food. He explains that the key to good barbecue, wherever in the world you may be cooking it, is the Maillard reaction. That's the official name for the chemical reaction between amino acids and sugars that browns your meat and gives it that tasty and aromatic crust when it hits a hot grill. "People tend to slap meat about on the grill and burn it, but the caramelisation is so important."
Robatayaki is the typical Japanese style of cooking, where chefs cook skewers on an open, charcoal-fuelled grill using a very dense, compressed charcoal called binchotan. "It gives a really high heat for a long time, as opposed to cheap charcoal, which doesn't allow for the caramelisation." Chicken is popular on the Japanese barbie, but they choose more adventurous parts than the drumstick, the favourite of a good British barbecue. The breast bones are popular, says Hallsworth, as are gizzards. Quail's eggs and ginkgo nuts often feature – good ideas if you want to serve guests snacks from the grill before the main event.
Crucial to Japanese barbecues are salty, sweet and sour flavours. The well-known sauce teriyaki, explains Hallsworth, who has two Japanese restaurants called Kurobuta, is actually a method of cooking. It requires an intensely hot charcoal and the sauce, a 50/50 mirin and soy mix, is sprayed on to the meat or veg while it's cooking, leaving behind its silky and sweet flavour. "Teri" means shine or lustre where "yaki" is the grill.
"Even at Nobu in the old days they didn't do proper teriyaki," he confides.
Hallsworth has praise for the way Australians have evolved their techniques, as well as the new methods we're seeing over here. "Around 20 years ago, you'd see people marinating things gingerly, and I mean gingerly. Now you see big Aussie tough guys all into their coriander marinade." He recommends that novice grillers relax a little and stop jostling their meats around so much: you need to leave it to start its Maillard reaction. Also: "Stay well away from those poisonous disposable barbecues."
The Basque Country
This region is known for its pintxos – delicious bar snacks – and a high number of Michelin-starred restaurants. They also do things with coals there to put burnt sausages to shame.
"The ingredients are simple but unique," explains Nemanja Borjanovic, who owns the Basque restaurant Donostia and will open Lurra, devoted to cooking over hot coals, in September. "We focus on old cows and ox, from eight-year-old retired dairy cows to Galician Blond beef which can reach a grand age of 17 years. This age of the beef means the animals are naturally fatter. This translates to marbling, giving a unique depth of flavour."
It is exactly this beef that has drawn fans to Tomos Parry's Basque-inspired grill at Kitty Fisher's, a restaurant co-owned by Samantha Cameron's brother-in-law and reputedly one of the hardest to get a table at. Vegetables such as gernika peppers, which are similar to the Spanish padrón peppers, are also cooked traditionally over hot coals, and turbot is a speciality. Lurra's chef, Damian Surowiec, spent weeks in Getaria, a small town close to San Sebastián, learning a method of cooking fish in baskets. "The fish is cooked pink and the hot garlic olive oil emulsion, poured at the very end over the fish, seals the flavours," Borjanovic explains. "The re-emergence of barbecue and grilling over charcoal and wood is a result of the British public's inquisitiveness. Culinary-wise, we have come full circle, doing away with intricate dishes and going back to basics – meat over fire."
North African
Mangal, Turkish barbecue, has been a fixture in the UK for decades. London-born Josh Katz grew up enjoying these flavours before his travels enabled him to explore the real thing, along with kebab houses in Istanbul and Tel Aviv and the food markets of Marrakech. After a period working for Ottolenghi, he decided to blend Middle Eastern and North African flavours with North American barbecue techniques for his first restaurant, Berber & Q, which opened this year. "We can't say we're an authentic North African restaurant, but our food uses flavours from that part of the world and a range of techniques I've learnt from the US."
Katz's open mangal, charcoal grill and smoker are on view to diners, as in a traditional Turkish mangal joint. From it come meats such as lamb mechoui, made in Morocco by spit-roasting a whole beast and serving the meat shredded, pork belly smoked with fennel seed and paprika, and maple-glazed smoked merguez, as well as aubergine and cauliflower.
Katz has developed his own rubs, based on US versions such as a salt-and-pepper rub, but using Middle Eastern spices. At the Meatopia festival next month, he will be cooking chicken shawarma. "Most people think of it as meat on a vertical spit," says Katz. "We'll cook it on skewers and serve it as a kebab with pickles. Some of the techniques Katz uses with his specialist equipment can be pulled off at home, with a little practice. Where we think of barbecue as grilling on coals, he says, indirect grilling is a great way to bring that smoky barbecue flavour to different dishes. You could cook a whole chicken by pushing the coals to one side, placing the bird on the other and putting on the lid. As there's no direct flame, your chicken won't burn before the flesh is cooked through, but you don't have to turn it all the time.
Anyone with a Weber can have a go at smoking by buying some wood chips and a Smokenator (from around £55). The tricky part is managing the temperature by learning to work the vents. "Practice, practice and practice, and you'll get there," says Katz.
Thai
Thai food is undergoing a makeover in the UK, with green and red curries making way for fiery Northern Thai cuisine, called isaan.
"Isaan cuisine is less sauce-based and a lot more about cooking over charcoal," explains Ben Chapman, co-owner of Smoking Goat in London's Soho, which along with Som Saa and Begging Bowl has created a following for this type of bold and fiery Thai food. "We can't be completely authentic because we don't have the access to all the spices and chillis we would in Thailand, but we do have much better access to high-quality meat here in the UK," he says.
If you want to wow people, raise the stakes with intense Thai flavours. Chapman suggests cooking scallops in their shells with a red Thai chilli paste, which is served with grilled meats in northern Thailand.
Barbecue means different things in different parts of the world, and Chapman is as keen on cooking things long and slow over sweet chestnut wood – like he did on a Mallorcan holiday this summer with his friend Tomas Parry of Kitty Fisher's – as grilling things quickly.
"We're not that good at cooking over wood in this country," he says. "But you need wood for the perfumed smoke. Sort out that, and the length of cooking, and you'll barbecue well."
Register for free to continue reading
Registration is a free and easy way to support our truly independent journalism
By registering, you will also enjoy limited access to Premium articles, exclusive newsletters, commenting, and virtual events with our leading journalists
Already have an account? sign in
Register for free to continue reading
Registration is a free and easy way to support our truly independent journalism
By registering, you will also enjoy limited access to Premium articles, exclusive newsletters, commenting, and virtual events with our leading journalists
Already have an account? sign in
Join our new commenting forum
Join thought-provoking conversations, follow other Independent readers and see their replies