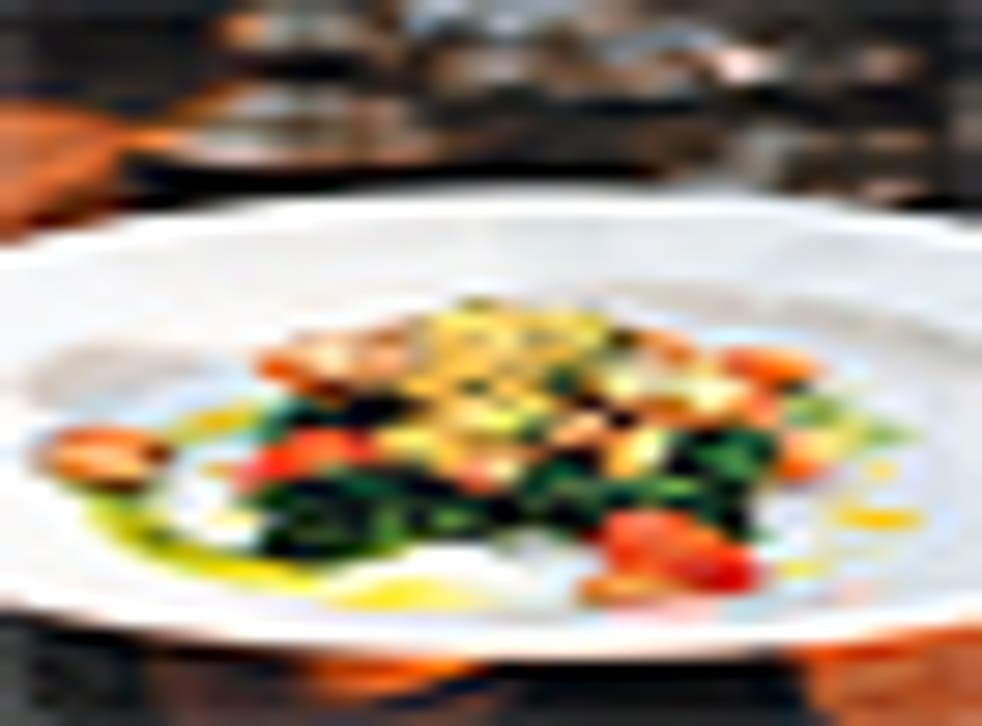 Jill Dupleix: How I shrunk food critic Terry Durack
You try cooking for a restaurant critic. His porridge is either too hot, too cold, or not porridgy enough. Lunch is on hold while he works out if he wants a sandwich, a steak, or a sea-urchin soufflé with langoustine ravioli, wild watercress and a truffle dressing. As for dinner – well, occasionally I get those off, when he takes me with him on a review – but otherwise, my rustled-up supper is scored out of 20. The worst thing is that he includes the service in his biting commentary.
Who am I trying to kid? There may be some restaurant critics out there who behave like monsters in their own homes, criticising their partner's cooking efforts and demanding silver service, but mine – The Independent on Sunday's own Terry Durack – isn't one of them.
He's a joy to cook for, and a joyful cook. Like all food-lovers, he is a most appreciative diner, whether it's Friday night's pasta or Sunday's roast chicken. And his palate memory and ability to analyse flavours come in very handy when I'm busy writing recipe columns or working on a new book. It's great being married to a man who can answer questions such as, "Which of these six lemon drizzle cakes is the best?"
But with those lemon drizzle cakes at home and a steady diet of braised pork belly, confit duck, and sticky toffee pudding in the restaurants of Britain, he got fat. Very fat, actually. I like a man with a bit of heft to him, but there's a difference between being pleasingly sturdy and being Mr Piggy.
He ate all the time, seemingly every minute of the day, and when he wasn't eating – and often when he was – he was drinking. At the same time, my cooking was getting lighter, simpler, and more focussed on foods that would be good for me. In that way, I figured, I might just be able to get away with my Pinot Noir habit. And so we bumbled along.
Then, one day, he stepped on the scales and almost broke them. Horrified at his weight – 116kg (over 18 stone) – he immediately cut out all his favourite foods, gave up drinking at lunchtime and refused to go near carbohydrates. It was never going to last because it was too severe and, like most diets, ultimately unhealthy. Diets and Duracks just do not go.
So instead, we implemented a more sensible way of eating; one that started with having a proper breakfast and finished – well, it never finishes, because it's not a punishing short-term regime but a gentle lifestyle change. I think of it as "lightening up"; moving your cooking and eating to a lighter place, as you would naturally in the change from winter to summer. We started eating lots of fish and chicken instead of red meat and pork, salads, vegetables and pulses instead of potatoes and pasta, fruit instead of pud, and nuts instead of high-carb snacks. I did my homework and found out what was good for us and what wasn't.
It's no hardship, after all, to eat naturally leavened sourdough instead of white bloomer, sweet potatoes instead of potatoes, pistachios instead of crisps, yoghurt instead of cream, apples instead of doughnuts. And when you cook at home, you know how to make food crisp without deep-frying, or rich and creamy without cream.
Slowly but surely, his belt went in one notch, then two, then three. By the time he lost 37kg (nearly six stone), he needed a new belt. He started walking more – it's never just the food – and sleeping better. He stopped snoring. We can even drink, thank the Lord, sharing a bottle of wine with dinner, as long as there is a glass of water for every glass of wine. The belt has now stayed on the same notch for two years, which is the best possible sign that he has settled at his natural body weight.
The key to lightening up is to eat for pleasure and good health, not for weight loss. All we do is eat well enough every day so that we never have to go on a diet. We also eat far more seasonally – seasonal food tastes more strongly of itself as well as being at its peak in terms of nutrition – and organically where possible (again, for flavour and a higher level of antioxidants). When reviewing restaurants, Terry still chooses the dishes he thinks will best test the skills of the kitchen, but he only finishes them if they really turn him on.
His main fear was that he might lose or dilute the love of food and flavour that has driven him all his life. Hah! If anything, he is more obsessed, but this time by good food and not bad. So greed is good, when it's directed towards the good stuff. Terry actually used his love of food to help him lose the flab and get healthy, by discovering the difference between loving good food, and just loving eating.
'Lighten Up', by Jill Dupleix, is published by Quadrille at £16.99. To buy a copy for £15.29 plus free P&P call Independent Books Direct on 08700 798 897
Thai mussels with sweet potato
This is a simple and spicy dish to serve with rice and a cold beer or two. Perfect if a few friends drop round
Serves 4
750g orange-fleshed sweet potatoes, peeled
Sea salt
1.5kg/3lb fresh live mussels
2tbsp vegetable oil
3 shallots, finely sliced
3 garlic cloves, finely sliced
1 red chilli, finely sliced
2tbsp Thai fish sauce
3tbsp sweet, seedy chilli sauce
1tbsp sugar
A handful of basil, torn
A handful of mint, torn
A handful of coriander, torn
2tbsp lime juice
1 extra lime, cut into wedges
Cut the sweet potatoes into large bite-sized chunks. Cook in salted water for 15 minutes until tender, drain. Scrub the mussels, pull out the beards and discard any that don't close when sharply tapped.
Heat the oil, 250ml (8fl oz) water, the shallots, garlic and chilli in a lidded heavy-based pan and bring to the boil. Throw in the mussels, cover tightly and cook for a minute or two, then give the pan a good shake
Lift out any opened mussels with tongs and set aside. Cover and repeat, discarding mussels that don't open.
Add the sweet potatoes, fish sauce, chilli sauce and sugar to the broth and heat through, stirring. Add the mussels, herbs and lime juice, tossing well
Serve at once, with lime wedges and steamed rice.
Winter greens with chicken and beans
Green leafy vegetables are famously good for us – and the darker the green, the better. Look for cavolo nero, Swiss chard, kale, spring greens, sprouting broccoli or Savoy cabbage
Serves 4
250g/8oz winter greens, well washed
1tbsp olive oil
4 chicken drumsticks
2 chicken breasts, with skin
Sea salt and pepper
1 onion, finely sliced
2 garlic cloves, crushed
600g canned borlotti beans, rinsed
A few thyme sprigs, plus extra to serve
500ml hot vegetable or chicken stock
Shred the greens roughly
Heat the olive oil in a large lidded frying pan. Sear the chicken, skin-side down, for 5 minutes on each side, until golden. Remove the chicken, season well and set aside. Cook the onion in the pan for 5 minutes until softened.
Add the garlic and cook for 1 minute. Stir in the beans, thyme, stock, sea salt and pepper. Return the chicken to the pan and cover with the lid. Simmer gently for 30 minutes or until cooked.
Add the shredded greens and simmer for 5 minutes. Cut the chicken breasts in half. Mash a few beans into the sauce to thicken it. Scatter with fresh thyme and serve on warm plates.
Lamb tagliata with oven-roast tomatoes
In Italy, tagliata means "cut". Italians cleverly serve their steaks sliced and shared, turning a heavy meat dish into something lighter, brighter and more like a salad
Serves 4
1/2tsp sea salt
1/2tsp black pepper
1tbsp rosemary needles, chopped
3 x 200g/7oz lamb rumps
Olive oil for brushing
20 cherry tomatoes on the vine
100g/31/2oz rocket leaves
Extra-virgin olive oil to drizzle
Heat the oven to 200C/400F/Gas 6
Mix the sea salt, pepper and rosemary together. Brush the lamb with olive oil. Press into the herb seasoning.
Sear in a hot pan until well browned. Place on a baking tray and add the tomatoes. Bake for 10 minutes for medium rare lamb.
Remove the meat and rest for 5 minutes. Slice the lamb and strew over a lar ge warm platter. Squish the juice of 2 roast tomatoes over the top
Scatter with the roast tomatoes and rocket leaves. Drizzle with extra-virgin olive oil and serve.
Spice-grilled mackerel
You don't have to mollycoddle fish such as mackerel – they're so rich and oily they can take whatever you throw at them. So slash them, coat them in red-curry paste and coconut milk, then throw them on the grill
Serves 4
4 mackerel, about 300g/10oz each
2tbsp Thai red-curry paste
1tsp sugar
Sea salt and pepper
2tbsp coconut milk
1 cucumber, peeled
12 cherry tomatoes, halved
2tbsp mint leaves
A dash of Thai fish sauce
A dash of lime juice
1 lime, quartered
Rinse the fish and pat dry. Slash the thickest part of the flesh on both sides several times.
Mix the curry paste with the sugar, sea salt, pepper and coconut milk. Spread half the curry mix over one side of the fish Grill for 5 minutes, then coat the other side with curry paste
Turn the fish and grill for 10 minutes or until the skin starts to crackle and the fish is cooked. Slice the cucumber finely
Toss with the tomatoes, mint, fish sauce and lime juice. Serve the grilled mackerel with the cucumber salad and lime wedges
Spanish eggs with prawns
I can't tell you the number of times this fabulous, fast huevos revueltos has come to my rescue after staying out too late and getting home so hungry I could eat the fridge door
Serves 4
200g/7oz spinach or rocket leaves
6 medium free-range eggs
Sea salt and pepper
1/2tsp Spanish paprika
1tbsp olive oil
200g/7oz cooked, peeled prawns
2 garlic cloves, very finely sliced
1tbsp roughly chopped coriander
Wash the spinach leaves and shake dry. Heat a dry, non-stick frying pan over a high heat.
Add the spinach and toss until just wilted. Drain well and lightly squeeze dry. Whisk the eggs, sea salt, pepper and paprika in a bowl.
Heat the olive oil in the pan. Add the prawns, tossing well. Throw in the garlic and sizzle until lightly golden.
Add the spinach and toss well over a medium heat. Pour the eggs into the pan, stirring gently.
Rest the eggs for 10 seconds, then slowly push them around the pan with a wooden paddle or spoonTake off the heat while the eggs are still runny. Scatter with coriander and serve.
Winter fruits with orange ricotta
Serves 4
200g/7oz dried figs, halved
200g/7oz dried apricots
2tbsp dried cranberries or cherries
100g/31/2oz pitted prunes
2tbsp sultanas
1tbsp orange flower water
2tbsp honey
For the orange ricotta
250g/8oz fresh ricotta
100g/31/2oz natural low-fat yoghurt
1tbsp honey
1tbsp orange zest, plus extra to serve
1tbsp orange flower water
2tbsp orange juice
Cut the figs and apricots into thick slices. Mix with the cranberries, prunes, sultanas, orange flower water and honey in a bowl.
Add enough boiling water to just cover and stir well. Leave overnight, until the fruit is plump and swollen.
Beat the ricotta with the yoghurt, honey, orange zest, orange flower water and orange juice. Spoon the fruits into serving bowls, saving the syrup
Top with a big spoonful of creamy orange ricotta. Drizzle with the syrup and scatter with orange zest
Lemon yoghurt cupcakes
Makes 10
125g/4oz butter, softened
125g/4oz caster sugar
3 eggs, separated
1tbsp finely grated lemon zest
2tbsp lemon juice
180g/6oz plain flour
1tsp baking powder
200ml/7fl oz natural yoghurt
4tbsp icing sugar
A dash of lemon juice
100g/31/2oz mixed berries
1tbsp lemon zest
Heat the oven to 180C/350F/Gas 4. Set 10 paper muffin cases in a large muffin tray.
Beat the butter and sugar together until pale and fluffy. Add the egg yolks one at a time, beating well.
Beat in the lemon zest and juice. Sift the flour and baking powder together.
Fold into the cake mixture, alternating with the yoghurt. Whisk the egg whites in a clean bowl to firm peaks. Fold into the mixture.
Fill the paper cases. Bake for 30 minutes. Cool on a wire rack.
Mix the icing sugar with lemon juice thicken. Spread on top of the cakes, add a berry or two or some lemon zest, and leave to set.
Register for free to continue reading
Registration is a free and easy way to support our truly independent journalism
By registering, you will also enjoy limited access to Premium articles, exclusive newsletters, commenting, and virtual events with our leading journalists
Already have an account? sign in
Register for free to continue reading
Registration is a free and easy way to support our truly independent journalism
By registering, you will also enjoy limited access to Premium articles, exclusive newsletters, commenting, and virtual events with our leading journalists
Already have an account? sign in
Join our new commenting forum
Join thought-provoking conversations, follow other Independent readers and see their replies