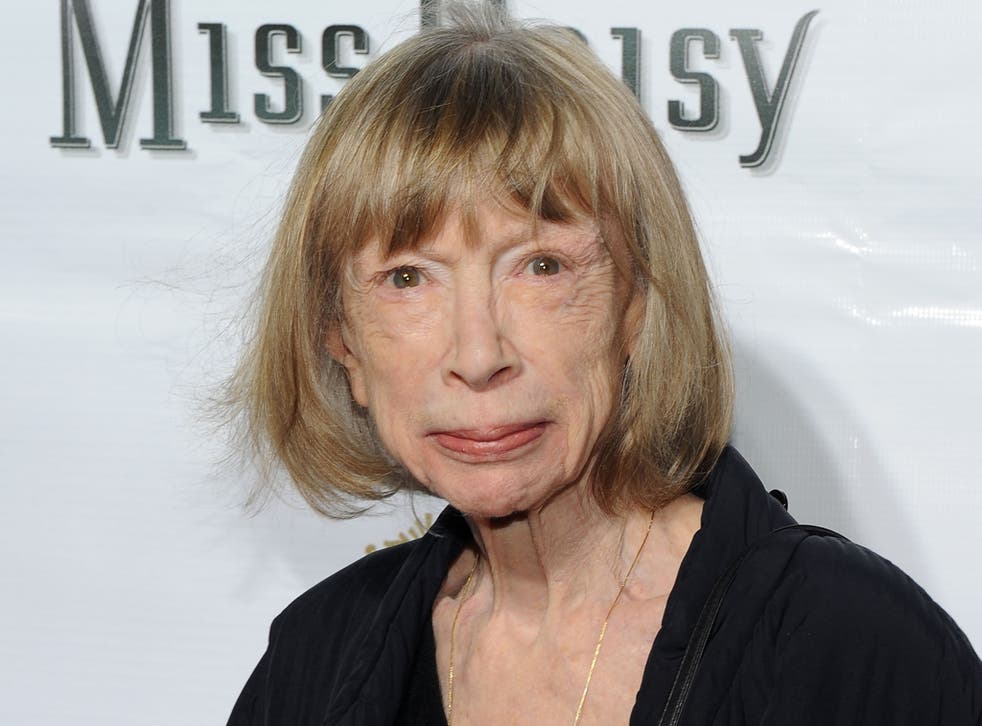 Joan Didion's recipe for parsley salad can tell us so much about her life
The author has granted access to her recipe book as part of a Kickstarter campaign
There are many reasons to be thankful for the Joan Didion documentary, We Tell Ourselves Stories in Order to Live. Directed by her nephew, Griffin Dunne, it will tell the story of the famously reticent writer in her own words. She will read passages from her works and there will be interviews with Patti Smith, Vanessa Redgrave, Bret Easton Ellis and other higher divinities of stage, screen and literature.
To get the project off the ground, Dunne started a Kickstarter campaign to raise $80,000. The way it worked was this: you gave a certain amount, you got a certain reward. One of the more interesting perks was reserved for those willing to put $50 or more towards the project. For that sum, you would get access to Joan Didion's recipe book, which, to paraphrase the Kickstarter page, is unlike the one your Aunt Sally has. As it half-gloats: "John and Joan's house in Malibu was a fixture on the LA scene, and her recipe book represents a lifetime of entertaining. Some of Joan's personal recipes… are now available for your culinary exploration, all perfectly preserved in her handwriting."
Now, some may claim that this is trivial, silly, a distraction. Me, well I just think, WAHAY – JOAN DIDION'S SALAD RECIPES. The campaign has now closed, with nearly three times the target amount raised, so if you haven't paid up, you won't be getting hold of the recipes. Luckily for us Johnny-come-lately types, though, someone has posted a selection online (see them here: http://bit.ly/1FycnXv ).
We read that she served chicken hash with roasted yellow peppers and baguette to Patti Smith, and baked ham with mustard and Alice Waters's coleslaw to Richard Roth (alas, we don't get their thoughts on their respective meals). But more interesting than that, we see the recipes themselves, laid out in her own hand.
It reminds me of a book out last year. Dan Jurafsky's The Language of Food analysed the descriptions of 650,000 dishes on 6,500 menus to find out how restaurants "sell" their dishes to punters. It was an interesting study: Jurafsky found that each one-letter increase in the average length of the words describing a dish adds an extra 18 cents (12p) to the price. It struck me at the time that equally worthy of study would be our home recipe books, that rag-tag collection of cuttings, handwritten notes and tea-stained culinary ephemera that most of us have knocking around in our kitchens.
What we choose to eat is a reflection of our feelings, our view on the world, and our desires. That cauliflower-soufflé-with-brown-butter recipe, a testament to our aspiration; the pulled pork recipe you wrote on the bottom of a mac 'n' cheese recipe, a nod towards that summer of heartbreak; that smudged cocktail recipe, the year of stress at work. It all tells a story in miniature.
With a great writer such as Didion, we can delve deeper still. Her direct, borderline-unsettling style is there, the apotheosis of which is the 40-word risotto recipe. There is an austereness, too, though it comes with a side of the lavish – read her parsley salad recipe, which serves 35-40, and marvel.
And as Maria Popova, who posted the recipes online, points out, as the years roll by, the recipes pressed into service no longer serve dozens, but eight or six or four instead. Even in a recipe book, death intrudes.
Register for free to continue reading
Registration is a free and easy way to support our truly independent journalism
By registering, you will also enjoy limited access to Premium articles, exclusive newsletters, commenting, and virtual events with our leading journalists
Already have an account? sign in
Register for free to continue reading
Registration is a free and easy way to support our truly independent journalism
By registering, you will also enjoy limited access to Premium articles, exclusive newsletters, commenting, and virtual events with our leading journalists
Already have an account? sign in
Join our new commenting forum
Join thought-provoking conversations, follow other Independent readers and see their replies