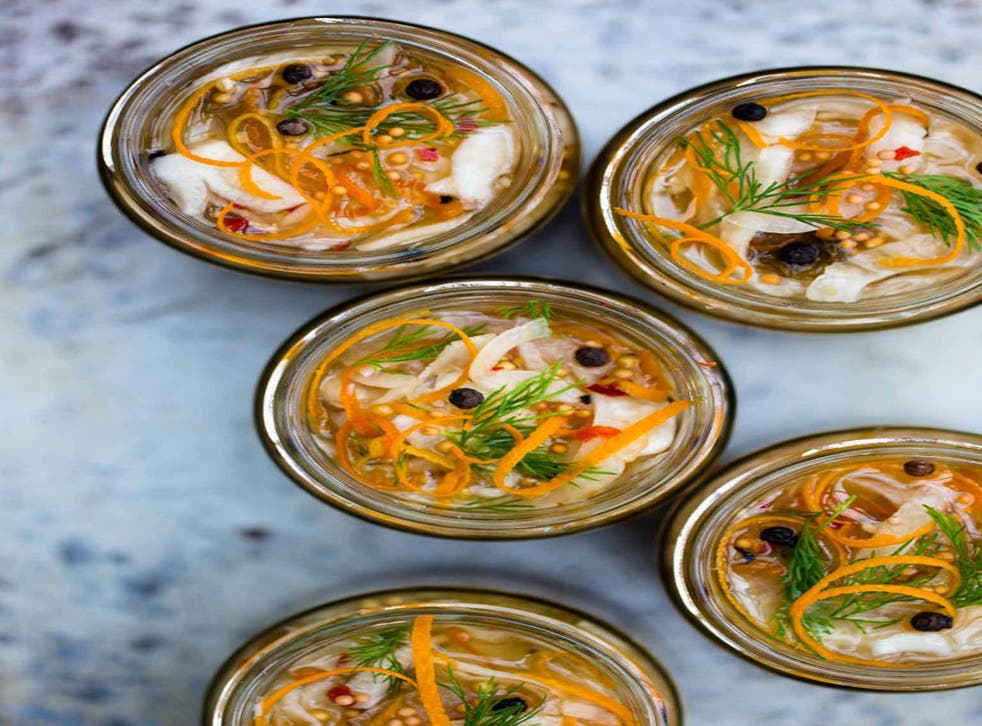 Kylee Newton's new approach to conserving: The importance of enthusiastic experimentation
Forget fusty marmalade makers and wonder at the possibilities of jams and pickles instead. Sophie Morris meets the woman redefining the way to 'save the season' in jars
It might be decidedly uncool to waste food in 2015, but there's still an old-fashioned image associated with using up your leftovers, freezing extra portions and finding thrifty ways to transform surplus fruit or veg. Step forward New Zealand-born, London-dwelling Kylee Newton, who is overturning the twee image of earnest jam-makers and pickle and preserve enthusiasts with her lively approach to conserving and her generous appreciation of the sorts of ingredients we can put in a jar and pickle.
Newton produces everything in small batches in her own kitchen with her assistant Karolina and sells her sweet, salty and vinegary treats under the name Newton & Pott on Broadway Market in east London. The company supplies local delis, cafés and butchers with products including apricot and amaretto jam, gin-pickled cucumber and posh piccalilli.
Often, she explains, the combinations she ends up with are the result of enthusiastic experimentation. "My jams often contain less sugar than conventional jams. I made a peach jam and it was just so sickly sweet that it got me wondering how to improve it. I didn't want to make this lolly-tasting jam, so I decided to bake the peaches and soak them for a few hours in vermouth. This made the resulting jam rich in flavour rather than overly sweet."
Selfridges has already ordered 1,080 jars, and when Marks & Spencer became interested in stocking her products as one of its guest brands, Newton wasn't able to meet the demand, busy as she was with The Modern Preserver. For her beautiful new book, Newton invented, tasted, tested and perfected more than 130 recipes across chutneys and relishes; pickles, fermentations and vinegars; jams, jellies and compotes; and curds, candies and fruit cheeses – all dusted off with a satisfying final note on syrups, cordials and alcohol.
It's a page-turner, and not only for the stunning images of blueberry and rose compote, bergamot marmalade and candied kumquats – as much attention is given to savoury concoctions as sweet. There is heritage carrot-and-ginger pickle, shallots pickled with lavender, and tomato kasundi. Newton's unusual flavour pairings add new layers to classic tastes: there's a satisfying kick of chilli in her red-onion chutney, for example.
Chutneys – she explains in her tiny Hackney kitchen; the living-room is stacked with crates of produce – came first for Newton, when she was skint around seven years ago and wanted to make presents for people. The jam, she says, "evolved organically". "I'm not an ex-banker who has decided to go into food because that's where the money is!" she insists.
"Pickling and fermentation came a little later," she explains. "Pickling is incredibly easy and satisfying. It's such a beautiful age-old technique." Pickles are fruits or vegetables preserved in a pickle brine, typically made with vinegar, sugar and salt and combinations of spices for flavour. As a rule, they need a maceration period of between four and eight weeks, but Newton has written a few recipes that can be devoured straight away: a mango salsa chutney, caramelised fig and ginger, pineapple and star anise relish and fiery tomato kasundi.
She takes on the job of explaining the difference between chutneys and relishes rather boldly (relishes are a little fresher and crunchier, and can be eaten sooner, like the examples above), and between pickles and fermentations and jams and jellies. No doubt there are preserving pedants out there baulking at this casual classification, but Newton's uncomplicated meander through the different processes makes the recipes read like things you might bring to life in your kitchen, instead of scientific methodology best kept on the page.
Fermentation, very much a buzzword in food products now and a lifestyle "trend", as you'll know if you spend time on Instagram, is a bit more tricky, though. Instead of pickling the produce in a brine, fermentation waits for the natural sugars of fruit and veg to break down the food matter. The food pickles itself, creating its own vinegars, with the help of added salt, which works as a control, mediating the metabolic process at the right moment and allowing your food to ferment instead of simply rotting.
Kimchi, Korean fermented vegetables, is probably the most widespread example of this craze, though kimchi's unglamorous German cousin, sauerkraut, has been within our reach for much longer. "You're creating cultures, so it's the same concept as making alcohol breads and cheeses. It's breaking down food matter, and it's a long process." Preserving, Newton reminds me, is the practice of "saving the season", which sounds both romantic and worthy. We lament the passing of summer berries, ripe tomatoes and fleshy peaches. Why not save them as a treat for later, as people used to just to get through the winter?
Despite this appreciation for the passing of seasons, there's a summery, fun and zesty feel to all of these recipes, because they're full of delicious fruit and veg, all tasty, crunchy, sweet and sticky, then stewed or pickled into a future treat. Newton brings her heritage into the picture, too, with her feijoa and tamarillo chutneys. "I really wanted to use fruits from my background and feijoas, though they come from South America, grow in everyone's backyard in New Zealand. I'm hoping they'll become more popular here. I've seen them in Tesco."
Making jams does take a bit of time, and it's a sticky business. We were going to make pineapple and cracked black-pepper jam, but spent too much time talking, so I leave her to it and pop by for the spoils later. Jams aren't just for toast, she insists, and chutneys aren't just for cheese, so this jar of pineapple sunshine is draped liberally over a cauliflower and coconut curry and laid out across scoops of vanilla ice-cream.
I'm not sure any of the pot Newton gave me will make it through to next season.
'The Modern Preserver' (£20, Square Peg), newtonandpott.co.uk
Tomato kasundi by Kylee Newton
Makes 5-6 x 350ml jars
1.5kg tomatoes
2 tsp salt
9 garlic cloves
180g fresh ginger
1 tsp coriander seeds
10 bird's-eye chillies
260g onions
350g apples
350ml cider vinegar
2 tbsp black mustard seeds
50ml olive oil
1 tbsp cumin seeds
1 tbsp ground turmeric
2 tbsp nigella seeds
2 tsp whole cloves
1 tsp chilli powder
200g dark brown sugar
Roughly chop the tomatoes, stir in the salt and leave to steep for about an hour. Meanwhile, prep all the other ingredients: peel and chop the garlic and ginger, crush the coriander seeds, finely chop the chillies, peel and finely dice the onions and peel, core and chop the apples into 1cm cubes.
Warm the vinegar on a low heat in a small saucepan, add the mustard seeds, then remove from the heat and leave to infuse for 15 minutes.
Put the garlic and ginger into a blender and pulse a few times. Add the vinegar and mustard seed infusion and blend into a smooth paste.
Heat the oil in a large, heavybottomed saucepan on a high heat for 1 minute. Take off the heat then add the crushed coriander seeds, cumin seeds, turmeric, nigella seeds, cloves and chilli powder.
Fry on a moderate heat for 20 seconds then add the mustard-vinegar paste and the chillies and onions. Fry for a further 5–10 minutes.
Drain the excess liquid from the tomatoes and add to the pan with the apples and sugar. Reduce the heat and simmer gently for an hour, stirring occasionally. Ladle into warm, dry sterilised jars and seal. Can be eaten immediately but also great if left to mature in a cool, dark place for 4 weeks if you can. Keeps for up to a year unopened. Once opened, refrigerate and eat within 4 months.
Register for free to continue reading
Registration is a free and easy way to support our truly independent journalism
By registering, you will also enjoy limited access to Premium articles, exclusive newsletters, commenting, and virtual events with our leading journalists
Already have an account? sign in
Register for free to continue reading
Registration is a free and easy way to support our truly independent journalism
By registering, you will also enjoy limited access to Premium articles, exclusive newsletters, commenting, and virtual events with our leading journalists
Already have an account? sign in
Join our new commenting forum
Join thought-provoking conversations, follow other Independent readers and see their replies