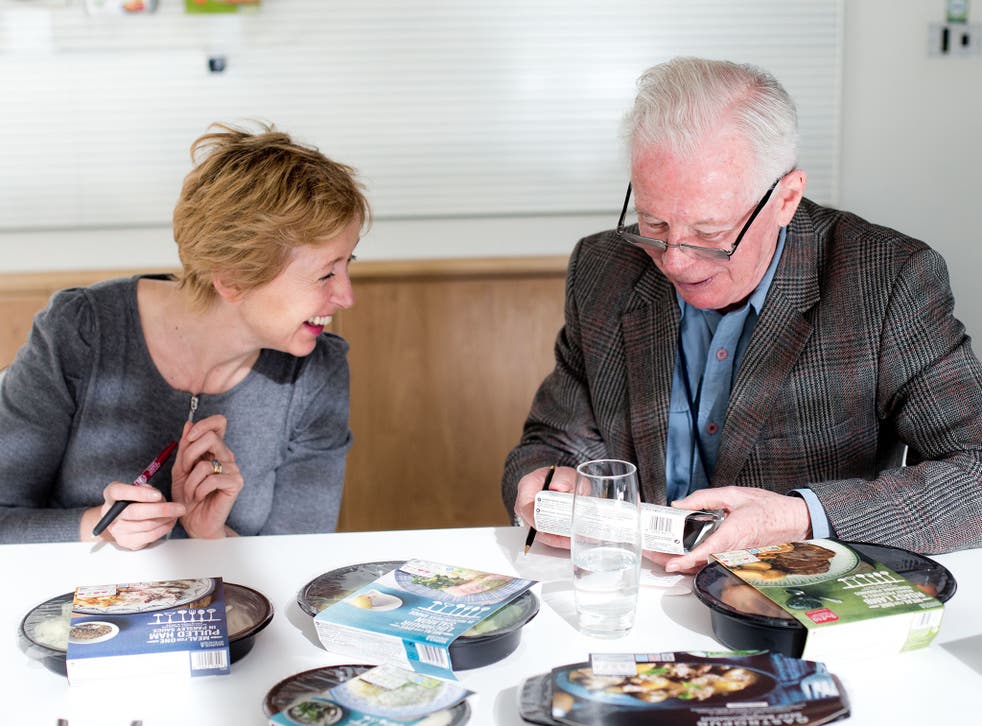 Many elderly people turn to ready meals, but can they compete with a proper dinner?
The ready-meal industry is now worth £2.3bn a year, thanks in part to elderly shoppers who feel too tired to cook. As Marks and Spencer launches a new range catering to 'mature' tastes, Rosie Millard and her father, John, 83, take part in a taste test
Rosie Millard
Friday 03 April 2015 00:16 Comments
They don't want Meals on Wheels. But nor do they want to peel potatoes. Or prepare spag bol. They are the many thousands of retired people in the UK who, to put it baldly, simply can't be bothered to cook any more. At least, not every day. They are happy to knock out a roast dinner when the kids come over, and they make a great apple crumble. At all other times, the spectre of a boiled-egg supper looms.
At which point, enter the ready meal. Ready meals, both frozen and chilled, are booming. In 2013, the £2.3bn sector took a bit of a pasting courtesy of the horse-meat scandal, but it got back on track last year and is this year likely to exceed the 2013 value. By 2017, it is thought that the ready-meals industry will have risen by 20.2 per cent. With the advent of shops on the high street such as Cook, which provides frozen "home-cooked" dishes suitable for a dinner party, and high-street supermarkets pushing out the range of their ready-meal offerings, this seems highly likely.
While there is undoubtedly a large consumer base of time-poor diners who like to pick up a microwaveable feast on the way home from work, there is another demographic that producers of ready meals have clearly in their sights: the elderly.
People such as Vera James, an Independent reader who wrote to me when I described in a column how my octogenarian parents like to do supper, namely, by peeling plastic off a meal and heating it up. "I too get rather tired of cooking every day," wrote Mrs James, who says that she swears by the frozen range prepared by Wiltshire Farm Foods (which seems rather like Cook). "It is lovely to come indoors from a morning spent gardening and pop a couple of meals in the oven. We can choose separate meals if we wish – a bit like a restaurant."
It sounds idyllic, but is it all it's made out to be? After I wrote this column, a slightly caustic piece about the quality of some ready meals that I had experienced courtesy of my parents, I was contacted by Marks & Spencer, and invited to come and taste some of its offerings, many of which, I now know, are devised specifically with the 65-plus market in mind. To make sure the target group was involved, I took along my 83-year-old father, John Millard.
For the "mature" customer, Marks and Sparks has a range of "Traditional" fare, which includes salmon in watercress, beef casserole, and lamb and potatoes – all of which younger customers may not have noticed in their haste to get to the Modern Asian shelf. Is this something to do with not frightening people who (like my father) grew up with little more than a Lyons Corner House or something known as a British Standard Restaurant for eating-out opportunities?
"Well, our Traditional meals customer knows what they like," says James Newton-Brown, the head of product development, diplomatically. Newton-Brown, 40, is a former chef who worked at places including the Ritz. He says the Traditional ready-meal bestsellers never change. Essentially, they are the potato-topped pies and roast dinners. These items are always available, because they are what people want. "We mess with the menu at our peril," he admits. The Traditional range is tested on focus groups of elderly people in Newcastle. "That's our heartland."
How did our token retiree find the fodder, though? My father and I started out with venison, potato and red cabbage, which he pronounced "delicious". We both agreed that it was the sort of dish that he and my mother would love to eat but which would probably be too much trouble to cook on a regular basis, so rather a good idea for a ready meal.
Steak and ale pie, with perfectly cooked pastry, was next. Equally, this is not the sort of thing which anyone is going to knock out on a Thursday morning, unless you are about to enter Bake Off. "Pastry is regarded as much too frightening to make from scratch for many of our customers," Newton-Brown advises. I know what he means.
We then moved on to chicken Penang with sticky jasmine rice. Nicely spicy and properly Thai. Not very traditional. However, my father pronounced this the best on the menu. Not all old people just want shepherd's pie, you see.
At this point my father, a retired doctor, remarked that, in his view, each dish had far too much salt. "Hypertension [high blood pressure] is a very real threat in the over-60s, and it is exacerbated by too much salt. All these dishes have too much salt in them," he said, giving Newton-Brown the sort of withering look he used to dish out to his quaking medical students (which, one year, happened to include Harry Hill, who still remembers him with trepidation).
Newton-Brown explains that as some of the dishes would be classed as an occasional treat, they might be acceptable. This only partially placates my father, who then took pains to examine levels of salt in each M&S meal that was placed before him. They were all, in his view, too high. Indeed, when I took home a chicken, bacon and mushroom pie which I fed to my children that night, I thought the seasoning was also a bit too strong. I know salt is used to pep up flavour, and also as a preservative, but I would have thought a low-salt range of dishes should be next in line for M&S's attention. Back in the room, we moved on to other critical areas.
"We also use hero ingredients," the M&S man said. "What on earth is a hero ingredient?" asks Dr Millard, a man who can still recall the date and place where he ate his first banana (1948, Coulsdon).
"Things like salmon. Have you tried our Jaffa Sphere?" Newton-Brown produces what must only be described as a "hero pudding", namely a round ball of chocolate mousse enclosing marmalade – a sort of Jaffa Cake made globular. Very Heston.
That is, of course, the point. Many elderly people, having grown up with rationing, are now familiar with a huge range of stuff, thanks to the explosion of not only television chefs but also restaurants. Hence, M&S and all the rest of them have to provide traditional fare for their conservative customers, while tempting others who might be curious to taste a Jaffa Sphere. While making sure the food is stable, safe and consistent.
With forecasts of a 20 per cent growth, it's clear that food manufacturers believe that where the oldies lead, the bulk of the country will follow. I can foresee that it won't be long before we are all unwrapping the packaging from midweek cottage pies and looking forward to a Jaffa Sphere-laden Sunday. Potato peelers will, as per the classic Seventies Smash television ads, become museum pieces.
Register for free to continue reading
Registration is a free and easy way to support our truly independent journalism
By registering, you will also enjoy limited access to Premium articles, exclusive newsletters, commenting, and virtual events with our leading journalists
Already have an account? sign in
Join our new commenting forum
Join thought-provoking conversations, follow other Independent readers and see their replies