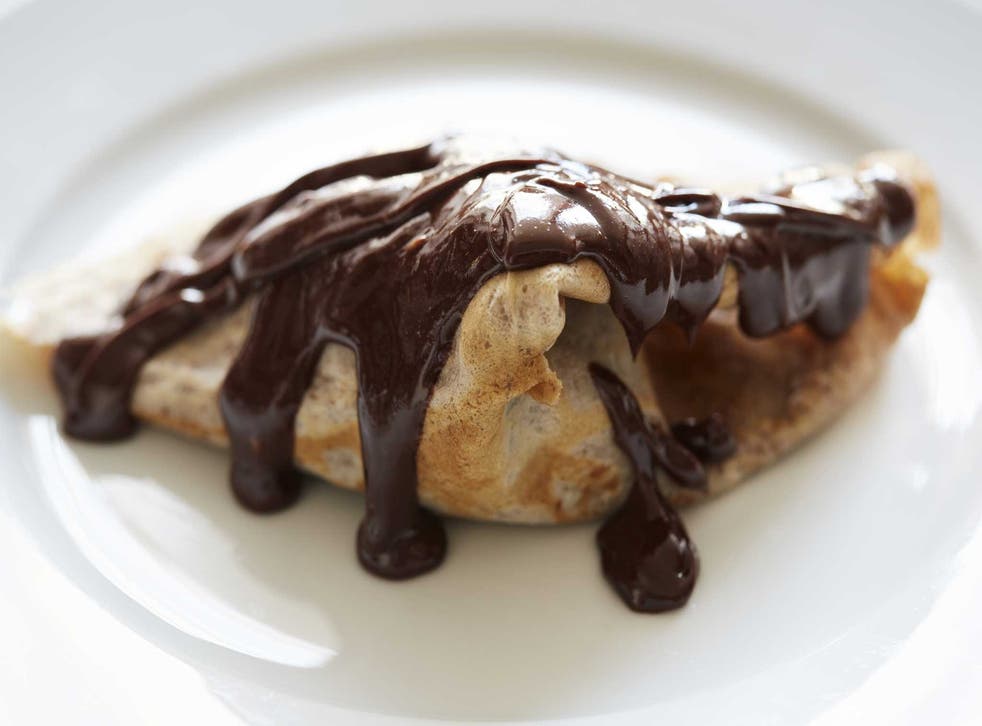 Mark Hix recipes: Chocolate pancakes
I've used Willie Harcourt-Cooze's 100 per cent Venezuelan black chocolate here but if you can't get hold of that, you could use any high-cocoa chocolate.
For the pancakes
250ml milk
120g flour
1 small egg
1tsp caster sugar
3-4tbsp grated 100 per cent Venezuelan black chocolate
Vegetable oil for frying
For the chocolate sauce
125g dark chocolate buttons
125ml double cream
30ml milk
To serve
4 balls, vanilla or chocolate ice-cream
Whisk all of the ingredients together for the pancakes, along with one third of the milk, until smooth. Whisk in the remaining milk, then strain the lumps out, if necessary. Heat a non-stick frying pan, rub with a little vegetable oil, then pour in a little pancake mix, immediately tilting the pan so that the mixture spreads evenly. Turn after 1 minute with a spatula or palette knife.
If you need to make a large quantity of pancakes, make them in advance and stack them up between squares of greaseproof paper. When you're ready to serve them, reheat in the oven for a minute or so. Batter keeps in the fridge for up to two days; just re-whisk it before using.
While the pancakes are cooking, put the chocolate buttons in a bowl, bring the cream and milk to the boil and pour on to the chocolate, stirring until the chocolate has melted. Remove from the heat and cover the bowl with clingfilm to keep warm.
To serve, reheat the pancakes in the oven, place a ball of ice-cream just off the centre of each pancake and fold into a triangle. Place on a serving plate and pour over the chocolate sauce, then serve to your guests.
Join our new commenting forum
Join thought-provoking conversations, follow other Independent readers and see their replies