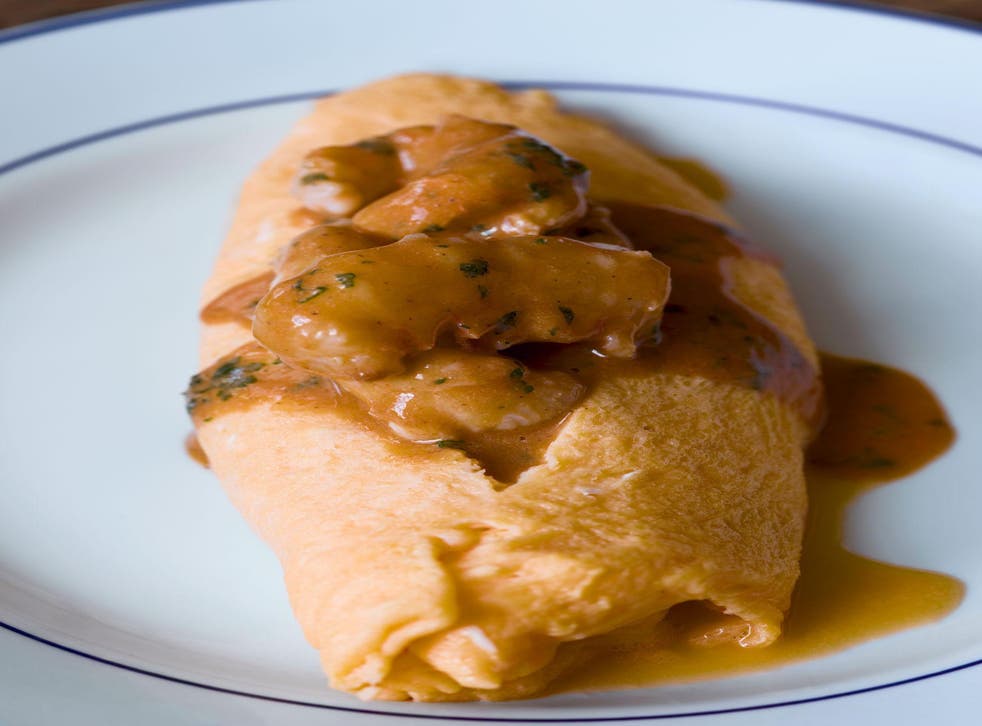 Mark Hix recipes: Dublin bay prawns, bacon and black pudding ... serve up omelettes with a twist
The omelette is a simple dish at heart, but there are infinite twists in style and ingredients
Saturday 04 July 2015 00:00 Comments
My early memories of omelettes are of rubbery brown things that adults would attempt to cobble together as a quick breakfast or snack. Then I went to college, where they taught that it was all about temperature and timing and ending up with a fluffy, pale, even-coloured end product. When I moved to London, the omelette took on a new dimension and I treated it as a different challenge every time I received an order for one.
It's a simple dish, but with endless variations it's something you can always be working on and improving.
Dublin bay prawn omelette
Serves 4
This is a bit of a challenging omelette to produce: it takes practice to get it smooth and perfectly cooked.
20 or so live Dublin Bay prawns (langoustines) or large seawater prawns
About 100g butter
2 shallots, peeled and roughly chopped
1tsp flour
1tsp tomato purée
100ml white wine
250ml fish stock
A couple of sprigs of tarragon – separate the leaves and stalks
A good pinch of saffron strands
300-400ml double cream
12 medium-sized eggs, beaten
1 clove of garlic, peeled and halved
Cook the Dublin Bay prawns in well-salted boiling water for two minutes, then drain. Once cool, carefully remove the heads and remove the shell from the tail, keeping the meat intact. (It helps to give them a little squeeze until you hear them crack, then peel by pushing the underpart of the shell away with your two thumbs.) Put the tail meat to one side.
Crush the shells lightly in a bag using a rolling pin, then heat a couple of knobs of butter in a heavy-based saucepan and fry the shells and shallots for two minutes on a medium heat, stirring as they are cooking. Stir in the flour and tomato purée then gradually stir in the white wine and fish stock. Add the tarragon stalks and saffron and simmer until the liquid has reduced by half, then add the cream and simmer very gently for about 15-20 minutes until the sauce has thickened. Add a bit more stock or cream if it's getting too thick. Strain through a fine meshed sieve into a clean pan and re-season if necessary. Chop the tarragon leaves and add to the sauce with the prawn tails.
Season the eggs with salt and pepper then rub a little butter and garlic into a non-stick frying pan. Heat gently then add a quarter of the egg mixture for one person. Stir with a spatula or wooden spoon until the egg begins to set.
Remove the pan from the heat and, tilting it away from you, fold the end of the omelette nearest you towards the middle, then shake the handle so that the omelette moves down the pan and the other end hangs over the edge. Now tip the omelette on to a plate by quickly turning the pan upside down over it, so you end up with a fat cigar shape. If you don't end up with that shape, fear not: just grab a clean tea towel, put it over the omelette, reshape it and wipe the plate.
Quickly repeat with the other three omelettes and keep warm in a very low oven, about 60-70C. To serve, heat the sauce, make a slit down the centre of the omelettes and spoon the tails and a little sauce into each one. Serve immediately with any extra sauce.
Vietnamese crêpes with crab and samphire
Serves 4
Banh xeo are frequently referred to as Vietnamese crêpes, although really they look more like omelettes. The filling for these crêpes can vary; they often contain crunchy shredded vegetables and beansprouts, but here I've kept it quite fragrant and used samphire and some Vietnamese herbs. Try to use what you can find that's similar.
For the crêpes
100g rice flour or potato flour
½tsp turmeric
1 small egg
150-200ml coconut milk
Salt
Vegetable or corn oil for frying
For the filling
50-60g samphire with any woody stalks removed
150g freshly picked white crab meat
60g fresh brown crab meat mixed with a spoonful of mayonnaise
3 spring onions, shredded on the angle
A selection of Asian herbs and leaves (such as perilla, Thai basil, coriander and Vietnamese or normal mint), washed and dried
To serve
Nuoc cham (fish sauce, lime juice, sugar, rice vinegar, chillies and garlic, mixed to taste)
To make the crêpes, put the flour and turmeric in a bowl with the egg and slowly whisk in enough coconut milk to make a smooth batter. Season with salt. Blanch the samphire in boiling water for 10 seconds then drain and refresh under a cold tap. Heat about ½tbsp of oil in an 18-20cm non-stick pan, pour in a quarter of the pancake mixture and turn the pan from side to side to spread the mixture evenly. Cook for 2-3 minutes on each side until crisp. Remove with a spatula on to some kitchen paper and keep warm. Repeat with the rest of the mixture.
To serve, spread the brown crab mixture on the pancakes then arrange the samphire, herbs and white crab meat on top. Serve the nuoc cham (you can also use soy sauce or sweet chilli sauce) separately as a dipping sauce.
Breakfast omelette
Serves 4
You can put more or less any breakfast items you wish into this folded omelette – such as sausages, white pudding and so on. You could even use kedgeree.
12 medium-sized eggs, beaten
120g butter
2-3 medium-sized field mushrooms, cooked and quartered
4 slices of black pudding, cooked
4 thick rashers of bacon, cooked and halved
4 halves of grilled tomato, halved again
Salt and freshly ground black pepper
Make the omelette as in the prawn recipe above, sans the folding business. When the eggs are just set in the pan, slide on to warmed serving plates, spoon the hot filling into the centre, fold and serve.
Omelette soufflé with raspberries
Serves 4
You can use any seasonal berries you wish – such as blueberries, strawberries, blackberries or a mixture. It's crucial that you serve this straight from the oven.
2 Burford Brown egg whites
250g raspberries
For the custard
The zest of 2 lemons
100ml milk
200ml single cream
4 Burford Brown egg yolks
50g caster sugar
1tsp flour
1tsp cornflour
For the sauce
100g fresh raspberries
To serve
Icing sugar, optional
120g raspberries
First, make the custard: put the lemon zest, milk and cream into a small saucepan and bring to the boil, then remove from the heat. In a bowl, whisk the egg yolks, sugar and the two flours together. Pour the cream on to the egg mixture and mix it well with the whisk.
Return to the pan and cook gently over a low heat for a few minutes, stirring constantly with a wooden spoon, especially at the sides, until it thickens (but don't let it boil). Remove the custard from the heat and give it a final mix with a whisk. Transfer to a clean bowl, cover the surface of the custard with cling film to prevent a skin forming, then leave to cool.
To make the sauce, blend half of the raspberries in a liquidiser until smooth.
Preheat the oven to 180C/gas mark 5. Clean a mixing bowl and rinse with boiling water to remove any traces of fat, then whisk the egg whites until stiff, and carefully fold into the custard.
Butter four individual oven-to-table pans or similar type oven dishes. Divide the mixture into the dishes and cook in the oven for about 6-7 minutes or until golden and the top is a little springy.
Make a small hole in the centre with the back of a spoon and arrange the unblended half of the raspberries in it. Sprinkle with icing sugar if desired, and serve the sauce separately.
Register for free to continue reading
Registration is a free and easy way to support our truly independent journalism
By registering, you will also enjoy limited access to Premium articles, exclusive newsletters, commenting, and virtual events with our leading journalists
Already have an account? sign in
Join our new commenting forum
Join thought-provoking conversations, follow other Independent readers and see their replies