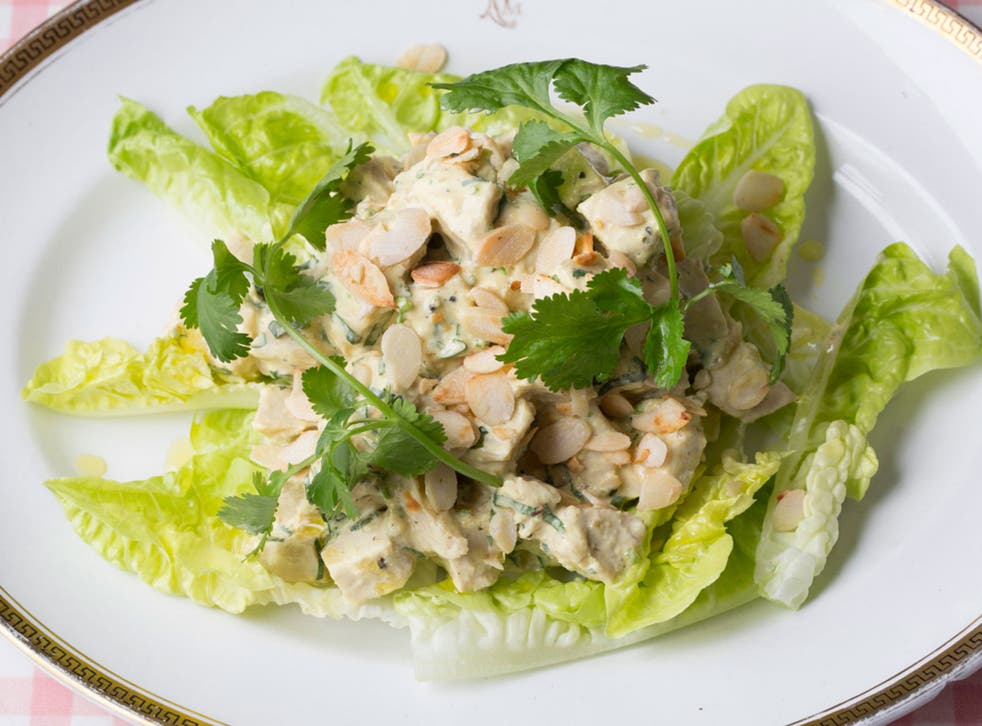 Mark Hix recipes: Forget turkey sandwiches - get creative with your Christmas leftovers
Be a bit imaginative and you can create some great dishes that look – and more importantly taste – like they have been made with the utmost thought and planning, says our chef
Saturday 26 December 2015 01:17 Comments
You can be quite clever when using up Christmas leftovers. Be a bit imaginative and you can create some great dishes that look – and more importantly taste – like they have been made with the utmost thought and planning, rather than cobbled together from whatever was left of yesterday's lunch.
A word of warning, though: be careful that your leftovers are still fresh enough to eat. It's easy to make mistakes at this time of the year. With the fridge chock-a-block, sometimes it runs at a lower temperature or else it is so full you have to leave stuff out. Always test things first.
Coronation turkey
Serves 4-6
There is something very addictive about good coronation chicken or, in this case, coronation turkey. Making a fresh curry base really makes a difference – throwing some curry powder into some mayonnaise just won't cut it.
1 small onion, peeled, halved and finely chopped
1 clove garlic, peeled and crushed
1tsp ground cumin
½tsp cumin seeds
Thumb-sized piece of root ginger, peeled and grated
½tsp ground turmeric
1 small red chilli, seeded and finely chopped
Seeds from 6 cardamom pods
½tsp fenugreek seeds
1tbsp vegetable or corn oil
300ml chicken stock
3-4tbsp good quality mayonnaise
2tbsp Greek yoghurt
1tbsp chopped coriander
1tbsp mango chutney, chopped if very chunky
Salt and freshly ground black pepper
150-200g cooked turkey meat, cut into rough 1cm cubes
20g sliced almonds, lightly toasted
The leaves from a couple of little gem lettuces, trimmed, washed and dried
Gently cook the onion, garlic, cumin, ginger, turmeric, chilli, cardamom and fenugreek seeds in the vegetable oil for 3-4 minutes with a lid on, without colouring the onions. Add the stock and simmer until it reduces down to about 2-3tbsp. Coarsely blend in a liquidiser and leave to cool. Mix with the mayonnaise, yoghurt, coriander and chutney. Season, then mix with the turkey.
To serve, arrange the leaves on a serving dish, spoon the turkey mixture into the centre and scatter the toasted almonds over the top.
Mini cranberry meringue pies
Makes 20
This is good way to use up those last few spoonfuls of cranberry sauce. Serve as an alternative to mince pies or as a little something with your coffee. You can buy mini tartlet cases from good supermarkets. They are always a good larder standby for things like this.
20 mini tartlet cases
100g or so of leftover cranberry sauce
For the meringue
1 egg white
15g caster sugar
Heat the oven to 200C/gas mark 6. Take a mixing machine bowl and whisk with boiling water to eliminate any grease, then dry with kitchen paper.
Whisk the egg white and sugar in a mixing machine or use an electric whisk on a high speed for 3-4 minutes until really stiff and shiny. You can do this by hand if you wish.
Fill the tarts with the cranberry sauce then either pipe or spoon the meringue on top, and cook in the oven for about 4-5 minutes until the meringue starts to lightly colour.
Turkey broth
Serves 4-6
A leftover turkey carcass makes for a very good broth. At home, I like to cook stocks in a pressure cooker. Not > only does it do the job in half the time, but it also means the liquid stays nice and clear – certainly as long as the ingredients you use are good quality.
For the stock
The remains of a turkey carcass, with all the meat stripped off, shredded and set aside
1 medium onion, peeled and roughly chopped
Half a leek, roughly chopped and washed
A couple sticks of celery, roughly chopped
10 black peppercorns
A couple sprigs of thyme
1 bay leaf
1 chicken stock cube
Salt and freshly ground black pepper
To garnish
1 small carrot, peeled and cut into fine 2-3cm matchstick-sized pieces
Half a small leek, halved lengthways, cut into 2-3cm lengths, then finely shredded and washed
1tbsp chopped parsley
To make the stock put all of the ingredients into a saucepan or pressure cooker, cover with water, season, bring to the boil and simmer gently for 1.5 hours (or half the time in a pressure cooker), skimming as it's cooking.
Strain the broth through a fine-meshed sieve, check the strength and simmer a little longer to intensify it if required.
To serve, add the chopped vegetables and simmer for a couple minutes, then add the shredded turkey meat and parsley, simmer for a minute and serve.
Festive chopped salad
Serves 4
A chopped salad is as good as a sharing dish as it is as a starter. You could even add sausage meat stuffing to this if you need to use it up.
For the dressing
2tbsp cider or white-wine vinegar
1tbsp Dijon mustard
3tbsp olive oil
3tbsp vegetable or corn oil
1 clove of garlic, peeled and halved
A few sprigs of tarragon
150g or more of turkey meat, cut into rough 1cm cubes
1 red pepper, halved, seeded and cut into 1cm dice
60-70g green beans, cooked and cut into 1cm lengths
4-5 spring onions, sliced
1 avocado, peeled, stoned and cut into rough 1cm dice
5-6cm piece of white radish, peeled and cut into 1cm cubes
A small cucumber, halved, seeded and cut into rough 1cm cubes
1 large beef tomato, cut into 1cm dice
50-60g cooked peas and/or broad beans if in season (or use frozen)
1 small or ½ a larger iceberg or romaine lettuce, washed, dried and cut into 1cm cubes
1 small head of radicchio, washed, dried and cut into 1cm dice
2tbsp chopped chervil
Salt and freshly ground black pepper
First make the dressing. Whisk all the ingredients together, season and leave to infuse for a couple of hours, then strain through a sieve.
To serve, toss all the ingredients together, season and transfer to individual or large serving bowls.
Register for free to continue reading
Registration is a free and easy way to support our truly independent journalism
By registering, you will also enjoy limited access to Premium articles, exclusive newsletters, commenting, and virtual events with our leading journalists
Already have an account? sign in
Join our new commenting forum
Join thought-provoking conversations, follow other Independent readers and see their replies