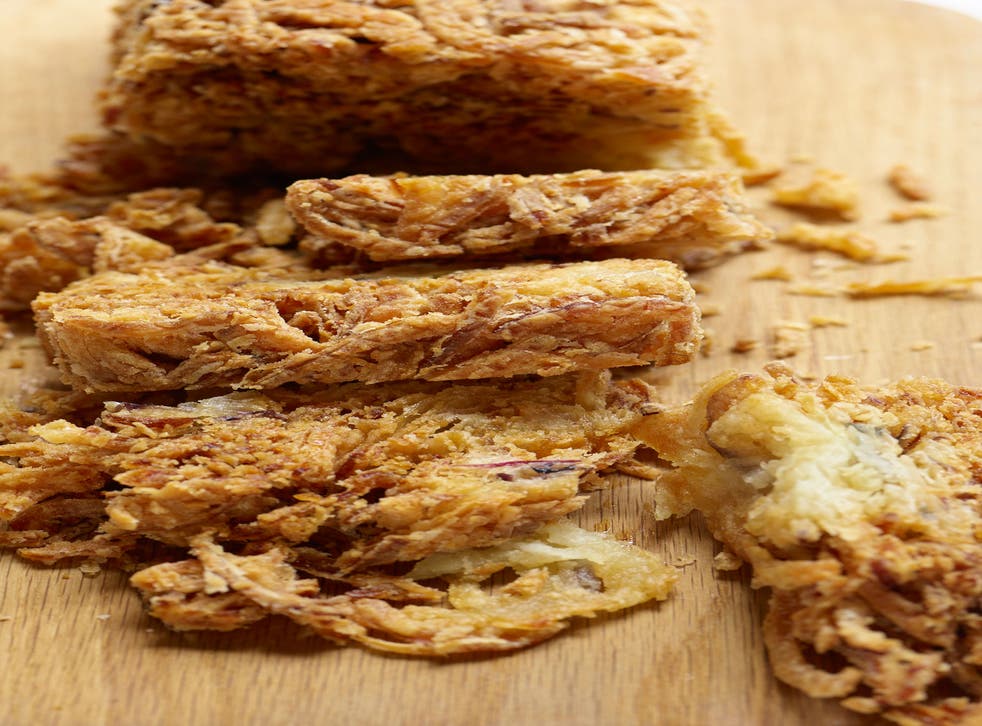 Mark Hix recipes: From baked shallots to hearty soup, our chef know his onions
Although onions are one of those kitchen staples that everyone has in their larders or fridges, we tend not to use them as vegetables in their own right, using them instead as an accompaniment. That, to my mind, is a shame.
I remember my gran used to make boiled onions and parsley sauce in the winter months when I was young. It was delicious. And I have such fond memories of eating my first onion bhaji when I first moved to London, too.
They aren't just delicious though, they also make for a warming, none-too-expensive autumn dish, so get creative with them – even if that just means making a bowl of onion soup.
Onion loaf
Serves 4-6, as a starter or side dish
When I first moved to London, there was a restaurant called the Chicago Rib Shack which served a fantastic onion loaf. It was a kind of brick-shaped mass of crispy fried onions – and was fabulous.
If you have a deep fryer at home you can make this using the basket insert, or you can use a round chip basket in a pan of hot oil. You can use just white onions or a mixture of red and white, totally up to you.
5 large onions, peeled, halved and thinly sliced
120-150g gluten-free self-raising flour (or normal, if you prefer
500ml milk
Salt and freshly ground black pepper
Vegetable, corn or rapeseed oil for deep frying
Preheat about 8cm of oil to 160-180C in a large thick-bottomed saucepan or electric deep-fat fryer. Have three bowls ready, one with the flour, seasoned, one with the milk, and a third empty.
Pass the onions through the flour, shaking off any excess, then through the milk, then the flour again, shaking off any excess.
Put your basket in the fryer and drop as many onions into the basket as fit, squeezing them in with the back of a spoon, then adding more until the basket is full. Continue frying until the onion loaf begins to colour, then remove from the oil, turn the basket upside down and knock the loaf out. You may need to poke through the basket holes with a knife to ease it out if it sticks. Serve immediately.
Baked shallots with pickled walnuts
Serves 4-6
This is a great dish to serve as a main course, or as part of a table of sharing starters. Try to buy the large banana shallots for this, as the small ones won't really work as well, and are a tad fiddly.
8-12 large banana shallots, halved but leaving the skins on
A little vegetable or rapeseed oil for brushing
4-5 pickled walnuts with the juice from the jar
1-2 tbsp finely-chopped chives
Preheat the oven to 200C/gas mark 6. Heat a frying pan rubbed with a little oil and fry the shallots on the cut side down for a few minutes on a high heat, until they are golden.
Transfer them to a baking tray, browned side up, season and bake in the oven for about 30 minutes until they are soft; they may pop out of the skins during cooking, but you can easily re-assemble them.
Meanwhile, simmer the pickled walnut juice by about half, then leave to cool.
Chop the pickled walnuts into small pieces and put to one side.
To serve, line up the shallots on individual serving plates or a large serving dish, then scatter the walnuts over the shallots, spoon over the liquid, then top with the chives and serve immediately.
Onion and red wine soup
Serves 4
As the colder months approach, a good hearty, old-fashioned onion soup like this will certainly be welcome at the dinner table or, indeed, as a lunchtime snack.
You can serve this in the traditional fashion with toasted flutes of baguette with melted cheese on the top.
4 medium red onions, peeled, halved and thinly sliced
1tbsp vegetable or corn oil
1tsp brown sugar
A good knob of butter
1tsp chopped thyme leaves
2tsp flour
½tsp tomato purée
100ml red wine
2 litres hot beef stock (good-quality stock cubes will do)
Salt and freshly ground black pepper
In a thick-bottomed saucepan, gently cook the onions in the vegetable oil with a lid on for 4-5 minutes, until soft, stirring every so often. Remove the lid, turn the heat up and add the sugar and butter.
Continue cooking and stirring for another 5 minutes or so, until the onions are a golden brown. Add the thyme, flour and tomato purée and stir on a low heat for another couple of minutes.
Gradually add the red wine and beef stock, stirring to avoid lumps forming. Lightly season and simmer very gently for 1 hour, skimming occasionally. You can serve immediately, or store in the fridge for a few days.
Grilled lambs' kidneys with creamed cider onions
Serves 4
Kidneys, cider and onions are a perfect marriage. But you can serve these onions with any offal, like liver or sweetbreads, or simply some lamb or pork chops.
12 lambs' kidneys, halved and any sinew removed
Salt and freshly ground black pepper
A little vegetable or corn oil for brushing
For the creamed onions
3 medium white onions, peeled, halved and thinly sliced
A couple of good knobs of butter
250ml dry farmhouse cider
½tsp English mustard
250ml double cream
To make the onions, melt the butter in a heavy-based saucepan and gently cook on a low heat with a lid on for 4-5 minutes, stirring every so often and not colouring them.
Add the cider and mustard, turn the heat up, season and boil until the cider has reduced completely. Add the cream, turn the heat down and simmer until the cream has reduced and is just coating the onions. Re-season if necessary and keep warm with a lid on.
Heat a ribbed griddle pan or heavy frying pan. Season the kidneys, lightly oil the pan and cook them for 3-4 minutes, turning them as they are cooking and keeping them nice and pink. To serve, spoon the onions on to warmed serving plates and arrange the kidneys on top.
Register for free to continue reading
Registration is a free and easy way to support our truly independent journalism
By registering, you will also enjoy limited access to Premium articles, exclusive newsletters, commenting, and virtual events with our leading journalists
Already have an account? sign in
Join our new commenting forum
Join thought-provoking conversations, follow other Independent readers and see their replies