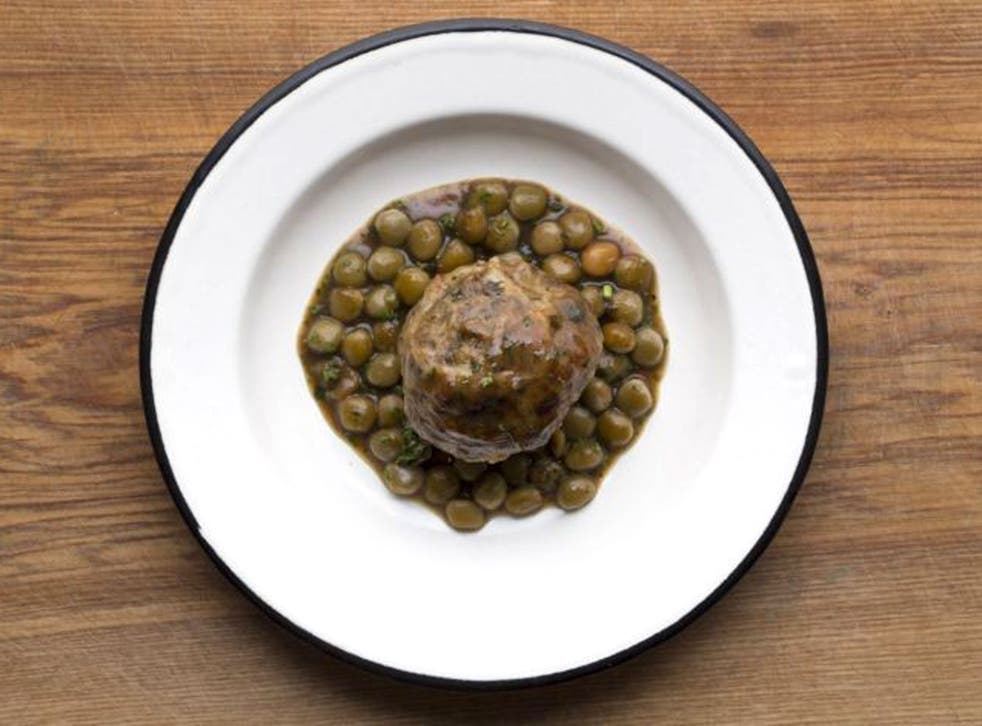 Mark Hix recipes: Pulses give substance to soups and stews
Our chef keeps a good selection of pulses in his larder, from marrowfat peas to lentils...
I like to keep a good selection of pulses in my larder. They are absolutely cracking both for inspiration and as a little addition to give substance to soups and stews.
Remember though, always allow a bit of extra soaking time on some of the larger dried beans – such as chickpeas – as you never quite know how long they have been stored and dried for. Also make sure to soak them in plenty of water, as they often need more than you might expect to properly reconstitute.
Pork dumpling with marrowfat peas
Serves 4
You could use lamb here or even a mix of game meats, entirely up to you.
For the sauce
2 big onions, peeled and finely chopped
1tbsp vegetable oil for frying
30g butter
30g flour
1tsp tomato purée
1ltr beef stock (a good cube will do)
Salt and freshly ground black pepper
A few drops of Worcestershire sauce
60g good quality marrowfat peas, soaked in plenty of cold water overnight, then cooked with ½tsp baking powder in lightly salted water until tender
2 medium onions, peeled, halved and finely chopped
A little oil for frying
2 cloves of garlic, peeled and crushed
1/3tsp ground mace
1tsp chopped fresh sage
1tsp chopped thyme
400g pork liver, coarsely minced or chopped in a food processor
250g pork mince with a good proportion of fat
100g fresh white breadcrumbs
100-120g caul fat (optional)
First make the sauce. Gently cook the onions in the vegetable oil in a covered pan for about 5 minutes or until soft. Turn up the heat and allow the onions to colour. Add the butter and then stir in the flour and cook on a low heat for a minute or so. Add the tomato purée, stir well and gradually add the beef stock, stirring well to avoid any lumps. Bring to the boil, season, and simmer for 30 minutes on a low heat, then add the peas and continue simmering for another 30 minutes.
Meanwhile, gently cook the other onions on a low heat in a tablespoon of vegetable oil with the garlic, mace, sage and thyme for about 4 or 5 minutes. Remove from the heat and leave to cool. Mix the pork liver and pork mince together with the breadcrumbs and cooked onion mixture. Season and divide the mixture into 4 or 8 balls, depending on whether you are serving as a starter or main, then refrigerate for 30-40 minutes.
If you are not using caul fat, wrap each dumpling in cling film a couple of times and steam them over a pan of simmering water in a steamer or a colander for 20 minutes, then leave to cool.
If you have caul fat wash it under cold running water for about 10 minutes, then pat dry on some kitchen paper or a clean tea towel. Lay it out on a table and cut it into rough squares, enough to wrap around each ball a couple of times, then carefully wrap them up.
Preheat the oven to 220C/gas mark 7. Lightly oil a deep roasting tray and put the faggots in with the join of the caul fat underneath. Roast them for about 20-30 minutes until they are lightly coloured, then drain any excess oil from the tin and pour in the gravy. Turn the oven down to 160C/gas mark 3, Cover them with foil and braise for 30 minutes.
If you are not using caul fat, unwrap the faggots and roast and braise as above. Serve in a sharing dish.
This can be made fully cooked a few days in advance or you could make the dumplings and sauce separately and put the dish together and finish in the oven before serving it.
Roast bacon with carlin peas and parsley
Serves 4-6
Carlin peas are also known as black badgers and are a kind of small dark chickpea which are used in the same way as haricot beans or indeed chickpeas.
You can use back or streaky bacon, the former generally being meatier, and smoked or unsmoked, as you prefer.
A piece of bacon for roasting and weighing about 1-1.2 kg
2-3tbsp soft brown sugar
½tbsp coarsely ground black pepper
300ml dark beer or stout
For the sauce
1 large onion, peeled, halved and finely chopped
A couple good knobs of butter
1tbsp flour
500-600ml hot chicken stock
60g carlin peas soaked overnight in plenty of cold water, then cooked in lightly salted water with ½tsp baking powder until tender
3tbsp chopped parsley
Preheat the oven to 180C/gas mark 5. Place the bacon joint in a roasting tray and score the fat or rind a few times, then scatter the sugar and black pepper over it and pouring half of the beer in the tray. Cook in the oven for 1.5 hours, basting and adding more beer every so often.
Meanwhile make the sauce. Gently cook the onion in the butter for 3-4 minutes without colouring, then stir in the flour and gently whisk in the stock. Bring to the boil, season and simmer gently for 30 minutes, then add the carlin peas and parsley and simmer for a further 10 minutes. To serve, cut the bacon into thick slices and serve with the sauce.
The sauce can be made a couple days in advance and kept in the fridge until required.
Spiced lentils with grilled cuttlefish
Serves 4
This can be served with any simply grilled fish, or even grilled meat.
500-600g cuttlefish or squid, cleaned with the tentacles
70-80g Puy lentils, soaked for an hour in cold water then rinsed
1 medium-sized mild chilli, de-seeded and finely chopped
20g fresh root ginger, peeled and finely grated
1 small red onion, peeled, halved and finely chopped
1 clove of garlic, peeled and crushed
½tsp ground cumin
1tsp cumin seeds
50ml water
1tbsp balsamic vinegar
½tbsp sweet or light soy sauce
1tbsp tomato ketchup
½tbsp sweet chilli sauce
2tbsp olive oil
1tbsp finely chopped coriander leaves
Salt and freshly ground black pepper
Cook the lentils in salted water for 15-20 minutes. Drain and leave to cool.
Place the chilli and ginger in a pan with the onion, garlic, ground cumin and seeds, water and balsamic vinegar, and simmer with a lid on for a few minutes, stirring well from time to time so that all the flavours infuse. Remove the mixture from the heat and pour into a bowl with the drained and cooled lentils.
Add the soy sauce, ketchup and chilli sauce, stir well and gradually add the olive oil and chopped coriander. Season with salt and pepper, cover and leave in the refrigerator overnight (if time allows).
Season the pieces of cuttlefish or squid and cook them on a griddle pan or heavy-bottomed frying pan for 2 minutes on each side, then serve immediately with the salsa and a few leaves if you wish.
You can make the salsa a few days in advance and keep it in the fridge and just warm it a little before serving to take the chill off.
Register for free to continue reading
Registration is a free and easy way to support our truly independent journalism
By registering, you will also enjoy limited access to Premium articles, exclusive newsletters, commenting, and virtual events with our leading journalists
Already have an account? sign in
Register for free to continue reading
Registration is a free and easy way to support our truly independent journalism
By registering, you will also enjoy limited access to Premium articles, exclusive newsletters, commenting, and virtual events with our leading journalists
Already have an account? sign in
Join our new commenting forum
Join thought-provoking conversations, follow other Independent readers and see their replies