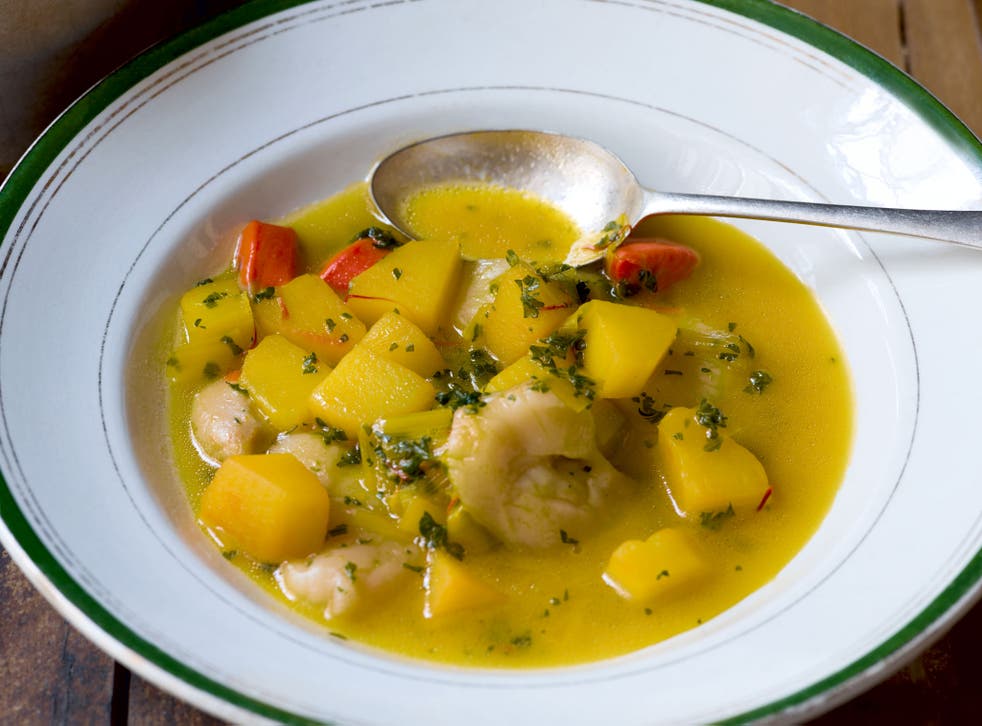 Mark Hix recipes: Saffron can add flavour to soups, sweets, savouries ... even a cocktail
There was a time when saffron was grown prolifically in the British Isles – the Essex town of Saffron Walden was at the heart of production and was named after the spice, while Cornish saffron gave us the Cornish saffron cake. The height of the UK's saffron production was around 500 years ago, before cheap imports from Kashmir and Iraq made production in the UK no longer a viable proposition. But Essex farmer David Smale has revived an important culinary spice, bringing some home-grown luxury back to farming.
If you are travelling in the Middle East or North Africa, don't be tempted by that cheap pale-orange coloured stuff that gets sold in markets. It's a con – and tastes nothing like saffron.
The real thing lends itself well to creamy puddings, which is probably one of its most popular uses.
Leek, scallop and saffron broth
Serves 4
This is a nice, subtle way to use saffron and its addition here makes a leek and potato soup more interesting.
2 leeks, trimmed, cut into rough 2cm squares and washed
A good knob of butter
A good pinch of saffron
500g waxy potatoes, such as Charlotte, peeled and cut into rough chunks
800ml fish stock
3tbsp roughly chopped parsley
Salt and freshly ground black pepper
4 scallops, cleaned and roe removed, thinly sliced and chopped
Melt the butter in a saucepan and gently cook the leeks without colouring for 2-3 minutes, with a lid on. Stir every so often to prevent them browning.
Add the potatoes, saffron and stock, season and simmer for about 10 minutes, until the potatoes are just cooked, still retaining some firmness. Add the parsley and simmer for another 2-3 minutes. Lay the scallops in the bottom of the bowl, pour the hot broth over and serve.
Golden Harvest cocktail
Serves 2
I bought a bottle of this saffron-infused gin from David Smale, who was selling it at the River Cottage Spring Food Fair a few weeks ago. It was bumping into him – and obviously the gin – that inspired me to feature saffron in this column.
You can add more or less of any of the ingredients if you wish – and maybe add a chunk of honeycomb to the glass.
100ml saffron gin
15ml dry vermouth
The juice of half a lemon
1tbsp clear honey
Half fill a cocktail shaker with ice and add all of the ingredients. Shake for 10 seconds or so then strain into Martini glasses or coupes. Serve immediately.
Iranian Saffron rice
Serves 4-6
I've had dishes similar to this in the past in Persian and Iranian restaurants and in people's homes. I suppose there isn't a definitive recipe for it as each person will have their own little twist on the classic. You can find barberries in Middle Eastern supermarkets or, if you can't, use currants or dried blueberries (although they haven't got quite the same zing to them).
40g unsalted butter
320g basmati rice, soaked in cold water for 10 minutes then drained
500ml hot vegetable stock
Salt and freshly ground white pepper
1tsp saffron threads, soaked for 30 minutes in 3tbsp boiling water
40g dried barberries, soaked in boiling water for 10 minutes
2tbsp dill, roughly chopped
2tbsp chervil, roughly chopped
½tbsp tarragon, roughly chopped
60g slivered or crushed unsalted pistachios, lightly toasted
Melt the butter in a medium saucepan and stir in the rice, making sure the grains are well-coated. Add the stock, a teaspoon of salt and some white pepper. Mix well, cover with a tight-fitting lid and cook on a very low heat for 10 minutes. Don't be tempted to uncover the pan – you need to let the rice steam properly.
Remove the pan from the heat – all the stock will have been absorbed by the rice – and pour the saffron water over about a quarter of the surface, leaving most of the rice white. Cover with a tea towel, reseal tightly with the lid and set aside for five to 10 minutes.
With a large spoon, transfer the white rice to a large bowl and fluff it up with a fork. Drain the barberries and stir them in, followed by the herbs and most of the pistachios, reserving a few to garnish.
Fluff up the saffron rice in the pan, then fold gently into the white rice – don't over mix: you don't want the white grains to be stained by the yellow ones. Taste, adjust the seasoning if necessary, then transfer to a shallow serving bowl. Scatter the remaining pistachio nuts over the top and serve warm or at room temperature.
Saffron rice pudding
Serves 4-6
I've given this classic rice pudding a little more colour and spice. You can serve it hot or cold or even burn the top with sugar as you would a crème brûlée. Once you've made it, you can keep this covered in the fridge for a couple of days until you need it.
1-1½l Jersey or best-quality milk
100g good-quality short-grain pudding rice
½ a vanilla pod
70-100g caster sugar
500ml thick Jersey cream
A couple of good pinches of saffron
Halve the vanilla pod lengthways and scrape the seeds into the milk and add the pods as well. Bring the milk and half the sugar to the boil in a heavy based saucepan, add the rice and simmer very gently for about 45 minutes, stirring regularly until the rice is soft. A simmer/diffuser plate is good for keeping a low constant temperature under the pan.
Add more milk if the rice pudding is getting too thick. Taste for sweetness and add more sugar if you wish. Remove about one fifth of the pudding and transfer to a small pan, then stir in the saffron and cook on a very low heat for a couple more minutes.
Leave both rices to cool for about half an hour, stirring every so often. Then stir four-fifths of the cream into the larger amount and a fifth into the saffron-infused rice and leave to cool again stirring every so often.
Serve hot or at room temperature, with the saffron-infused rice spooned or swirled into the middle.
Register for free to continue reading
Registration is a free and easy way to support our truly independent journalism
By registering, you will also enjoy limited access to Premium articles, exclusive newsletters, commenting, and virtual events with our leading journalists
Already have an account? sign in
Join our new commenting forum
Join thought-provoking conversations, follow other Independent readers and see their replies