Marlon Abela: 'Aged eight, I was fine dining'

Show all 3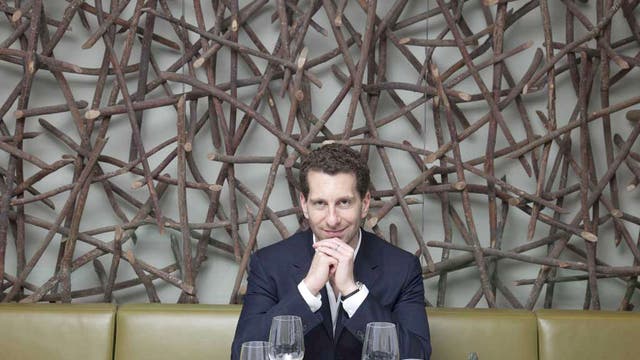 Marlon Abela: 'Aged eight, I was fine dining'
He already has two Michelin-starred restaurants under his belt – and has plans for 30. John Walsh meets Marlon Abela.
If the world of food and drink entrepreneurs were the Olympics, Marlon Abela would be the champion heptathlete. While others are content with just one specialisation, he does everything. He opens restaurants in Mayfair and New York and acquires Michelin stars. He buys up vast quantities of wine and supplies the lists of several London eateries. He moves effortlessly between cuisines, from Mediterranean to Japanese by way of French patisseries, and he supplies the Middle East with fancy Western foods through a company in Dubai. He is fantastically restless. He is alarmingly perfectionist. He is terrifically rich. And he's still in his thirties.
For a gourmet and wine connoisseur (did I mention he writes a wine column for Spear's magazine?) it's nicely ironic that Abela owes much of his career to airline food. His businessman father, Albert, ran the Abela Group, a major-league catering firm which supplied in-flight meals. "It was a massive business," says Marlon. "Not just airlines, but hospitals and schools, too – we used to cater for all the primary schools in Nice, which was 20,000 meals a day." As if to atone for inflicting mile-high, tinfoil-wrapped chicken supreme on the world, Albert Abela also developed a passion for high-end leisure. He bought four- and five-star hotels and introduced his son to the good life when he was still in short trousers.
"I was lucky to experience fine dining at its highest level when I was a kid," says Abela. "My father opened the Gray d'Albion hotel in Cannes, where Jacques Chibois received two Michelin stars for his cooking. At eight or nine, I was having three-hour meals, and thinking, 'This is very normal' … I remember Jacques did little canapés of toasted baguettes, with a tiny cheese soufflé on top. A sophisticated, airy, elegant thing. I got a taste for it, though I was only 10 years old. I'd listen to my father talk about food – he loved food so much – I'd taste it and that's how my palate developed."
When his father died in 2002, the group was sold and realised £360m. Marlon, then executive vice-president at 27, could have done anything with his share. But he chose the volatile world of hotels. Why? "Because that's what I'd always loved, and always wanted to do. I had a lot of easier options. But another path wouldn't have been a true reflection of what I am."
What he is, mainly, is an empire-builder. Before the recession hit in 2008, Abela startled the gastronomic world by announcing that he planned to open 30 restaurants in five years in London and America, and to bring them all to Michelin-star standard. That plan had to be scaled down substantially in the intervening years, but he's still fizzing with new projects. His empire, under the name of Marlon Abela Restaurant Corporation (Marc) looks like this. He owns the Michelin-starred shrine to Euro-cuisine, The Greenhouse; he owns Umu, the only Japanese restaurant in the UK to serve Kyoto cuisine – it picked up a Michelin star after four months and is reputed to be the UK's most expensive restaurant. He owns Morton's Club in Berkeley Square, and the Provence-inspired Cassis Bistro in Knightsbridge. Across the pond, he's the guy behind A Voce (it means 'word of mouth') which offers classy modern Italian food to the denizens of Manhatan. And 18 months ago, he linked up with America's most renowned pastry chef, François Payard, to open a chain of bakeries.
We meet at his office HQ in London's Bruton Place, next door to Umu with its legendary £200 tasting menu and lengthy sake list. Abela folds his long, denim-clad frame behind the desk in his surprisingly modest office and orders strawberry cheesecake for both of us. I wondered what such a stratospheric super-foodie has for lunch.
"Let's see," he says. "I had sea bass downstairs at Umu, a clear broth with crab cake, a little bowl of sashimi and a bowl of white rice. Oh, and some red mullet and some scallops." Does he eat like that every day? "I eat out on average 12 or 13 times a week, lunch and dinner, and typically I eat three courses. But obviously I can't do that every day, which is why it was just a light lunch today."
You look at this tall, rather skinny chap and wonder why he isn't the size of a house. "I have a very fast metabolism," he says. "And I eat only quality stuff. Nothing out of a packet, nothing with anything added to it. I believe you can eat quantities of food, so long as you eat well."
He bought Bertorelli in London's Charlotte Street in 2010 and was scheduled to open it last year as his first London-based A Voce. It didn't happen. What went wrong? "We were quite busy last year," says Abela dryly, as if he'd been accused of slacking. "We opened four bakery shops in New York in a year and a half. I decided to sell Bertorelli's on. We position ourselves as high-end and…" And Fitzrovia wasn't sufficiently grand? "I didn't feel," he says, picking his words, "after a lot of consideration, I could open what I wanted to open, in today's market, at that site. But we did well, got a strong offer and sold it on. We're now trying to secure two more sites in Mayfair as we speak."
What's so very different about A Voce? "I've been going to New York since I was a kid and I noticed the Italian restaurants one found there were always very rustic in style. I thought, my God – surely New Yorkers, the most sophisticated people in the worldf when it comes to food, aren't satisfied with this. I asked myself – what would a contemporary Italian restaurant in Milan be like? First, it wouldn't be regional. It would be the best Italian produce. The cuisine would be flavourful and light. There'd be the hand of a good chef behind it. The interior design would be contemporary – and that's how A Voce came about. We were first to take that bold step. I'm proud of it, and it's what I want to bring to London."
He seems fixated on Mayfair. Would he consider opening a new place in, say, Wandsworth, home of Chez Bruce? Abela wrinkles his brow. "I believe in destination restaurants. That's why I like Mayfair so much. An A Voce in [he shudders] Wandsworth wouldn't work. I want my next London place to be in keeping with what we're known for, which is high-end. I don't want to try something more casual. I don't want to send out a confused message."
He's hearteningly keen on London, which he says has weathered the recessional storm "pretty well. The people at The Berkeley, Claridge's and The Connaught have a captive clientele. There certainly isn't less purchasing power out there, but there's more competition at the top. I talk to people in Paris and New York and they're obsessed with London. It's become the capital of the world. People are opening businesses and doing really well. There aren't many places where you see so much activity – business activity, real estate activity, cultural activity, food and beverage activity, it's all buzzing. There's so much money poured in over the past five or six years. And it's here to stay."
His main interest lately has been the pastry and bakery market. With François Peyard, he's launched two concepts: François Peyard Bakeries (FPBs) which are shops selling sandwiches and cake slices, with a café attached; and FPPs which offer classier patisserie to the discerning carb-lover: "a very manicured, jewellery, boutique-style concept" – like Raymond Blanc's Maison Blanc, only spiffier. And, in a move that seems entirely characteristic, he's also going for the whole, gigantic posh-bread market. "I have always been obsessed with the quality of bread," says Abela, "and I feel London still has a long way to go. We opened our own little bakery for Morton's, and The Greenhouse and Cassis. But then Hélène Darroze, after tasting our bread at The Greenhouse, now buys it for The Connaught from us. We're establishing our own little bakery and pastry suppliers. Eventually we'll open a small retail unit…"
Marlon Abela was born in Lebanon, but the family left when he was six months old and relocated to Grasse in Provence, a few miles from Nice. His German mother Barbel sounds a formidable piece of work. "She was a strong, independent woman, a real fighter all her life. She has fought cancer three times, been given a few months to live, and, through experimental treatment, she's now fine. At the age of 50, she decided to take up flying. One of her first missions was to fly around the globe in a Second World War bomber."
Did she do the cooking when Marlon was growing up? "My mother didn't even pretend to cook." The family farm had a Lebanese chef, and all their fruit and vegetables were grown in the garden. "The beans, the courgettes, the onions. The garden was where I first learnt about ingredients. When I first lived in London, on summer holidays back in France, the first thing I'd do would be to walk in the garden to see how the apricots were doing and the peaches. As a child I'd spend two or three hours on my own in the garden every day."
What tastes remained with him from his childhood? "I remember sitting under our cherry tree. We had 20 or 25 trees, and only one produced these lovely yellow and red cherries. I was always sitting under that tree eating cherries. And I remember a beautiful fig tree, the size of an oak."
His father Albert's family was originally from Spain, but has had British nationality since a great-great-great-grandfather wound up in Malta "a couple of hundred years ago". We've seen how Albert liked to introduce young Marlon to gastronomic ambrosia at a precocious age. Nectar, too. He pressed grand wine vintages on the boy when his palate could hardly handle anything more complex than sherbert lemon.
"My first sip of wine," he says, with just a hint of smugness, "was a Chateau Margaux '61." Flipping heck, I say, that's the second-best vintage of the last century. "Yes," admits Abela, "or maybe the best. It must have been in 1987, when I was 12. You ask where all this passion for food and wine comes from, and there you are."
He now has introduced the next Abela generation – he has two children from his first marriage, and a baby son with his second wife Nadya – to the wonders of the posh grape. "I got my son, aged seven, to sniff a Châteauneuf du Pape 1995, and asked him: 'What do you smell?' 'Black olives,' he said. He was bang-on."
Fully briefed in the arcana of haute cuisine, he started working in the family business at 17. Did he consider going to university? "I went to Monaco for three years, came back and moved between France and England. I crammed in some A-levels, but I didn't want to study. I wanted to join my father's business."
Marlon learnt fast. "At 17, I was attending every board meeting. At 21, I was on all the boards of the company. It's better to learn on the job, than from any MBA. And I learnt what a diverse business it was – hotels on one side, catering on the other. But my real passion was always the high-end."
How did he speak to grown-up businessmen or potential clients, when he was a mere teenager? "I've always been very respectful of seniority, so I didn't come with any kind of attitude. I'd ask for guidance from people around me, and when I had to make decisions, I'd ask my father: 'What would you do?' Those five or six years, and the year when we sold the family business after he died, they were difficult, political and messy – but I learnt more in those years than I ever will again, and I use that experience day in, day out. I love my independence, which is why I don't have partners. I do my own thing. I decided long ago to go for quality and control rather than quantity."
Maybe so. But there's simply no quantifying the scale of Marlon Abela's ambitions, from Mayfair to Manhattan by way of the Middle East, in the next few years. You feel that this driven, visionary businessman, who began his career as a pre-teen gourmet and oenophile, won't rest until he has a score of Michelin stars up there in his personal sky.
Join our new commenting forum
Join thought-provoking conversations, follow other Independent readers and see their replies