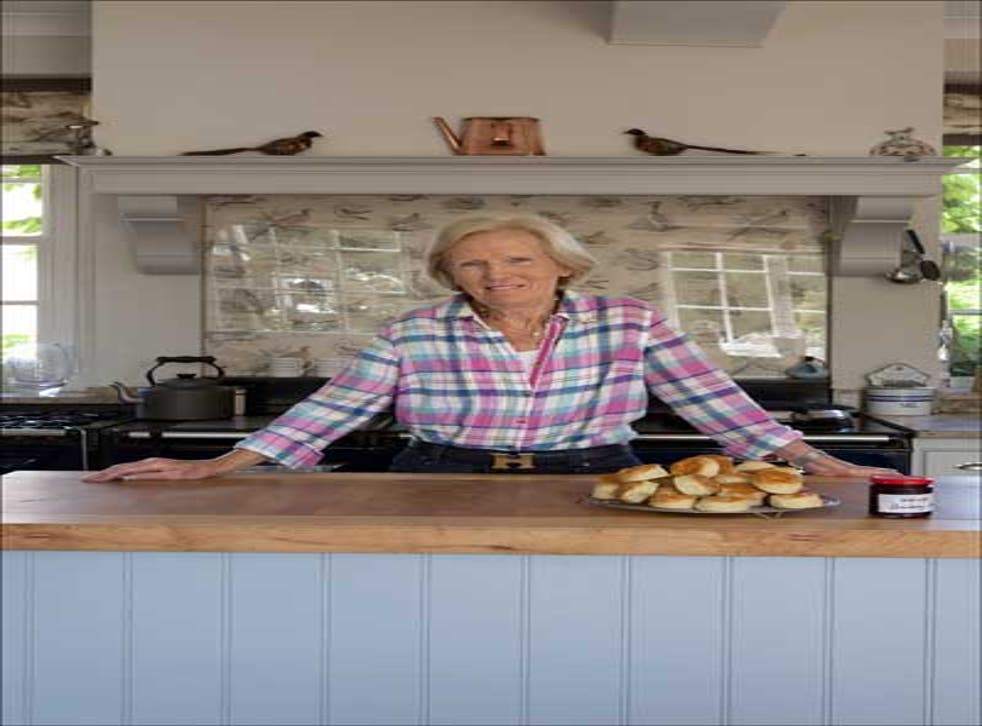 Mary Berry: 'I freeze leftover wine so I can add it to gravy and cheer it up'
My earliest food memory... Going on picnics with my parents and grandparents. I was brought up in Bath, and we would often go foraging for blackberries or primroses. We would take a Primus [portable stove], a kettle and some egg-and-cress sandwiches, which I absolutely loved. It was a real adventure and we'd go whatever the weather: if you had vowed to go on a picnic, you would stick to it.
My store-cupboard essentials... I use my freezer as my store cupboard. I always have milk and bread in there, as I live in the countryside and don't always want to have to make a trip to the shops, as well as home-made soup, a big bag of home-made croutons and nuts – pine nuts, walnuts, pecans. They retain their flavour for five years if they're well-wrapped. And if I have leftover wine in a bottle, I'll reduce and freeze it, because it's great to add to gravy to cheer it up.
The kitchen gadget I can't live without... Since I make a lot of cakes, my KitchenAid mixer – there are other mixers which are just a good, but it is a lot quieter than most. I've got enough noise in my family without gadgets contributing to it.
My culinary tip...Use Stork [margarine] for cake-baking and don't think about trying one of the low-fat spreads instead. Most of my emails and letters are from people having problems as they're using what they think is margarine, but is in fact a low-fat spread which they think is healthier. But they tend to be full of water, so they're going to give you a very poor result.
My favourite food shop... I'm lucky to have a Waitrose near me in Beaconsfield: it has all the specialist things and they're very helpful. Once we opened our garden for the National Gardens Scheme and I made masses of scones. There was no way I could put them all in the freezer, so I nipped down there and asked, "Do you mind keeping a couple of big bags for me and I'll pick them up on Sunday morning?" and they said it was no problem. It's lovely. But also what is very important to me is supporting our village Londis: it's run by a charming couple, who work all hours.
My top table... Le Manoir aux Quat'Saisons is a huge treat: Raymond Blanc makes you feel very special. Locally, we often go to the Old Queen's Head in Penn, High Wycombe: it's really good seasonal food and very welcoming – I have the bubble and squeak with egg, bacon and hollandaise. We spend a lot of time in Salcombe in Devon, and there's a place there called the South Sands Hotel. It's overlooking the sea, with windows down to the floor so you feel like you could jump in. It has a wonderful fish menu created by Mitch Tonks.
My dream dining companion... My husband, of course, but otherwise Monty Don. I'm a great gardener, and now he's returned to Gardener's World, I watch it avidly. He's so relaxed; and he always reminds me of all the jobs I ought to be doing over the weekend.
My guilty pleasure... Figs. We've got a fig tree in the garden, but nobody in our family likes them except me. Every time I pass it, I eat one. Often I'll get a fig, make a cross in the top of it, and fill it with brie or goat's cheese wrapped in Parma ham. Then I'll bake it for about eight minutes and serve it with bean salad. It's delicious.
My pet hates... I can't bear plated food – by that I mean, when you're in a restaurant and someone puts a plate in front of you with the meat, gravy and vegetables already served. It makes you feel like you're at school again: you should be allowed to help yourself.
Mary Berry is a judge on the BBC's'Great British Bake Off', which returns on Tuesday. 'The Great British Bake Off: How to Bake the Perfect Victoria Sponge and Other Baking Secrets', with a foreword and practical tips by Mary Berry, is published by BBC Books, priced £20
Register for free to continue reading
Registration is a free and easy way to support our truly independent journalism
By registering, you will also enjoy limited access to Premium articles, exclusive newsletters, commenting, and virtual events with our leading journalists
Already have an account? sign in
Join our new commenting forum
Join thought-provoking conversations, follow other Independent readers and see their replies