Mildreds and Vanilla Black have given vegetarian food a makeover in new cookbooks
Long-time vegetarian Holly Williams tries to recreate some of the inventive recipes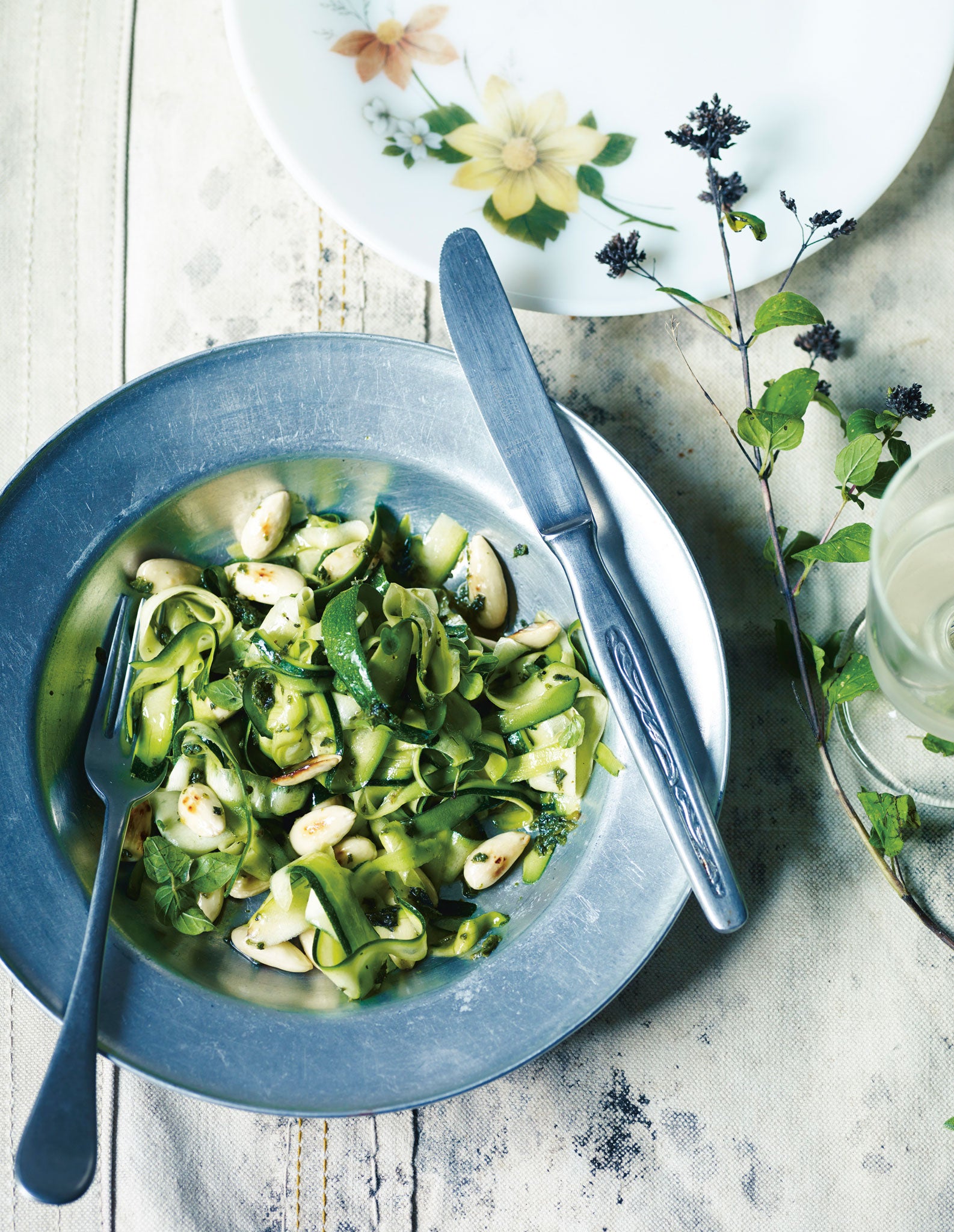 Being a vegetarian is no longer a big deal, with many of us somewhere on the spectrum: cutting out red meat, being veggie during the week, going vegan for health reasons. But many restaurants and gastropubs have yet to catch up, all too often offering the same old mushroom risotto or goat's cheese tart.
Which is why, when vegetarians find a restaurant where (a) they can eat everything on the menu and (b) it's all properly delicious and beautifully presented, they will treasure it for ever. And that is why it's often impossible to get a table at Soho veggie institution Mildreds, and why, when you mention Vanilla Black to meat-avoiding foodies, their eyes glaze over as they drift off to their happy place.
While Mildreds offers world cuisine, from Parmesan-and-pomegranate risotto cakes to Sri Lankan sweet potato curry, Vanilla Black is more experimental – think ash-baked celeriac or dried-yeast ice cream. And, in very welcome news, both have recently published recipes books – because if it's hard to tempt steak-loving chums into a vegetarian restaurant, then having them round for dinner is even more fraught: the pressure is on to prove that the humble aubergine really can rival a leg of lamb.
I love cooking, but my style isn't exactly precise or pretty: it's more whack a load of ingredients together and serve up an ugly- but-tasty splodge of stir fry, stew or bake. So although I'm entranced by the pictures in these books, I'm also a little nervous – will I even get close to recreating a luxurious Stilton pudding or the delectable-sounding chocolate and walnut-oil pâté? Some of it seems pretty involved, too: who makes their own labneh, harissa or pickles? But that's the point. Veggie food doesn't have to be bowls of beans – it can be complicated, delicate and zingy.
Mildreds and Vanilla Black's vegetarian recipes
Show all 8
Vanilla Black co-founder and chef Andrew Dargue is quick to point out that their book is rather more accessible than their restaurant recipes – "but we also wanted to put in some Vanilla Black quirkiness – so there are things like homemade curds and roast chocolate. We want to make it interesting but easy."
Sarah Wasserman, chef at Mildreds, is also encouragingly can-do: "We wanted to make sure we had signature dishes such as mushroom pie, stir fries and salads in there," she says, "but we were aware that some of the dishes can be labour-intensive. What we hope people take from the book is that you can break them down and do them in stages."
I invite some friends over for a veggie feast, mix-and-matching both the books and bone-licking carnivores and staunch grass-munchers. With most of the day put aside for my culinary adventuring, I decide to try cheese-making, a ricotta to top Mildreds' primavera salad: both books have simple recipes for curds, ricotta and labneh. I'm also spurred on by Wasserman's assertion that, "A lot of people think that making cheese is really hard, so it looks impressive."
Alas, my attempts neither look impressive nor prove to be easy. The suggestion of using a clean tea towel if you don't have any muslin cloths is a little optimistic: some hours after heating the milk and adding lemon, my ricotta is still bulging over the sink like a full, damp udder. More tea towels and a couple of sieves later, and the "cheese" is still rather liquid.
The primavera salad may have more ingredients than my average dinner, but it isn't that hard to assemble broad beans, sugar snap peas, baby peas, asparagus and pea shoots; I only wish, having made the lemon-mint k dressing – another seven ingredients! – that I'd done double the amount, for it is yum.
My main is from Vanilla Black: baked Stilton pudding with pickled grapes. The recipe promises it is "perfect to serve to those who think they will still be hungry after a vegetarian meal". They clearly haven't met my friends, for while this is wonderfully rich and creamy – pretty much just whipped cream, cheese and breadcrumbs – the portion sizes are on the small size. I don't think there's any risk my chums will go home hungry – but then they've also made positive noises about my ricotta, so maybe they're just being polite.
The pickled grapes are a hit, mind: this is the sort of faffy extra I'd never normally bother with, but all you really need is time. Boil red wine, balsamic vinegar, peppercorns and brown sugar, then allow it to cool before adding red grapes that have been semi-dried in an oven. I rustle up some of Mildreds' braised red cabbage to go alongside it, another time-heavy but pretty easy option (although my kitchen is fast looking like a giant purple dog has shaken its coat over it).
Both books have dessert recipes, and the one I make from Vanilla Black is arguably the most restauranty item on my menu: chocolate and walnut-oil pâté, orange-peel muesli, and walnut cream. Like the Stilton pudding, it is rich, with slightly unusual flavours that work perfectly together – just what you want for a dinner party. I'm beginning to understand that where these recipes work is in providing big, unusual, satisfying flavour combinations.
On another night, I try Mildreds' feta, chilli and mint-filled aubergine escalopes alongside Vanilla Black's courgette, marjoram and toasted almond salad. Bingo. That escalope filling is a new holy trinity for me: fresh and tasty, but packing a savoury punch. Same story with the salad: peeling slices of courgette sounds like a bother, but it proves a doddle and looks elegant – and it turns out that toasted almonds and marjoram go together great.
Not that it's all high-concept: my other half is treated/subjected to speedier options, such as Vanilla Black's leek, lemon and pine-nut tart – which, aside from a bit of careful flipping, is very simple – with whey-poached broccoli (a great use for the leftover milky juice from that ricotta). A Sunday supper is given over to Mildreds' laksa, an Asian coconut soup which is super-wholesome and cocooning.
There are unintimidating recipes in both books – but it's the eye-catching meals, which work as a dinner centrepiece, that make them a welcome addition to my kitchen shelves. Just need to stock up on muslin cloths…
'Mildreds the Cookbook' is published by Octopus; 'Vanilla Black' is published by Saltyard Books. Both are priced £25
Join our commenting forum
Join thought-provoking conversations, follow other Independent readers and see their replies