Move over, kale - cabbage is the new rising star
Sophie Morris banishes thoughts of soggy school dinners and turns over a new leaf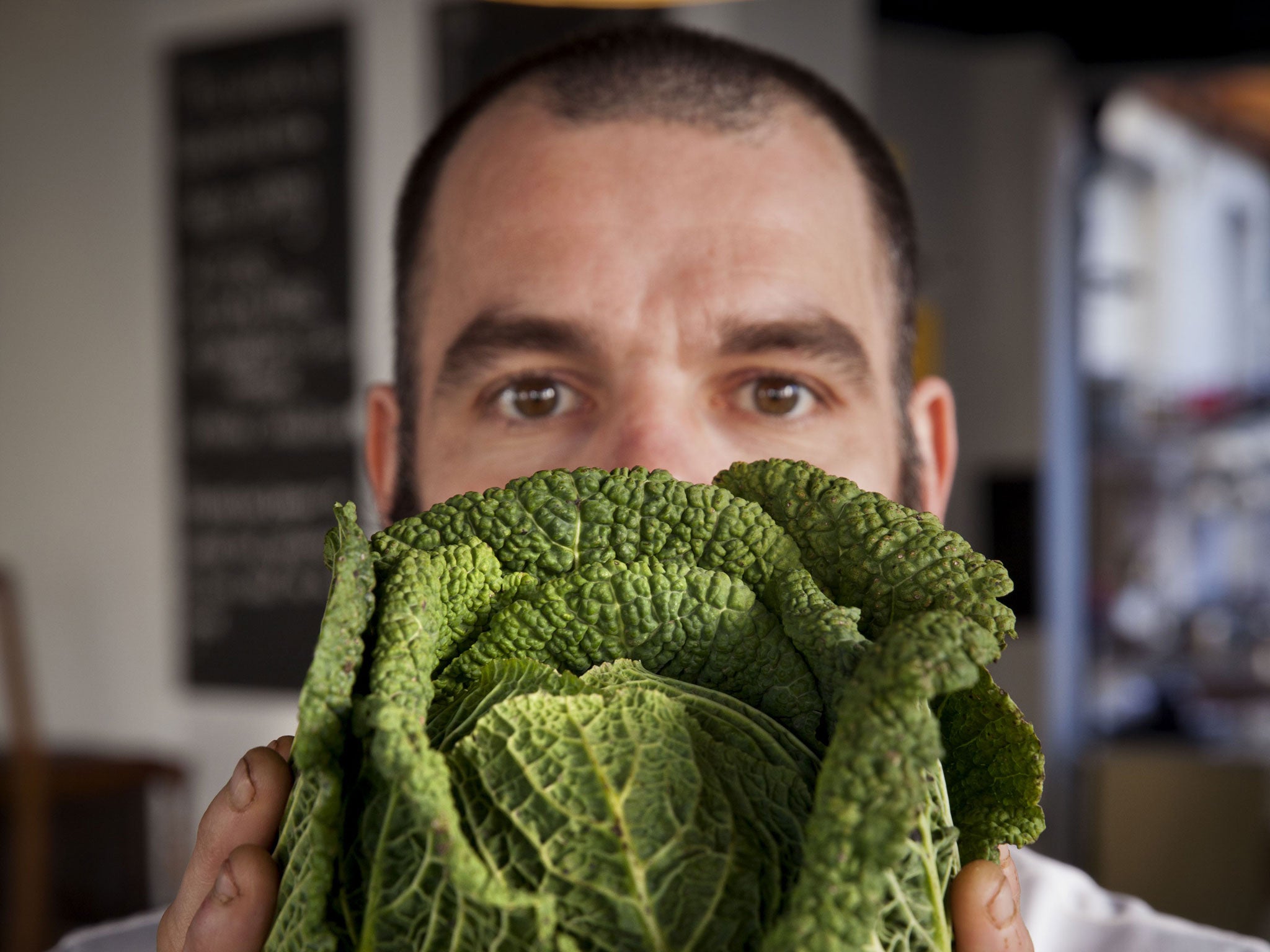 If you're the type of cook or diner who's always in search of something new, you might be unsettled by a curiosity creeping on to menus this winter: cabbage. I know, I know. It's so boring, isn't it? So drab and uninspiring is cabbage, it's the principal ingredient in the most boring diet ever invented – remember cabbage soup? In the US, it's one of the main fillers in a "loaf" fed to prisoners as punishment, while throughout Dostoyevsky's writing it is emblematic of hardship and monotony, with one cabbage soup flush with cockroaches, and monks who munch on it to prove their piety, shuffling closer to god with each crunchy mouthful.
Cabbage has been the bottom feeder of the veg patch for too long, thanks to a few tired dishes: sloppy supermarket coleslaw and that grey school-dinner cabbage, cooked until mushy as if teenagers wore dentures. It is ripe for redemption, especially since cabbage in one form or another is in season for much of the year.
This winter, we're seeing cabbages of all kinds receiving long overdue attention, and even leading a food trend or two. Plenty of kitchenfolk are turning to cabbages to brighten up their menus, and it is centre stage in the Korean food trend, as well as playing a role in a return to traditional French cooking.
Take, for example, Islington organic pub The Duke of Cambridge, owned by the veg box company Riverford, which can call on its own Devon farm for almost any variety of the crisp and hardy leaves. Here, white cabbage is teamed with bacon for an extremity-warming winter soup, and savoy is cooked very quickly to retain its bite, then finished with butter and tossed with cumin or caraway seed.
At Pollen Street Social, Jason Atherton is teaming cabbage with roast halibut, prawns and onion broth, and Savoy cabbage is served confit alongside roast partridge and bacon. At Fergus Henderson's St John, white cabbage is served with brown shrimp.
Guy Watson, who owns The Duke of Cambridge along with Riverford farm and its popular veg box scheme in Buckfastleigh, Devon, says he is on a mission to get the nation to appreciate cabbage. He grows a clutch of different varieties, and describes them like fondly remembered school sweethearts. The savoy is the handsome prince of cabbage, with a robust flavour; the January King, his current favourite, is sweet, crunchy and rather beautiful; spring greens are very tender. The round green and hard white and red cabbages can be boring, but their reliability is indisputable.
Hispi is a multi-purpose pointed crunchy cabbage, though this isn't in season until early summer, and cavolo nero, or black cabbage, is similar to a savoy but sounds far more cosmopolitan. At Waitrose, the supermarket revealed earlier this month, cavolo nero is giving fashionable kale a run for its money: sales have increased by 343 per cent year-on-year.
Benoit Berenger, head chef at The Duke of Cambridge, demonstrates a dish that can work equally well with spring greens or cavolo nero. He cooks some thick chunks of chorizo until the fat begins to seep out of the meat, then adds a few finely-sliced cloves of garlic, diced onion and a few pinches of cumin along with thyme and a bay leaf. He shreds the cabbage heads and adds it in a little at a time, so that each handful gets a lick of the chorizo and spices. Then there's a slosh of white wine (about 100ml) and the cabbage is cooked, covered, for five minutes, then a similar volume of chicken stock is poured into the pan, followed by another few minutes of cooking, lid on.
Berenger says that cabbage goes well with most meats, but especially pork. Cabbage certainly has versatility on its side, as well as seeming equally at home in Asian and fusion cuisines as in modern British cooking.
At Bruno Loubet's Grain Store in King's Cross, London, there are three types of cabbage on the menu: a potted cabbage served with bacon, partridge and parsnip crisps, fermented cabbages with salt beef cheeks, and a kimchi cabbage side. Next door, Caravan is serving curried swede with cavolo nero and coconut yoghurt, and coconut lime chicken salad with something called wombok slaw, which is Antipodean for Chinese leaves, or Napa cabbage.
Kimchi, fermented cabbage and a Korean staple, has played a part in teasing out our contemporary taste for cabbage. High-end steakhouse Hawksmoor even has a kimchi burger. Souschef.co.uk, an online retailer of speciality foods and equipment, was selling one or two jars a day of kimchi 18 months ago; now it sells hundreds every week. It also sells a DIY kimchi kit, which director Nicola Lando says is very popular. This enthusiasm for making our own kimchi has even, asserts Lando, led to a shortage in the Korean red pepper powder, gochugaru, it is made with.
American-Korean chef Judy Joo opened her first restaurant, Jinjuu, in London this month. It serves her own take on Korean street food, and kimchi is all over the menu: it comes with the sharing platters, in beef and pork belly tacos, as part of the traditional bibimbap rice bowls, and in the quite filthy-sounding disco fries, which are slathered in cheese and pulled pork as well as the spicy fermented cabbage.
Joo tells me that she could talk about kimchi all day, and calls it the cornerstone of Korean cuisine. She also points out how good it is for you (though perhaps less so when drenched in the aforementioned cheese and pulled pork), calling it a superfood because of all the good bacteria in the fizzing fermentation. In 2005, it was reported that kimchi might prevent bird flu infections, and consumption rocketed.
The types of food that headline New Year health trends tend to have in common exoticism and expense. They come from a very long way away, as with acai from the Amazon or coconut water from Indonesia, and cost many more pennies than most items in your weekly shop.
The overwhelming popularity of kale was due partly to its abundance and affordability. Could white, red and green leaves of the cabbage, like kale a member of the brassica family, overshadow the curly fronds of its much-hyped cousin this year, making cabbage the must-cook veg of 2015?
In cabbage's favour is the way it is transcending traditional foodie borders. As well as seasonal British cooking and Korean street food, it is part of a legacy of traditional French "old school" cooking that is enjoying a renaissance, according to Arnaud Stevens, chef-patron at Searcys' Sixtyone Restaurant in London. Stevens is currently salt-curing Hispi cabbage and serving it with roast chicken, and is a fan of choux farcis – stuffed cabbage leaves. Taking something humble like a cabbage and turning it into something extravagant is great cooking, he says, and something you'll see more and more on menus at the higher end, as chefs work to keep prices stable while food costs rise.
So, this year, you can keep your expensive health food fads (kelp, tiger nuts, chia seeds, we're looking at you) and start chopping some tasty homegrown greens instead. As Guy Watson astutely points out in his Riverford Farm Cook Book: "A Savoy or January King cabbage will keep you living longer at a fraction of the price. It's just that they are so cheap, no one has the advertising budget to point this out."
For Riverford's cabbage recipes, visit riverford.co.uk/recipes/view/recipe/cabbage. Duke of Cambridge: dukeorganic.co.uk; Souschef kimchi and DIY kimchi kit: souschef.co.uk; Jinjuu: jinjuu.com
Wise ways with cabbage
1. Braise red cabbage with apple or pear and cider or balsamic vinegar to accompany a roast.
2. Pimp your slaw with an Asian twist: add carrots, beansprouts and spring onion to white or green cabbage and dress with crushed roast peanuts, Thai fish sauce, lime and brown sugar. You could also add fresh sliced chilli.
3. Brine Hispi in a 10 per cent salt-to-water mix for a week, then deglaze in a rich chicken gravy and sauté.
4. You don't need to boil or steam cabbage. January King and Hispi cabbages do well just cooked in butter and pepper.
5. Stuffed cabbage leaves, "choux farcis", are made by stuffing large savoy leaves with a mix of cooked sausage meat or mince and some spices, then baking in a tomato sauce.
6. Anchovy goes well with cabbage: mix chopped fillets into your dressing.
Join our commenting forum
Join thought-provoking conversations, follow other Independent readers and see their replies