Moveable feasts: Festival grub has gone gourmet

Show all 7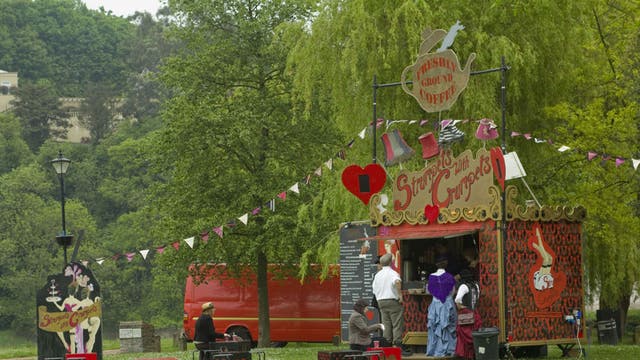 Moveable feasts: Festival grub has gone gourmet
It's festival season – but gone are the days when music fans made do with bad burgers and warm beer. Holly Williams goes through the hatch to meet the mobile foodie pioneers bringing Bloody Mary crumpets, craft ales and sustainable seafood to the masses.
Holly Williams
Saturday 02 June 2012 00:00 Comments
There was a time when if you wanted to enjoy a few days of live music and dancing about in a field with your friends, you'd have to sacrifice at least two things: personal hygiene, and any quality control over what you ate. Burgers, chips, beer, maybe ice-cream. But festivals weren't about food – they were about music.
Not so today. There are genteel fests that appeal to farmers'-market-frequenting yummy mummies and daddies; hippie fests with ethnic grub from countries you'd be hard-pushed to place on a map; highbrow arty fests where artisan local produce adds to the unique cultural flavour. Even at festivals where, actually, it really is all about the headline acts, canny promoters have noticed that people like an unusual dish or two, or just something that tastes delicious. From sushi to stone-baked pizza to sheep's milk ice-cream, Pimm's to pies to potato dauphinoise, chai to churros to cider from heritage apples... well, we could do a whole alphabet of fancy foodstuffs on offer, frankly.
Festivals themselves have been growing massively, too – there were about 500 last summer. Unsurprisingly, given the economic times, many were cancelled – a trend that's continued this year (RIP Sonisphere, The Big Chill, Oxegen). Even the behemoth that is Glastonbury is taking a break. But don't ring the death knell just yet; others are thriving (take a bow, Secret Garden Party, Download, V Festival – already sold out for 2012). There are many factors, but good food stalls does mean more spending – it's got to help. And a memory of great grub feeds into an overall sense of a great festival – I probably couldn't unpick exactly why I look back on End of the Road or Green Man through rose-tinted spectacles, but I think the goat's cheese pies, Moorish mezze and, ahem, the cider bus may have had quite a lot to do with it. It certainly wasn't the weather.
The foodification of our field-based activities is a trend that's been building over the years, but it's surely reaching its zenith this year. Wilderness festival boasts celebrity chefs such as Yotam Ottolenghi, Fergus Henderson (of St John) and Valentine Warner (off the telly) roasting quail and grilling ox hearts. Of course, it says something about our increasingly obsessive interest in food that such chefs are names enough to be a line-up draw in their own right.
I spoke to some of the people behind the hatches who have been plying their trade at festivals for years and seen the changes creeping in – and those who've spotted the potential for a quirky product (cheddar and chorizo crumpet, madam?) or a quality item that hits certain buzzwords (local, sustainable, artisan, seasonal...).
Of course, just as while there are showers at festivals now doesn't mean you have to actually use them, so while there are posh cuisines on offer you can still just nosh down on a burger. And there are certainly times, after standing in the rain for a ponderously paced set or dancing your dreadlocks off in a sweaty tent, for instance, when nothing will hit the spot unless it's been deep-fried and coated in salt.
Fear not – the burger van is here to stay. The new guard of delicate foodies has no chance of pushing that lot out. Melvin Benn, Festival Republic boss, has even promised a free burger and beer each day for every weekend ticket holder at the Reading and Leeds Festivals this summer. Sure, it's what an audience of teenage boys wants, but even at your fanciest, most middle-class events, he says, "there always has to be a base level of fast food". Hey, it's all about variety...
Pieminister
Even if you've never muddied your Hunters at a music festival, you might have spied or tried Pieminister's pies: having started with a small shop in Bristol, they're now available in independent pubs and shops as well as supermarket chains. But for anyone who is a regular festival goer, both the Pieminister van and the impossibly long queues snaking away from it will be a very familiar sight indeed.
Jon Simon began the business with the chef Tristan Hogg in 2003; the next summer they were at Glastonbury, employed to feed a crew, with a little window for the public, too. "It went a bit bonkers that year," Simon explains. "It was very wet and our stall got struck by lightning, and the area was closed [for a while]. As a result, the ground didn't get churned up and it was the only place that had grass for about a five-mile radius. So everyone came to have their lunch there. We had such big queues lots of other festival organisers saw us and asked us to come to their's, too." A festival staple was born.
Simon certainly feels that the food at these events has changed since they got struck by lightning – and struck gold. "It used to be just what we called the 'creams and greens', just selling burgers and chips, and now it's really nice street food or food that you'd be happy to eat in a restaurant, from burritos, pies, quality pizza, burgers..."
Ah, yes, other pie producers that have appeared, often looking rather similar... "It's only to be expected – I don't blame anyone for giving it a go," Simon says, charitably. But he also acknowledges that, these days, "competition is rife".
While he insists that this increase in variety and quality is good for punters, for the traders it's only getting more difficult. "It's a really tough gig. The pitch fees have rocketed. It's partly all the legislation the Government has brought in, the red tape for events. It's not a hugely profitable business – if it rains, and you don't get customers, then no one makes any money, except bureaucrats filling out forms."
Happily, Pieminister has its niche: I've seen people survive entire festivals on their mash and gravy, or get stubbornly determined to eat a specific variety of pie, willing to stand in line accordingly.
As Simon points out, "It's perfect festival food – people tend to eat one big meal a day and you want something to give you the fuel to get you through the night".
Bestsellers: The Big Cheese pie; Steak and Ale pie
Catch them at: Isle of Wight; Hop Farm; 2000 Trees; Latitude; Camp Bestival; Womad; Green Man; Shambala
Goodness Gracious Healthy Foods
Back when I first started going to festivals as a kid, it wasn't complete without a trip to the vegan and vegetarian stall for falafels. Cast your mind back to the early Nineties: falafels were rare and exotic things, and the giddy height of festival food. On the road since 1989, Goodness Gracious really were one of the first to serve alternative food – indeed, that was why owner Barry Tiffen set it up: there was nothing for him, as a veggie, to eat at festivals. "We can probably be fairly responsible for putting falafels on the circuit," he agrees. "When we started we had to explain what a falafel was, what tahini was... now everyone knows."
Tiffen got his first van at 25. Now 48, he explains that "as music festivals took off, it was luck really – we were in the right place at the right time. As new festivals came along we'd get good spots, try them out..." Never doubt the importance of the pitch. "It's location location location," Tiffen says. "You can be right next to a stage and be in totally the wrong spot."
A festie veteran, Tiffen has really seen a foodie shift: "When we started there was no choice – there was rubbish, or us. Now there's a lot of good stuff, it's incredibly competitive, and the world and his wife wants to do it." As a result, it isn't so profitable, a fact Tiffen blames on the "immense amount of greed involved in some festivals".
"A lot of people are under the preconception that we're ripping them off: a bottle of water costs £1.50, that's an outrage..." But he says site fees – up to £12,000 at a large festival like Latitude – are just ridiculous.
"But that's the big, horrible festivals! If you do small ones you're not spending stupid money, and those are the festivals that have good food."
Bestsellers: those falafels...
Catch them at: The Glade; Hop Farm; Cornberry; Green Man; Boomtown; Solstice; Belladrum
The Giant Robot Café
As its name suggests, Giant Robot is actually a café – in a building, with tables and chairs, waiting staff and cutlery made of metal. Its permanent home is in Clerkenwell in London, but one day owner Jonathan Downey had lunch with Latitude organiser Melvin Benn... "He said, 'Why don't you do a restaurant like this in a field in the festival?' A month later, we did. We served about 5,000 meals in three days – sit-down, knife and fork, with our nicest wine, waitress service... it was brilliant, a real hit."
They opened for online bookings on the Monday before the festival; by Wednesday, 2,500 people had booked. The appeal is obvious: people want good food to ready them for a day of standing watching bands, or they want to know they've got a bit of proper time booked in to take the weight off their feet and relax.
Downey's not so convinced that festival food is in a golden age just yet, however. "It's changing slowly – this year and last year there's been an improvement. It's just the economics: high volume, poor quality, small margins. But some of the smaller festivals have latched on to it," he says, pointing out the foodie credentials of Wilderness, which hosted the restaurant Moro last year, or Alex James's Harvest, which had our very own Mark Hix manning the barbecue.
Downey is more enthused about the street food revival in the UK, and believes that therein lies a lot of potential, which festivals have yet to fully exploit. "[There are] great guys that produce great street food, but the guys doing quality stuff are often put off by the concession fee. Hopefully festival organisers are realising it's really important. It will help sell tickets if you can give people good food rather than letting them go home after three days feeling stuffed with trans fats and chicken lips..."
Bestsellers: spaghetti meatballs; ice-cream sandwich
Catch them at: Latitude
Sourced Markets
Ben O'Brien used to work in the music industry – naturally, he spent plenty of time at festivals, where he was none too impressed by what was on offer to eat: "crap burgers and not a lot else".
But his home in London was next to Borough Market, a treasure trove of local, sustainable, organic cuisine, set up in a stall format not so unlike a festival. He had a hunch that there were lots of other people out there, like him, who'd "pay a bit more for decent food".
So in 2007, he took a selection of Borough Market traders to an Innocent Village Fête in Regents Park under the banner Sourced Markets. Today, they have stalls offering a selection of artisan food and drink at street markets in London – and at music festivals across the country.
O'Brien got the timing just right: "There was a generation of people who were hanging on to their twenties – and there were festivals where you could take the kids, so it's not just 18-year-olds getting drunk. There were people there with a bit of disposable income." And, of course, it wasn't just festivals that were getting their acts together in offering more interesting fare – Sourced was tapping into a nation-wide change. "There was a food revolution in Britain, people going to farmers' markets, thinking about where their food came from," insists O'Brien. Suddenly, he explains, 'sustainability' was a term that people would really home in on.
Their early producers included Spore Boys, who did mushroom burgers and risottos, Neal's Yard, selling cheese, and Brindisa providing Spanish food. This year, they'll be taking the likes of Garlic Wood Farm's conservation grade meat, Catch & Grill's sustainable sea food, and the Arancini Brothers' Italian street food, among others, to festivals and events. The numbers vary – at Lovebox one year, a whopping 25 traders set up as Sourced Markets.
But why would, say, a diversifying farm want to go through Sourced rather than have their own stall? Well, they take out the hassle, for one. "We tend to negotiate a good deal from the organiser, and then charge the individual traders usually less than what the festival operators would charge. People can share power and water and we try to create a nice area where people hang out."
It's a case of strength – and variety – in numbers: if people nibble on some olives they might stick around for a rotisserie chicken, a slice of homemade cake or a micro-brewery ale.
Bestsellers: farm burgers; Scotch eggs
Catch them at: Secret Garden Party; Innocent Sports Day
Appleby Catering
However new-fangled festival food gets, there's always going to be a market for a good, old, traditional burger and chips. The whiff of sizzling meat or liberally splashed vinegar prompts a primal tug, especially if you've been dancing, moshing or standing in the drizzle for five hours. Ian Appleby has several of your classic vans: baguette stalls, hotdogs, hog roast, burger and chips. He'd been working for a catering company when they started focusing on bars; food was more his bag, and he set up on his own, "with their blessing and their help", in 2004.
Appleby Catering does more events than just festivals, but he says that the music ones are the most fun. "The staff look forward to doing the festivals – all my family and friends come along, they love working it. It's like a holiday, although they do work very hard."
Appleby says he's not really seen much change: "I've seen people coming and people going in the trade but I think people's stuff is pretty much the same," he says, before adding that you do get more brands wading in these days. "Jack Daniel's, Old El Paso – they've all tried doing stuff at festivals. There are a lot more colourful vans now." The organic burger on sourdough bread may be having a moment, but Appleby isn't worried: "I think a classic burger and chips is going to be always popular with the festival crowds."
Appleby works at many of the larger, more mainstream festivals. My memory of the lager-fuelled teenaged crowds at the Carling Weekend isn't particularly fond; does he ever have badly behaved customers? "Very rarely," Appleby says breezily. "Most of it is very good-humoured – I like to think so anyway. You get the occasional person doing a runner, but that's all part of being a student. I expect everyone's thought about doing it!"
Bestsellers: burgers; cheesy chips
Catch them at: Carling Weekend Leeds; V Festival; T in the Park
Strumpets with Crumpets
As the festival food marketplace gets crowded, the punters get more picky. But three friends came up with a unique idea that was bound to appeal on, well, at least two levels: Strumpets with Crumpets sell hot crumpets with an array of imaginative toppings – while trussed up in corsets, topped off with feathers, furs, and a saucy wink.
Katharine Garden explains that they came up with the idea in the summer of 2008. They were bored of the same old stalls, and fellow Strumpet, Yaz, had always wanted to do a crumpet stall: she grew up in Tuscany, where they're big on crumpets (who knew?). They soon hit on the name – after all, as Garden says, "not a lot else rhymes with crumpet!".
The following summer, they were up and selling – and thanks to their unusual look, were a hit. "Once you're in, you're in. We were really lucky in our first year, but that really did depend on the way we looked: people like to have something different. For a festival, we're always in role or in character," Garden says, explaining that they engage in banter with their customers. "Strumpets are notoriously a little bit bolshy and rude and we can play up to that – customers seem to love it and always come back."
They also probably love the buttery comfort of a warm crumpet after a long day in a field; I can vouch for their bolstering properties. The Strumpets' square crumpets come from Lakeland Bake in Cumbria and they take 5,000 to an average festival. They are served slathered in everything from plum jam with crème fraîche to camembert with onion marmalade.
Garden says that, despite the terrible Welsh weather, Green Man is one of her favourite festivals, though she also has a surprising soft spot for heavy-metal fest Download: "It's not our kind of music, but the Goths are actually really sweet. They love the corsets – and the crumpets. They like their fodder."
Bestseller: chocolate, banana and honeycomb crumpet; Bloody Mary crumpet (sundried tomato pesto, cheddar, Tabasco sauce)
Catch them at: Download; Hop Farm; Larmer Tree; Boomtown; Green Man; Shambala; Bestival
Register for free to continue reading
Registration is a free and easy way to support our truly independent journalism
By registering, you will also enjoy limited access to Premium articles, exclusive newsletters, commenting, and virtual events with our leading journalists
Already have an account? sign in
Join our new commenting forum
Join thought-provoking conversations, follow other Independent readers and see their replies