My life in beer: Neil Morrissey
In the Nineties, Neil Morrissey became a lager-swilling icon in Men Behaving Badly, now he's brewing his own ale
Saturday 27 March 2010 01:00 GMT
Comments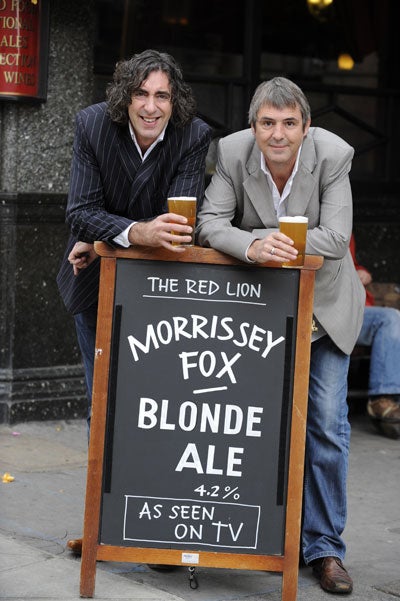 Have you always been a real ale drinker? If not how and when were you converted?
My first ever pint was in Stoke and it was a Marston's Pedigree, so I've always drunk real ale. There are quality lagers though, like Pilsner Urquell and Budvar. I'm often tempted to have one of these on a hot day.
How did you and Richard meet?
We met via Hugo Speer at Virgin Radio's first birthday party and we quickly realised we shared a passion for real ale and gastronomy. We haven't looked back – it's been over a decade now.
Why did you decide to get yourself involved in brewing?
Love of beer and English gastronomy. It started with a recipe idea for what we think of as the perfect beer that we previously had trouble finding.
Did you originally decide just to do some homebrew – or did you aim big from the start?
We always aimed big. But we decided to do our testing and flavour profiling in the safety of our own kitchen with a home brew.
Were any people surprised in light of your lager drinking alter ego in Men Behaving Badly?
Hopefully, your average Independent reader can discern between a television character and a real person.
How many ales do you produce?
Our flagship ale is the Blonde ale and we do several seasonal beers – Aussie IPA, Spooky for Halloween, Mulled Ale for Christmas – and the Brunette – which is a traditional English bitter.
What's your favourite Morrissey Fox ale – and why?
It depends on what I'm eating, where I am and the mood I'm in. In sum, all of them, at different times – otherwise I wouldn't put my name behind them.
What lessons about brewing have you learned along the way?
The importance of accurate sparging! This is the process of sprinkling water over the mash. Also, cleanliness – it takes more water to clean down than it takes to brew. Brewing is a very complex process and there are lots of pernickety things to master.
A lot of chefs are pairing food and ale – any suggestions on the perfect accompaniment to your beers?
The normal rules of food and drink matching apply to our beers. For example, our blonde ale – which is a fragrant, citrusy, light coloured ale – would be great with light fresh fish dishes and summery salads as well as fish and chips. As opposed to the Aussie IPA – which is a hoppy, more complex beer, but still with the signature Morrissey Fox citrus notes. Its subtle effervescence cuts through meats such as pork and duck – from burgers to boar.
Are you planning on brewing any seasonal ales this year?
Yes! We're in development for several seasonal beers – Christmas, Halloween – and a new English lager.
Have you met any other celebrity brewers out there – and how does their beer compare to yours?
We haven't met any "celebrity" brewers but we think all great brewers deserve to have celebrity recognition as masters of great recipes – just like great chefs.
Apart from your own ales – what's your favourite pint?
When in Yorkshire, the Rooster Brewery puts out many excellent ales. In the Midlands, the Blue Monkey Brewery. It depends on where you are in the world – in Belgium, the great Trappist ales.
What is it about cask ale that sets it apart from other beers?
It's a live, unpasteurised product. It only has a certain shelf life, so drink it when it is at its peak and it cannot be beaten.
Have you found it hard to convert your mates to real ale?
No. For those few resisting its beauty, I used Derren Brown techniques. For the more stubborn, a gun.
Does your partner like a pint now and again?
Yes. Of wine. And she enjoys our Mulled Ale.
What is your idea of an ideal Sunday?
Going to my local farmers' market to pick up ingredients, stopping in a local pub for a pint, and then cooking up a Sunday lunch for my friends and family.
Neil Morrissey and Richard Fox will be bringing a taste of Britain to the World Cup in South Africa 2010. They are taking a truckload of their beers, and those of other microbreweries, on a trip through Africa, finishing at the World Cup. 'Men Brewing Badly' will be on ITV4 later this year
Join our commenting forum
Join thought-provoking conversations, follow other Independent readers and see their replies