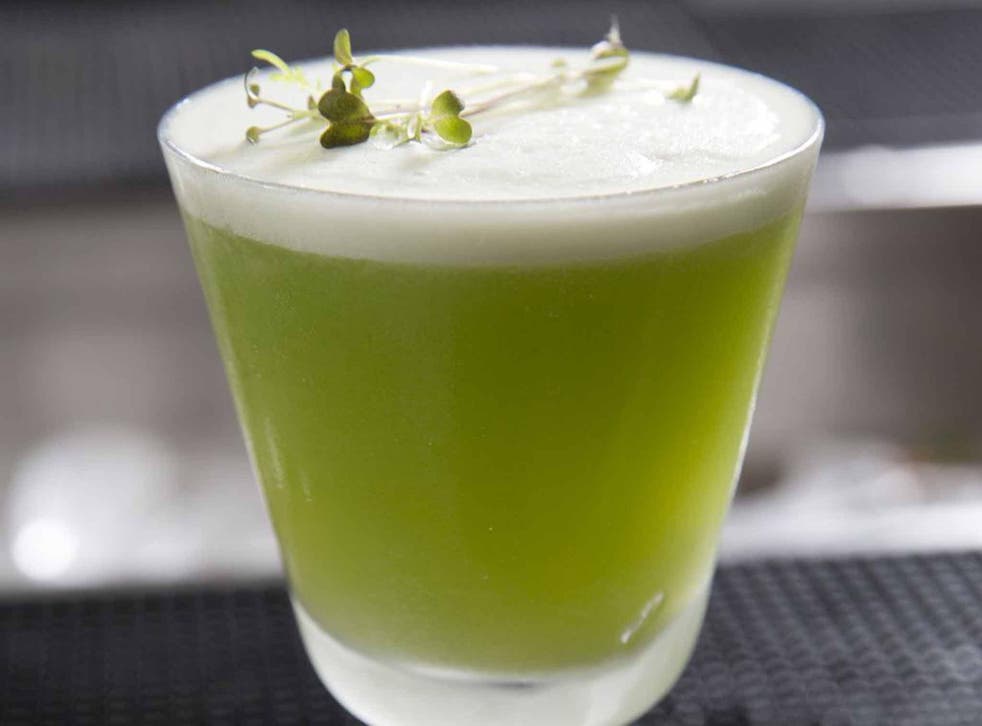 Non-alcoholic cocktails: Why staying sober is seriously chic
A new class of non-alcoholic cocktail – made with fermented tea, botanicals and even booze-free spirits – could persuade even the most dedicated of drinkers to give up the grog
Sudi Pigott
Tuesday 08 December 2015 18:48 Comments
Sipping a Number 7 Rickey (quince, rose geranium and house soda) at the bar of 45 Jermyn Street, I feel very sophisticated. I also suddenly feel certain I could stay off the sauce over the Christmas season.
The drink, a revival from the Prohibition era given a modern, seasonal twist, is served in a high ball, garnished with dried rose petals, with a little pipette jar of house "acids" (mallic, citric and tannic) to add to taste on the side. It looks to all intents and purposes like an elegant cocktail and has a distinctive sharp, sour tang with a touch of wintry fruit and floral that cuts through the richness of a Fortnum's Welsh Rarebit admirably.
Non-drinkers and drivers rejoice – we are living through a new era of creative, non-alcoholic drinks that go way beyond a coke or sweet mocktail. As the wonderfully named head bartender Myles Davies says: "We want to make not drinking fun, yet not stand out and we're getting ever more creative about it."
The world is becoming more health conscious. There's the war on sugar, and teetotalism is on the rise, with more than one in five not drinking at all (especially young adults), according to The National Statistics for Adult Drinking Habits. This abstinence is even more pronounced in London, with almost one in three turning away from alcohol. An increasing number of mixologists are applying their talents to the creation of non-alcoholic drinks that taste as good as their boozy alternatives.
Is "going virgin" the new vegetarianism? For Richard Woods, the award-winning head of spirits and cocktail development at London restaurant Duck and Waffle, it's certainly a new part of the creative challenge. He points to the rise of savoury, vegetable and tea-based cocktails, "shrubs" (made of fruit, sugar and vinegar, shubs are born of an 18th-century method of preserving fruits and vegetables out of season in vinegar with a little honey to sweeten), raw vinegar drinks and kombucha, a fermented sweet tea that's massive in LA made with a Scoby (bacteria and yeast culture) with probiotic properties. Yet, what he is most excited about is a new way of distilling the alcohol out of popular spirits while keeping the flavour. "Imagine if I served you a Campari soda – but without the alcohol? We evaporate the water from it, so that we're left with a syrup that has the classic bitter, orange notes. We've even created a non-alcoholic champagne with the tannins and acids put back to give its dry, toasty texture."
Food and drink news

Show all 35
Matt Whiley, founder of East London's Peg and Patriot, has been experimenting along similar lines in his own distillery and talks me through the making of alcohol-free gin. It has a water distillate as the base, which is infused with the classic juniper and botanicals. It means that the bar can offer sophisticated cocktails to non-drinkers.
At Stovell's in Chobham, meanwhile, Geyin Surendran is using a rotary evaporator, a £10,000 piece of kit, to produce non-alcoholic rum. The aged rum is drawn into an evaporating flask (a spherical piece of lab glassware). The flask is gently heated by a water bath and the alcohol evaporated into a separate vessel leaving a non-alcoholic, concentrated oaky "rum". This is then spiced with a little ginger, pepper and a touch of chilli.
Ben Branson, a farmer and drinks expert, has invented the first distilled non-alcoholic spirit, called Seedlip, which is being adopted by many of the UK's top bartenders and clamoured for by someof the bars around the world. Seedlip (the name comes from the basket used to sow seed) is a clear liquid with each botanical separately distilled. It is a blend of American oak, Guatemalan cardamom, Jamaican allspice, Bahamian cascarilla bark (used in vermouth), Turkish grapefruit and lemon peel. There's deliberately no juniper, so it doesn't replicate gin. It tastes slightly tannic, bitter even, with plenty of bold, warm flavours – a fabulous wintry alternative to a G&T. It makes a brilliant "dirty martini" with olive brine or a non-alcoholic flip with orange juice, cinnamon and rose syrup and egg white. "I think it works because people are after flavour, not alcohol, and are prepared to pay more now to drink something more interesting," says Ben. It is on sale exclusively at Selfridges for £29.99.
Seedlip features on the Minders & Drivers (non-alcoholic) list at London celebrity haunt Sexy Fish. Xaviar Landais, Caprice Holdings' group bar director, points out the trend for other home-made ingredients such as their own cardamom soda or toasted coconut cordial (combined with pineapple, grapefruit, yuzu and coconut water in a drink named Fit as a Fiddle). "We are constantly exploring new flavours and textures to push the boundaries of traditional mocktails, such as adding herbal and spice notes in the form of infusions or teas to add more complex layers to the drink usually created by spirits."
The newest non-alcoholic cocktails are composed to match the seasons and the food on offer. At Brixton's Shrub & Shutter, co-owner Chris Edwards explains that the emphasis is on home-made shrubs, which add some acidity, sharpness and a point of difference and dimension to the palate. Among the most interesting are passion fruit and avocado shrubs served with sodas, which round off a tangy salad or fish dish. Edwards also serves non-alcoholic cocktails with sizeable edible garnishes, such as a mix of clarified tomato juice, ackee purée, chilli droplets, fresh lemon, salt, pepper and tomato and shallot shrub, with mixed peppers and a salt-fish fritter accompaniment.
Pairing food with non-alcoholic drinks prepared in-house is still an unusual, but evolving, trend. At Flat Three in Holland Park, where chef Pavel Kanja's cuisine is British and veg-centric with Japanese technique, menu pairings include scallop with sardine velouté and pea shoots served with a drink of birch sap and douglas fir, and kabocha squash coated in nattō (fermented soybeans), buttermilk sauce and almond, accompanied by a tipple of meadowsweet and Cox's apple. At Bristol's Ethicurean, co-owner Jack Bevan likes to consider the non-alcoholic drinks just as he would wines, thinking about whether they should have body, spice, acidity, complexity or fruit. He's added fennel to apple juice, leaving it to ferment before mixing with tonic water so that it tastes rather like a sauvignon with lots of minerality and goes well with fish. Foraged blackcurrant and chipotle soda works well with desserts.
Henrietta Lovell of The Rare Tea Company has just returned from compiling a non-alcoholic tea-infused drinks pairing menu for Copenhagen's Noma, to be released shortly. "These are beautiful, elegant beverages without much sugar. A mixture of hot and cold infused teas with herbal extractions, foraged ingredients for syrups and other more radical methods I'm not at liberty to reveal yet," she says. Next, she is off to Chateau Marmont in LA to prepare a similar repertoire. Meanwhile, Claridge's bar serves her recipe of cold infused Earl Grey with tongues of cucumber. "The combination of bergamot with light and clean flavours is so marvellously reviving. Though it has to be made very precisely with not too much tannin to give the desirable aromatic, complex flavour."
The Jarr Bar, run by siblings Tom and Jess Seaton, is making its own kombucha at Crate's new opening, Mick's Garage, in East London. The bar sits alongside a BBQ shack run by the team behind Berber & Q .
Jess explains: "I think our palates are shifting to sharper, cleaner and more acidic tastes. No one likes to drink too much that is fizzy and sweet any more. Kombucha is natural and raw, it is more a 'conscious' drinker's choice and quite similar in its flavour profile to sour beers and ciders, with the same refreshing qualities. It works brilliantly with barbecued foods". For maximum tartness and zing, kombucha can be enjoyed straight up, though Jarr Bar is also mixing it with passion fruit or ginger for the newly initiated. "Mostly, we find those new to kombucha find it so puzzling and intriguing that they are eager to try more." The plan is to offer a bottled version soon too.
The watchwords are variety, flavour and creativity. A new generation of mixologists and bartenders are discovering that deciding not to drink is a positive decision for many and are trail-blazing the way this Christmas. Make mine a mojito – just hold the booze. µ
Register for free to continue reading
Registration is a free and easy way to support our truly independent journalism
By registering, you will also enjoy limited access to Premium articles, exclusive newsletters, commenting, and virtual events with our leading journalists
Already have an account? sign in
Join our new commenting forum
Join thought-provoking conversations, follow other Independent readers and see their replies