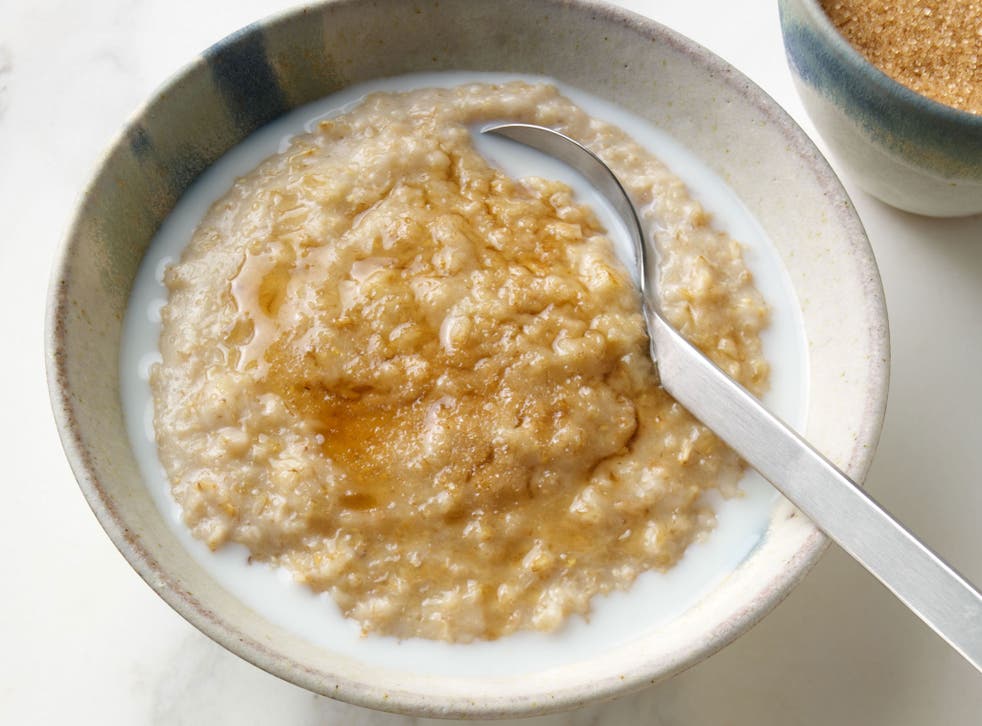 Oat cuisine: Half of us now start the day with a bowl of porridge
Whether it's created with salt and a spurtle, topped up from the kettle or ready-made, there's a way that's just right for each of us, says Samuel Muston
Samuel Muston
Thursday 10 October 2013 21:23 Comments
It seems entirely appropriate that the slang term for a prison sentence is "porridge", for the dish of simmered oats in milk or water has until recently had a reputation for asceticism to rival the 'Scrubs or Strangeways.
Now though, the food that drove the Scottish crofter through till day's end and troubled the daydreams of generations of British schoolboys, has become something to lust after, something welcomed into the foodie fold.
According to research by Mintel, nearly one in two Britons (49 per cent) are porridge eaters, with a quarter of the population treating themselves to a bowl nearly every day. Sales of hot cereals – a sector largely comprised of porridge – almost doubled between 2008 and 2013 (reaching £214m), growth driven in part by oat-hungry 16- to 24-year-olds, 39 per cent of whom now eat porridge.
It is an astounding, almost Drew Barrymore-like rehabilitation. But then porridge is a food with a lot going for it. Have you ever heard of any other breakfast that has been heralded as revolutionising the development of life in Britain?
Alistair Moffat is the former rector of the University of St Andrews and chief executive of BritainsDNA, which uses DNA to analyse Britons' ancestry. He holds that when porridge was invented, as farming became organised in Britain, "it became possible to wean infants from their mother's breasts [with it] which made their mothers more readily fertile." Instead of breast feeding their child for years, the children got their nutrients from porridge. It is, he stresses, educated conjecture – but, nonetheless, it is unlikely anyone is ever going to make that claim for, say, Shreddies.
Even if one puts to one side its supposed value as an evolutionary kick-starter, its health benefits are enough to have one searching out the oat aisle. Jeya Henry, professor of nutrition at Oxford Brookes University, points to three health benefits in particular. Porridge contains a considerable amount of fibre, both soluble and insoluble, which is good for digestion. It is also low in GI, so you feel fuller for longer and the most interesting benefit derives from oat's beta-glucan content, which, Henry points out, has been shown to reduce cholesterol. If any food deserves that over-used title "super", it is probably porridge
"I would recommend it as a breakfast cereal," says Henry. "The only caveat is lots of us use the instant, 'just add water' stuff, which is high in GI because it has been 'instantised', so pre-processed, and is consequently higher in GI. But even then, though, it is better than many breakfast foods and certainly better than none at all."
A bumper oat harvest also means that this most inexpensive of foods, should, with any luck, be at its cheapest for consumers this year. According to The Grocer magazine, 138,000 hectares of Britain have been turned over to oat production this year. This is roughly 50 per cent more than last year and farmers expect a yield of nearly 100 million tonnes.
Another draw of hot porridge is the fact that it is traditionally made with only four things: oatmeal (or rolled oats), water, salt and heat. Though that simplicity conceals a deeper complexity, says John Boa, the man who rejoices in the title of winner of "The Golden Spurtle" (aka world porridge-making champion 2013). "In the competition, we follow the traditions and use only oatmeal, as distinct from rolled oats. They are, of course, similar things, but rolled oats are steamed and go through hot rollers – to me, the proper home of the rolled oat is the flapjack.
"The key to making good porridge," he advises, "is to start with dry oats in cold water and heat slowly, while constantly stirring with a spurtle – if I don't have my spurtle, if I am staying in a youth hostel, for instance, I turn a wooden spoon upside down, which is ultimately the same – and ensures the grains stay free before it thickens. Then you add the salt when it is at heat. It is a disaster with no salt."
It is fine and wise advice. Although most of us, it is fair to say, do not own a spurtle or even make our porridge from scratch, and the water is often wholly or partly substituted with milk. The figures showing the growth in porridge consumption conceals an interesting shift in the way we are eating the winter warmer. We are now increasingly likely to use instant porridge pots – such as Quaker Oats' Oat So Simple tubs (99p) or Moma's flavoured porridge (£1.49). These make use of pre-processed oats, to which you add hot water and scoff, probably over your keyboard.
Another driver of growth, though, comes in the form of the pick-me-up-and-go shop-bought hot porridge. This section of the market is dominated by the hot counters of Pret A Manger, Starbucks and, on a smaller scale, Le Pain Quotidien. It is here where the real growth is. Starbucks won't reveal exact sales figures but a spokesman says, "figures have shown a 25 per cent increase in porridge sales year-on-year."
Pret's creative chef, Nick Sandler, notes good sales at Pret, too: "It varies: interestingly on Monday we sell most, least on Friday. But we sell between 10,000 and 15,000 pots per day and a not inconsiderable amount in summer, too."
What makes this interesting is that the products these shops offer fly from the shelves and yet they are undoubtedly expensive if compared with a bag of oats. In Sainsbury's you can pick up a 1.5kg bag for £1.59. At Pret A Manger, a takeaway pot costs £2.35, while Starbucks charges £2. and Le Pain Quotidien £2.60. How do the shops explain this pricing? Sandler says: "We feel that Pret porridge represents good value for a delicious, natural and filling breakfast. At Pret, we have a wide range of breakfast products that cater for different price points."
While Dieter Pietsch, the food and beverage manager at Le Pain Quotidien, points out that it has to pay for service staff, labour and general business costs. Adding: "You would not be able to stay in business if you sold porridge for £1 or a £1.50." No one was available to comment from Starbucks.
Both make valid points, of course, to run businesses like they do costs money, lots of it. In this case, though, the price point does seem rather high. Still, what they offer is that much sought-after thing in modern life: convenience. They make an inconvenient food, which takes stirring and attention and spurtles and slow-cooking, into something easy.
And while it may be pricey, it remains, as ever, one of the best ways to start your day.
Register for free to continue reading
Registration is a free and easy way to support our truly independent journalism
By registering, you will also enjoy limited access to Premium articles, exclusive newsletters, commenting, and virtual events with our leading journalists
Already have an account? sign in
Join our new commenting forum
Join thought-provoking conversations, follow other Independent readers and see their replies