The Independent's journalism is supported by our readers. When you purchase through links on our site, we may earn commission.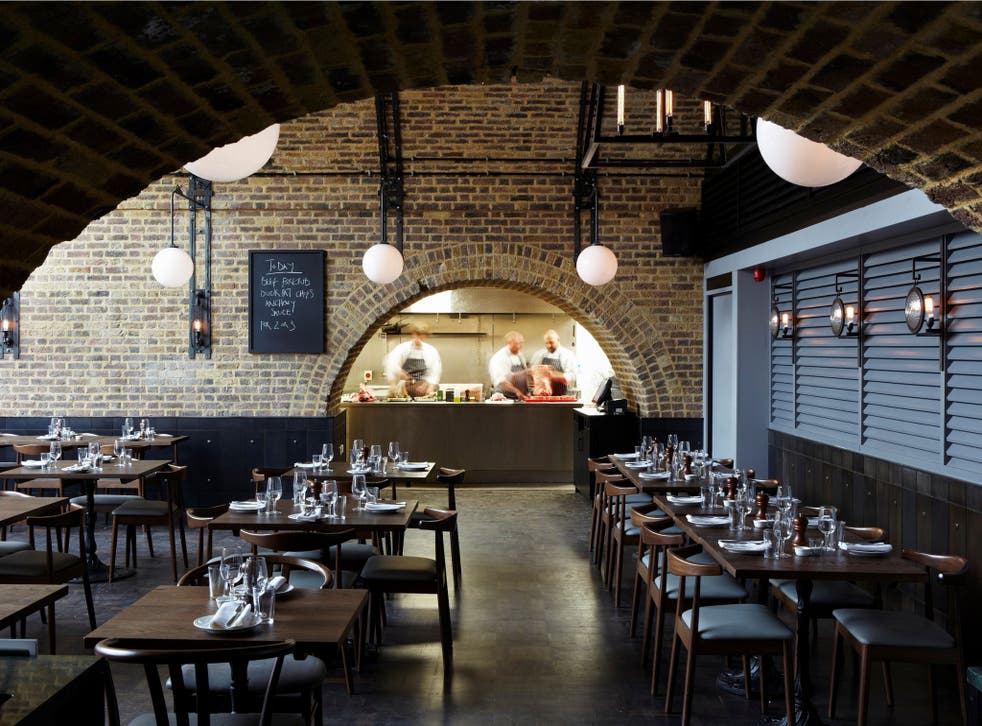 On the Menu: Aubergine with chickpea and labnah; Trongs; Joseph Joseph; Percy Pigs; Moet champagne
This week I've been eating...Aubergine with chickpea and labnah
Beagle is a zippy little restaurant with a short unencumbered menu and snappy attentive staff. Twice now I've been to the east London restaurant and both times left happier, lighter of foot, than when I went in through its heavy steel and glass doors.
You could put it down to the Iberian negronis I'd drunk pre- and post-dinner in the sun trap outdoor area, but that's only half the story. For the food is rather good.
In the (suitably on-trend open-plan) kitchen is former head chef of Rochelle Canteen, James Ferguson, who's created a dainty menu of five starters and five mains.
An octopus salad with tomatoes and coriander was expertly cooked, meaty yet tender, and punchily flavoured. While the smoked aubergine, chickpea and labnah main was a real zinger, fresh, complex, with the slightest hit of chilli – the finest thing I've eaten this month. beaglelondon.co.uk
Trongs
Having spent a week at the World Barbecue Championship in Memphis, I learnt two things: one, no two sets of ribs taste the same and, two, that each and every one of them poses a clear and present danger to your shirt front (I still have the marred white T-shirts to prove it).
If only we'd all been given a pair of Trongs at the gates of the festival. The finger-tip-covering double pincers, designed for the committed eaters of ribs, buffalo wings and grease-soaked pizza, could have saved us all a fortune in dry cleaning. £7 for a pack of four, trongs.com
Joseph Joseph
There is, I'm sure, a place in purgatory reserved for those who covet their neighbour's kitchenware – though I suspect there may just be a papal dispensation available if the kit in question is part of the new Joseph Joseph 100 collection.
Sleek, jaunty and a bit shiny – it's the Heidi Klum of the kitchen. Created to celebrate the firm's 10th birthday and their design gong from the British Inspiration Awards, it is all in modish (and hygienic) stainless steel.
There is a mixing bowl and colander set, a bread bin with a lid that doubles as a cutting board and a cool-as-ice nest of chopping boards. josephjoseph.com
Percy Pigs
How fast they grow. Everyone's favourite gelatinous sweet, Percy the Pig, turns 21 next Tuesday – and what a journey it's been.
The smiling sus has had the head-turning adulation of a 250,000-strong Facebook group, turned his back on the other M&S confectionery to hang out with Andy Murray, and was declared "fashionably famous" in Vogue's 2008 hot list.
All he needs now is a love child and a stint in rehab and he'd be a proper celeb.
Moet champagne
Booze-related question of the week: which British bar sells more Moët champagne than any other? Mahiki nightclub? The House of Commons bar? Royals' favourite Bodo's Schloss? Wrong, wrong, wrong. In fact, Home House on London's Portman Square sells the most – 420 bottles per week. That's a lot of popping.
Register for free to continue reading
Registration is a free and easy way to support our truly independent journalism
By registering, you will also enjoy limited access to Premium articles, exclusive newsletters, commenting, and virtual events with our leading journalists
Already have an account? sign in
Register for free to continue reading
Registration is a free and easy way to support our truly independent journalism
By registering, you will also enjoy limited access to Premium articles, exclusive newsletters, commenting, and virtual events with our leading journalists
Already have an account? sign in
Join our new commenting forum
Join thought-provoking conversations, follow other Independent readers and see their replies