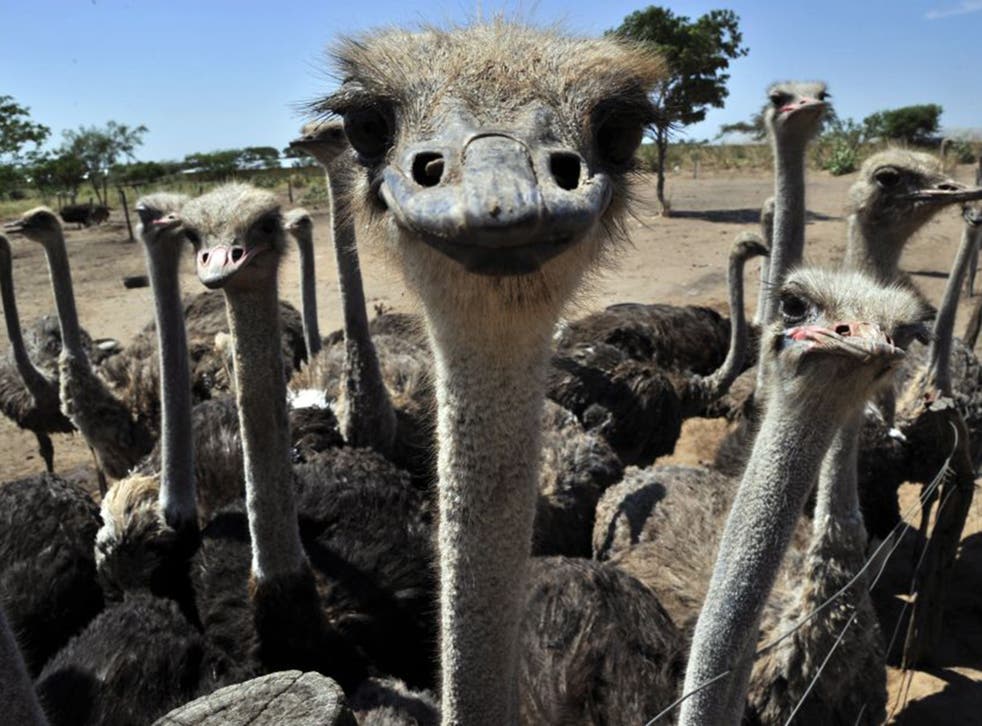 Ostrich, crocodile, bison... does that sound like dinner to you?
Lots of people choose to go beyond steaks, loin and thigh. Is it so that you can say you have? Is it machismo? Or is it because, well, it tastes rather nice?
Last week, an email from a reader landed in my inbox. How, the reader wondered, could I possibly mention foie gras in my column without demur, as if it was as uncontroversial a food as the vegetables I also wrote about. She was right, as well; I should perhaps have made more of it. We chatted some more. And then she sent me a link to a purveyor of what one might call "exotic meats", things like kangaroo, crocodile, bison, ostrich – and, rather oddly, lambs' testicles – and suggested that I might do a column exploring why people eat these types of meat.
I suspect that my correspondent eats no meat at all, so throwing any flesh whatsoever on the barbecue, be it chicken or be it pterodactyl, would be anathema to her. But lots of people do. And some of them choose to go beyond steaks, loin and thigh. Why then? Is it so that you can say you have? Is it machismo? Or is it because, well, it tastes rather nice?
My experience in the matter is limited, I must confess. (I once ate a bite of a bison burger, but was largely unmoved.) So I sought counsel from the foodie great and good. Adam Heanen, who runs the butchers HG Walters, suppliers to The River Café, Petersham Nurseries et al, specialises in rare breed, British meats. If his customers order it, he can also get them ostrich loin, crocodile tail or, yes, bison meat.
He points out that there is a variety of reasons why people order it. Some who were born abroad order it for a taste of home. Others, conscious that ostrich meat is very low in fat, eat it for health reasons. These are sensible reasons. But the elephant in the room – or on the barbecue – is taste. "I have tasted all these meats," Heanen says. "Crocodile tastes very dense with flavour. But would I recommend it? Not really. I would much prefer to suggest Black Foot Iberico pigs or a native British-breed beef." And most of the meat arrives frozen, too, because, as he points out, "there aren't many crocodile farms around West London".
Lambs' testicles, are, as ever, another matter. Peter Weeden, the chef-proprietor of London's Newman Street Tavern, is a great proponent of offal. His restaurant buys whole carcasses, and he points out that it would be wasteful to not use the whole beast. "My job as a cook is to make everything tasty. Anyone can make a fillet steak good – using offal and making them the best they can be is a greater thing," he says. He remembers, at 15, washing pots in a restaurant, where he tried sweetbreads and it changed his attitude.
Weeden gets to the very heart of the matter here. It is sensible, and shows respect for the animal that has been slaughtered, to eat the lot – testicles and all. And why not – if, with care and attention, you can make them the peer of the fillet steak? But if you live in England and order a slice of crocodile, which is frozen, and shipped half way around the world's surface to get to you, it is probably not the taste you are interested in, it is the bragging rights. And the type of person who brags about that, well, my reader friend and I wouldn't want them at our table.
Register for free to continue reading
Registration is a free and easy way to support our truly independent journalism
By registering, you will also enjoy limited access to Premium articles, exclusive newsletters, commenting, and virtual events with our leading journalists
Already have an account? sign in
Register for free to continue reading
Registration is a free and easy way to support our truly independent journalism
By registering, you will also enjoy limited access to Premium articles, exclusive newsletters, commenting, and virtual events with our leading journalists
Already have an account? sign in
Join our new commenting forum
Join thought-provoking conversations, follow other Independent readers and see their replies