Perfect pasta: Silver Spoon cookbook devotes volume to world's favourite comfort food

Show all 2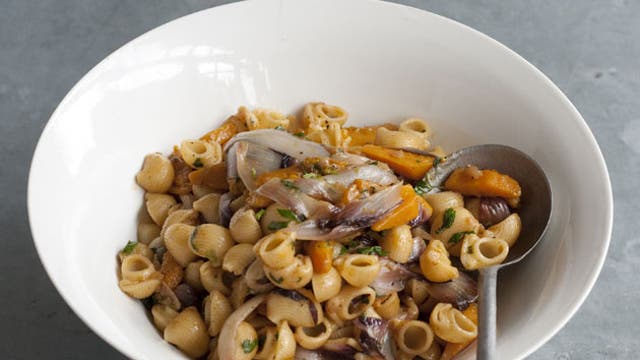 Perfect pasta: Silver Spoon cookbook devotes volume to world's favourite comfort food
Fans of the classic Italian cookbook now have a volume devoted to spaghetti, fusilli and penne.
What is it about pasta that makes it soul food for Westerners? I believe it's all about the resemblance of cooked egg pasta and sauce to our own internal workings, and a folk memory of cannibalism. It's by some way the least tidy food of any culture: those long strings and ribbons of fettuccine and pappardelle, those precise little fingers of penne (mind those sharp nails) and little ears of conchiglie, they're all simulacra of bodily guts and organs and tender flesh, with arrabbiata and puttanesca sauces masquerading as assorted items of blood and gore. Just look at that plateful of fusilli in cuttlefish ink and tell me we're not responding to something darkly, secretly intestinal...
We're now so sophisticated, of course, that all such associations are bred out of us – but they remain insistently there. We slaver like dogs before mezze maniche with chickpeas, or fettucine with chicken and almonds. These fabulous photographs from The Silver Spoon, the bestselling Italian cookbook for 50 years, are mouth-watering in their messiness, their promise of undisciplined excess, of textures to savour and flavours to gorge on.
There's nothing polite about pasta. It's vulgar and earthy. It's made from the simplest ingredients on earth: flour and water. By itself, it supplies the body's daily dole of carbohydrates, with fats and proteins all aching to be complemented by a slather of vitamins in the form of tomatoes, herbs, anchovy.
Food historians tell us that pasta originated in 11th-century Sicily, from where the dried version was exported to Amalfi and Genoa. It's dismaying to think of how clueless medievals used to cook the stuff for two hours, then serve it with honey and sweet spices. Yeech. Only in the late 19th century did the great cookery writer Artusi try draining pasta while it was al dente, then topping it with savouries, tomato, herbs and cheese.
The joy of The Silver Spoon is that it shows how little has changed; how simplicity is unimprovable; and how a bowl of conchiglie with gorgonzola and pistachios calls to something tempestuous and Mediterranean in our souls, something way beyond knives and forks, napkins and social niceties. It calls to the hairy-armpitted, swarthy Italianate brute in us all.
'The Silver Spoon Pasta' (Phaidon Press, £24.95). To order this book for the special price of £22.46, with free p&p, go to Independentbooksdirect.co.uk
Gomiti pasta with pumpkin and radicchio
Serves 4
Ingredients
2 tablespoons olive oil
1 small onion, chopped
300g pumpkin or butternut squash, peeled, seeded and cut into strips
150ml lukewarm water
1 head of Treviso or Chioggia radicchio, cut into thin strips
1 bunch of fresh flat-leaf parsley, finely chopped
350g gomiti rigati
salt and pepper
Heat the oil in a shallow saucepan. Add the onion and cook over a low heat, stirring occasionally, for five minutes. Increase the heat to medium, add the pumpkin and cook, stirring occasionally, for five minutes until evenly browned. Add the lukewarm water, season, cover and simmer for 15 minutes. Stir in the radicchio and three-quarters of the parsley and cook for a further five minutes. Cook the pasta in salted boiling water until al dente. Drain, tip into a warmed serving dish and pour the sauce over. Sprinkle with the remaining parsley and serve immediately.
Join our new commenting forum
Join thought-provoking conversations, follow other Independent readers and see their replies