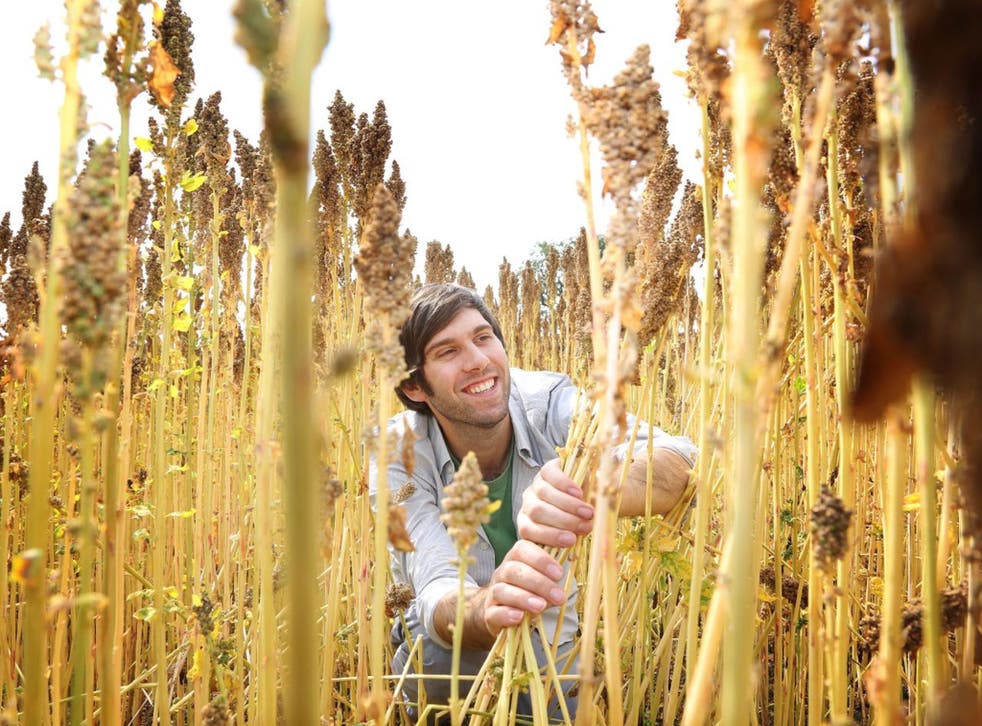 Quinoa is king in Shropshire: The ancient Andean staple of the Incas has a new home
Embraced by the health-conscious middle classes, quinoa, an ancient Andean seed crop, now flies off the shelves of supermarkets. Simon Usborne visits the British quinoa king and looks at a new revolution  in food and farming
Simon Usborne
Thursday 24 September 2015 19:04 Comments
For generations the Jones family had turned the soil around their home in North Shropshire, supplying wheat to an increasingly tough market. A living linked to global price fluctuations and the whims of the weather, and a crop that could only be a commodity. When young Stephen enrolled at agricultural college as a bright 18-year-old, not certain if or how to take on the mantle, he was hungry for more.
Jones junior experimented with an exotic seed that few people had heard of, and fewer still knew how to pronounce. "Dad let me have a corner of a field that was tricky to get the plough into or something," Jones recalls on the farm near Shrewsbury. "Nothing that stood out to say that it would work. I think he viewed it as my little project."
Ten years later, after trials, rotations and doomed harvests, he has emerged as Britain's quinoa king, standing at the forefront of a revolution in an industry and the tastes of a nation. For years, the ancient Andean staple of the Incas has fuelled the health-conscious middle classes – as well as ridicule and snobbery thanks to its extreme wholesomeness and mouthful of a name. But now quinoa is thrusting into the mainstream – and the skies above England.
"When I started in 2005 I saw the problem of growing quinoa in the UK being how to market it," Jones, now 28, says in one of his fields. He strips a head of quinoa from a chest-high plant, which has turned from leafy green to a dry, grey-brown. When he rubs the flower in his hands, it falls apart, leaving a fine seed in hishand palm. It's ready to harvest, and 10 minutes in hot water will turn it into a versatile superfood rich in protein and minerals.
"Now marketing isn't a problem because quinoa sells itself," he adds. "The challenge is growing enough."
50 best foods for healthy living

Show all 50
Jones looks up to survey hundreds of acres of quinoa, their heads swaying gently in the late-summer breeze. Only the hedgerows place the scene in the Welsh borders rather than the uplands of Bolivia or Peru. By next weekend, Jones and his British Quinoa Company will complete a record harvest: more than five hundred 500 tonnes of the nutty little seed, enough to fill millions of the salad boxes and protein pots, now flying off the shelves of his biggest customer.
Two years ago, Jones achieved his first viable commercial crop, and got an email. "The initial inquiry was just for a few tonnes," he says. Pret A Manger, the sandwich giant with more than 300 UK stores and 300,000 customers a day, had only just introduced quinoa to its menu, putting imported seed in a couple of salads. Customers chomped through 1.7 tonnes of it a week and demand has spiralled since. Last year, Pret bought Jones's entire crop, and now sells 4.4 tonnes of it every week. Yet the bulk of the quinoa we eat in ever greater quantities – in salads as well as cakes, porridges and biscuits – is still shipped from as far afield as its native South America. In 2012, Britain imported 1.7 million tonnes of the stuff, the largest chunk of it from Bolivia. In 2014, imports grew to 10.5 million tonnes, and stood at almost seven million in the first half of this year alone. Peru has now become Britain's biggest supplier, accounting for more than half of last year's imports.
Evidence of this new, mainstream demand is clear in supermarkets and restaurants. Chicken merchants Nando's added a quinoa salad to its menu in April. Tesco now sells 20 quinoa products, many contained in the pre-cooked pouches that have swiftly become a supermarket staple (Uncle Ben's launched its own quinoa pouches this summer). Marks and Spencer takes a quarter of the Peruvian import and at Waitrose, which shifts quinoa in 30 products, the seed rivals couscous as its best-selling "grain" after rice.
Waitrose says it is considering buying British but for now home-grown seed accounts for a tiny fraction of what we consume. Jones is confident there's scope to shift the balance. Early on in his tests, he identified a sweet spot in the market, where demands for health foods and locally grown foods meet at a vast reserve of further potential discovery. Over a lunch of quinoa and avocado salad in hisJones's mum's kitchen, The Independent's photographer tries the seed for the first time – and later takes a bag home. "People are still seeing it on the high street and saying, 'What the hell is quinoa?'," Jones says. "That's really good for us."
It's also why the well-nourished players in a flourishing trade are confident that they are dealing with more than a fad. "I love looking at Google Trends," Jones says. "If you search, for example, goji berry, you see a big spike in mentions and then it falls down to nothing. But quinoa over the past 10 years has gone up, up, nice and steadily. For me that's natural growth and it means longevity."
British farmers agree in growing numbers. And Jones has competition from an unlikely place: Essex. Peter Fairs is now Britain's second biggest quinoa grower, but he was also the first. "I started in about 1986," the 71-year-old says from his farm, west of Colchester. "In those days we didn't have foodies on TV telling us what to eat." Fairs faltered at first, giving out 1,300 samples of "Mother Earth" grain at a trade show in 1989. "Unfortunately, it didn't have the delicious nutty flavour we were telling people it had," he remembers. "It was bitter and I think we put 1,300 people off."
Britain wasn't ready for quinoa but the pheasants and partridges on Fairs' farm loved it. So he began mixing it with kale – another health food before its time – and marketed it to shooting estates as a cover crop. About eight years ago, during the early fad phase, he had another go at humans, and began selecting and breeding varieties to remove the bitterness. His breakthrough came in 2013, the same year as Jones. "It's a bit like the race to the Pole," Fairs says. "But we get on well. We're competitors but we can learn from each other."

Fairs sells his crop – 300 tonnes of it this year – to Hodmedod's, a Suffolk-based online shop. Managing director Nick Saltmarsh believes quinoa is well on the way to matching the status of couscous or even rice. "As UK production increases and becomes more efficient, the price will inevitably come down and make it more affordable too," he says.
Today, Tesco's standard, uncooked quinoa costs £7.84 per kilo, while couscous is just £1.40, less than brown rice. Hodmedod's sells Fairs' Essex quinoa for £9.98 per kilo for its smallest bag (500g), while Jones's bags, outside the Pret supply, go for £8.70 per kilo via his website and a handful of local shops.
If scaling up is key to cracking an even bigger market, Jones may have the edge. His other smart move was to acquire the license to grow not just any quinoa, but a particular variety optimised for European conditions at a Dutch university. Because, as he found in those early experiments, quinoa that thrives high up in the Andes doesn't love Shropshire. Jones got some of the new seed and after further trials, and a disastrous 2012 harvest that almost made him quit, he knew it would work.
If other British farmers want to grow the Dutch variety, they have to sell their crop to Jones, and get a decade of expertise in return. Jones started with one outside grower last year but now, under the British Quinoa Company, he works with 16 farmers from Lincolnshire, Kent, Somerset and beyond. Together they have added more than 600 acres to the 230 Jones cultivates himself. "It's a lot more hassle than wheat but the people who do it tend to be farmers who are up for a challenge," he says. "It's also more exciting and – when you get it right – more profitable."
Jones also represents a new generation of young farmer who isn't content to shift grain as if it were gas or oil. They use new technology and marketing skills to add value to their land by putting a name to their produce. "A lot of farmers out there are struggling, you have to push the boundaries," Jones says. Charlie Beldam, who is also 28, grew up on his father Richard's farm in Worcestershire. Five years ago, during his own stint at agricultural college, he began pressing rapeseed, which he already grew, to create Cotswold Gold, a gourmet oil. He now sells almost 200,000 bottles a year in more than 300 outlets, as well as supplying dozens of top chefs. "We get about three new shops or restaurants a week from Twitter alone," he says. Jones, too, is big on social media, using it to attract new customers and growers. All of which is good or bad for Peruvians and Bolivians, depending whether they export quinoa to Britain, or just want to eat like they have for more than 4,000 years. Two years ago, rising demand in the West sent global prices spiralling beyond the reach of ordinary Bolivians. The market has calmed down since but concerns about sustainability remain, even before you look at issues such as food miles.
Despite the growth of British quinoa, imports continue to rise, forcing entrepreneurs to find new ways to stand out. Patricia Estivariz came to Britain from her home in La Paz, the Bolivian capital, 12 years ago to learn English. She fell in love and never went home. After a failed attempt to import alpaca knitwear, she set up Punku Quinoa Foods from her Essex home and began selling Bolivian-made quinoa cookies. She can't source enough. "It's amazing because Bolivia is well-known for being a poor country and having corruption," she says. "Seeing something positive coming is really rewarding, and so is knowing that it will benefit poor farmers."
Meanwhile, attitudes have changed to a food that for many had become a byword for worthier-than-thou eating. Henry Dimbleby began selling quinoa in superfood salads in 2004 when he opened the first branch of the Leon restaurant chain. "I think it's the pronunciation that irritates people," he told me in 2013. "It feels socially exclusive because people look at it and think they'll be judged if they say it wrong. But who cares?"
Nick Saltmarsh thinks we have moved on. "I think as a nation we're pretty used to foods from around the world with exotic names," he says. "I once heard someone refer to couscous as 'coo coo'." Jones got round the name issue by choosing to say "KWIN-oah". Others are quick to correct him, suggesting "KEE-nwah". The Quechua people of the Andes know it as kinua or kinúwa (the Spanish turned it into quinoa) which they say is more like "Kee-NOO-ah". So there.
However you say it, Jones thinks demand has leapt over the snobbery hurdle. But you don't have to look far for enduring scepticism, even in middle-class food circles. Shirin Kouros, an Iranian-Swiss entrepreneur from Texas, encountered early resistance to the quinoa juggernaut when she opened her first Good Life Eatery in Chelsea, West London, of all places, in 2013. But she now has three stores and booming demand, particularly among men, who, she noticed, had been harder to convince. "It's just a matter of letting people taste it," she says. "You wouldn't expect a quinoa muffin or burger to taste good, but they do."
Even Edward Jones, Stephen's father, is on board. He was quick to realise the potential in the crop, and has been key to its success, but he was slower to put it on his dinner plate. "I'm not that keen on cold meals," he says at his barn, where his mountain of wheat still overshadows Jones's quinoa hill. He ate a pork pie before Stephen served up his salad. "I do eat the salads but I prefer it when it's cooked up with some onions and other things, or in a chocolate cake." He has no plans to make his first visit to the nearest Pret, in Birmingham or Chester, however. "I'm afraid I'm not very keen on towns either," he says.
The family is buoyed by the success of the quinoa company, and the farm is more secure than it has been for years. Jones is already experimenting with other alternative crops, including buckwheat and Ethiopian teff, as well as oca, a pink little potato-like tuber. But quinoa is king in Shropshire for at least the next generation to farm these fields. How far can he take it? "We'll keep growing until it stops being fun," he says. "But we're not there yet."
Register for free to continue reading
Registration is a free and easy way to support our truly independent journalism
By registering, you will also enjoy limited access to Premium articles, exclusive newsletters, commenting, and virtual events with our leading journalists
Already have an account? sign in
Join our new commenting forum
Join thought-provoking conversations, follow other Independent readers and see their replies