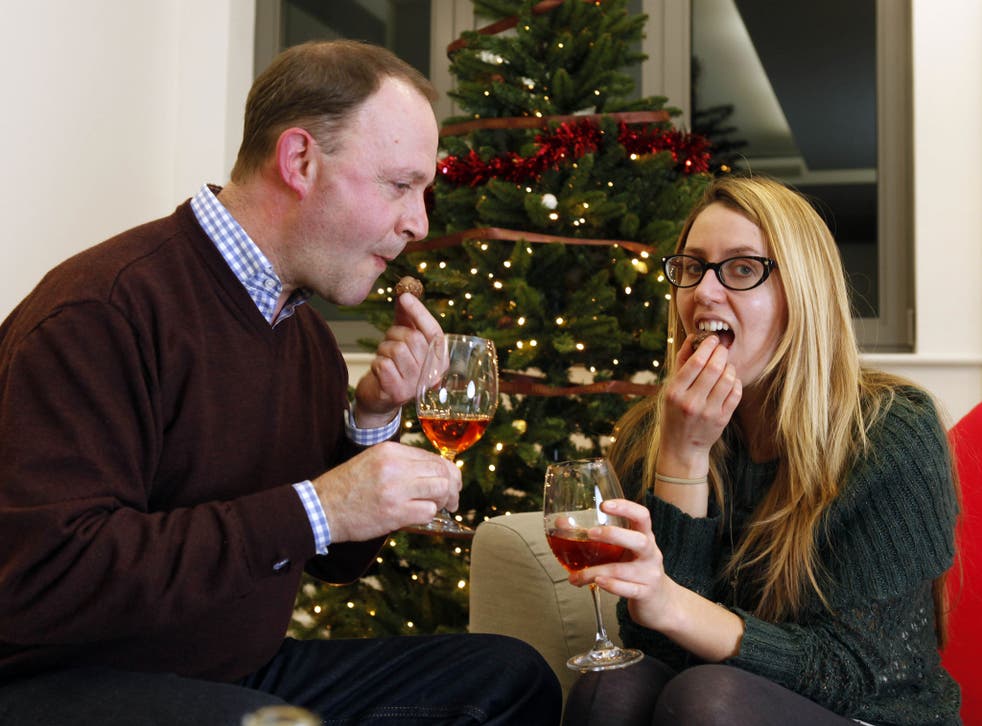 Raise a glass to the odd couple: How to choose the right wine to complement chocolate
It's Christmas. You've eaten four times your bodyweight in chipolatas and you've watched It's A Wonderful Life so many times you've become physically sick with Christmas joy.
You've opened, used and discarded all your presents. You're in a warm food-coma by the fire. Around you lies the detritus of the festive frenzy; old sprouts sit limply on the table, balls of wrapping paper rustle at your feet, alongside some half-eaten chocolate selection boxes. Darkness is closing in outside.
You begin to feel a vague malaise, and even though you just forced yourself to consume an Everest of food, plus seconds, plus extra dessert, and you're certainly not yet peckish enough to tuck into the first turkey sandwich of the season, you feel as though you could have a tiny morsel of something sweet, a little something to nibble on while you get re-acquainted with your relatives, and something to prolong the conviviality of the Christmas feast. You want to relax. An energetic game of charades is not the answer.
Clive Barlow, of the London Wine Academy, has some rather sophisticated suggestions for extending that post-luncheon glow, and making use of some of those big tins of chocolates and miscellaneous bottles of wine that seem to multiply during the Christmas season.
"This is for the bit when you're sitting round about two hours after you've finished the Christmas pudding," Clive explains, lifting a coconut cream from a selection box and handing me a glass of bubbly.
In the UK, 90 per cent of fortified wine is consumed over Christmas and two of the most common gifts are wine and chocolates. Barlow is showing me how to match wines with the chocolates in a way that elevates them from a snack after the main banquet to a decadent tasting experience in themselves.
We take a bite of the coconut cream, which is shrouded in white chocolate with a nut in the centre, and immediately take a sip of the Asti, as Barlow says the trick is to have them mingling in your mouth at the same time. Yum. Separately, they are both very sweet and light. Together, they are less sugary-tasting. I t's quite refreshing. "That's the real magic of the food-wine combination. It's nice and fresh, so that's good because your mouth is cleansed and you're happy to have more. What we do is get a drink that is not too heavy but try to match the sweetness with something sweet and counterbalance the nuttiness."
Matching the wine to the chocolate is all about structure and flavour, Barlow explains. "If you pick a white chocolate, you want a light wine to match, then as the chocolates become darker and stronger you need something stronger. Otherwise the wine will fall into the background. Then you need the flavour approach, so one will lift the other, or partner it. If you think of fish, say a plaice, and put a delicate white with it, it's like putting a lemon on the fish, without doing anything radically different. If you had a buttery sauce you might try a wine with a buttery touch. So that's what we're looking for with the chocolates."
Next we try a milk chocolate, this time with hazelnuts in. Barlow selects a Rivesaltes Ambré, a fortified white wine with deep golden colour, which he says will go with any nutty, praline or ganache chocolates. "You'll find a nutty raisin note to it. It's stronger than the last wine. You need something heavier, to enrich and break down the weight of the cream."
Then comes dark chocolate. "You've moved into a dark area with those bitter notes. This chocolate is quite grown-up... one to savour. So you have to move up in terms of the intensity of the wine." He unveils a bottle of Dow's Finest Reserve Port, which he says will happily sit with cheese and mince pies, too, but with the dark chocolate it really works, it's almost like a black chocolate gateaux. "Yes, it's got that kirsch note. The bitterness and sweet match so well," smiles Barlow, as I pop about three more in my mouth, followed by several swigs of port. "The alcohol in it is quite high, around 20 per cent, so that's why you don't have it at the beginning of the meal, because if you do, you won't remember the end.
"A friend of mine who makes cheese says the combinations are like relationships, there are four types. One is where the wine is dominant and its there to help the cheese, the second is the opposite, the third is like lovers intertwined and then there's a fourth one, he says this is the interesting one, this is where they have a fight in your mouth but they end up in harmony."
Feeling a little tipsy, we now go off-piste, experimenting with orange-infused chocolate, strawberry creams and after-dinner chocolate mints. Even though I'm an amateur, Barlow's basic rule of thumb, "the darker the chocolate, the stronger the alcohol", seems to work.
A marriage between a chocolate-orange segment and a glass of Moscatel dessert wine is rich, warm and very orangey. "There are some toasted or oxidated notes in this. It has some depth," says Barlow. "It would probably work with Christmas pudding too, because of the candied orange."
The mint is the hardest to match up. "It's really going to kill a lot of things," says Barlow. We tentatively try it with the muscatel. Bleurgh. Then we try it with the port. "Blackberry works well with mint. We don't have it here, but an Australian port made with Shiraz would give you blackberry and blackcurrant notes." We opt for the Dow's and it doesn't sit well at first, but gives an interesting after-tang, a bit like eating a gob of toothpaste with a blackcurrant.
"There's more acid and more tannin, so it's more structured to cope," explains Barlow. "There is a mint connection that actually works. Mint is cooling, so if you have the port which is warming hot it fills in, and it's quite interesting."
Perhaps it's an acquired taste. Finally, because they are always the last ones left in the tin at Christmas, we try some of those hard toffees that pull your fillings out. "This is like masochism," says Barlow, "you can't chew it, it just won't work with wine... I think these are given to children to make them be quiet." He settles on a solution: "Whisky. It's aged in oak so you get those oaky notes. A whisky sipped though this would be really... OK." I guess adding booze doesn't make everything taste better.
This Christmas, Ferrero have partnered with the London Wine Academy to bring you this season's perfect festive taste partners. For more information visit ferrero-range.co.uk.
Wine and chocolate winning combinations
Muscat as an aperitif or with desserts
Torres "Floralis" Aqua d'Or Moscatel Dessert Wine with strongly flavoured Christmas desserts
Dow's Finest Reserve Port with the cheeseboard
Martini Asti NV with lighter courses
Croix Milhas Rivesaltes Ambré (Languedoc-Roussillon, France), with nutty chocolates
To drink with other treats
A vegetarian nut roast or cheese dish – a rich white, such as a Pinot blanc
Dates, figs and dates – tawny port
Bread sauce – something rich and buttery such as a good oaked white burgundy with lots of mass
Nuts – a good old sherry
Pork – a good dry Riesling with pork and apple sauce is lovely
Cranberry sauce – Beaujolais Cru
The main meal/turkey sandwiches – if you're a red drinker then a Valpolicella el paso, or a good Alsace pinot blanc which is clean and not too sharp.
Join our new commenting forum
Join thought-provoking conversations, follow other Independent readers and see their replies