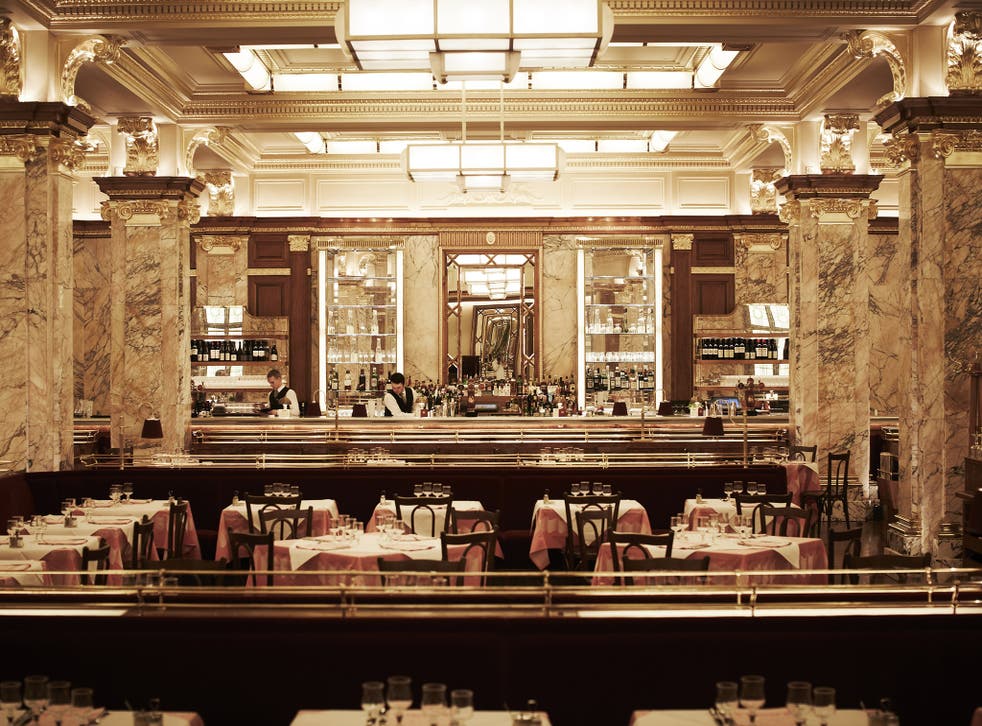 Restaurateurs Chris Corbin and Jeremy King create venues that the gifted and glitzy flock to
The duo's restaurants - which include The Wolseley, The Delaunay, and Brasserie Zédel - look to their customers, not their chefs
The ballroom at the Bulgari Hotel in London has the distinction of being the only one I know that is four floors below ground ("You can almost hear the Tube," said my friend), and so, by the time we had all shuffled into it, in neatly pressed suits and best frocks, it felt a bit like being inside a slow cooker. But then, perhaps that was the anticipation emanating from the nominees. The first GQ Food and Drink Awards had attracted some of the biggest names in the business. Tom Kerridge presented an award, Oliver Peyton was one of the judges, and Alain Ducasse sat in the middle of it all like a Bourbon monarch, watching the waiters dispense the canapés he had created.
There were nine categories in all: best restaurant (The Palomar), chef (Nieves Barragan Mohacho of Barrafina), bar (The Connaught Bar), interior (Berners Tavern), front of house (Jesus Adorno of Le Caprice), sommelier (Mr and Mrs Sager-Wilde), pub (The White Horse, Chichester), hotel (Claridge's), and the big one, the lifetime achievement award, which was handed to restaurateurs Chris Corbin and Jeremy King, with no truck about competitors in this category, and with good reason.
The alliance they formed in 1981 – at the time, Corbin was manager at Langan's and King maître d' at Joe Allen – has become legend because they managed to land on that alchemical formula for creating restaurants that the gifted and glitzy, and those of us who aspire to be one or the other, flock to. They made their name reviving old-stagers such as Le Caprice and The Ivy, but after selling them to Richard Caring in 2003, they opened something new: The Wolseley, whose soigné charms are such that it is still packed out now, 12 years later. Since then, they have opened four more restaurants – The Delaunay, Brasserie Zédel (where two courses costs £9.95), Café Colbert, Fischer's – and a hotel, The Beaumont, with a restaurant in it, The Colony Grill Room.
These places are phenomenally successful. And the reason is that they do what all good neighbourhood restaurants ought to do: look to their customers, not their chefs. It is perhaps an old-fashioned attitude to strike in the days of mega-chefs with mega-egos – but then, the places themselves are self-consciously old-fashioned: Fischer's evokes pre-war Vienna, Colbert and Zédel 1920s Paris. Why? To create ambience, to build a set in which you become the lead player, the focus of a spotlight wielded by a waiter dressed, invariably, in black tie.
They are places that you go for an all-round experience. A visit is about more than the food on the plate, which is invariably of a uniform good quality; they flatter you for your excellent taste in deciding to lunch there. Whether you are at The Wolseley with Kate Moss or with the in-the-know tourists at Zédel, you still get the same formula: lots of black-tied staff, baroque courtesy from the maître d', and food available all day.
But there is something more important than that: they have dishes on their menus that are dear, but they also have things that are cheap. King was quoted in an interview in this paper in 2012: "I always believe that you give people the opportunity to spend without making it mandatory. Because a lot of the most interesting people who come into restaurants are the least affluent."
There aren't many restaurateurs who would say a thing like that.
Register for free to continue reading
Registration is a free and easy way to support our truly independent journalism
By registering, you will also enjoy limited access to Premium articles, exclusive newsletters, commenting, and virtual events with our leading journalists
Already have an account? sign in
Register for free to continue reading
Registration is a free and easy way to support our truly independent journalism
By registering, you will also enjoy limited access to Premium articles, exclusive newsletters, commenting, and virtual events with our leading journalists
Already have an account? sign in
Join our new commenting forum
Join thought-provoking conversations, follow other Independent readers and see their replies