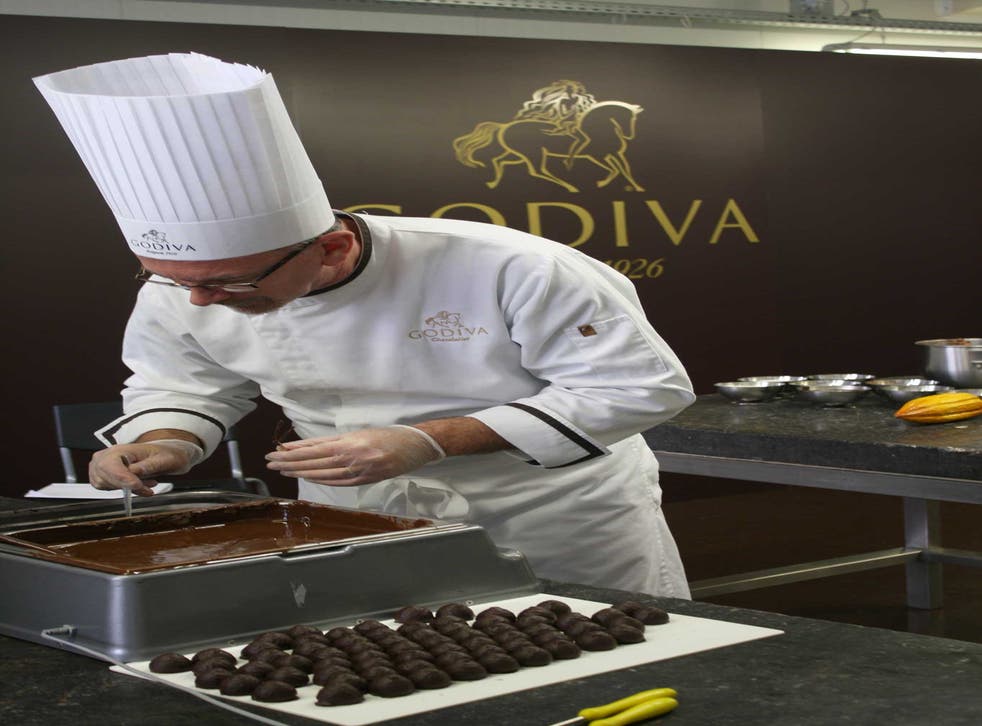 Revenge is sweet: How Belgian truffle brands are fighting off the artisan upstarts
Charlotte McDonald-Gibson investigates how the big traditional European chocolatiers are coping in a world where geographical markers like "Belgian" or "Swiss" are being replaced by "artisan" and "organic" as the stamps of quality on chocolate boxes.
When spending the day at a Belgian chocolate factory, some facts are best kept to yourself. Having Swiss heritage is one of them, especially when the head chef is using words like "predictable", "monotone" and "unsurprising" to describe his rivals in the luxury-chocolate business. Unable to contain my national pride, I blurt out that I am actually related to this race of boring chocolate-makers. There is a brief stunned silence, then laughter as chef Thierry Muret insists there was "nothing wrong with being predictable" in the world of elite confectionery.
I am at the Godiva HQ in Brussels, to learn how they craft truffles – and find out how the big traditional European chocolatiers are coping in a world where geographical markers like "Belgian" or "Swiss" are being replaced by "artisan" and "organic" as the stamps of quality consumers look for on their chocolate boxes.
"People are much more educated," says Catherine Willemart, Godiva's marketing manager. It was only a few years ago that customers were asking what the difference was between white and dark chocolate, she tells me. Nowadays, chocolate lovers happily debate the merits of Venezuelan over Congolese beans and try to outdo each other on how high they can handle their cocoa percentages. And consumers are no longer confined to coffee and orange flavouring their bars: chilli, green tea, bergamot and even bacon are all ingredients we've been happy to try out.
This boom in artisan makers experimenting with daring flavour combinations has proved both an inspiration and a challenge to the centuries-old Belgian chocolate industry. Godiva's first attempts to innovate came in 2003 when ingredients including dill, curry and popping candy found their way into the 87-year-old firm's chocolates. "Some customers loved it, but some were like 'What are you doing?'" says Catherine.
Thierry, who is Godiva's top chocolatier, finds the up-and-coming artisan producers inspirational, but is exasperated by the fad for ever higher cocoa percentages. He feels chocolate should be an indulgent treat rather than an endurance test: "It's not medicine, it's food, it needs to be enjoyable."
That sense of pleasure and fun permeates the Godiva factory, which Thierry describes as "a chef's playground". Even the sterile corridors carry the scent of molten chocolate, while trays lining the factory aisles are packed with intriguing experiments in shape and form. On the day I visit there are rows of delicate, white-chocolate pumpkin-shaped casings, painted orange and ready to be filled with a spicy centre in preparation for Halloween.
But my challenge is to create the more classic truffle, a staple of luxury chocolate houses around the world, and first I need to know what exactly constitutes a truffle, as it varies from country to country. For the French, where the truffle originates, it is a chocolate and cream mix known as ganache encased in hard chocolate. In Switzerland, more milk is used in the filling, while the centre of the Belgian truffle is traditionally a chocolate and butter mix.
The truffle is not to be confused with the Belgian praline, a catch-all term here for any hard casing with a soft centre. That in turn should not be mixed up with praliné, the tasty mix of nuts and chocolate. The truffle, meanwhile, is easy to identify because of its rough round form, which evolved as a tribute to its similarly shaped fungal namesake.
First comes a basic lesson in chocolate, with Thierry presenting aluminium bowls filled with the unappetising-looking powders and oils that will eventually become something delicious. Cocoa beans from Africa and South America arrive at the factory fermented and dried. They are then ground down to a chocolate liquor, a dark liquid that looks utterly delicious. Despite warnings from Thierry that it tastes "like 10 espressos in one cup" I dive in with a spoon. He's right: with no sugar or dairy added, the astringent bitterness is eye-watering.
Some of this chocolate liquor is reserved, while the rest is pressed and separated into cocoa powder and cocoa butter. The various combinations of these ingredients – powder, butter, and liquor – determine what kind of chocolate you end up with. Milk chocolate uses all three with milk powder and sugar added. Dark chocolate has no milk powder. In white chocolate, only the cocoa butter is used.
It is milk chocolate I am using to coat my truffles and, enacting a moment every schoolchild dreams of, Thierry hoists aloft a container of the molten chocolate and pours in on to the marble counter, forming a huge chocolate puddle so glossy you can almost see your reflection.
It is now ready for tempering, whereby the melted chocolate is moved around using spatulas until it reaches the ideal temperature – around 31C. If a little chocolate left on a spoon sets in around three to five minutes, you've got a good temperature, he says.
Next up is the ganache filling: Thierry recommends a 70 per cent chocolate, 30 per cent butter mix, and uses a blender to create the perfect consistency. Other recipes use a combination of cream, butter, chocolate and extra sugar. The more adventurous can add their chilli, booze, or popping candy at this point.
A piping bag is then loaded with the ganache, and I'm let loose to try to create the perfect truffle shape. The first few attempts bear a worrying resemblance to animal droppings, but I finally create a few which could possibly pass for a sphere and they are popped in the fridge.
When they have set, the melted chocolate returns and the fun begins. Each truffle filling is dunked into the bowl so it coats all the way round. It is then plucked out with a small fondue fork, gently shaken to remove dripping chocolate, then rolled in cocoa powder, chocolate flakes, or ground nuts.
My finished products bear a passing resemblance to the chocolates that end up nestled in luxury packaging on sale everywhere from Brussels to Beijing. Sticking to the classic recipe was a shrewd move, says Catherine. "If you go too wild, you lose customers. We want to push them – but not too much."
So there are a few subtle changes to recipes and marketing patter to chime with the foodie buzz words. In a new range launching in September, one can find artisan salt, wild-flower honey, Tahitian vanilla and of course, 80 per cent Ugandan cocoa.
As well as increasingly sophisticated tastes in Europe, another factor is the growing market for chocolates in the Middle East and Asia, where there is a preference for darker varieties and some flavours more familiar to local palates. Sales of Belgian chocolate products in Asia have doubled in three years and continue to rise, while they are stagnant in Belgium.
The culinary exchange works both ways. Artisan Belgian chocolatier Laurent Gerbaud, found inspiration on a trip to China. "I lost the taste for sugar and sweet," he says, "but when I came back to Belgium they found (my chocolates) very strange and there was not enough sugar for them."
He thinks Belgium's chocolate firms lag behind the innovative small makers in France, and traditional chocolate producers are also facing competition from once unlikely countries such as the US, Spain and Britain. Indeed, while on a trip to visit relatives near Zurich, my mother took out a bag of artisan British-made chocolate buttons: my Swiss grandmother declared them some of the best she had ever tasted.
WHERE TO BUY BELGIAN
Maya
Belgian chocolatier Fabienne de Mulder creates Strawberry-black pepper and passion fruit delights at her shop in Inverness. £17.30 for a box of 20; mayachocolates.co.uk
Leonidas
At locations across London and available online, Leonidas is known for its signature hazelnut and almond praline. £42 per kg; leonidasbelgianchocolates.co.uk
Sandrine
This shop in East Sheen is supplied by a family firm in Belgium, with violet creams and chocolate-covered stem ginger among visitors' favourites. £24.50 for 20 truffles; sandrine.co.uk
Neuhaus
Jean Neuhaus invented the praline in 1912, and the firm he built is now an international leader in luxury chocolate. £13 for 22-piece assortment. Neuhauschocolates.com
Godiva
Best-known for its gold ballotin (or simply 'box of chocolates'), Godiva sells everything from luxury hampers to chocolate spread. £35 for 350g ballotin; godiva.com
By Liam O'Brien
Join our new commenting forum
Join thought-provoking conversations, follow other Independent readers and see their replies