Review of food & drink in 2012: How the sausage suddenly got sexy
'This was the year junk food became brash and upwardly mobile'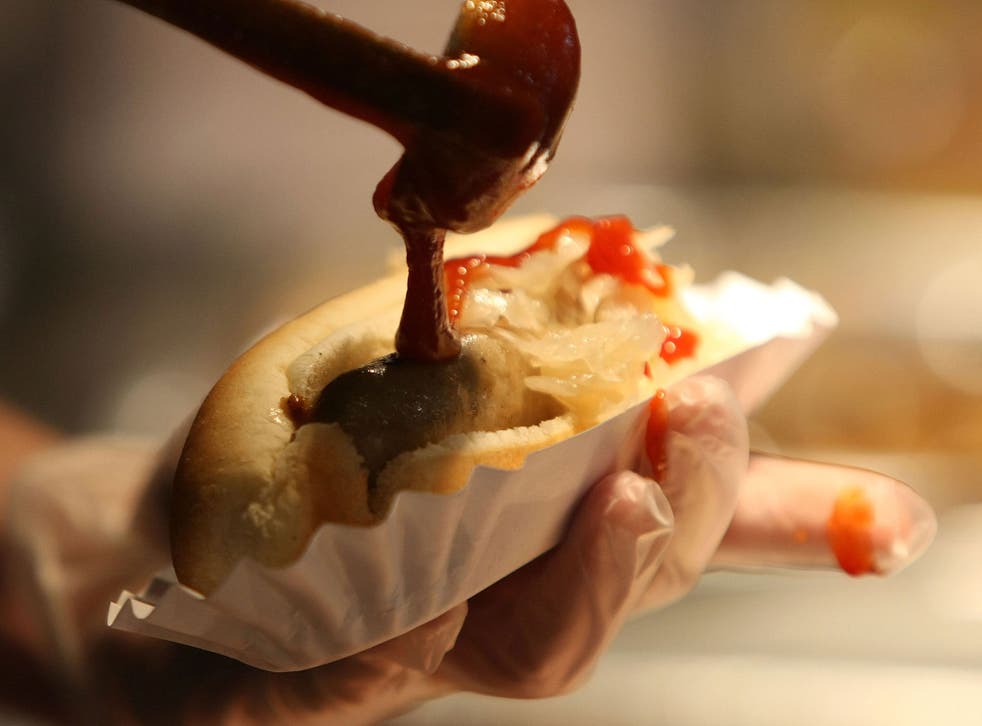 It is the hot dogs I will most remember about 2012. Those poshed-up cylinders of pork and spice, covered in onions, smothered with mustard, and wrapped in a lover's embrace with a bit of white bread. I could eat one now and I've only just had my cornflakes – but that is this year, one long bout of gluttony, spread thick over 12 months.
The economic weather might have been freezing but restaurants opened like spring bulbs – 160 in London alone – each day another cuisine, another concept. But what have been the stand-outs? And which TV cookery programmes drew us in? What exactly was the taste of 2012?
The year started for me with raw fish and a new word – ceviche. Peruvian food came to the capital and at Lima, Ceviche, Tierra Peru and Coya, this dainty little dish of citrus-marinated fish and spices topped the bill. Zingy, fresh, the taste of the summer – little wonder it has its own public holiday in Peru.
It wasn't all dainty bits of fish in lime-juice baths, though. This was also the year junk food became brash and upwardly mobile, like a 1980s Essex boy. Burgers were 're-imagined' and lusted after from Torquay to Torbay. They were paired with lobster in Mayfair (Burger & Lobster) and it became acceptable to keep whole galleries of pictures of them on your phone to show to your friends ("They call this one the Smokey Robinson…"). The 'haute dog' was born this year, too, and began keeping very fine company indeed: at Bubbledogs in central London your NY dog came accompanied only by artisan-made champagne. And fried chicken – previously only dispensed in 'cottages' and 'shacks' – became a culinary event, got its own restaurants, and was the cause of flame wars on Twitter as people argued about exactly who did make the best deep-fried chicken leg.
On TV, the baking juggernaut rumbled ever onwards, despite the fact the presenters of The Great British Bake Off goaded the nation by trying to turn the word bake from a verb to a noun. It might be a lovely cake, Paul, but it is not a "lovely bake". Much better mannered was the break-out star of the year: Rachel Khoo. The former London-based fashion PR-turned-Parisian baking star proved to be visual candy for the TV-viewing public – we couldn't get enough of her and her Little Paris Kitchen – and in short order she had a book deal and a magazine column.
This was also the year that chefs threw down the gauntlet to diners: 2012 was the time of the chefs' challenge. First Andoni Luis Aduriz brought his two-Michelin-starred restaurant Mugartiz to town and asked his diners to eat warm stones – or what looked like them at least. They were, in fact, thankfully, potatoes covered in kaolin and salt. At Ben Spalding's ongoing pop-up, John Salt, diners were invited to lick a brick – all the better, you see, to taste the chicken liver cream and brittle caramel smeared on to it. While René Redzepi possibly had the biggest laugh when, at his 10-day Noma pop-up at Claridge's in the summer, he persuaded his well-heeled clientele to eat live ants as part of the five-course dinner. Diners paid £195 for the pleasure.
We also became intimate with our baristas this past 12 months. Starbucks decided to get up close and personal by asking our names as we ordered our mocha light frappuccinos. "From now on," they said in a statement, "we won't refer to you as a 'latte' or a 'mocha', but instead as your folks intended: by your name." It is unclear whether this was merely a ploy to get us to buy one of their new Verismo home coffee machines – so we wouldn't have to face up to our name being misspelt day in, day out. Either way, Costa soon followed suit – and now even the inner sanctums of our homes are not free from corporate branding.
For me, though, the true revelation of the year came on a warm day in June. The morning McDonald's revealed, with little fanfare, just what really goes into the Big Mac 'secret sauce'. It turned out to be a bit of mayo, mustard and dried spices. Scales fell with a clatter from my eyes. Where was the magic? Where was the Nasa-developed flavour enhancers? Still, though, there was a consolation – at least I got something new to put on my hot dogs.
@Lord_Sugar Antony Worrall Thompson forgets to pay for stuff five times at Tesco. The check out lady said "here is a bill I prepared earlier"
Lord Sugar, entrepreneur
@ReneRedzepiNoma First day at Claridge's went well! Room filled with friendly, sparkling Londoners & Stephen Hawking smiled at me twice
Noma chef René Redzepi
@Claudebosi Like the review on TA [Trip Advisor]… smile to my face, then stab me in the back…!!! Nice one
Hibiscus chef Claude Bosi
@MrJamesMay Marmalade is like gold to the prospector in the frozen fridge wasteland
James May, TV presenter
@halfon4harlowMP So now the food police are adding red meat to our list of uneatables. Soon we'll all be starving, but oh boy will we be healthy!!
Robert Halfon, Conservative MP for Harlow
@camillalong I really want to know if the queen is fed up with asparagus and noisettes of lamb yet
Camilla Long, journalist
@YvetteCooperMP Finally something in garden bears fruit. Good apple recipes anyone?
Yvetter Cooper, Shadow Home Secretary
@Hollywoodbaker Big congrats to Mary Berry today, she's picking up her deserved CBE x
Paul Hollywood, Great British Bake Off judge
Register for free to continue reading
Registration is a free and easy way to support our truly independent journalism
By registering, you will also enjoy limited access to Premium articles, exclusive newsletters, commenting, and virtual events with our leading journalists
Already have an account? sign in
Register for free to continue reading
Registration is a free and easy way to support our truly independent journalism
By registering, you will also enjoy limited access to Premium articles, exclusive newsletters, commenting, and virtual events with our leading journalists
Already have an account? sign in
Join our new commenting forum
Join thought-provoking conversations, follow other Independent readers and see their replies