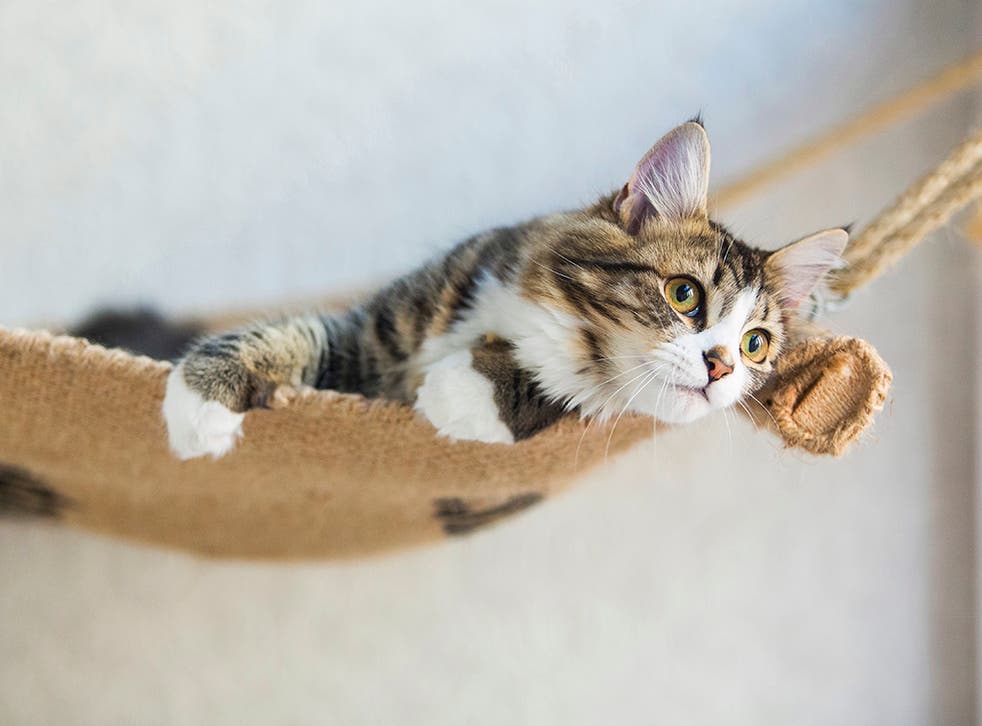 The rise of cat cafes: the perfect solution for animal lovers who can't have pets
"We loved the idea that the cats had been rescued and were enjoying a better life"
Owning a pet makes us healthier and happier, but for many of us, long hours at work, tight budgets and small flats means it's just not feasible. But there's good news for animal lovers; you can now cosy up with a cup of tea while spending time with furry friends, as the global movement of animal cafés has reached the UK.
The international phenomenon originated in Taipei, Taiwan where the world's first feline café, Cat Flower Garden, opened in 1998. Curious tourists soon discovered the pet paradise and brought the concept over to Japan. The first Japanese cat café opened in Osaka in 2005, and now there are said to be nearly 40 in Tokyo alone.
Japan has now gone far beyond the original concept, and some of the trendiest places to visit nowadays have owls, rabbits and goats hanging around. Tokyo's Fukuro no Mise, which means the 'Shop of Owls' have full guests lists for up to two months.
Out of the 13.5 million people in the UK who have a pet, 24% of us own a cat – and it's no secret that as a nation we love cats.
Lady Dinah's Cat Emporium was the first of its kind to open up in East London in last year. The successful cat café takes bookings 50 days ahead and usually about 90% of them book out about 5-6 weeks in advance. The bookings that linger about are the 9am timeslots, but​ usually from two weeks ahead, every single slot will be taken.
The Aussie owner, Lauren Pears, managed to raise an astonishing £108,000 through crowdfunding in order to put her dreams into reality. Though the business has been a success, the owner is a little wary about the sudden rise of cat cafés everywhere.
"Cat cafés are still in their infancy here and we've seen a very recent cautionary tale springing up in Singapore with the sudden burst of cat cafés in the city. Earlier this year, one of them was closed down after serious animal welfare issues resulted in the deaths of several cats."
She emphasises that even though the job is fun and rewarding, it's also comes with serious responsibility.
"There was some definite 'jumping on the bandwagon' going on in Singapore and it's a good example of why local authorities have to be as thorough and careful as Tower Hamlets were with us, making sure that everything has been thought through and standards will be maintained."
The Food Standards Agency permits animals in a café in the UK, but legislates that "reasonable precaution" must be taken (and demonstrable) to prevent domestic animals from accessing food preparation areas.
At Lady Dinah's, all non-human attendants are also thoroughly vaccinated, neutered and otherwise medically approved, so that customers can enjoy feline company without any fear.
Lady Dinah's Cat Emporium: in pictures

Show all 10
Former fashion student Katie Jane Glazier will be opening Pretty Pussy Parlour in May in the centre of Newcastle.
"As a cat owner and lover I was inspired by the documentary that aired last year about Japanese cat cafés and after a visit to Tokyo, decided this was the perfect thing to do."
The décor, amazing cat-themed furniture and heated floor mats for the lucky cats made Katie decide that Newcastle needed a place like this.
"We loved the idea that the cats had been rescued and were enjoying a better life in the café environment. The can-do attitude of the people who set up these businesses in challenging city environments was inspirational."
Glazier and her team of 3-4 volunteers and apprentices as part of the start-up hope to give people an independent and new alternative to the corporate coffee shops.
"With the modern world being so busy and people being increasingly time-poor, folks don't have time to keep their own pets, so having the ability to visit a café with pets when they like is pretty appealing."
Pretty Pussy Parlour will have 10-12 friendly and unwanted cats that have been rescued. The team has been very careful with choosing cats that enjoy the company of other cats and people, working with veterinarians to make sure this is the case.
She admits that the journey from idea to reality has been pretty long, as finding the right property with outdoor space was challenging. They also overcame scepticism about the idea working outside of Japan or Shoreditch.
But more cafés are popping up all over the UK. In November last year, Kate and Oliver Charles-Richards ran a successful crowdfunding scheme to open The Kitty Cafe in Nottingham, which will open on 21 March.
Masion de Moggy Cat Cafe also opened in January in Edinburgh, as well as Cattitude, which is planning to open in the Scottish capital this year. The team behind Cattitude plan to have between ten and fifteen rescue cats at a time, fostered from the Edinburgh Dog and Cat Home, residing at the cafe.
"If visitors happen to become too attached to their new feline friend, they'll have the chance to give them a fur-ever home as all of the cats will be up for adoption," explains Kim Manners, owner of The 3 Fat Cats business which specialises in unique cat scratch furniture and pet products.
Two new cat cafés are fighting to be the first one to open in Birmingham. Both The Happy Cats Café, run Ally Bartlam and Damian Polino, and The Cat Café, with owners Eric Sawyer and partner Alex Zef, are using crowdfunding projects.
Over in Dublin, the Georgina O'Neil plans to open the Crazy Cats Café later this year, if they manage to raise 50,000 euros.
In Wales, Linda Jones plans to launch the Cheshire Cat Café in Llandudno with 10 resident cats, where people can book 90 minute slots to sit down and relax with the cats.
James Bowen and his cat Bob that captured everyone's hearts in the international bestseller book A Street Cat Named Bob: And How He Saved My Life are currently crowdfunding a project to start up Bob's World Cat Café in London.
James envisions the café as a safe haven for "not only cats that need the love, but for the people who love cats, too."
But it's not just cafés for cats, the first micro pig pop-up café in Britain will also be open as an event running from May 21-25 this year. Visitors will have the chance to enjoy the companionship of the cup-sized animals at the Proud Archivist on Regents Canal.
Dog enthusiasts are in for a treat with the first of its kind canine café opening up shortly in Shoreditch. The new dog paradise is set to feature four-legged fancy dress, fashion shows for pooches and its own dog Olympics.
Set up by Kristjan Byfield, The Happiness of Hounds café will offer man's best friend doggie goods like cookies, clothing, herbal tea and cupcakes. There will even be a specialised menu for the four legged companion.
Universities are also keeping animals to create a stress-free and non-judgmental environment for worrisome students on campus. At Brunel University London students and staff can cuddle up with rabbits every Friday.
The idea came from Brunel's Anglican Chaplain and Interfaith Advisor, Sally Hitchiner who was inspired by the innovative cat café projects in Japan after she last year got two baby rabbits.
"Rabbits don't judge you on what you wear or what grade you got on your last assignment. They just want a cuddle. We want to promote an atmosphere where everyone is valuable and accepted."
About 100 students pop into the Rabbit Café every week and the regular visitors say it's the highlight of the week.
"During exam times there are less visitors, but the students that come say that it's what keeps them going."
Brunel is the only university in the UK who offers quality time with rabbits every week, but other universities have similar arrangements with dogs. Both Nottingham Trent University and York University have introduced 'puppy rooms' to their students during exam periods.
Experts at Nottingham said that bringing in Labrador puppies for the students to pet could boost exam results. In 2013, Bournemouth University brought a Shih Tzu dog to help students with mental health issues and physical or sensory impairments, in collaboration with non-profit group Caring Canines in order to help build students' confidence in social situations.
A 2011 study from Miami University found that pet owners tend to be healthier and happier. According to study researcher Allen McConnell:
"Pet owners had greater self-esteem, were more physically fit, tended to be less lonely, were more conscientious, were more extroverted, tended to be less fearful and tended to be less preoccupied than nonowners."
So it's clear that a cuddle from a four-legged friend can be good for us, but for those who can't keep a pet at home, animal cafés certainly seem like the perfect alternative.
Join our new commenting forum
Join thought-provoking conversations, follow other Independent readers and see their replies