Salad days: A January detox doesn't have to mean dour dishes says Mark Hix
After festive over-indulgence, many of us will be in the mood to detox. And there are lots of healthy ingredients that can be used in bright, tasty recipes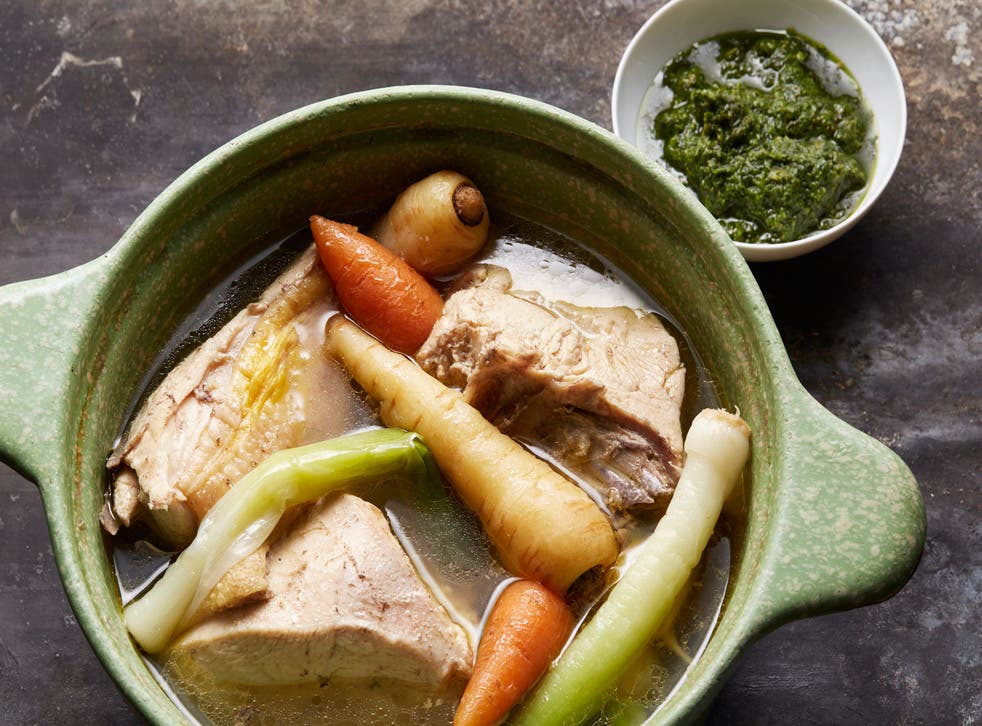 Perhaps you decided to give up the booze for January – hopefully you haven't fallen off the wagon already. Regardless, after feasting away over the festive period it does make sense to look after your body a bit and think about what you eat. Healthy eating doesn't have to be boring salads and the like, though, and it need not just be for January either.
Poached cockerel with roots
Serves 4
I was recently sent a big old cockerel from Peter Gott of Sillfield Farm. He rears a few every year and cooked like this they make a warming and healthy main course.
You can simply joint it by removing the legs and cutting them in half at the joint. Remove the wings then the breasts or leave them on the bone cut into 2 or 3 pieces, or just get your butcher to do it.
1 cockerel or a large chicken, jointed
2ltrs chicken stock
A couple of sprigs of thyme
1 bay leaf
12 small shallots, peeled
8 or so small carrots like chantenay, peeled
8 or so small parsnips and or turnips, peeled if grubby
Salt and freshly ground black pepper
70-80g small carrots, trimmed and cleaned
10-12 large new potatoes like Charlotte, peeled
Put all of the pieces of chicken in a large saucepan with the chicken stock, thyme and bay leaf. Bring to the boil, season and simmer gently for an hour, skimming the fat off regularly. Add all of the vegetables and continue simmering for another 20 minutes or so until they are tender. That's it – simple, healthy and delicious – re-season if necessary, and serve.
Grilled veal chop with Jerusalem artichokes, capers and rosemary
Serves 2
I do love a veal chop, and helpfully, a lot of butchers are now selling ethically reared British veal.
You don't have to use a knife and fork for this big chunk of meat – you could just tear it apart with your fingers.
1 veal T-bone weighing about 600-700g
2tbsp vegetable or corn oil
Salt and freshly ground black pepper
200g Jerusalem artichokes, peeled or scrubbed and halved
A couple of good knobs of butter
2tbsp capers
A couple of sprigs of rosemary
Preheat the oven to 180C/gas mark 5. Heat a heavy, oven-proof frying pan with a tablespoon of the vegetable oil, put the Jerusalem artichokes in, season and roast in the oven for about 15-20 minutes, turning them every so often until tender.
Meanwhile, heat a ribbed griddle or heavy frying pan, season the veal and brush with oil. Cook for about 6-7 minutes on each side, depending on the thickness, keeping the veal pink. Put the pan of artichokes on a low heat on the stove, add the rosemary, capers > and butter and heat through for a couple of minutes. Transfer the chops to warmed serving plates and spoon the artichokes, rosemary and capers over.
Squash salad
Serves 4-6
Squashes of various kinds make a great winter starter; you can use one variety or a selection – up to you.
1 butternut squash, peeled, halved and seeded
2tbsp olive oil
Salt and freshly ground black pepper
A handful of rocket
2tbsp pumpkin seeds, lightly toasted
4tbsp pumpkin seed oil
1tbsp cider vinegar
Preheat the oven to 200C/gas mark 6. With a vegetable peeler, make some shavings from about a quarter of the squash and put them in a bowl of cold water. Cut the rest of the squash into wedges or rough chunks. Preheat a roasting tray in the oven with a couple of tablespoons of olive oil. Season the squash and roast them for about 30 minutes, turning them halfway through cooking.
Meanwhile, drain the shaved squash, mix with the vinegar, season and leave for about 30 minutes; then mix in the pumpkin seed oil.
To serve, arrange the shaved and cooked squash in a large bowl or on a large plate or individual plates, then scatter the rocket and seeds over and spoon over the remaining oil and vinegar.
Aloe Vera jelly with citrus fruits
Serves 4
Aloe vera seems to be the new super drink, with people claiming it's better than coconut milk. The other day I was sent some samples of a new brand of aloe vera juice so I thought I would make it into a dessert in the form of a healthy detox jelly.
500ml aloe vera juice
4 sheets of leaf gelatine (12g)
1 pink grapefruit, peeled and segmented (reserve the juice)
1-2 satsumas or clementines, peeled and segmented
1 orange, peeled, segmented and juice reserved
Bring 100ml of the aloe vera to the boil. Meanwhile, soak the gelatine leaves in a shallow bowl of cold water for a minute or so until soft. Squeeze out the water, add the gelatine to the hot aloe vera and stir until dissolved. Add the rest of the aloe vera and stir well, then pour into individual jelly moulds (or one large mould) and refrigerate for a few hours or overnight until set.
To serve, dip the jelly mould briefly in hot water for a few seconds and carefully turn out on to serving plates. Mix the citrus fruits and spoon them around the jellies with the juice.
Register for free to continue reading
Registration is a free and easy way to support our truly independent journalism
By registering, you will also enjoy limited access to Premium articles, exclusive newsletters, commenting, and virtual events with our leading journalists
Already have an account? sign in
Register for free to continue reading
Registration is a free and easy way to support our truly independent journalism
By registering, you will also enjoy limited access to Premium articles, exclusive newsletters, commenting, and virtual events with our leading journalists
Already have an account? sign in
Join our new commenting forum
Join thought-provoking conversations, follow other Independent readers and see their replies