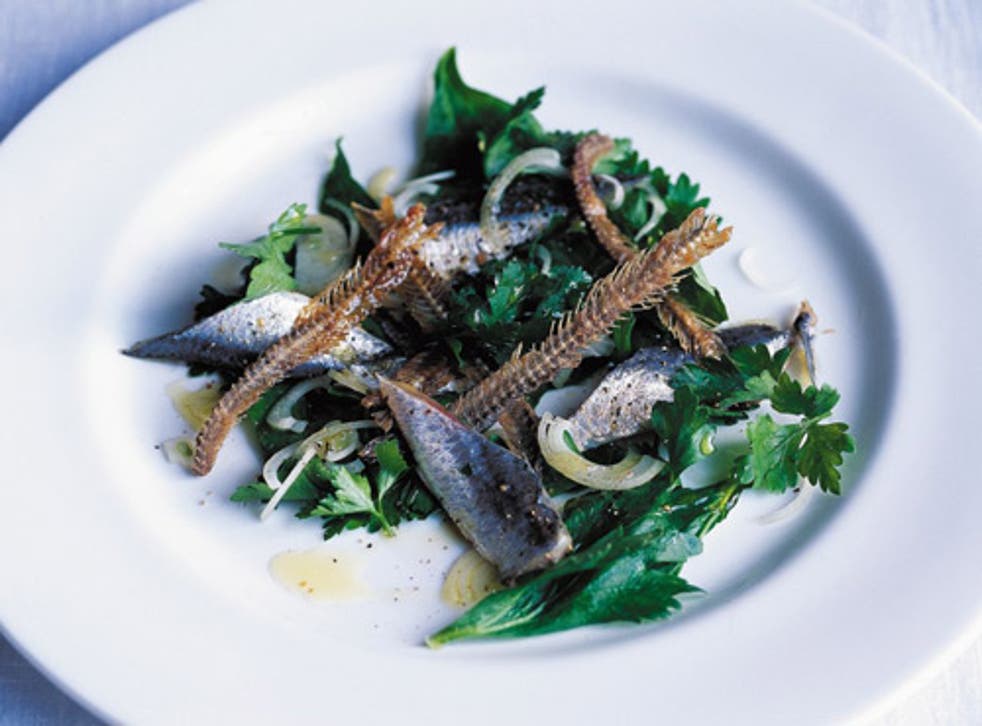 Salt of the earth: Revel in the renaissance of Cornish sea salt
Cornish sea salt is enjoying a welcome renaissance. Better get those anchovies and chicken wings ready, says Mark Hix.
Saturday 05 January 2008 01:00 Comments
About three years ago I did my normal trawl around the International Food and Drink Exhibition, which at that time was in the Docklands in east London. I stumbled across The Cornish Sea Salt Company and met Tony Fraser, the man who set up the company, on the stand. It was by far the best product at the show but to my disappointment Tony informed me at the time that they were still trying to get the production facility up and running on the site of a disused aggregate quarry in Porthkerris on the Lizard Peninsula. It has taken until now, jumping through various hoops, to get the first production going this month.
Now don't get too excited as the salt is already in high demand and this month's production has been earmarked by the likes of me and Rick Stein!
Tony lives locally in St Keverne and told us over lunch at his house how he discovered that salt was produced on the Lizard as far back as the Iron Age. He even has a little basket with bits of ceramics that he believes were used for transporting and storing salt. Salt was once a strong trading commodity and it makes perfect sense that in the famous Cornish pilchard fishing industry, salt was just as important for curing as the pilchards themselves. Since they ceased production of salt in Mousehole a couple of hundred years ago, the industry had virtually died out. Production is not as straightforward as it was hundreds of years ago when the seawater would have been evaporated in tin pans over an open fire. Tony has brought in Scottish engineers who have worked on sophisticated whisky distilleries. Together they have developed a pumping and filtration system that converts sea water into salt, using steam evaporation, and which increases the salt content from 3.5 per cent to 25 per cent.
Even after all that Tony tells me that the water that is returned to the sea still has 3 per cent salt so that sea life and algae are minimally affected. But there is plenty of water out there, and that's why the filtration system needs to be as modern and sophisticated as it is, because, as we are all to aware, the environment is often the last consideration. What this system also achieves is quite a rapid production level compared to, say, the Gurande in France where it takes a year to produce what takes 12 hours in Cornwall.
There's such a lot going on in Cornwall at the moment. There's Rick, of course, there's the burgeoning surfing industry, Olga Polizzi at Tresanton and guess what else? Tea growing! Oh yes the only UK-grown tea is now being produced up in Tregothnan near Truro and is available online through the Rare Tea Company (www.rareteacompany.com) or Fortnums (www.fortnumandmason.com). That's a story for another time, though.
Marinaded Cornish anchovies
Serves 4-6
Fishermen in Cornwall and Devon have been landing tons of anchovies over the past few months. It's unusual to see anchovies over here, but with the seas around the British Isles slowly warming up, I'm sure we will see more and more unusual species landed on our coasts. Several large tuna have also been landed in the past few years which makes fishing a very exciting prospect. I've explained how to fillet the anchovies below, using your fingers it's an easy process. You can flour and deep-fry the bones as they do in Italy; they make a delicious snack sprinkled with sea salt and served with lemon. If you don't want to use the bones immediately, you can freeze them.
20-30 anchovies
3tbsp Cornish sea salt
The juice of 1 lemon
1tsp coarsely ground black pepper
5-6tbsp extra virgin olive oil
Remove the heads from the anchovies and run your thumb down the belly to expose the bones. The bone can now easily be pulled out and if you wish you can leave the tail on. If the anchovies are large you can separate the fillets or leave them joined to create a kipper effect.
Rinse the anchovies briefly and dry them on some kitchen paper. Lay them on a non- reactive tray and sprinkle evenly with the sea salt and leave for 30 minutes. Sprinkle on the pepper, then the lemon juice and leave for another 30 minutes. If you are going to eat them on the day, then just spoon over the oil and leave for 2-3 hours. If you want to keep them for a few weeks you can pack the anchovies into sterilised jars and cover with the marinating juices and olive oil, and tightly seal the jars up.
Marinated anchovy salad
Serves 4
This dish combines the anchovies and the fried bones from the anchovies, which are so fine that they crisp up nicely and are a perfect match for the marinated fillets, as well as being a sensible way of using the whole fish.
24 marinated anchovies and the marinating liquor
The bones from the anchovies
2-3tbsp self-raising flour, seasoned
Milk for coating
Vegetable or corn oil for deep frying
2 shallots, peeled, halved and very thinly sliced
A handful of flat parsley leaves mixed with a few celery leaves
Pre-heat about 8cm of oil to 160-180C in a large thick-bottomed saucepan or deep-fat fryer. Pass the bones firstly through the flour, shaking off the excess, then through the milk and finally back through the flour. Fry the bones for 2-3 minutes, turning them in the fat until golden, then drain on some kitchen paper.
To serve, arrange the marinated fillets on serving plates with the flat parsley and celery leaves, then dress with some of the marinade. Scatter some of the deep-fried bones on top and serve.
Salt and pepper chicken wings
Serves 4
The traditional Chinese way of seasoning and finishing with salt and pepper, sometimes szechuan pepper, is a perfect way of using flaky sea salt. You can adapt this recipe using, say, quails, but I like the texture of chicken wings and you can get nice and sticky in the process.
16-20 chicken wings
3-4tbsp self-raising flour
Vegetable or corn oil for deep frying
4tsp of sea salt
4tsp of ground black pepper
Sweet chilli dipping sauce to serve
Pre-heat 8cm of oil to 160-180C in a thick-bottomed saucepan or electric deep-fat fryer.
Put the chicken wings in a pan with lightly salted boiling water and simmer for 8-10 minutes, then remove and drain.
Mix the sea salt and pepper together then mix with the flour. Coat the chicken wings in the flour mixture then fry them for 6-7 minutes, turning them every so often with a slotted spoon, then remove and drain on some kitchen paper. Scatter with more salt and pepper; serve immediately with dipping sauce.
Sea biscuits
A biscuit to celebrate the famous racehorse as well as the new sea salt. These are perfect nibbles with drinks or to serve with cheese.
335g plain flour
300g unsalted butter, chilled and diced
1tbsp Cornish sea salt
1tsp freshly ground black pepper
2 sheets of nori seaweed
1-2tbsp water to mix
Crumble the seaweed in your hands or briefly give it a whizz in a food processor.
Put the flour, butter, two-thirds of the salt and black pepper into a bowl and rub between your fingers to a crumb-like consistency. You can do this in a food processor if you wish. Fold in the seaweed, then slowly add the water to form a smooth dough.
Transfer to a lightly floured table and roll the mixture into a cylinder about 4cm wide. You can roll it smaller for mini biscuits. Clingfilm the roll tightly and refrigerate for 2-3 hours.
Pre-heat the oven to 180C/gas mark 4. Cut the cylinder into about 5mm slices and lay on a non-stick or lightly greased baking tray a couple of centimetres apart. Sprinkle generously with the sea salt and bake for 20-25 minutes or until golden. Transfer to a wire rack to cool and store in an airtight container for up to a week.
Register for free to continue reading
Registration is a free and easy way to support our truly independent journalism
By registering, you will also enjoy limited access to Premium articles, exclusive newsletters, commenting, and virtual events with our leading journalists
Already have an account? sign in
Join our new commenting forum
Join thought-provoking conversations, follow other Independent readers and see their replies