School of chop: Learning the art of butchery at the Ginger Pig

Show all 5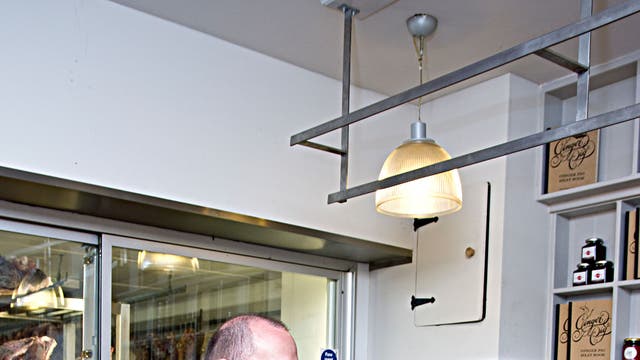 School of chop: Learning the art of butchery at the Ginger Pig
How do you butcher a lamb? Or make Mexican street food in a British kitchen? Christopher Hirst finds out.
'Gather round. Come and have a close look." Sixteen of us craned forward to peer at the half-completed dissection. It might have been a modern-dress version of Rembrandt's The Anatomy Lesson except for the subject, which was the carcass of a North Yorkshire lamb. The role of the anatomist was taken by a butcher called Perry Bartlett, so robustly archetypal that he could have come from Central Casting. "Who wants to take the haunch off?" Perry enquired. "It's an easy job."
On a chill March night, we were in the gleaming premises of the Ginger Pig butcher's shop in well-heeled Marylebone, which provides courses in beef, pork, and sausage as well as lamb. A glass-walled cold store with an array of dangling beef worth thousands provided a backdrop that was more Francis Bacon than Rembrandt. Eventually a volunteer came forward and was guided round the ovine midriff by Perry. "Don't angle the knife, just slide it. When you feel resistance in the spine, just drag it out."
Perry deftly completed the conversion of the haunch to joints. "How long would you cook a leg of lamb? One and a quarter hours to get it on the pinkish side. Get it out of the fridge in plenty of time for a nice even cook. You want a butterflied leg for the first barbecue of the year? Bone it out like this. First the H-bone, that's what we call the hip bone. It's an easy job to do. The knife does all the work…"
With a few deft incisions, Perry opened the filleted leg like a book. "Brush on oil with rosemary and garlic – but don't marinade. You'll spoil the flavour. Lay it in the centre of the barbecue with a lid on for 30 to 40 minutes but don't touch it. How many would it feed? Seven you think? Two, I'd say. Actually, I could destroy that on my own."
A second volunteer who agreed to cleave the two remaining primary cuts of the lamb – the short fore and the best end – was the only female present that night. This was unusual. On the previous night six women had attended the butchery class. "You'll be fine," Perry assured her. "Count in five ribs from the top. The knife has to go in as tight to the bone as possible. Now saw it there." Our colleague wielded her saw with such aplomb that she got a round of applause from the male scaredy-cats looking on.
Slapping the great lump of short fore, Perry declared his love. "My favourite bit – the shoulders and scrag or neck. With around seven or eight kilos, you can feed 10, 11, 12 people. Do it for half an hour at 200C then down to 140C from morning to late afternoon. How are you going to carve it? No need. It will just collapse." (When I called the Ginger Pig shop after the course, I was told that they never sold the whole short fore but the cost was estimated at "around £60".)
Moving to the plutocratic terrain of the best end, Perry introduced us to such specialities as the Barnsley chop, rack, guard of honour and crown. "I don't like French trim because you lose that lovely meat on the bone. What do you call a chop when you take out the bone and form a circle with the meat and skin?"
Here I could put in my tuppen'orth. "Noisette."
"And how much are they?"
"Mortgage job." I wasn't far out, judging by the price at the Ginger Pig shop: £33.50 per kilo.
After the theory came the practical. "A boned and rolled shoulder of lamb – a really easy job," Perry assured us. The 16 of us were each given a shoulder, a protective glove and a fearsomely sharp knife. "Get a good grip. Start on the shank and follow the bone down until it reaches the socket." We went on to extract the shoulder blade and shoulder bone from the great delta of meat.
"The art of the butcher is to minimise waste," stressed Perry. "Try to keep your bones clean." Mine looked as if they'd been gnawed by a grizzly bear. "There's enough meat left on them to make a good meal," remarked Perry's colleague, Borut Kozelj.f
Worse was to follow, when it came to tying up the boned joint with a butcher's slipknot. "Put the reel of string in your pocket. Then under and over. Over twice and back through the loop. Let the short end drop and pull the long end attached to the reel." I managed to put the reel in my pocket without mishap but after that I lost the thread. The experience whizzed me back through time to hopeless entanglements with the sheepshank and clove hitch knots as a cub scout. Borut came to the rescue. By the end of his bondage, my joint at least looked professional.
The evening finished with a stand-up supper. More shoulder of lamb. Ironically, it had not been boned (the Ginger Pig website says the joint is "perfect for slow roasting on the bone for added flavour"). Possibly enhanced by a tinge of relief that our brief career as butchers had ended, it was a jolly affair.
Everyone I spoke to said they had been given the £135 course as a present. Paul Harris, who works at the Liberty department store, was treated by his wife Chloë, a notably selfless act of generosity since she is vegetarian. Civil servant Pritie Billimoria said her family "might have bought me the course so they can have a bit more meat. I cook a lot of fish". The cost is slightly mitigated by the self-butchered joint you take home. At Ginger Pig prices, my 2.75-kilo shoulder would have been £31.60.
It is questionable how often I'll be boning lamb shoulders in the future but the anatomical tour was informative, especially for the less prestigious cuts such as neck of lamb. "Scrag is wonderful," said Perry. Aside from the economic advantages, the carnivore has a moral obligation to consume these bits. If we take a beast's life, the least we can do is eat all of it. The cooking tips were useful too – we were told to use the bones as "a little trivet" when roasting the shoulder (around three hours at 160C) – but how much information will stayed lodged?
It could be that the massive popularity of food courses is due not so much to their innate value as the limited present options for the food-obsessed. If the recipient has a house creaking at the seams with cookbooks and every culinary gadget known to man, what is left? Following the discovery of this egregious want, expert tutelage is now available in virtually every aspect of the gastronomic realm.
Jamie Oliver's Recipease chain (the strained name sounds like the result of a long lunch) offers courses ranging from filled pasta to bouillabaisse. Prompted by happy memories of the world's best outdoor nibbles, I plumped for a seminar on Mexican Street Food at the Clapham Junction branch of Recipease. Apparently, the 20-strong classes are customarily packed at £45 a time but my session at 5.30pm on a Monday was somewhat undersubscribed.
In fact, I learnt during the day that I was the only person on it. I told Jamie's team that one-on-one tuition would give a somewhat misleading impression and suggested postponing. Later in the day, I was told that two others had joined the course at the last minute. By some weird, preternatural coincidence, they both turned out to be student actors.
It was all a bit suspicious, but Ben and Adam were charm itself and certainly keen on food ("Actors need a second string," said Ben). We were in safe hands with our genial tutor Dan Batten. He explained we were going to make chipotle chicken, roast corn salsa and a spinach and feta filling to top mini corn tortillas.
"Let's start with the chicken. We'll use thigh, probably my favourite part. You've got a mortar and pestle at home? Well, it can be used for more than a safe spot for the car keys. We'll grind up garlic, cumin and dried chilli into a paste for the chicken." After spreading the paste on the slashed chicken thigh, we put it skin-side down in a small, lightly oiled frying pan. "To get crispy skin, use a nice, slow consistent heat – and don't touch it," Dan stressed. "It won't stick if the skin is crispy."
Moving on to the spinach and feta, we started by bisecting a fresh chilli lengthways with our covetable Japanese knives. "What's the hottest part?"
"The membrane holding the seeds," replied Adam impressively.
"Right! Scrape out the membrane and seed with the back of your knife if you don't want it too hot. Then chop up the chilli – do it shiny-side down. Afterwards, wash your hands under cold water. It opens the pores."
Dan offered another chef's tip for cutting up a red onion. "Take the top off and peel the skin but keep the core on the bottom. Make lateral incisions across two-thirds of the onion, then follow the natural vertical lines running down the onion to make it into small chunks." Since I came close to also chopping myself into small chunks, I'm not sure if this dicey technique merits adoption by the inept amateur.
The onion was gently fried with chilli, cumin seeds and thyme leaves until soft. We then added tomato passata, a few spinach leaves, ripped tarragon and a squeeze of lime. When the spinach wilted, this finishing touch was a crumble of feta (substituting for queso blanco). Job done. Returning to the now-crisped chicken, we added passata, sugar, a splash of white wine vinegar, a teaspoon of smoked chilli powder and returned it to the hob. My mouth began to water with gusto.
The roasted corn salsa was, to use a Jamie-ism, easy-peasy. Fry corn kernels (from a can) at high heat in a splash of oil until dark brown. Add to a bowl of fine-chopped chilli, onion and coriander ("always use the stalks") mixed with lime juice and zest. We then returned to the chicken thigh and performed the curiously satisfying task of tearing it apart with a couple of forks. Guacamole and tomato salsa were our final dips. "Do a rough-chopped Jamie salsa. You really want to squeeze that lime on the guacamole. It freshens it up and stops the avocado going brown."
To create a vehicle for these delicious slurries, we made mini corn tortillas from Mexican corn flour known as masa harina (available online or from Tesco). Fried to a speckled brown, then piled high with chipotle chicken and darkened corn, the discs looked plausible enough for Mexico. The doggy bag I took back to my wife went down well: "These are really, really, really good".
Maybe they'd taste better still in Guadalajara but Jamie's street snacks are somewhat more convenient.
A gastronomic education
From French haute cuisine to frugal foraging, there's a foodie course to suit your tastes...
The Ginger Pig butchery classes (learnbutchery.co.uk) and the 30-odd options available at Jamie Oliver's Recipease (jamieoliver.com/recipease) are the tip of an iceberg of gastronomic tuition. Two early arrivals in this burgeoning field were Leith's School (leiths.com), where weekday classes include knife-skills, how to cook the perfect steak and bistro cooking, and Ballymaloo near Cork (cookingisfun.ie), whose shorter courses encompass butter, blogging and barbecues.
Celeb-associated schools include Raymond Blanc's Le Manoir aux Quat' Saisons (manoir.com) at Great Milton, Oxfordshire, Hugh Fearnley-Whittingstall's River Cottage near Axminster, Devon (rivercottage.net) and Rick Stein's Padstow Seafood School (rickstein.com). Fans of finny denizens might also consider the Billingsgate Seafood School (seafoodtraining.org), omnivorous enough to include courses on butchery.
Breadmakers can gain a yeasty rise in their skills at Andrew Whitley's Bread Matters (breadmatters.com) in West Linton, Peebleshire, and Paul Merry's Panary (panary.co.uk) in Gillingham, Dorset. Numero Uno in Italian cooking is La Cucina Caldesi (caldesi.com) in Marylebone, Gerrard's Cross in Buckinghamshire, and in Bray, Berkshire. If you fancy getting into a pickle, head for the School of Artisan Food at Welbeck, Nottinghamshire (schoolofartisanfood.org), where you can learn about late spring and summer preserves or tackle topics ranging from artisan cider to blue cheese.
Try your hand at Thai with the Cooking Academy In Rickmansworth, Hertfordshire (thecookingacademy.co.uk), which also explores sushi and the fashionable cuisines of Vietnam and the Middle East. Devotees of foraging should head for Robin Harford's Wild Food Courses (foragingcourses.com) at locations throughout the country. Foraging is also taught at Hartington's (hartingtons.com) of Bakewell, Derbyshire, though less gung-ho students may prefer to explore cupcakes or tapas.
Whether you want to be an old-fashioned smallholder or try your hand at newfangled self-sufficiency, classes at Hook Farm in Hampshire (hookfarm.net) range from humane chicken killing to sausage-making.
Register for free to continue reading
Registration is a free and easy way to support our truly independent journalism
By registering, you will also enjoy limited access to Premium articles, exclusive newsletters, commenting, and virtual events with our leading journalists
Already have an account? sign in
Register for free to continue reading
Registration is a free and easy way to support our truly independent journalism
By registering, you will also enjoy limited access to Premium articles, exclusive newsletters, commenting, and virtual events with our leading journalists
Already have an account? sign in
Join our new commenting forum
Join thought-provoking conversations, follow other Independent readers and see their replies