Secretive industry that rules the roost: Chicken is set to become the best-selling meat globally

Show all 2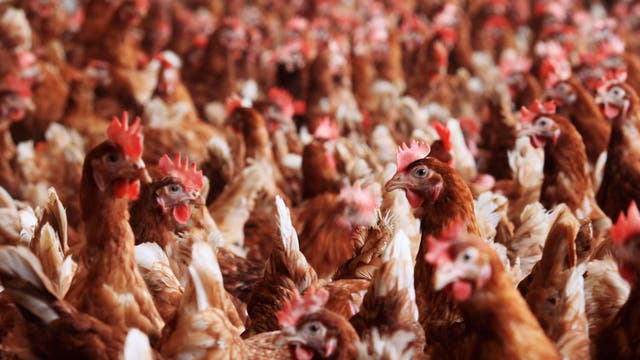 Secretive industry that rules the roost: Chicken is set to become the best-selling meat globally
The hugely efficient sector that produces it is notoriously tight-lipped. Susie Emmett finds out how it works.
Susie Emmett
Thursday 07 February 2013 20:00 Comments
Who's for chicken? Around the world the answer from more of us, and more often, is a resounding "me". As a result chicken is poised to usurp pork as the most popular meat in the world. To find out why and how chicken has reached this position I dug deep into the global supply chain for a BBC World Service documentary. revealing some extraordinary facts.
Our love affair with chicken dates back 10,000 years and we've enjoyed sharing it with friends and family ever since. While pork, beef and even fish have cultural taboos against eating them, chicken does not.
You'd be hard pressed to find a place on earth where it isn't on the menu.
In modern livestock production, the only way is efficient, and you will not find an animal more feed-efficient or more specifically grain-efficient than a chicken. The digestive system of a modern meat or "broiler" chicken only needs a couple of kilos of grain to make more than a kilo of meat; and it's not just efficient, but incredibly fast.
Back in the 1950s, small batches of chickens were reared for meat and could take four months to get plump enough for the table. Now, with advances in poultry science and genetics, that can be achieved in as little as a quarter of the time. A broiler's life is measured in days. From hatch to dispatch, it reaches the target weight in as little as 35 days. At Uphouse Farm in mid-Norfolk, Nigel Joice runs one of the most efficient chicken farms in the world and is a firm believer that the best welfare standards and the best productivity is achieved by rearing chickens indoors in tightly controlled conditions.
"I never cease to wonder at these birds' abilities," says Nigel, ankle deep in some of the 54,000 broilers eating and growing in one of his many chicken sheds. "Given the right feed and care they're so productive, it's fantastic". His birds are highly productive; the farm's all-important "feed conversion ratio" is 1.6:1 (1.6 kilos of feed will be converted into a kilo of meat). The staff are productive, too; just nine staff raise 6 million chickens a year, or about 10 million kilos of chicken meat. Curried or casseroled, baked or barbecued, the dishes may be different but 95 per cent of the 50 billion chickens eaten in the world every year are broilers, these high-performance athletes of the farming world. Here's something else I discovered: not only does the world now rely so heavily on broiler birds, but there are actually very few sorts of broilers.
In Sydney or Shanghai, Nairobi or Mumbai, the chicken served up is likely to be from the exact same breed of broiler. No other farmed animal system relies on such a narrow genetic base. Moreover, you can count the number of companies that dominate broiler breeding on a chicken's toes (they have three per foot).
The poultry breeding company Aviagen – it breeds turkeys and fish as well as chickens – is privately owned and reclusive, rarely giving interviews. It shows an almost modest reluctance to reveal how much of the chicken cooked and enjoyed in the world is from "its" breeds.
The fact is that more than half the chicken eaten globally is from an Aviagen bird. It runs a highly technical business. "Think of it as a pyramid," explains Jim McAdam, breeding programme director at Aviagen. Poised with a pen and a flip chart, McAdam spells out the basics of broiler breeding. "At the top we have elite birds, selected for desirable characteristics. From them we breed the great-grandparents and grandparents to create the parent stock which, at bases all over the world, will lay the eggs that will be hatched into chicks delivered to farms."
Santiago Avendano, head of Global Genetics at Aviagen, points at a map of the world. "Through multiplication centres around the globe we supply parent stock to more than a hundred countries." Incredibly, a single elite Aviagen male bird will, through the chicken family tree, go on to be represented in 50 million chickens or 70 million kilos of chicken meat anywhere on the planet. And, yes, it is breeding birds that will grow even faster and more efficiently. So can nothing stop the surge in chicken consumption and production in its tracks? The price of feed might. Last year's drought in the United States caused a hike in grain prices and continues to cause many a sleepless night for chicken producers. Seventy per cent of the cost of raising a chicken is feed, so the tight margins are being squeezed ever tighter. The cheap chicken the world has got used to may well have to be less cheap in future.
While concerns about chicken welfare hardly make a dent in this meat's rising popularity, the search is on for the ultimate chicken-friendly meat. It may be chicken muscle grown and exercised in a laboratory, not a farm. Peta (People for the Ethical Treatment of Animals) put up a million-dollar prize for the first science team to create it commercially.
Then there is health. Without the highest standards of husbandry the crowded, warm and humid conditions in which chickens are raised are perfect for bacterial diseases such as salmonella, E coli and campylobacter to infect and spread. They can transfer to the carcass and, if the meat is not properly cooked, to the consumer.
This battle for chicken health – and ours – needs weapons that are effective, cheap and fast. Defence that builds slowly would be useless for an animal that will be dead in five weeks. So vaccines to prime chicken immunity to resist attack are injected into each embryo in the egg three days before they hatch.
Chicken financier, Adriaan Weststrate from Rabobank International has bankrolled, for example, the expansion of fast-food chains into India and China. Ask Adriaan what global chicken trade is worth and the answer is about $450bn and rising. But it's the flows of chicken trade washing round the world that are just as amazing: from Brazil to China, Europe and the Middle East; from the US to Mexico; and cooked poultry from Thailand to Western Europe.
No longer is there any doubt that chicken will become the most popular meat in the world. The question is when? Within the next 10 years is the answer. Sooner, if Chinese consumers switch from pork to poultry even faster than they already are.
If, at home or eating out, you're partial to a bit of chicken, spare a thought for the people and processes that get it there and the remarkable bird itself.
Susie Emmett's documentary What If Chicken Conquers The World? is part of the What If? Season on BBC World Service bbc.co.uk/whatif
Chicken tonight: How we eat it
At the Indian restaurant
In Britain's 10,000 or so curry restaurants the most popular dish is no longer the chicken tikka masala, a long-time favourite despite being inauthentic and somewhat uninspiring. Now more diners prefer the jalfrezi, a much spicier affair made with green chillies, peppers, onion and tomatoes.
Cooking at home
The tikka masala has also been overtaken as our most popular international dish to eat at home – this tme by the chicken stir-fry. A recent survey by the Food Network showed that one in five of us does a stir-fry – with fresh vegetables, noodles and Asian sauces – at least once a week.
Ready meals
Three of Marks & Spencer's five best-selling chicken meals are British ones – chicken hotpot, chicken pie and chicken roast dinner (the other two being chicken arrabiata and – yes – chicken tikka masala). Shoppers still favour these traditional dishes, says M&S, especially older customers.
Sunday best
In reality we may be busy with our woks, but if we had our way, most of us would be eating a roast, second only to spaghetti bolognese when it comes to comfort foods. When we do, we rosbifs increasingly opt for roast chicken, which has grown in popularity as prices have tumbled over the years.
Register for free to continue reading
Registration is a free and easy way to support our truly independent journalism
By registering, you will also enjoy limited access to Premium articles, exclusive newsletters, commenting, and virtual events with our leading journalists
Already have an account? sign in
Join our new commenting forum
Join thought-provoking conversations, follow other Independent readers and see their replies