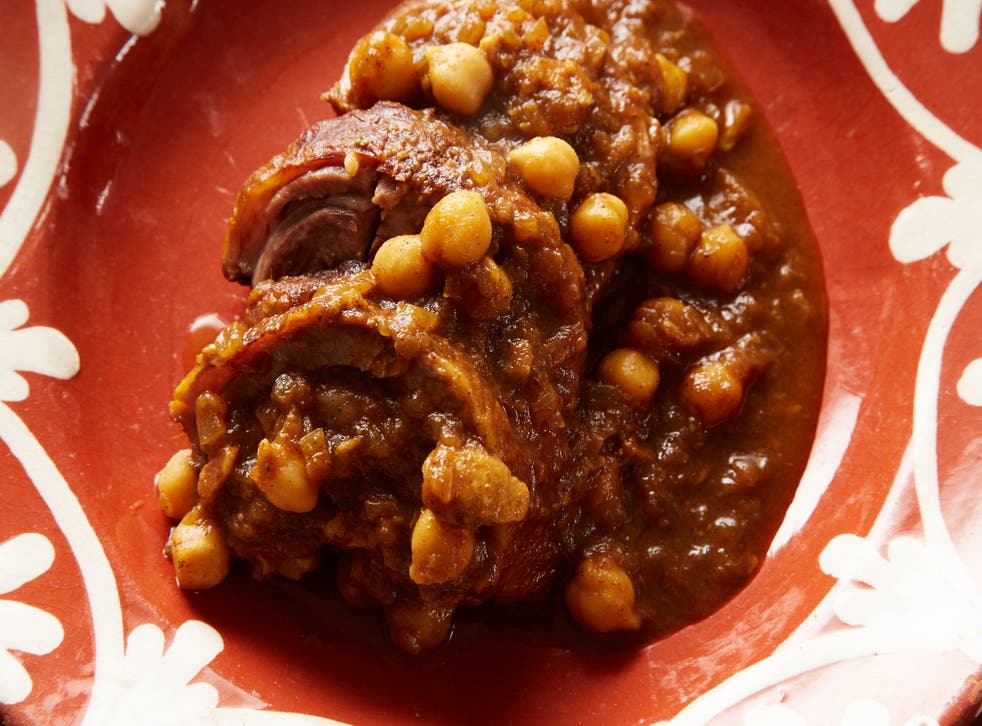 Slow far, so good: Take it easy with Mark Hix's guide to slow cooking
The idea of slow cooking for hours often steers people away from buying the good-value, third-division cuts of meat – but it is a great way to get strong flavours out of such cuts.
I often hear that people don't like leaving things cooking overnight, or while they are out, which is fair enough – but there isn't much that can go wrong with a long, slow cook unless you get waylaid in the pub or go to work and forget you have something in the oven. I bought a pressure cooker a few years back which works a treat for slow cooking, as it takes half the time and you just use the base as a large saucepan.
Breast of lamb with chickpeas
Serves 4
Breast of lamb is a cut rarely used. Its fattiness puts people off, but slowly cooked, it makes for a tasty, economical meal. You could even stuff it with some minced lamb and offal, if you were feeling adventurous.
1 small onion, peeled, halved and chopped
2 cloves of garlic, peeled and crushed
2tbsp thyme leaves
1tsp ground cumin
Salt and freshly ground black pepper
For the sauce
1tbsp vegetable or corn oil
1 onion, peeled, halved and finely chopped
1 stick of celery, peeled and finely chopped
1 clove of garlic, peeled and crushed
A small piece of root ginger (30g) peeled and finely grated
½tsp ground cinamon
1tsp cumin seeds
1 can of chopped tomatoes
½ltr chicken stock
150g soaked and cooked or canned chickpeas, rinsed
2tbsp chopped coriander
Lay the lamb on a work surface and scatter the onion, garlic, thyme and cumin down the centre, then roll up tightly and tie with string every 2-3cm.
Preheat the oven to 220C/gas mark 7. Heat a roasting pan in the oven for 10 minutes, season the lamb; roast for 25-30 minutes, turning every so often. Meanwhile, gently cook the onion, garlic, ginger, celery, cinnamon and cumin seeds in the vegetable oil for a couple of minutes, until they soften. Add the tomatoes and stock, and simmer for 5-6 minutes.
Turn the oven down to 160C/gas mark 3, and continue cooking for another hour. Remove from the oven and drain off any fat, then pour the chickpea sauce over, cover with foil and continue cooking for another hour. Test a piece of lamb by slicing a piece off the end to check if it's tender.
To serve, remove the lamb, allow to cool a little and remove the string. Cut the lamb into 1-2cm-thick slices, arrange on serving plates and pour the sauce over.
Pork Osso bucco
Serves 4
This is an unusual cut for pork but there's no reason a good butcher shouldn't do it for you.
4 x 350g centre-cut pieces of shin of pork, or 8 smaller pieces
Flour for dusting
Salt and freshly ground black pepper
Vegetable oil for frying
For the sauce
50g butter
1 onion, peeled, halved and finely chopped
1 clove of garlic, peeled and crushed
1 medium carrot, trimmed, peeled and cut into ½cm dice
200g celeriac, peeled and cut into ½cm dice
A good pinch of saffron
A few sprigs of thyme, leaves removed
1tbsp flour
60g tomato purée
100ml white wine
1½ltrs beef stock
Lightly flour and season the pieces of pork. Heat the vegetable oil in a heavy frying pan and fry the pieces of pork until nicely coloured on both sides, then remove from the pan and put to one side.
In a large, heavy-based pan gently cook the onion, garlic, carrot and celeriac in the butter until soft. Add the saffron, thyme and tomato purée and cook for a minute or so, then stir in the flour. Gradually whisk in the wine and the stock and bring to the boil.
Add the pieces of pork and cook slowly on top of the stove with a lid on, or in a medium-heat oven, for about 1-1½ hours, or until the meat is tender. The sauce should be quite thick by now; if not, remove the pieces of pork and simmer the sauce until it thickens, then return the pork.
Serve with creamed polenta or mashed potato.
Cadwell's spiced, slow-cooked beef brisket
Serves 6-8
Last summer, an old school chum of mine, Nick Cadwell, invited a few friends over to celebrate the completion of his newly-built, wood-fired brick oven. I must say, it's the best looking oven I've seen, excluding Mr Lowe's in Italy, of course. It looks more like a temple than your normal brick oven.
Nick has all sorts of cooking gadgets, including a Bradley Smoker – for smoking foods – that I use for my De Beauvoir smoked salmon.
I used the smoker to make this recipe; it doesn't exactly cold-smoke the meat, but is great for slow cooking and smoking at the same time.
I've also just had a Kamado Jo grill delivered, which is a fantastic looking outdoor barbecue/smoker and works great here, too.
Of course, you may not have either of the above gadgets and so a slow cook in the oven will do the trick perfectly, all the same.
A piece of beef brisket weighing about 1-1½kg
2tbsp cayenne pepper
3tbsp brown sugar
1tbsp coarsely ground black pepper
2tbsp sea salt
2tbsp onion powder
1tbsp garlic powder
½tbsp curry powder
1tbsp dried oregano
Preheat the oven to 160C/gas mark 3. Mix all of the spices together, place the beef brisket in a roasting tray and rub the spices in.
Cook in the oven for about 4 hours in total, covering the brisket in foil after 2 hours. The meat should be very tender by now – if not, cook it for a little longer until it's sliceable, but not just falling apart.
Serve with a seasonal salad or coleslaw.
Register for free to continue reading
Registration is a free and easy way to support our truly independent journalism
By registering, you will also enjoy limited access to Premium articles, exclusive newsletters, commenting, and virtual events with our leading journalists
Already have an account? sign in
Register for free to continue reading
Registration is a free and easy way to support our truly independent journalism
By registering, you will also enjoy limited access to Premium articles, exclusive newsletters, commenting, and virtual events with our leading journalists
Already have an account? sign in
Join our new commenting forum
Join thought-provoking conversations, follow other Independent readers and see their replies