The Independent's journalism is supported by our readers. When you purchase through links on our site, we may earn commission.
Wines of the week
8 sparkling wines to toast the start of summer
If ever we needed a bit of sparkle in our lives it's now, says Terry Kirby. So as lockdown eases and picnics are now allowed, these are the corks worth popping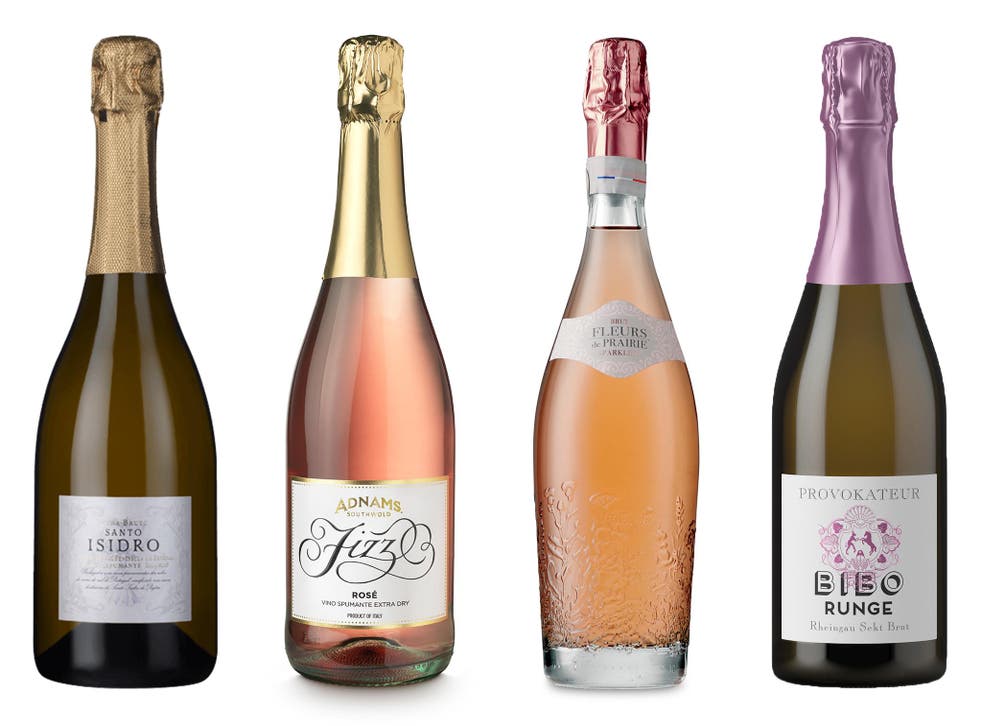 There has not been a great deal to celebrate in the past three months has there? And as the lockdown eases officially, there is perhaps even more uncertainty and fear than even when we first entered it. But, I'm sure that amid all this, some of us have broached the odd bottle of fizz to celebrate a lockdown birthday or anniversary, a new job or someone's recovery from the dreaded virus.
And while it's perhaps not yet time to break out your finest champagne or English sparkling, a carefully socially distanced meeting with family or friends might be a good cause to pop a cork. Or just at the end of a long day as an alternative to a glass of chilled still white. So here are some suggestions for summer sparklers that won't break the bank.
Prosecco, of course, leads the way in terms of sales of non-champagne sparkling and there are plenty of examples out there, with even some under £10 that are good value for everyday drinking. One that is worth picking up is the M&S Organic Prosecco (£9, Marks and Spencer stores; not available online) just a fun and friendly bottle that would definitely liven up some takeaway fish and chips.
Another organic bottle is the Giol Prosecco Frizzante (£11.50, vintageroots.co.uk) – winner of a gold medal in the International Organic Wine awards, this is the gently sparkling "frizzante" style, with an ordinary cork rather than a champagne one. A clean tastes of apples and pears, this is lovely on its own, with some olives on a warm summer evening in the garden, or with any lighter foods, like salads and simple grilled fish. And only 11pc ABV, so perfect for lunch or daytime picnics – now that we're allowed to.
We see very little sparkling wine from Portugal and so the Santo Isidro NV (£10.49, laithwaites.co.uk) is a bit of a revelation and punches way above its price point. Made in the methode champenoise style from local grapes fernao pires and moscatel in the Setubal area near Lisbon, it is lightly toasty and creamy, a little richer than prosecco, with some spicy hints and with a lovely golden colour. Also made in the traditional style and often offering massively better value than champagne is French cremant, which is produced in a number of areas around Franc,e and in the Domaine du Bicheron Cremant de Bourgogne Blanc de Blancs (£16.95, gerrardseel.co.uk) you can really sense the skill of Burgundian white wine makers who do know a thing or two about chardonnay. This comes from chalky slopes in the Maconnais area and has clean, fresh citrus flavours.
Now for some sparkling "pinks", which to my mind are the ideal summer aperitifs, drunk very cold in the garden or on a picnic. One of the best bargains around has to be the stunning Fleurs de Prairie Rosé Sparkling NV (£6.99, Aldi stores; not available online) which hails from Provence, comes packaged in a gorgeous bottle, has all the enlivening summer red-fruit-flavoured bubbles one could wish for and is still less than £7. And check out its equally good still rose in Aldi, if there are any left…
Also from Provence, also packaged in a lovely bottle, is the Mirabeau La Folie Sparkling Rosé (£17.99, or £14.99 if bought as part of mixed six-bottle purchase, majestic.co.uk) which is made on a rose estate owned by a British expat family; a more sophisticated and refined take here, with elegant, very dry, strawberry and light tangerine flavours and a hint of spice.
Many of us are choosing to get all our wine (and groceries) delivered during this period and wine companies – which are already mostly well adapted to home delivery – are offering some decent bulk buy bargains, such as Adnams Rose Fizz (£54.94 for six; adnams.co.uk). This excellent Southwold-based company has found a lovely, summery pink sparkler from the Veneto at around £9 a bottle. It can't be called a "pink prosecco" – it uses the red raboso grape – but it is as close as you can get.
Breaking such rules in winemaking can sometimes have interesting results. We don't see much German sparkling – Sekt – in this country, and it's definitely worth checking out, but the Bibo Runge, Provokateur, Sparkling Rose NV (£25.99, butlers-winecellar.co.uk; £27.25, connollyswine.co.uk) is different from the Sekt norm. It's made from riesling grapes using the methode champenoise and aged on its lees, but with a small portion of red wine – officially a secret but probably pinot noir – added at the bottling stage.
The result is very dry, elegant and almost austere and a lovely tangerine colour, with real depth of red fruit flavour. Yes, it hardly fits the bargain category but it's a lovely and different special occasion wine and, hopefully, we can all find something to celebrate this summer…
Register for free to continue reading
Registration is a free and easy way to support our truly independent journalism
By registering, you will also enjoy limited access to Premium articles, exclusive newsletters, commenting, and virtual events with our leading journalists
Already have an account? sign in
Register for free to continue reading
Registration is a free and easy way to support our truly independent journalism
By registering, you will also enjoy limited access to Premium articles, exclusive newsletters, commenting, and virtual events with our leading journalists
Already have an account? sign in
Join our new commenting forum
Join thought-provoking conversations, follow other Independent readers and see their replies